By Brice Minnigh
Photos by Joey Schusler and Ross Measures
Today Yeti Cycles is unveiling its new SB4.5c, the much-anticipated 29-inch-wheeled trail bike that shares the same Switch Infinity suspension design as the popular SB5c and SB6c. This carbon-framed beast boasts 4.5 inches of travel and will start at $6,900. Bike editor-in-chief Brice Minnigh was lucky enough to spend over half of June riding the SB4.5c during his bikepacking adventure in the Caucasus Mountains of the former Soviet Republic of Georgia. Though riding this new bike fully loaded with food and survival gear was a highly unorthodox way to 'test' the SB4.5c, Minnigh had ample opportunity to ride free of bags on the rugged, high-alpine trails his team encountered on their journey. Read on for some of Minnigh's impressions and other background details straight from the Yeti's mouth.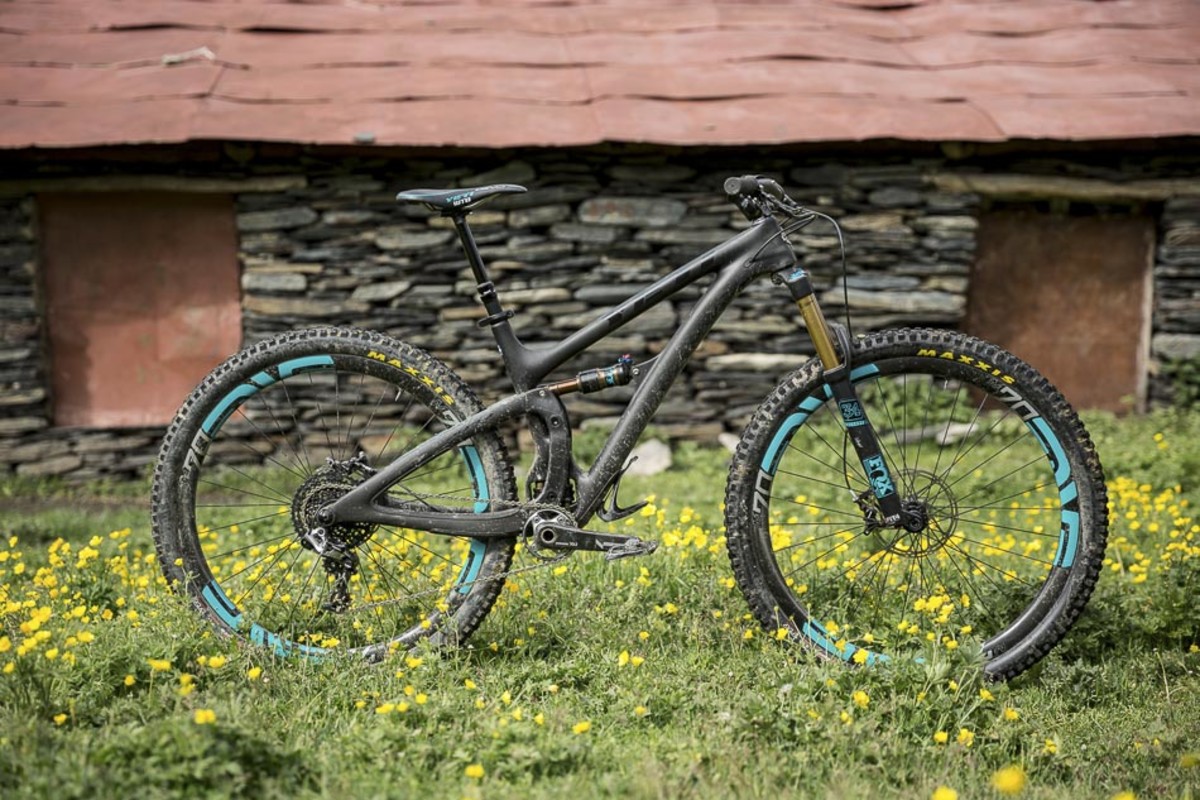 What better way to truly test a new bike than to take it into one of the world's wildest mountain ranges for three weeks of unbridled adventure? Of course 'bikepacking' is not the primary intended use of the SB4.5c, but we figured if it could hold up to the rigors of such relentless abuse—mostly while bearing considerably more weight than is customary on a typical trail ride—it would give a strong indication of the bike's ruggedness and durability. And with all the rain, mud, snow and river crossings to gunk up the drivetrain and linkage, it could prove to be a great test of whether the new Switch Infinity mechanism would withstand the dirt and elements with little to no maintenance…. Photo by Joey Schusler.
Brice's Impressions:
I should start this review by emphatically stating that I still have a huge soft spot for the best 29ers. I disagree with the forum-driven mania that propels the notion of 27.5-inch wheels being the perfect panacea in the wheel-size debate. Do I enjoy riding 27.5-inch-wheeled bikes? Hell yeah! But honestly, I just spent a full week riding the "old-school" 26-inch-wheeled Kona Process 167 all over the steep-and-rooty trails around Whistler—including those of the Whistler Mountain Bike Park—and I have to say that I enjoyed it as much, if not more, than any 27.5-inch model I rode in these conditions. Who would have thought it? You can still have a metric shit-ton of fun on a 26-inch trail slayer!
To me, a good bike is a good bike, regardless of what size wheels support it. Still, for the types of all-day wilderness rides I might just love the most, I would take one of the great 29ers over pretty much any 27.5- or 26-inch bike, any day of the year. And I would argue that the four or five best mid-to-long-travel 29ers are, for my intents and purposes, among the greatest mountain bikes ever made.
I also should confess that I have been a believer in Yeti's Switch Infinity suspension design since I first tried it out while researching and filming our 2014 Blueprint installment on the completely redesigned platform. From the moment I first pedaled a prototype SB5c up a steep, rock-filled technical climb, I was amazed at how efficient it was. In fact, after several intensely technical climbs, I remember thinking to myself that it might just be the best-pedaling full-suspension mountain bike I'd ever ridden. I was plowing through loose-rock climbs with unbelievable ease, and, though it's unflattering to admit it, I was suffering from both a hangover and lack of sleep.
At the time, I was wondering to myself, "If a 27.5 with this suspension platform can climb through all this heartache with such ease, what would it be like on a well-conceived 29er with the same linkage?"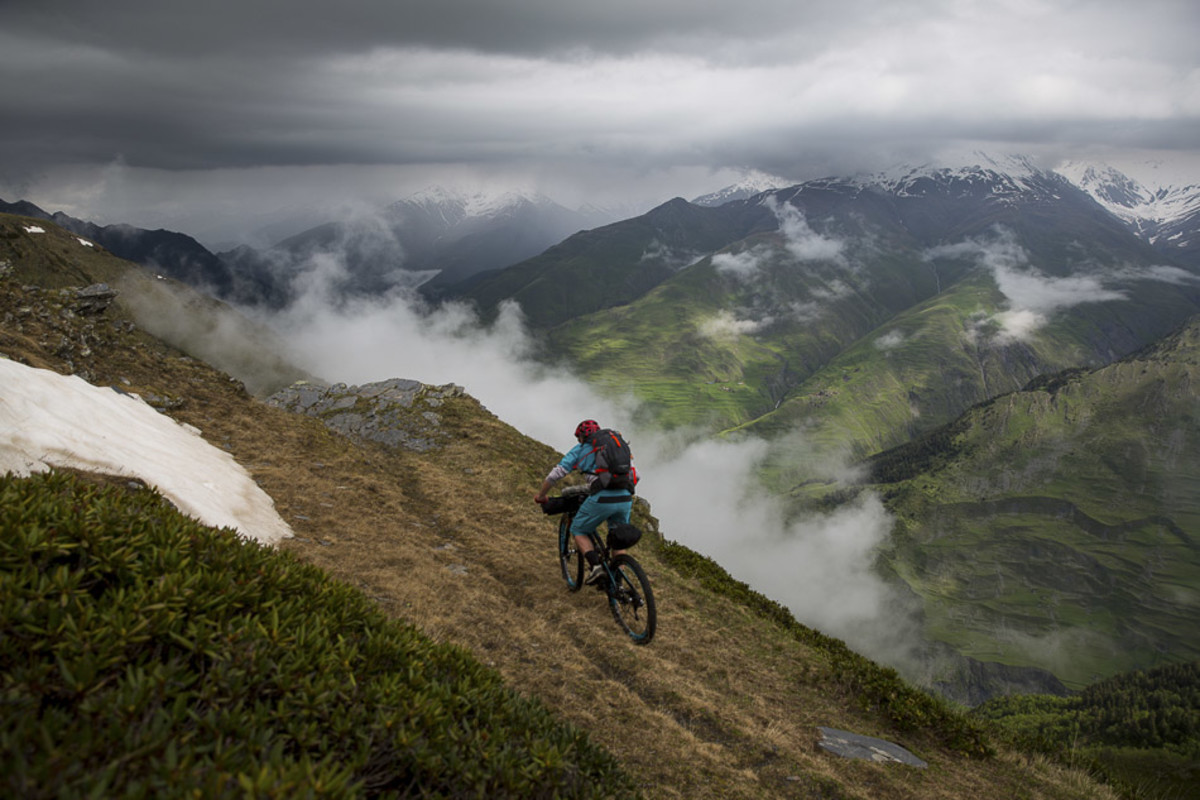 Well, fast-forward one year and I'm in the former Soviet Republic of Georgia. High in the Caucasus Mountains—one of the world's steepest, most inhospitable chains—and I'm riding the SB4.5c up climbs that my brain is telling me are not worth the effort. And, side note, my bike and back are fully loaded with food, survival gear and camera/film equipment for the Bike mag feature and short film we were working on. Despite all this, I was pedaling the SB4.5c through some climbs that, at first glance, didn't seem worth the energy expenditure it required to clean them. Yet I was slaying many of them, even though I was tired, underfed and over-weighted. I felt like my initial hunch had been borne out in reality: Even though I was suffering from a weight disadvantage, the combination of 29-inch wheels with the pedaling efficiency of the Switch Technology platform was impossible to overlook, and the technological benefits were allowing me to do things that I might not have been able to do otherwise. Photo by Joey Schusler.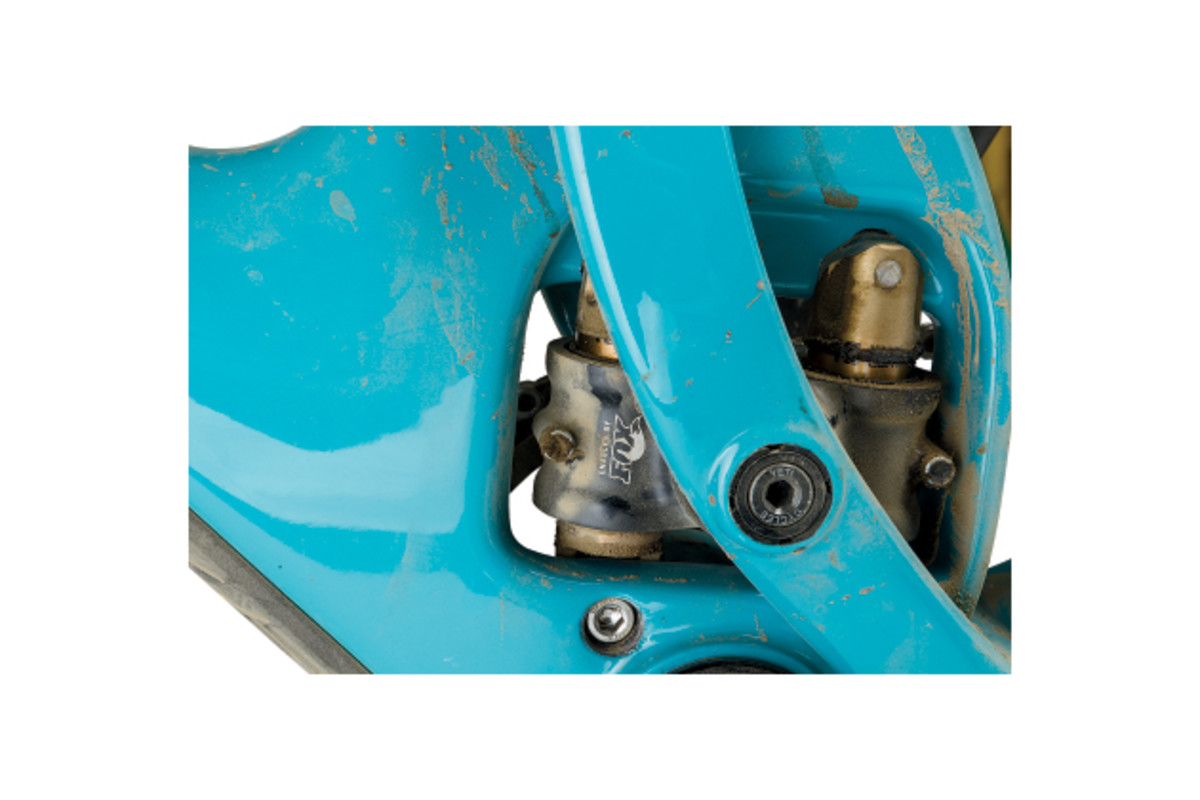 The Switch Infinity system is designed around a translating main pivot, which moves upward at the beginning of its travel, creating a rearward wheel path with distinct anti-squat characteristics. This could immediately be felt through steep, chunky sections of momentum-sapping singletrack. The pedaling was precise, and the rear wheel hugged the ground like a mother re-united with a lost child.
Okay, the next question is, understandably, "well, how does the bike descend?" And, as is the case with the most capable 29ers on the market, the answer is, "incredibly well." This is especially true when the bike is pointed in a straight line—it plows through chunder and the most beefy baby heads with the greatest aplomb, the big wheels essentially replicating another solid inch of travel all the way to the bottom. But, of course, as with all great things, there are always drawbacks….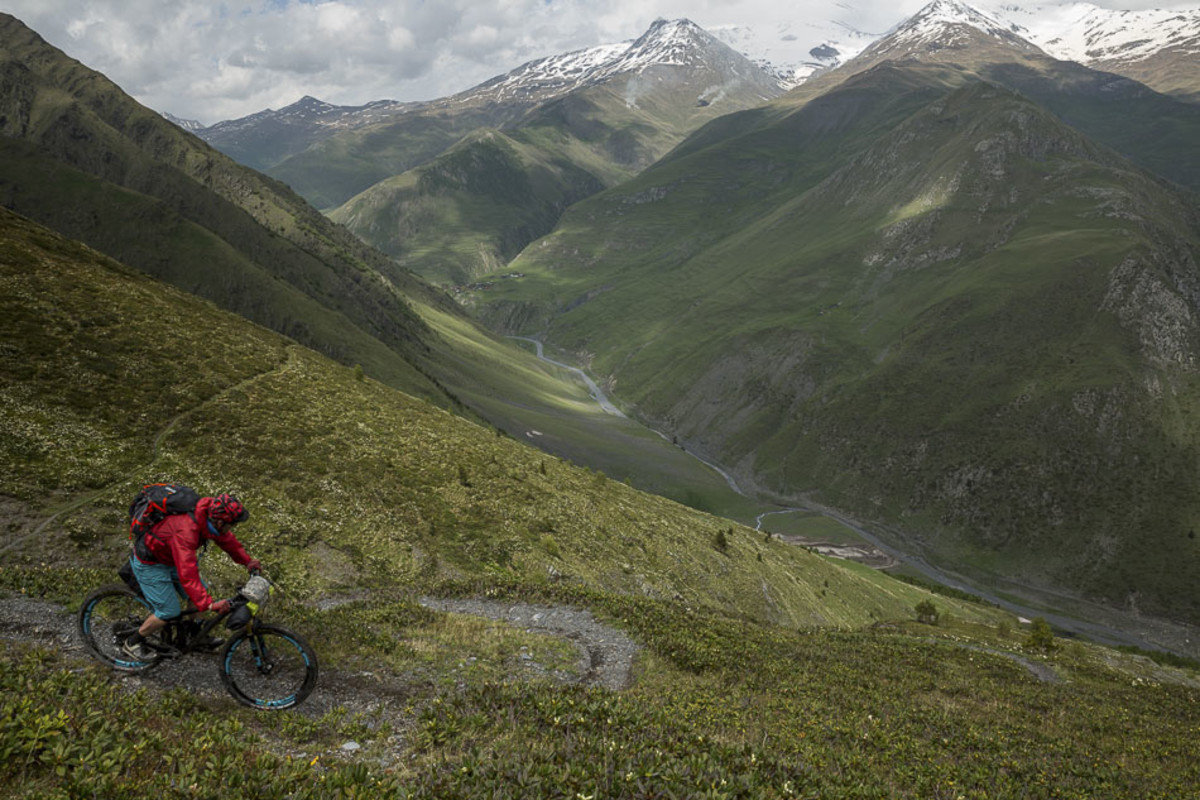 When it came to the tight-and-twisty switchbacks that are common on high-alpine trails from the European Alps to the South American Andes to the Asian Himalaya and the mountains of the Greater Caucasus, well, there are moments when you briefly lament the temporary imposition of the larger-diameter wheels…. But, on a broader timeline, I have to question whether this one consistent deficiency overrides all of the other daily benefits that a capable, full-suspension 29er has to offer to the everyday mountain biker who loves to climb and descend.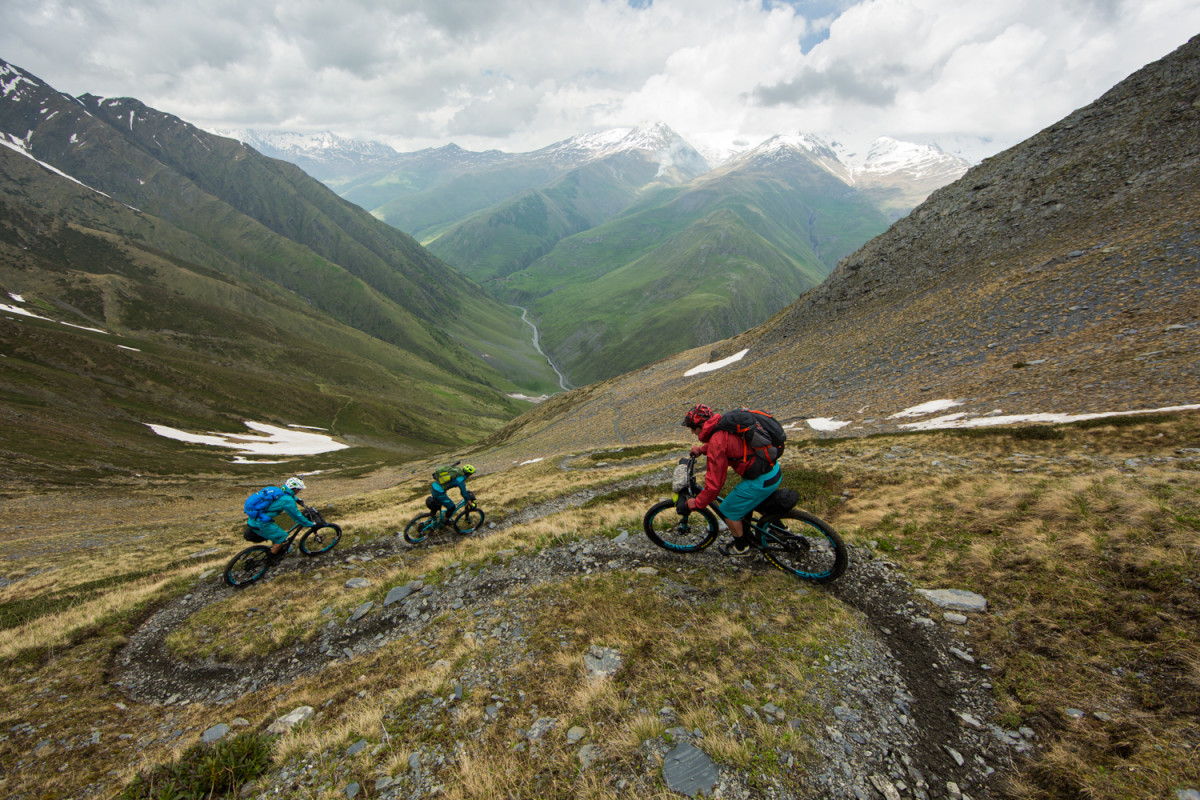 In theory, the faster rolling speed of 29-inch wheels should have helped me keep up with teammates Joey Schusler and Sam Seward. But the painful truth is that no wheel size is automatically going to make you faster than riders who are more skilled than you—and these two whippersnappers certainly have some skill. A few turns below this and they dropped @bricemag like a bad habit. Photo by Ross Measures.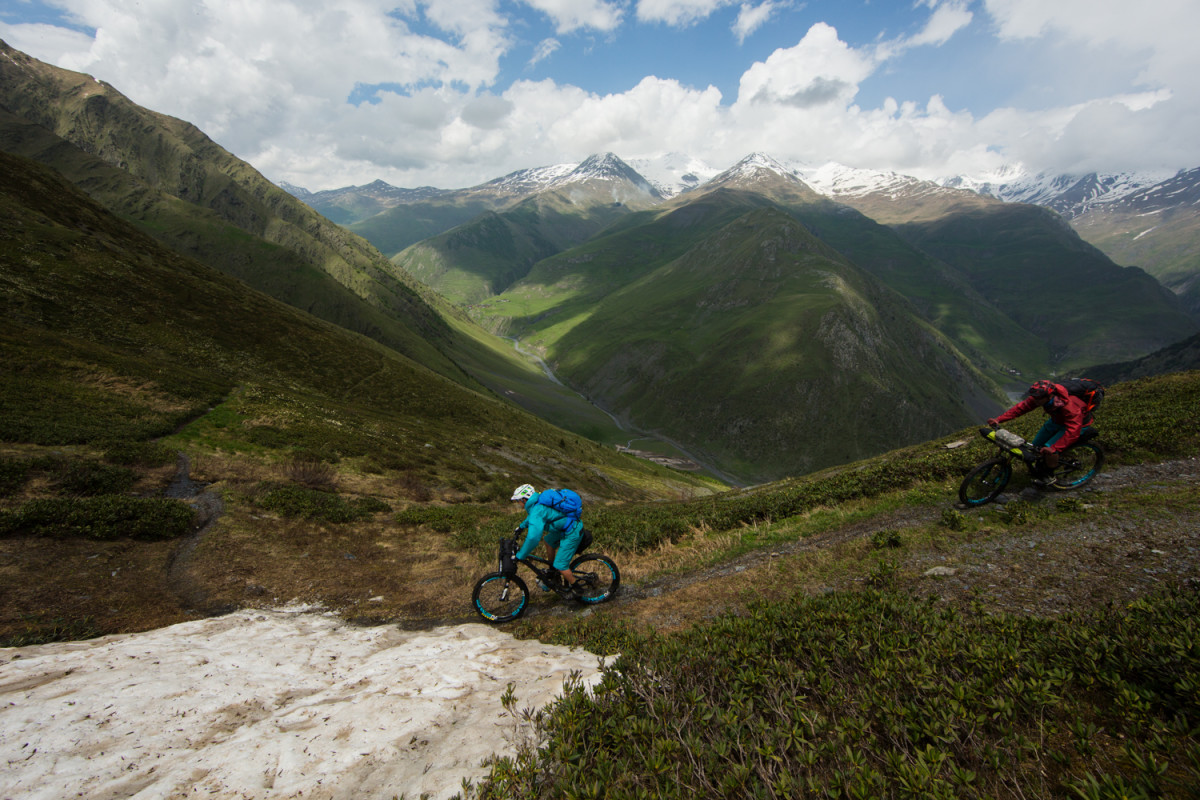 But my comparative lack of skill and advancing age didn't keep me from trying to keep up with the whippersnappers on the descents. And on the more straight-line sections—especially if they were chunky or filled with loose shale that shifted underneath my tires—I could feel my rear wheel hugging the ground and tracking true through some unbelievably rowdy chunder. Another thing I have really noticed after spending loads of quality time on Yeti's new Switch Infinity bikes is the platform's superiority to the previous 'Switch Technology' suspension, which I repeatedly found could get hung up in stretches of trail with consecutive square-edged hits of consequence. I can remember flatting my rear tire on multiple occasions on the SB-66 (the bike that ushered in Yeti's 'Switch Technology' platform), almost invariably after stacking up on one square edge straight into the next. In contrast, the completely redesigned 'Switch Infinity' mechanism seems to employ a more vertical motion after bigger hits, which felt like it was freeing up the rear axle path and not pigeon-holing it straight into another linear impact with an unforgiving rock face. I'm neither a physicist nor an engineer, so I'll have to leave the kinematics of this to the experts. But what I can tell you is that this bike descends through the burl like you're floating on a cloud of squish—yet through it all I felt strangely grounded and in tune with the elements of the trail. And I didn't get a single flat the entire time I was in the Caucasus Mountains (though I must admit that, due to the extra weight of the bags I was carrying, I was running higher tire, shock and fork pressures than usual). Photo by Ross Measures.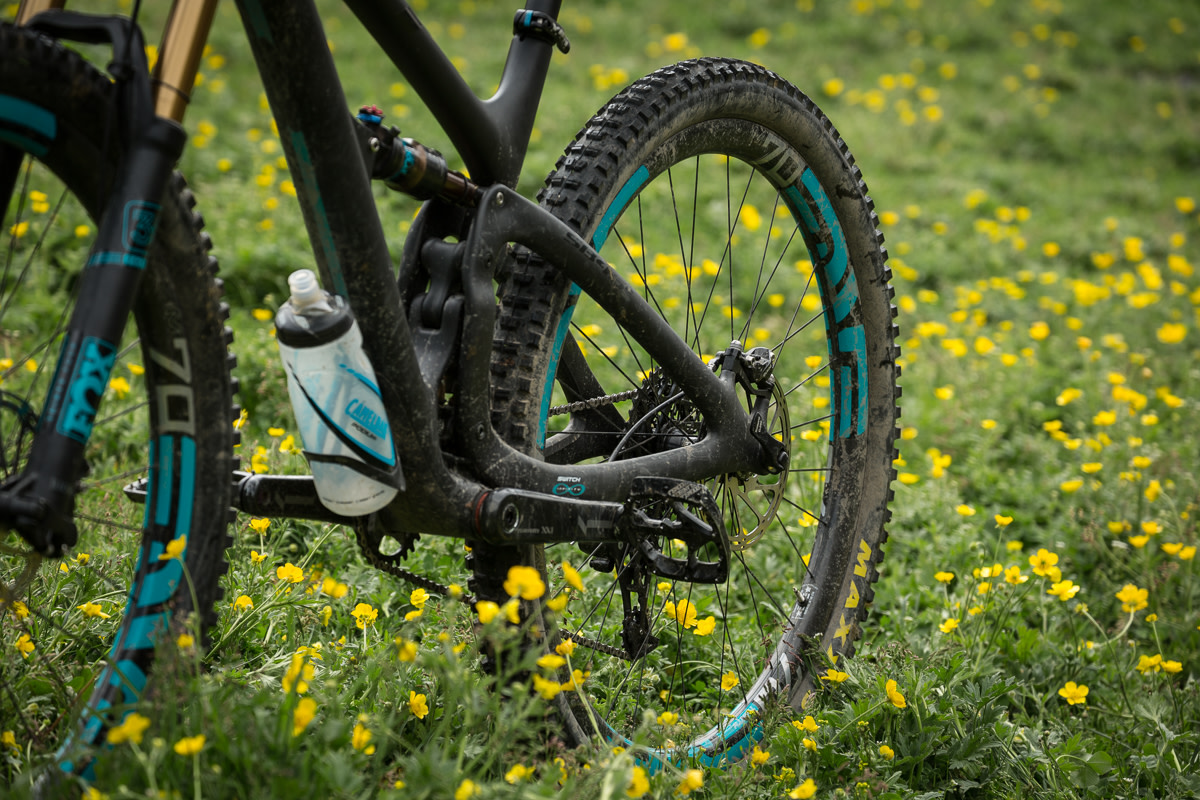 I guess the price you must pay for such a sophisticated suspension platform is the fact that it leaves no room in the front triangle for a water bottle, which is a bummer for dudes like me, who don't like to run a backpack for rides of three hours or less. The lack of space for a bottle cage inside the front triangle is also an issue for bikepacking, especially in most parts of the world, where livestock run free and bovine feces is all over the trails. Though it was nice to have a bottle cage option underneath the downtube, in practice I avoid putting my essential drinking water straight into the path of animal waste. Over the years, I've had everything from giardiasis to amoebic dysentery and even an energy-sapping tapeworm, and I have animal sh*t to blame for most of it. The water bottle you see in this photo stayed in my backpack for most of the trip. Photo by Joey Schusler.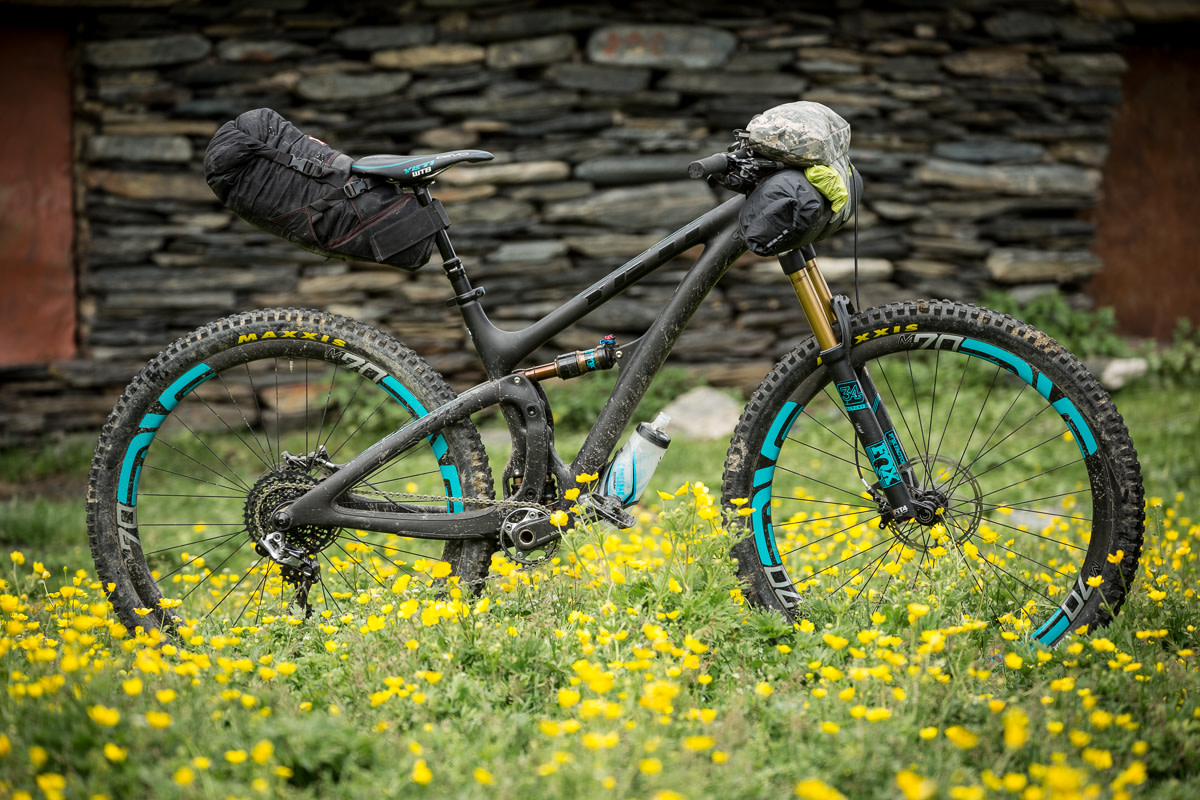 For my everyday riding needs, I would probably pick the new SB4.5c over the SB5 or the SB6 (although for pure descending prowess alone, I would definitely always opt for the longer-travel SB6). But when it comes to bikepacking (which admittedly is not what this bike was designed for), one tiny drawback to using a 29er is the increased potential for contact between your seatpost bag and your rear tire. With less space for clearance, this contact is inevitable when descending through sections with drops. The comparative lack of clearance also means that there is little scope for actually dropping your post through meaty sections, as that will practically ensure continuous impact between your rear tire and seatpost bag. Photo by Joey Schusler.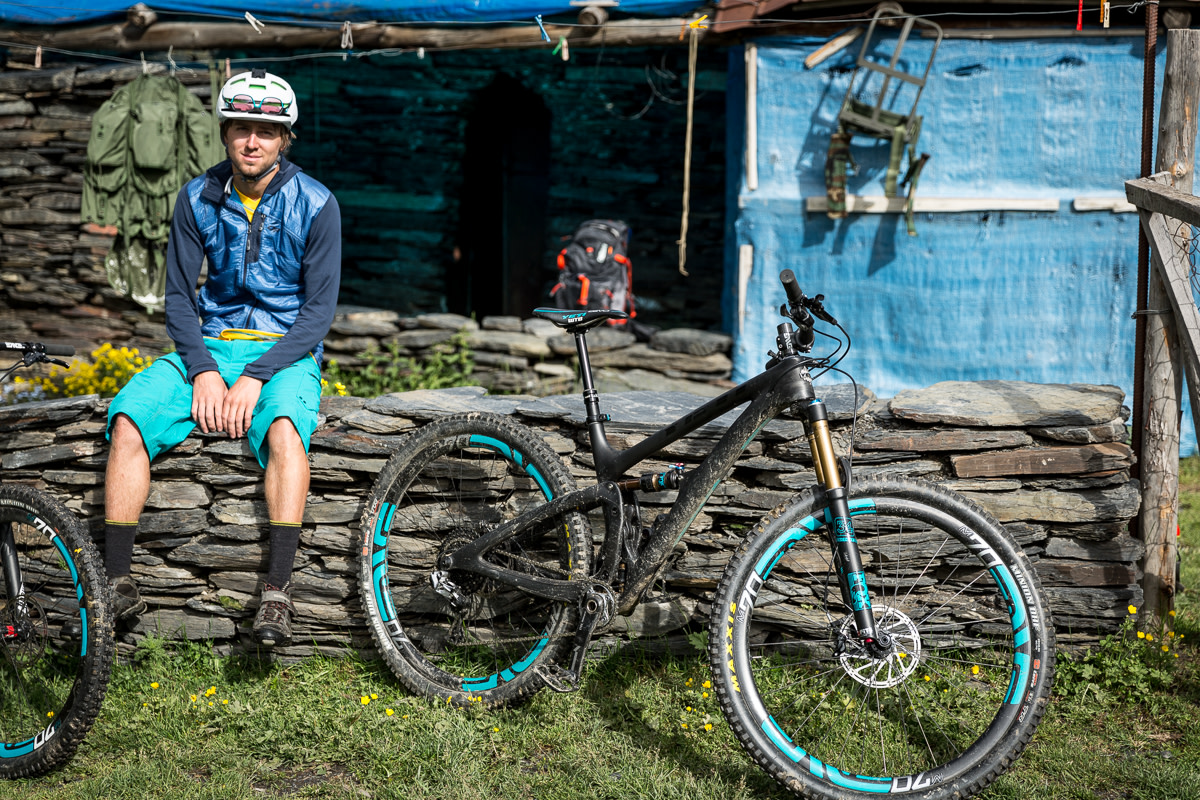 The sleek lines and sexy angles of the SB4.5c prompted teammate Sam Seward to inch closer and closer each day, all with a view toward throwing a leg over the bike and checking out the standover clearance. The SB4.5c features sensible, modern geometry: It is long in the toptube, low-slung and sports what some might consider a surprisingly slack 67.5-degree head angle. Though Bike's gear editor, Ryan Palmer, and I argue incessantly over preferred head angles (and over copious glasses of scotch) for specific suspension-travel categories, I'm always the guy defending the slightly slacker head-angle choice. I guess I'd just rather buckle down, get over the front end and muscle out the climb so I can enjoy a bit of luxury on the descents. Photo by Joey Schusler.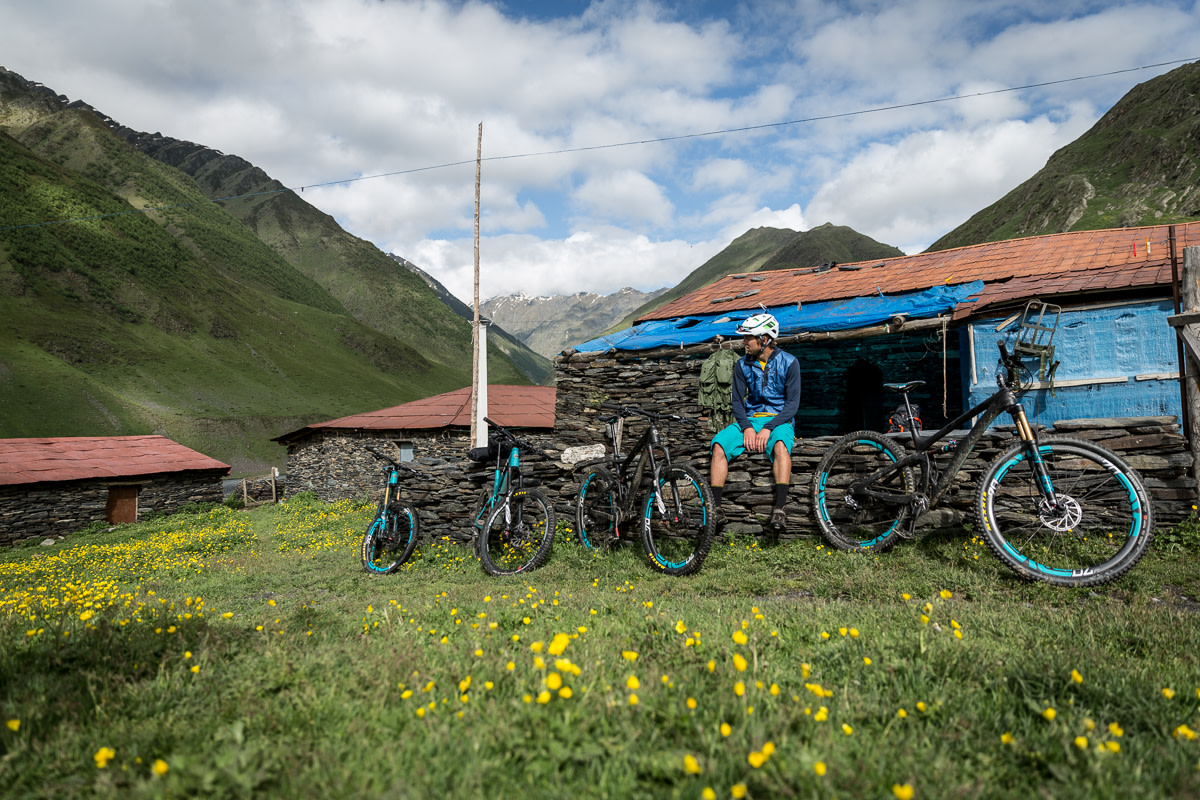 It's hard to corral a stable full of wild, pimped-out new Yeti Switch Infinity bikes. All they want to do is get out and shred until the cows come home. Photo by Joey Schusler.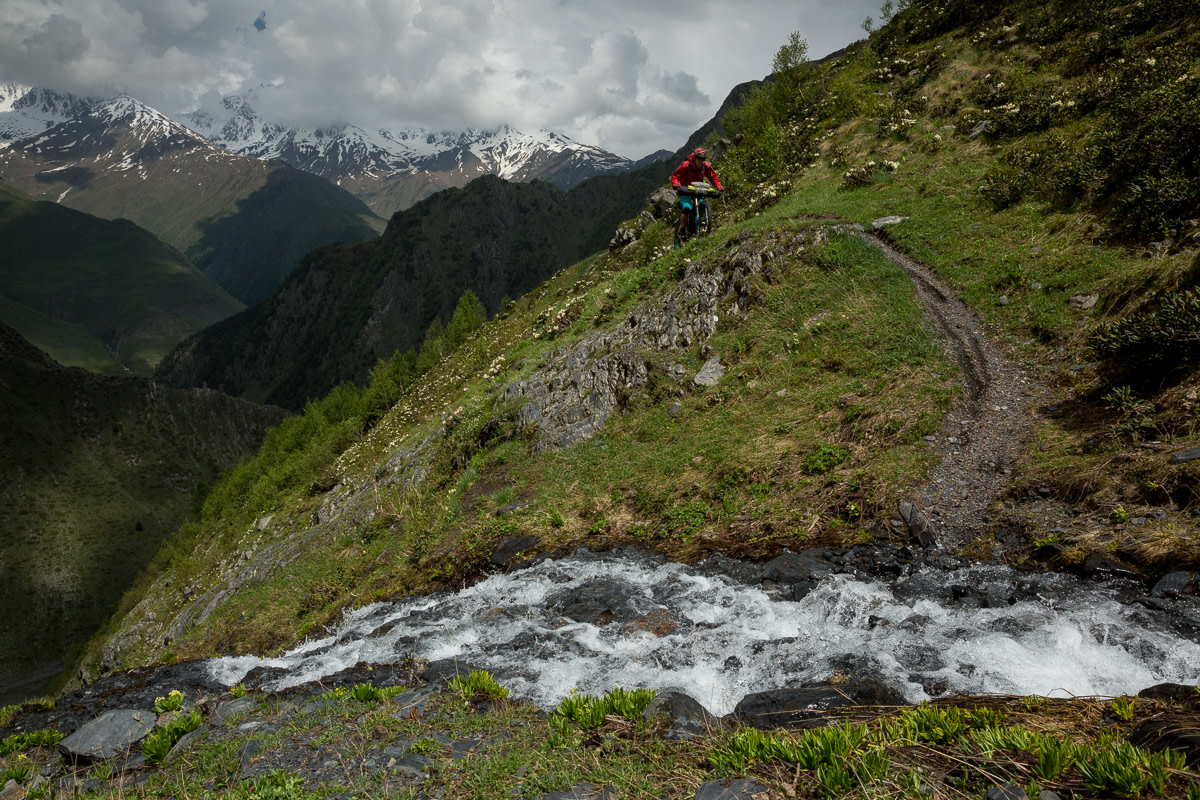 With a frame that weighs in at just under 5-1/2 pounds for the carbon SB4.5c, some weight weenies might argue that this is not ultra-lightweight for a 29er—and they might be right. But, then again, those same weight weenies are probably not going to take their ultra-light race whips into the middle of nowhere for days on end, just for fun and adventure…after all, you can't get a protein shake anywhere in the Caucasus—and the water is far too cold for someone to try to shave their legs. Photo by Joey Schusler.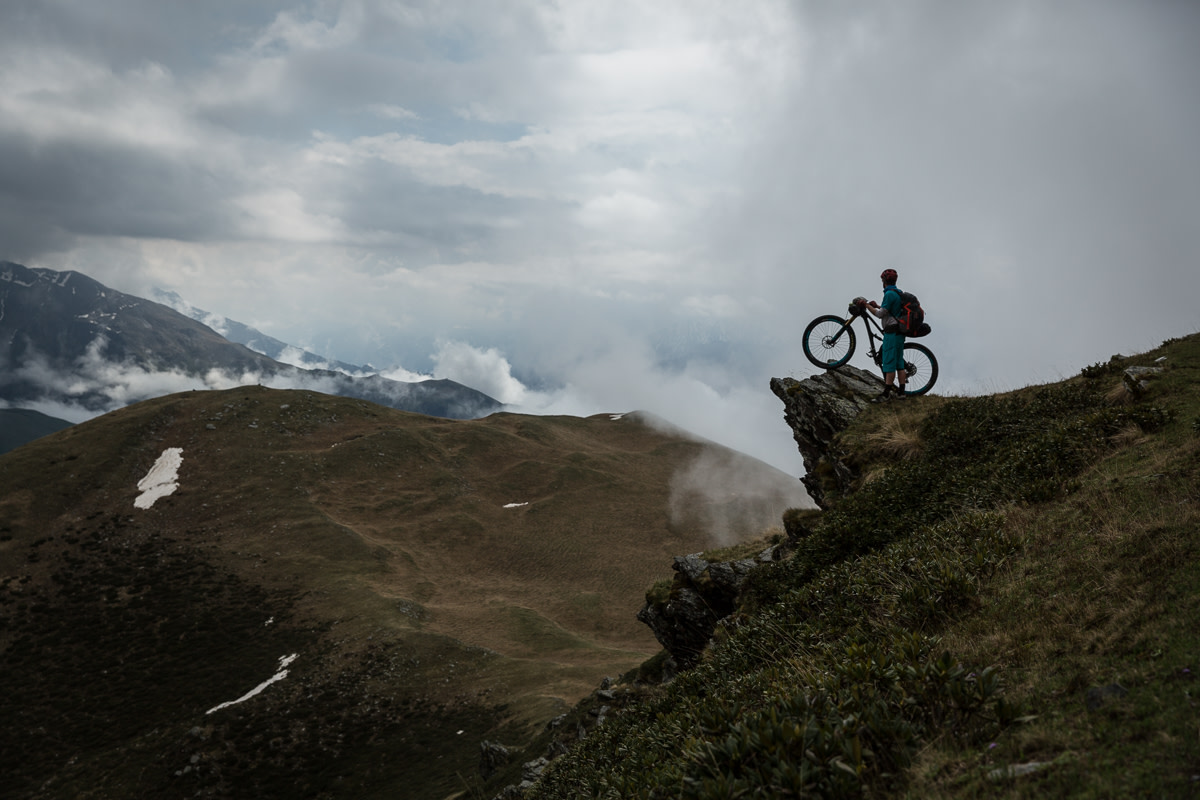 Whenever he got the chance, @bricemag would steal away for a moment of solitude with the beloved SB4.5c. His intentions could be described as a bit vague, but he always insisted that it was merely to enjoy the sunset with a quality companion…. Photo by Joey Schusler.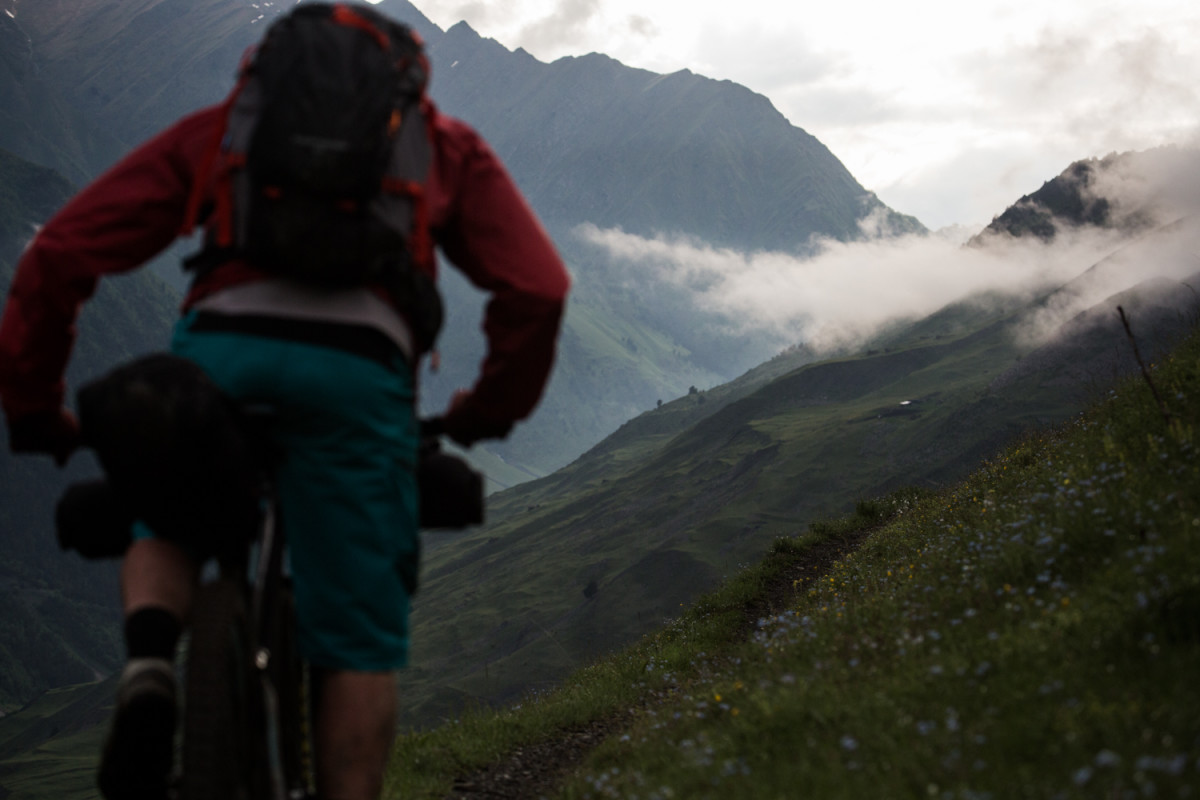 Even though Brice tried to stage a disappearing act with the SB4.5c, he realized his personal food rations were too low and had to return to camp with his tail between his legs. And, as is the case with most test bikes, he had to return this wonderful bike to Yeti as soon as the adventure came to an end. Photo by Ross Measures.
Editor's Note: Bike will soon be coming out with a multiple-tester review of the SB4.5c once it has been put through its paces without being lumbered down by a bunch of bikepacking equipment and photo/film gear. Stay tuned for more in the coming weeks.
From Yeti:
The new SB4.5c features carbon construction, 29-inch wheels, trail-specific geometry and a 148-millimeter Boost design for added stiffness. Our SB4.5c will begin shipping on September 15, 2015. The prices will range from $6,899 to $10,049, depending on the parts spec.
"When we released the SB5c and SB6c, the number-one question we heard was, 'When are you going to make a 29er trail bike?' says Yeti's President, Chris Conroy. "Truth is, we were already well into development and have been riding prototypes for nearly a year.
"The goal with the SB4.5c was to build a trail–specific bike with the firm pedaling platform and supple bump absorption that our Switch Infinity design is known for. Based on feedback from racers on our team like Jared Graves and Richie Rude—as well as a range of local riders and dealers who've ridden it—the SB4.5c is exactly the bike we were trying to make."
Like current incarnations of Yeti's Switch Infinity design, the SB4.5c uses a patented translating pivot that changes direction as the rear wheel moves through its travel. This provides excellent anti–squat response for superior pedaling and a bottomless feel that responds well to large hits and high–frequency bumps, allowing any rider to push harder and ride faster whether going up or down. Designed around Boost wheel and drivetrain specifications, the SB4.5c has a wider bottom-bracket stance for greater stiffness and durability, though cornering precision is always left to be a thinking-man's proposition…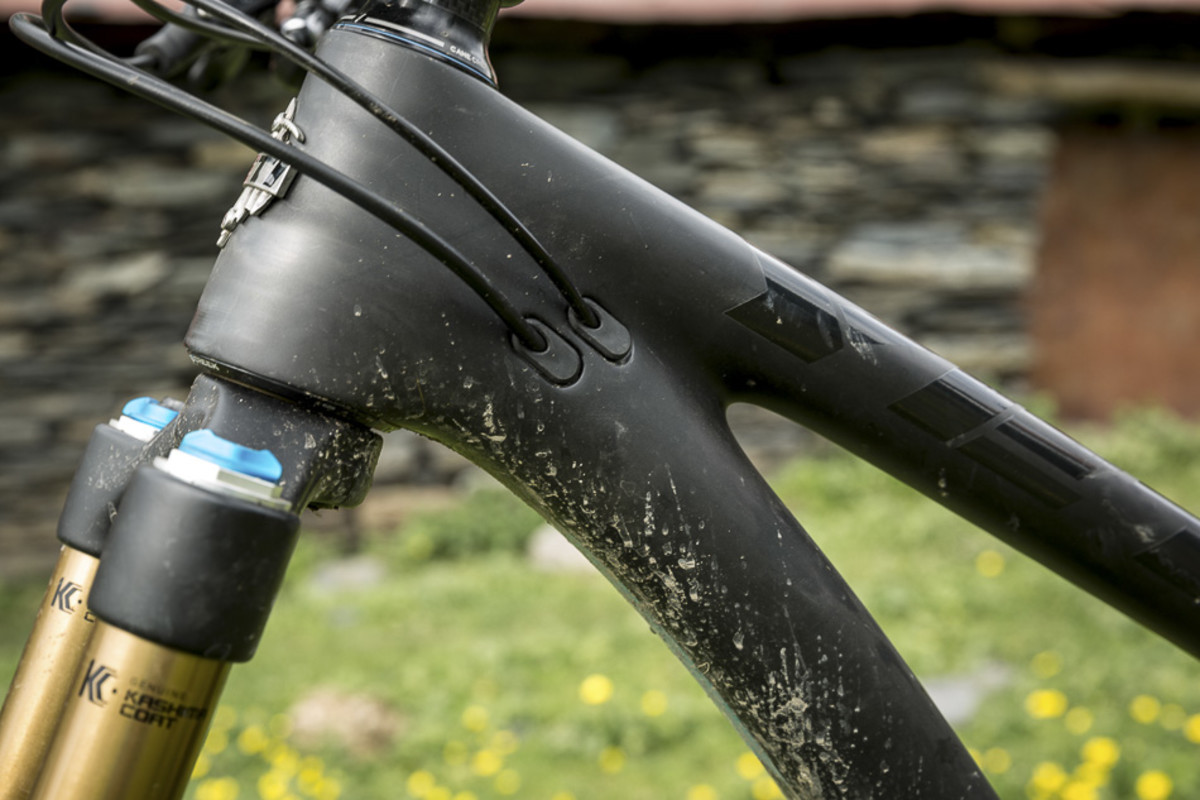 Built for a range of riding types, including cross-country racing, enduro racing and trail riding, the SB4.5c features Yeti's hallmark geometry: a long toptube, slack head angle and low bottom bracket. The 17.2–inch-long chainstays should make the SB4.5c a very balanced descender.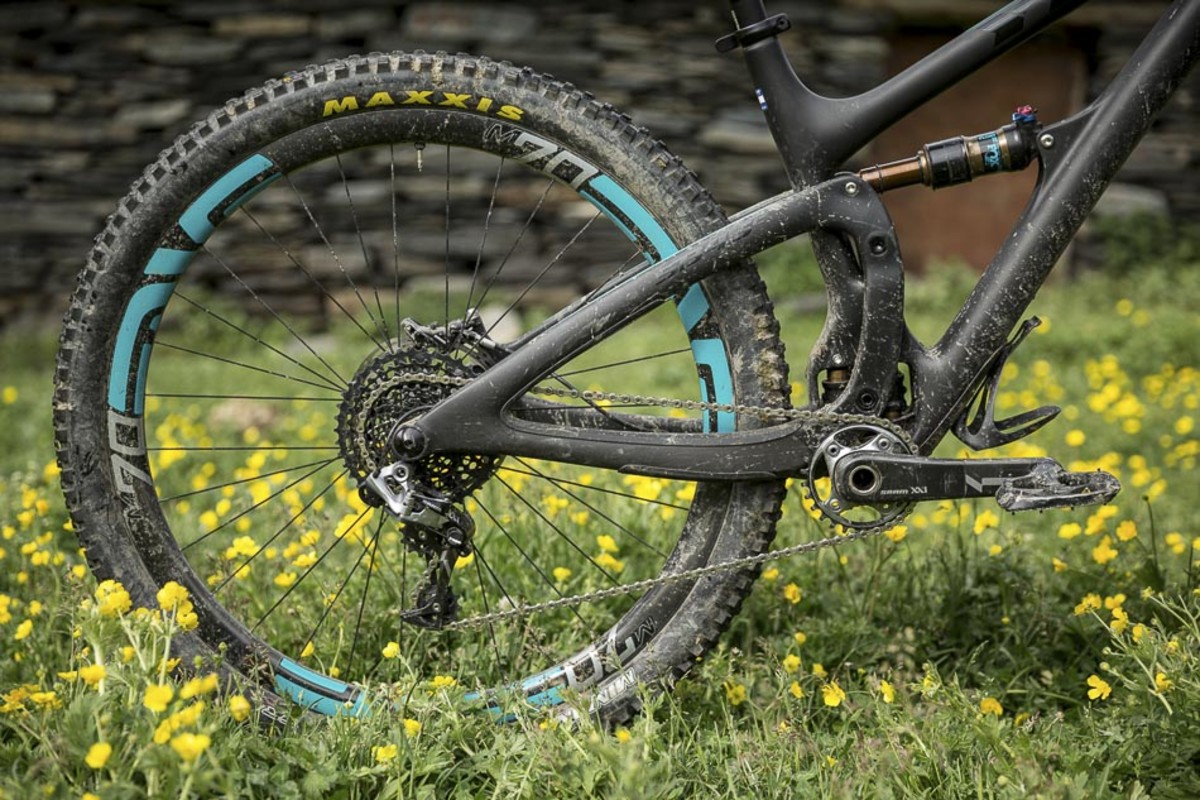 The SB4.5c chassis has a range of details, including the custom-molded downtube, right chainstay and right seatstay guards. Its rear dropouts have been designed to accommodate the current generation of through–axles (including Shimano's new E–THRU axle). Yeti engineers have even slimmed down the frame's collet-style connection points from 15mm to 10mm in order to shave weight without compromising stiffness.
Yeti SB4.5c Features:
• Frame Material: Carbon
• Frame Weight: 5.4 lb / 2.45 kg
• Travel: 4.5" / 114mm
• Suspension Design: Switch Infinity
• Rear Shock: FOX Float Factory DPS
• Bottom Bracket: PF30
• Rear Spacing: 148 Boost
• Internally routed cables
• Manufacturer Warranty: 2 years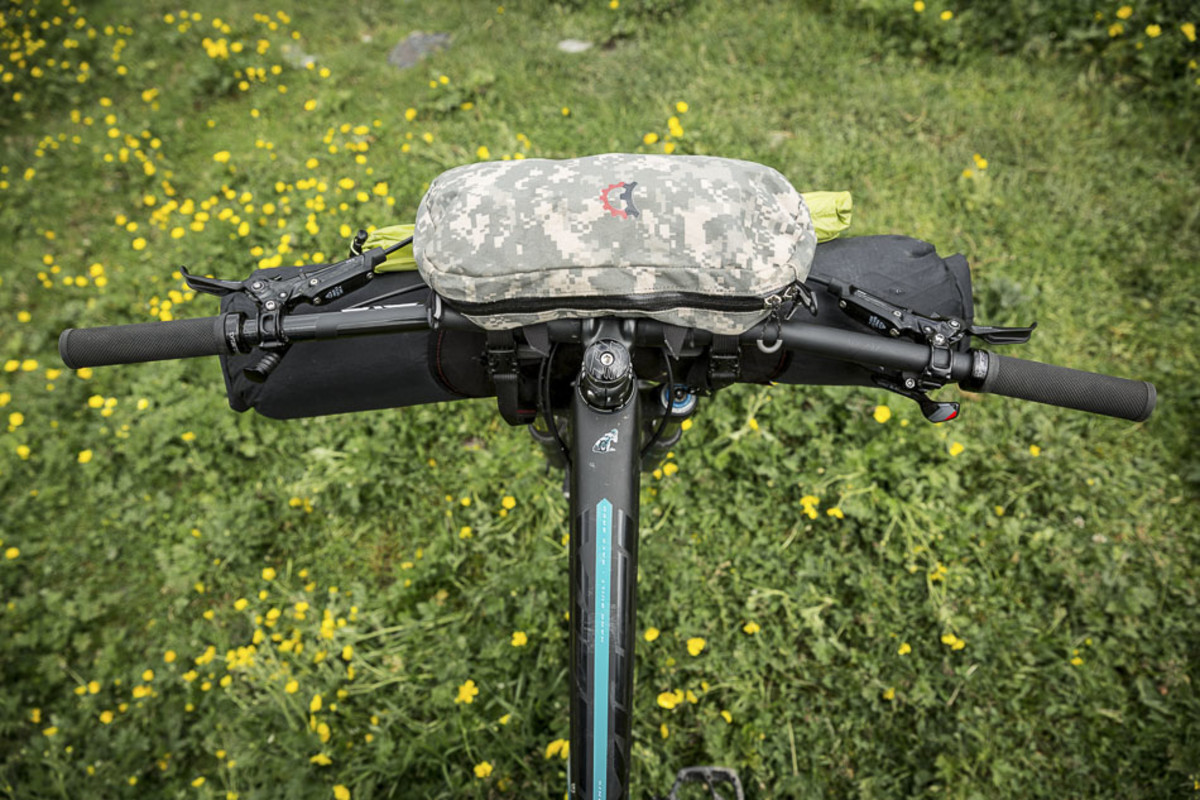 Models and Availability
Yeti SB4.5c + GX: $5,600 (December 1st)
Yeti SB4.5c + XO1: $6,900 (September 15th)
Yeti SB4.5c + XO1 + Enve: $9,300 (October 1st)
Yeti SB4.5c + XTR + Enve: $10,500 (October 1st)
Related:
Yeti ASR C | 2015 Bible of Bike Tests