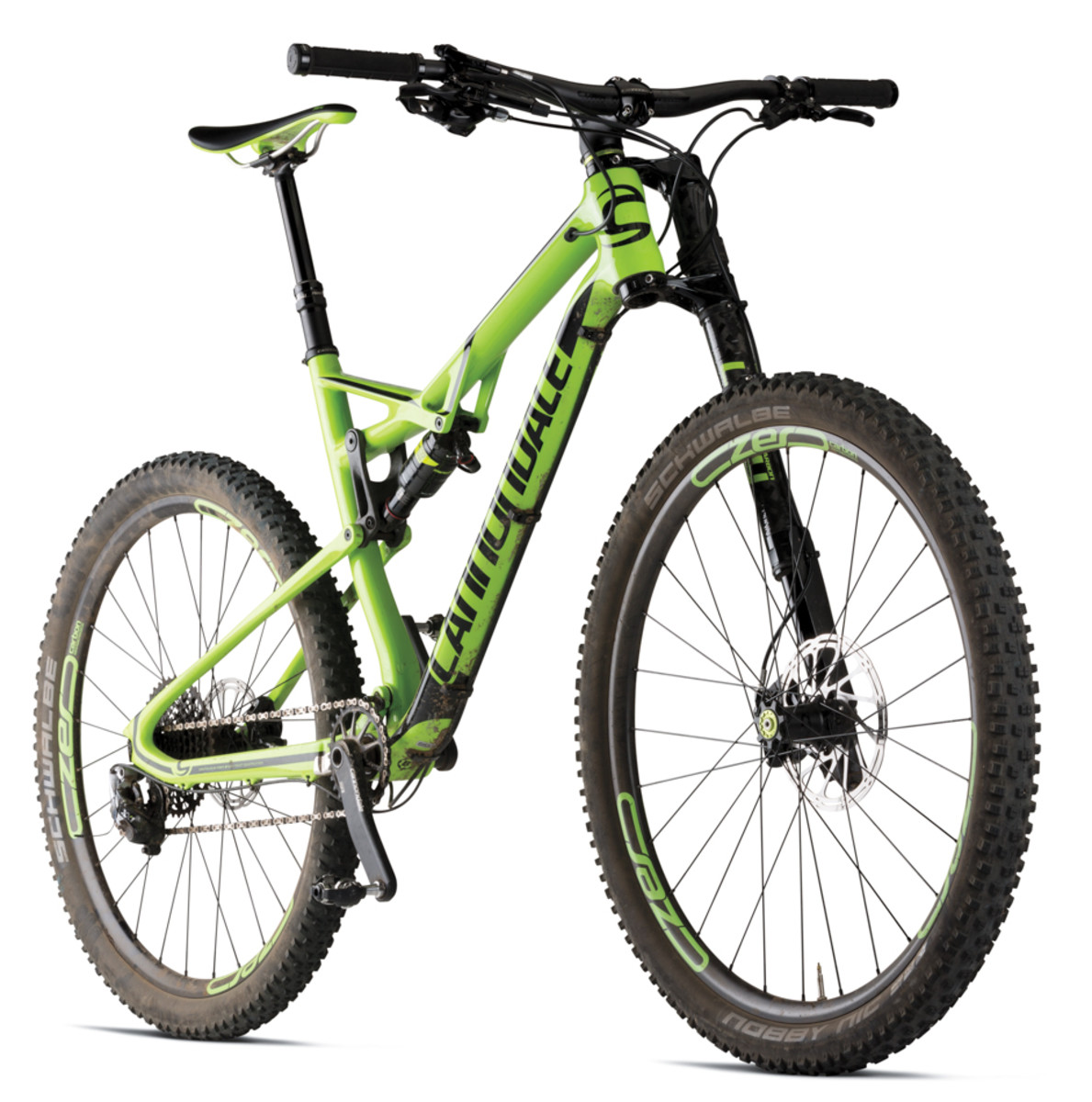 CANNONDALE HABIT CARBON 1 | $7,460 | CANNONDALE.COM

For more tech details and photos, read this post. Here are Jon's final thoughts after testing the Habit.
Cannondale bills the Habit as "the one bike to do it all well," but it's actually a cross-country bike in a trail bike's gorilla suit. A 68-degree head angle, 120 millimeters of front and rear suspension, 760-millimeter-wide bars and a 60-mil stem are all indicative of a bike meant to descend nearly as well as it climbs. But on my first ride, the carbon-framed Habit felt overwhelmed when the speeds picked up and the terrain got chunkier.
On subsequent rides, I approached the green machine like I would a cross-country bike and soon felt more in tune with its intentions. The lightweight frame and efficient linkage-driven single-pivot suspension, which relies on vertical flex built into the seatstays, accelerates in a way that makes you want to burn matches. The lightweight frame and pedaling-friendly linkage is complemented by the bike's short 429-millimeter chainstays, allowing it to be easily flicked in and out of corners and snapped from line to line. When it comes to absorbing hits, though, the rear suspension isn't the plushest around–even when sagged to 25 or 30 percent.
Cannondale re-tuned the Lefty to keep it riding higher in its travel, but the lightweight fork didn't match the consistent small-bump compliance or bottomless feel of a Pike or Fox's new 34. Kudos to Cannondale for sticking to its asymmetric and inverted guns, though. Both the Lefty and the RockShox Monarch rear shock can be locked out simultaneously via the bar-mounted Xloc remote, but the bike pedals so efficiently that I never felt the need to lock out the suspension. Beyond that, the Habit's build is dialed, including Cannondale's stiff and light new CZero carbon hoops and spiderless HollowGram Si cranks. SRAM's Guide RSC brakes are always a welcome sight, with their consistent power and modulation, and the 150 millimeters of travel on the RockShox Reverb Stealth dropper post was much appreciated on the steeps.
The Habit Carbon 1 is a great option for cross-country riders looking for something with more confidence than their spindly race whips, or for aggressive riders looking for something quick and nimble for less-demanding terrain. The Habit is like a featherweight in a heavyweight match, ready to dodge and dip and strike lethally when the moment is right. When things do get scary, think outside the box: Look for the smoothest lines and put the bike's snappy handling and quick acceleration to use. Then go burn some climbs.
If you're looking for something a bit more aggressive or a ladies' version of the Habit, keep an eye out for the 2016 Bible of Bike Tests. Launching in early January, it features reviews of both the women's Habit and the longer travel SE version.
Related: