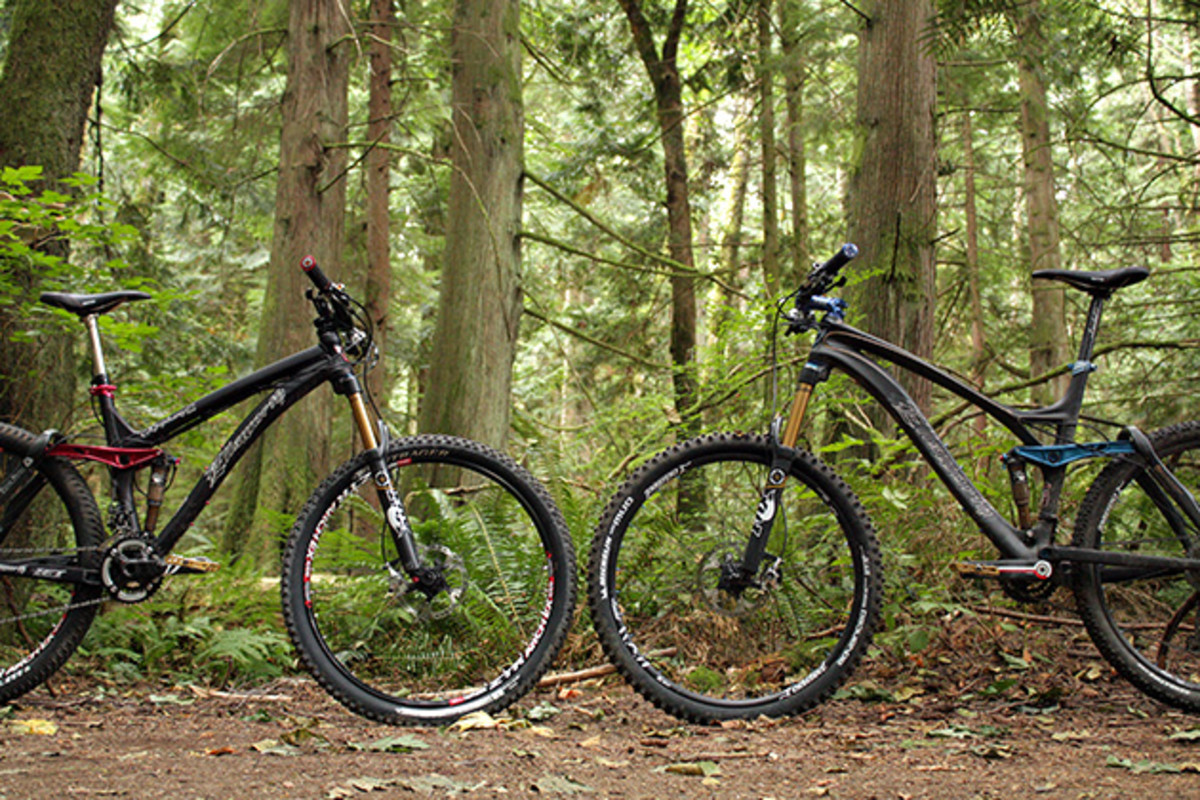 By Vernon Felton
The tough choices, when you're looking for a new bike, are rarely a matter of picking between models that are vastly different from one another. You rarely find yourself, for example, vexing over the question of whether you should buy a downhill bike a cyclocoss rig. Those two bikes have so little in common with one another … it's simple to suss out which rig might be the better choice for you. The decision making process becomes much more difficult when we've narrowed down the list of candidates to just a few and we're trying to pick between seemingly similar bikes.
Consider the Ellsworth Epiphany models on this page. Both sport five and a half inches of rear suspension travel. Both share the same basic suspension design. Both utilize similar Fox suspension units. At first glance, the big difference seems to be that one frame is made out of carbon and the other, primarily aluminum. These two bikes, however, are very different beasts.
The Epiphany C XC is, as the name suggests, a fleet-footed cross-country bike. Yes, that's a hell of a lot of travel for a bike that should be biased towards flying uphill and logging long miles as quickly as possible, but this bike, make no mistake, is all about getting those two things done. The Epiphany Enduro, on the other hand, doesn't merely come with a stubby stem and a set of wide bars to hang some goofy goggles on. Ellsworth equips the gravity-flavored Epiphany with much slacker geometry, with an eye towards creating a bike that excels on descents and more technical terrain.
I spent the past few months riding these two bikes and asking myself the following question: Which Epiphany is better?
The Race Whippet – Ellsworth Epiphany XC
Weighing in at a hair under 26 and a half pounds, the Epiphany C XC isn't packing any spare pounds. The full (front and rear) carbon frame gets a lot of the credit here, as does a stellar parts kit that's heavy on the XTR. That lack of heft helps on the climbs—which is to say that the bike tears up them like it's on fire—but Ellsworth's Instant Center Tracking (ICT) suspension design also helps the bike mock gravity. True, the Epiphany C XC doesn't pedal as briskly (in wide-open mode) as some other bikes, but in Trail mode, the bike motors along like no one's business, while still offering solid small-bump performance. Nice.
Where this bike shines, however, is on tight and twisty trails. Ellsworth designed the Epiphany C XC with a 70-degree head angle, which is downright steep. Threading the needle though tight turns is a downright blast. The bike's tight wheelbase and quick steering make short work of the most evil of switchbacks.
Of course, there is a flipside to that awesome half of the equation: on steep descents, the Epiphany C XC is a handful—as in nervous and twitchy. Does this make the bike a poor choice? Not necessarily. If you are looking for an uber-capable all-purpose trail bike, then no, this thing isn't going to light your fire. On the other hand, if you are looking for a true cross-country rig and your passion lies in crushing climbs and tearing through tight terrain, then the Epiphany C XC is hard to beat. It's one of the better dyed-in-the-wool XC bikes that I've ridden in a long, long time.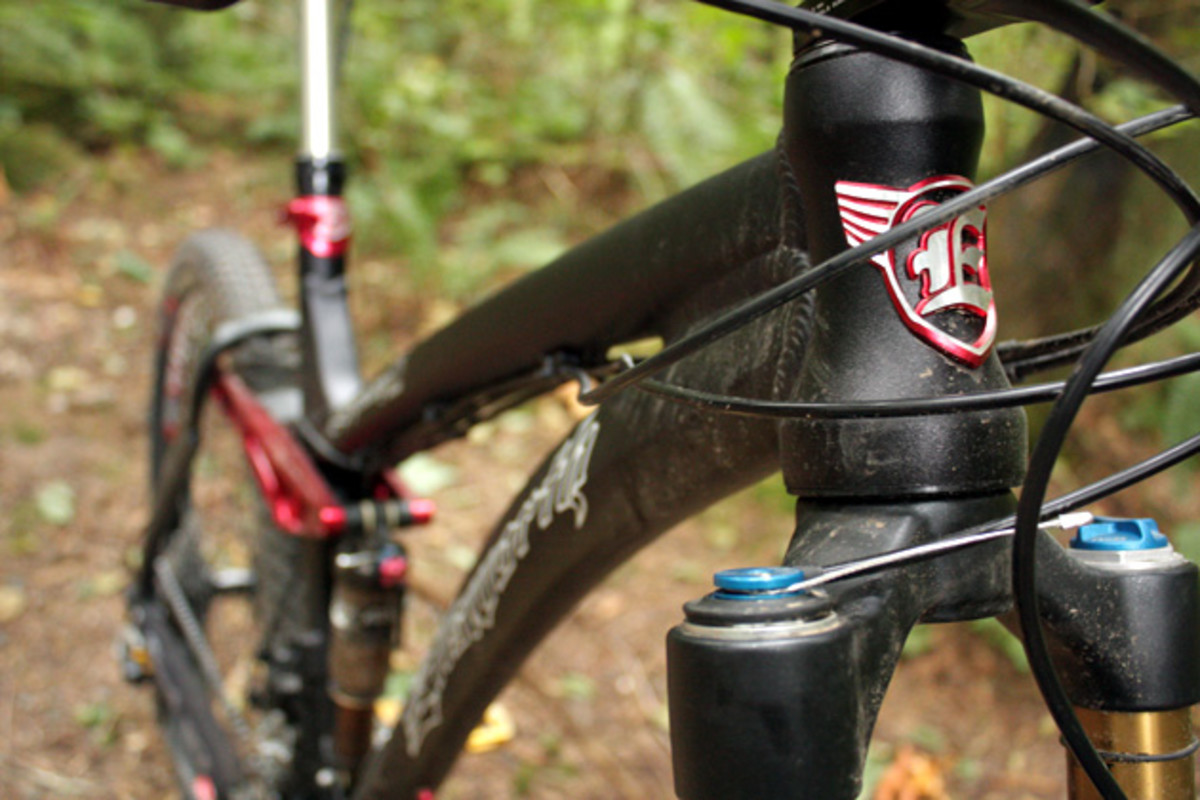 Enter the Enduro
The Epiphany 275 Enduro SST.2e gets up climbs nearly as well as its XC twin. No big surprise since the bike doesn't weigh much more and sports the same basic suspension design and components. The Enduro, however, runs a 68 degree headtube, which gives the bike a far more capable feeling on descents. It's hard to believe what a big difference two little degrees can make, but it truly sets the two bikes apart.
But here's the bigger question: How does the Epiphany Enduro actually compare to other Enduro rigs on the market? To be honest, I think it needs some work. While it's a more capable descender than the Epiphany C XC, it falls short of what you experience on something like a Kona Process 153, Santa Cruz Nomad or Specialized Enduro. Compared to those bikes, the Epiphany Enduro sports a relatively steep head angle and short top tube. By modern "enduro" standards, the Ellsworth is still biased towards climbing (rather than pummeling technical downhills). Is it a good bike? Yes… It is not, however, a great one.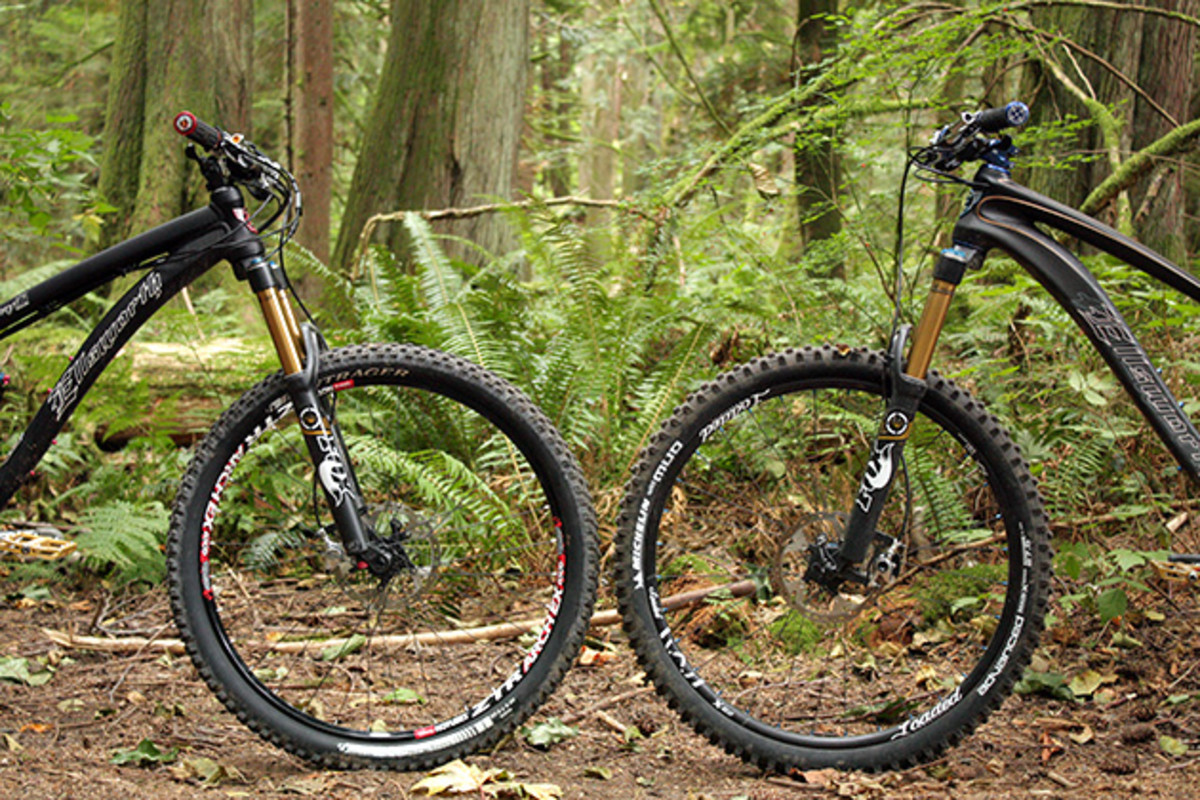 Pick Your Weapon
If I had to pigeon-hole myself as a rider, I'd sort myself somewhere in the all-mountain camp and yet if I had to choose which Epiphany was better, I'd point to the Epiphany C XC. Why? Because when you compare it to other bikes in its genre (lightweight, cross-country race bikes), it proves a contender alongside the best in its breed. The Epiphany Enduro, on the other hand, isn't as stout, calm or plush a descending machine as many of the top models in its class.
My nod goes, then, goes to the carbon race rocket.