Few things get my goat like purposefully misspelled words. Contemporary marketers seem to think it fine to take any word that suits their purposes and contort it–remove a vowel here, drop a consonant there–and voilà: A hip-looking and entirely SEO-friendly buzzword is born. But this review, though it may be constructed of words, isn't about them–it's about a bike. A pretty interesting bike, actually.
If you've ever heard of Spot Brand before–and there's a good chance you haven't–you probably associate the name with hardtails, chromoly and maybe belt drive. Those were my associations until I saw the Rollik–a carbon, 140-millimeter-travel, 27.5-wheeled machine that looks like something made by a brand with years of experience on the cutting edge of mountain-bike design.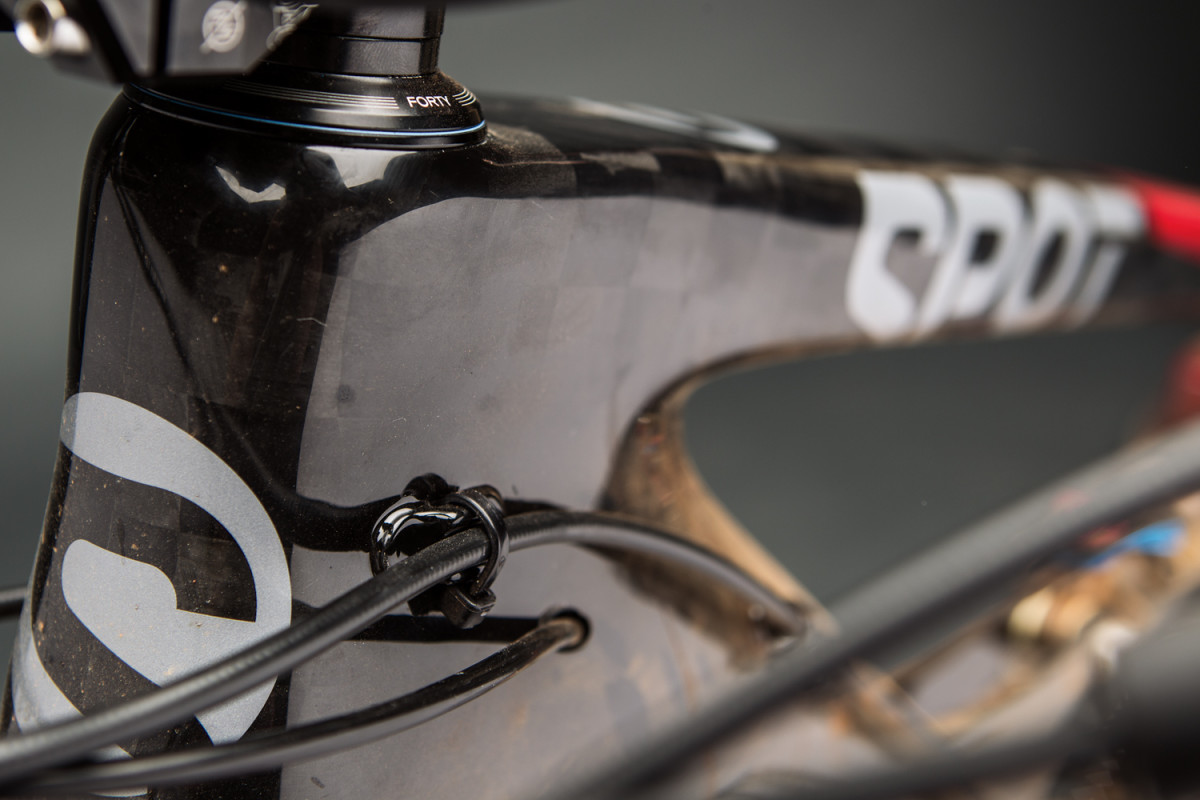 Such a bike would seem to come out of left field from a brand like Spot, until you consider the Golden, Colorado, company's pedigree, which goes well beyond chromoly hardtails and hipster rigs. Spot Brand is owned by the Lumpkin family–that of Wayne Lumpkin, who founded Avid in 1991 and grew it into America's largest brake manufacturer before selling to SRAM. Lumpkin also developed the CenterTrack design that solved alignment issues with Gates' belt-drive systems. The 27.5-wheeled Rollik and its 140 millimeters of Living Link suspension are the latest creations of a brand with no shortage of know-how.
Living Link is distinguished by the carbon leaf spring used in place of the rear-triangle bearings on the lower link. Spot says that these bearings typically rotate very little, but wear faster than those in the rest of the system, and that all bearings inherently have a modicum of play. The leaf spring flexes vertically, performing the movement necessary for the suspension to cycle, but is very stiff laterally. Spot says it's been tested without fail for 3 million cycles–the equivalent of 12 years of daily riding.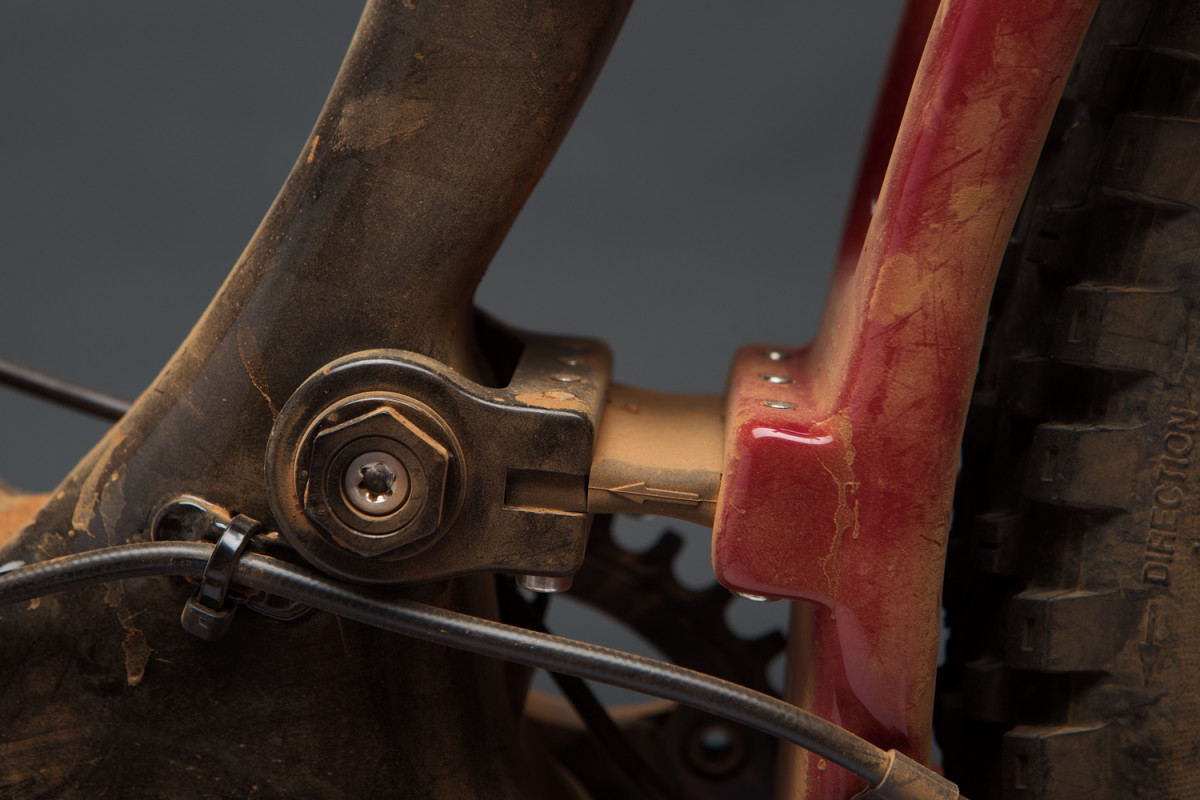 The Rollik boasts progressive geometry with short 433-millimeter chainstays, a 67-degree head angle and a roomy 456-millimeter reach on the size large I tested. That lengthy reach is necessitated by the number that stands out most on the geometry chart: the steep 76-degree effective seat tube angle.
That number stands out on the trail as well, where it produces an aggressive, almost road-bike-like seated position that lends itself to slicing through corners while seated. Navigating tight uphill switchbacks and dissecting precise moves on climbs is likewise no problem for Spot's new creation. Put power into the drivetrain and the rear end remains firm thanks to what Spot refers to as the system's "copious anti-squat." As with all suspension designs, there's a tradeoff here. The anti-squat that contributes to the Rollik's outstanding pedaling performance also reduces the system's plushness on steep, technical climbs, where the rear wheel tends to momentarily break traction over the type of chunky, square-edge get-ups that litter our dry-and-loose Southern California trails. But when it comes to outright pedaling efficiency, the Rollik is tough to beat.
This is a trail bike, although its 67-degree head angle and 150-millimeter-travel fork might hint at more aggressive intentions. I like to think of 27.5-wheeled bikes in this in-betweener category as pre-pubescent all-mountain bikes: Some, like the Kona Process 134 I recently tested, are growing awkward moustaches and sneaking their dad's cigarettes, while others–like the Rollik–just heard their voice crack for the first time. As with puberty, none of it's necessarily good or bad per se, it's just part of the natural order of things in the world of trail bikes.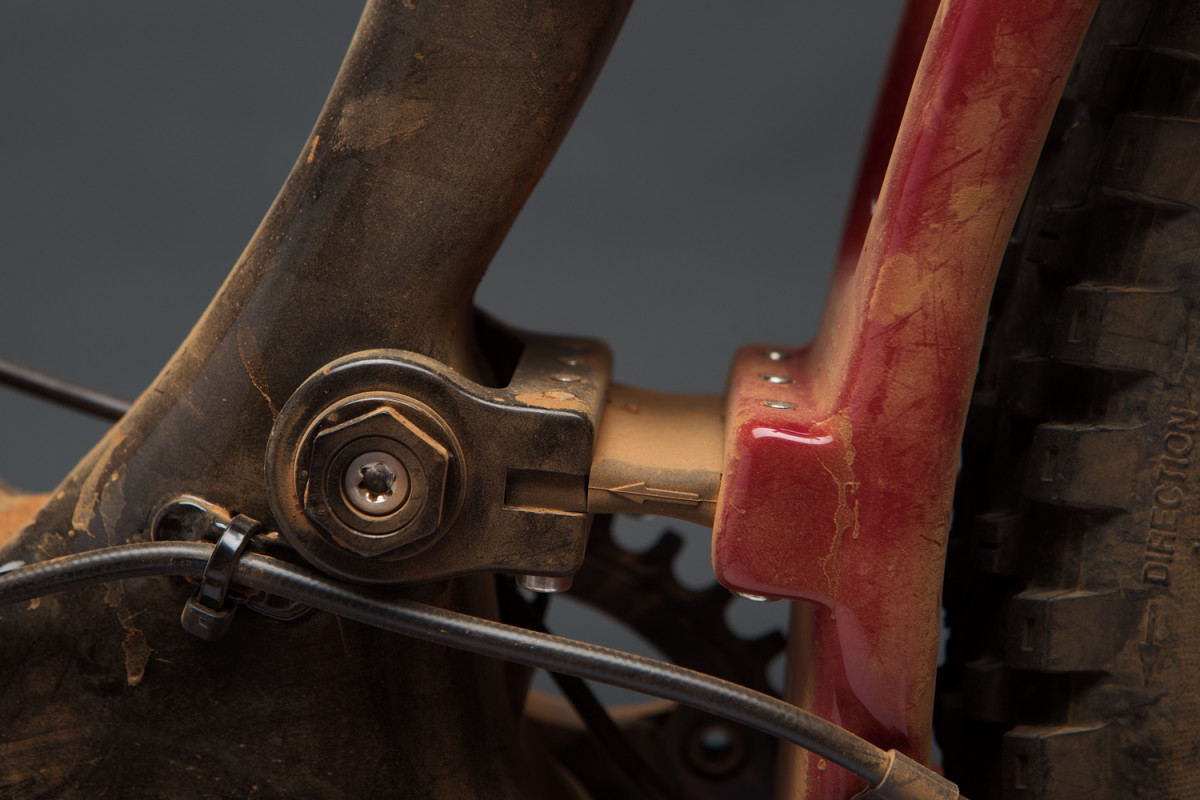 Flowy, turny, mellower descents are where the Rollik shines. There's plenty of pop on tap in the Living Link system, and the combination of the short rear end and long reach make the Spot a pleasure to corner, whip around and get airborne on. I couldn't detect any lateral flex in either end of the chassis, possibly thanks in part to the leaf spring out back and the massive headtube up front.
If the Rollik has the silhouette of a Yeti, then it has the aesthetic texture of a Felt, thanks to the checkerboard appearance of TeXtreme carbon, which promises more carbon, less epoxy and a higher strength-to-weight ratio. TeXtreme is indistinguishable in feel from typical high-quality carbon on the trail. More noticeable are the two bottle-cage mounts and the threaded bottom bracket, both of which are details that most any rider will appreciate. The Rollik's spec is competitive with what other boutique brands can offer, and it's a fairly shrewd selection of parts, though burlier tires than the stock Maxxis Ardents were required for our local trails, and I would have liked to see a longer-travel dropper than the 125-mil Reverb that comes stock on all sizes.
As a first offering in carbon and full-suspension, the Rollik represents a major milestone for Spot. But this is more than just a cute underdog story–not only does the Rollik boast a novel suspension design, it boasts three increasingly scarce details that make a bike truly easy to live with: dialed cable routing, a threaded bottom bracket and places to put water bottles. 'Rollik' may be missing a letter, this bike is definitely not short on fun.
Spot's Two Cents:
It's unique for a ripping 140mm travel suspension bike to put down the power as well as the Rollik. The culmination of many prototypes of Living Link is an elegant, robust suspension system that pairs descending chops with extraordinarily efficient power transfer. Technical obstacles disappear behind you on your way to a new personal best time. This playful descender is enhanced by the long front center, and the long reach gives ample room to move around with the saddle dropped. Thoughtful design features and premium materials round out this next generation bike. The Rollik is ready to tame any trail. -Andrew Lumpkin, President, Spot Bicycles
Related:
Review: Rocky Mountain Pipeline 770 MSL