In a sport in which a new niche develops every 30 seconds, it comes as no surprise to see a new one emerging out of the cross-country bike category. This still-unnamed sub group is basically an XC platform with a pinch of all-natural trail flavoring. What also comes as no surprise is that Kona, of all brands, would be among the first few to help form this particular niche. Its Process series, announced in 2013, took, 'long, low and slack' to a new level, and the Process 111 is still one of the most aggressive short-travel bikes on the market.
To be honest, I don't get particularly excited about testing XC race whips. Don't get me wrong, I love doubling the excitement of a descent I've ridden a hundred times. I'd just rather not be going half speed while doing so.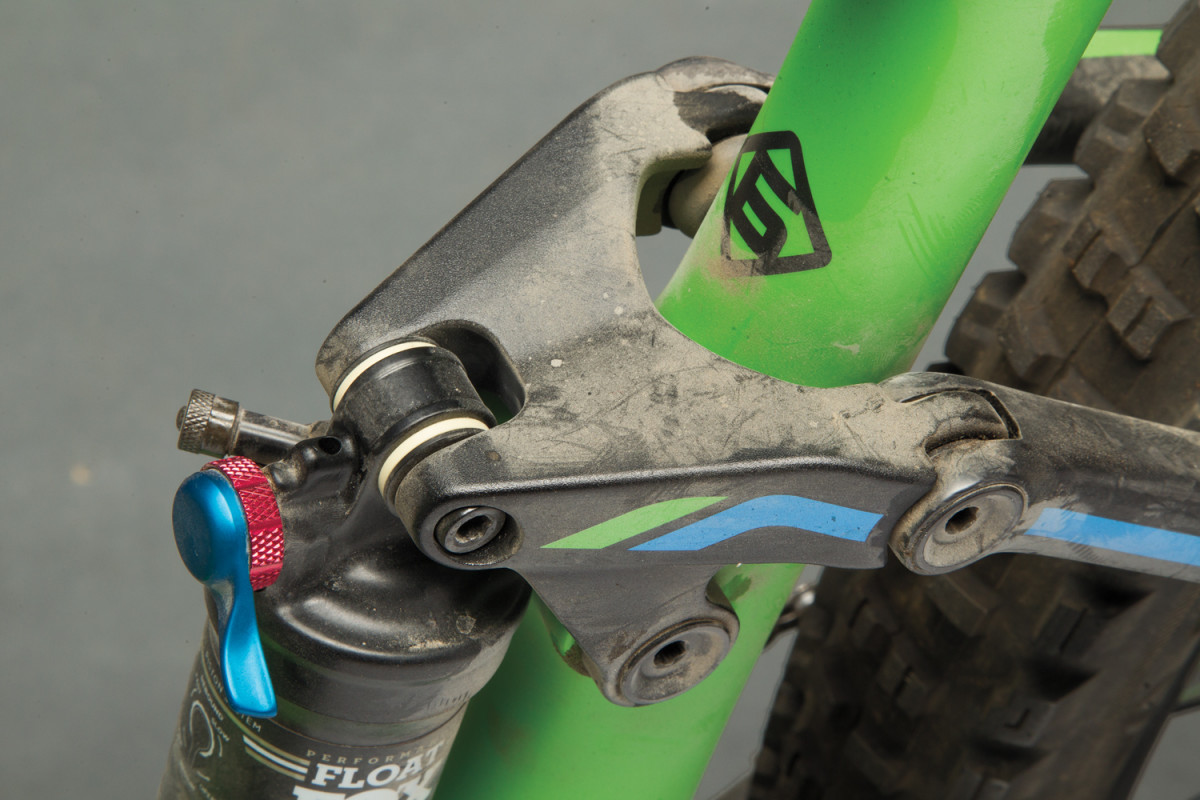 I do generally prefer my trail bikes on the steep, faster-handling side of the spectrum, though, and I trend toward 29ers, so when the previous version of this bike, the Hei Hei DL Trail, showed up at our 2016 Bible of Bike Tests in Vermont, it looked like the perfect bike for the pedaly Kingdom Trails. It was. The lightweight, flexing-seatstay suspension design gave a snappy, efficient, XC feel while the 120-millimeter-travel Fox 34 fork provided a much-appreciated confidence boost. Taking cues from the geometry tweaks that made the Process bikes so successful, Kona gave the Hei Hei a long reach, short chainstays and a slack-for-XC head angle.
That bike was aluminum; this one is carbon. Full carbon, and in size large, it's over a pound lighter than its metal predecessor. Plus, Kona updated the new model with Boost 148 rear and 110 front-axle spacing. Besides that, this bike shares a lot of numbers with the one we all dug in Vermont, including a long, 455-millimeter reach, 430-millimeter chainstays, 68-degree head angle, 74-degree seat angle, and of course, 100 millimeters of rear travel. If you're wondering where the word 'Trail' in the model name went, it's been reassigned to a new Hei Hei with 27.5-inch wheels and 140 millimeters of front and rear travel. On the other side of the spectrum is the Hei Hei Race, with a rigid seatpost and a 100-millimeter fork–putting the head angle at 69 degrees, for the full World Cup race experience.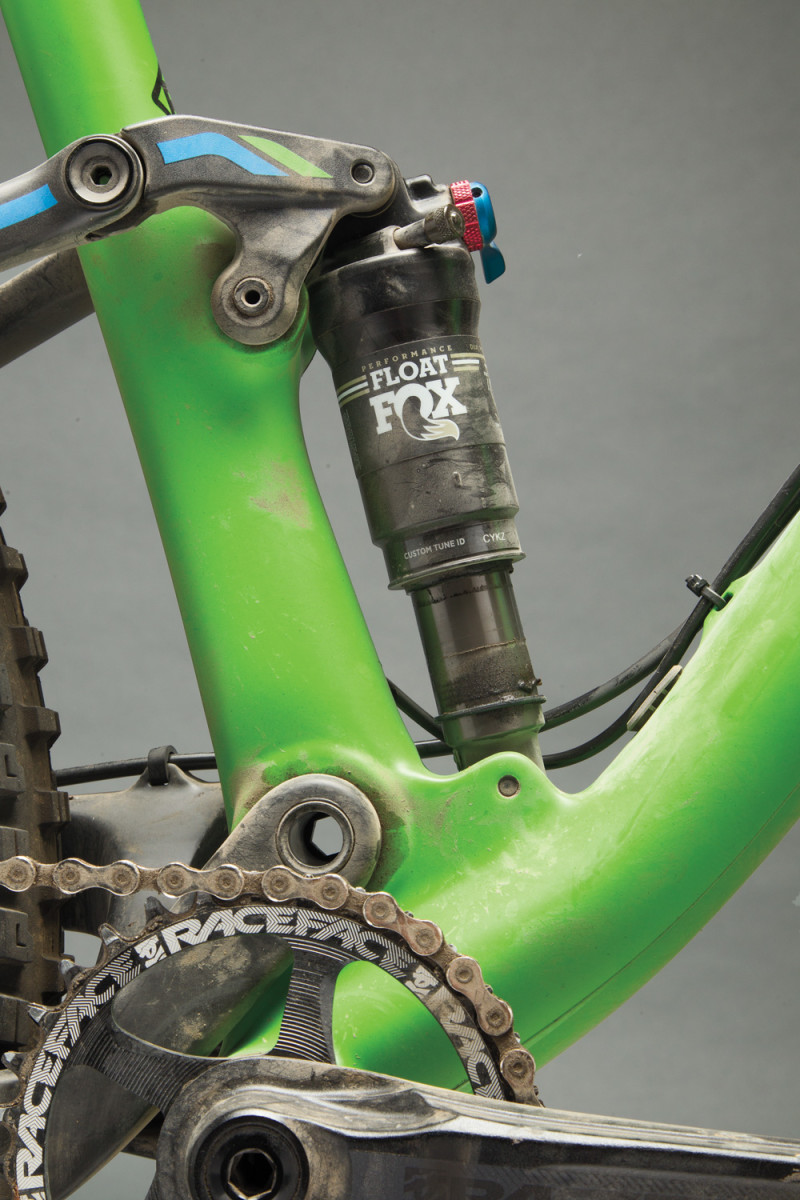 After only one ride, I decided to add that pound of weight back on by swapping the stock tires–Maxxis Ardent front and Ikon rear–for Bontrager SE5s, which are built for the rigors of enduro racing. I figured they would let me really test the Hei Hei's limits on my next ride, the Olallie and O'Leary Ridge trails in McKenzie Bridge, Oregon. In 7 miles, the trail gains nearly 5,000 feet on the way up toward Macduff Mountain. I noticed a few things while battling with that climb. First, the Hei Hei is a very efficient pedaler. Second, the low gear provided by the Shimano XT 11-40 cassette and 34-tooth Race Face single ring was a bit tall for me when tackling long, steep grunters. Finally, the geometry is still XC enough that the Hei Hei hasn't lost its huge appetite for climbing. The dialed geometry never requires the rider to scoot very far forward in order to keep the front end down, and the cross-country specific Fuse Independent Suspension design has hardly any squat or bob, especially when the pedaling platform on the shock is engaged. The bike maintained its composure far better than I did up that climb, and it even helped me clean every switchback, which were definitely not designed for mountain bikes.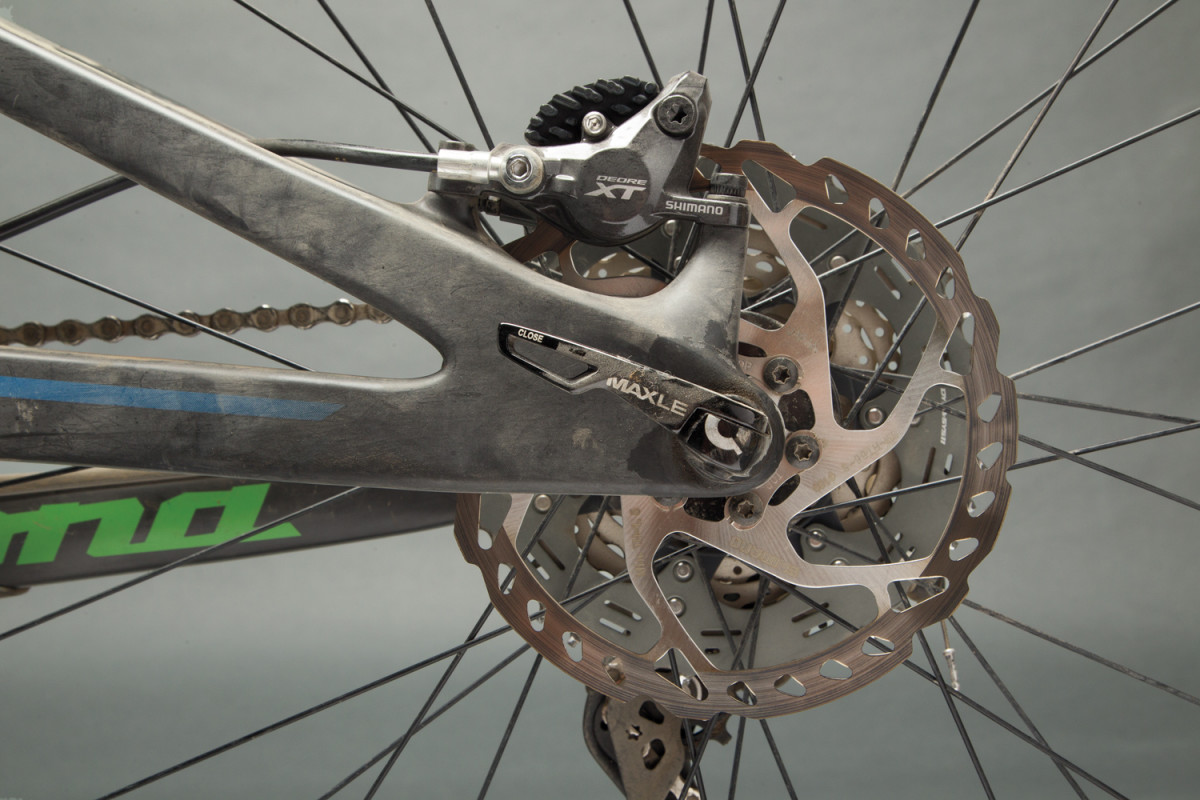 On the way off Macduff Mountain, the narrow ribbon of singletrack straightens out enough in several places to achieve full hyper-drive status. At these kinds of speeds, the Hei Hei's handling understandably gets a touch sensitive, requiring hyper-focus–but the thing does go where you put it. That pivot-less, Boost 148 rear end and Boost 110 fork spacing gives the bike an extra level of stiffness to keep it tracking well at vision-blurring speeds. Again, it kept its composure probably better than I did. The bike let me descend aggressively enough to really appreciate the enduro tires I'd installed earlier that day. I also appreciated the dropper post, a component the bike we rode in Vermont last October didn't have but definitely needed. For the DL spec, Kona chose one of my favorites, the KS Lev Integra. With that sucker dropped, and my center of gravity low, I could confidently drift corners and nose manual down those same switchbacks the bike helped me clean on the way up.
Although this bike is no doubt still an XC whip, it's an astonishingly fun, trail-bike-ish one. This is a niche I can get behind.

KONA'S TWO CENTS | "The Hei Hei is our interpretation of what an XC race bike should be. World Cup courses are becoming increasingly difficult and our athletes requested an offering that met those challenges head-on. We also saw trail riding as a primary use for a lot of customers and felt that we could make a bike that met both requirements–XC World Cup racing and weekend trail riding. The result is one of the most well-rounded bikes available, and the new carbon frame pushes the boundaries of XC possibilities further than we'd previously envisioned. Everyone at Kona is a rider and we would like to think that bikes like the Hei Hei showcase our commitment to challenging preconceived notions of riding categorization." –Ian Schmitt, Kona Product Group
Related:
Review: Rocky Mountain Pipeline 770 MSL