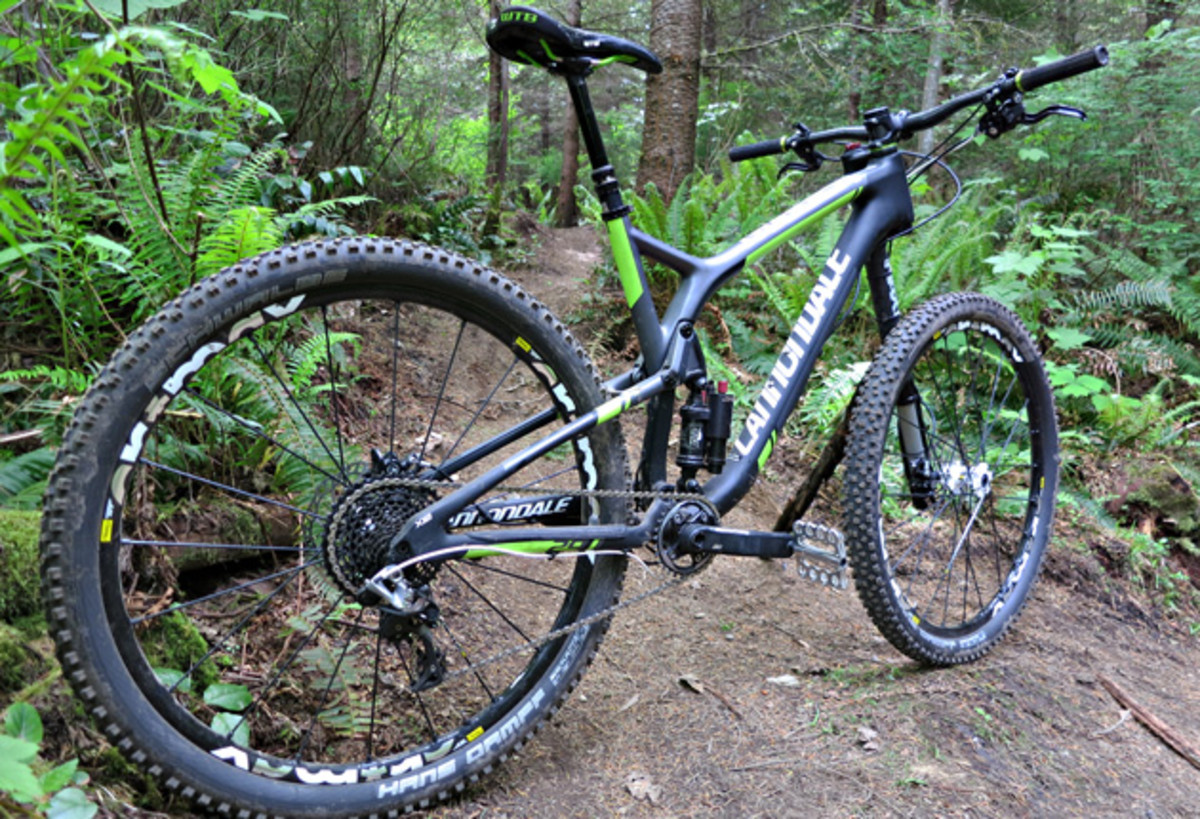 Preview: Cannondale Trigger 29 Carbon 1
By Vernon Felton
Two years ago I was winding along Horsethief Bench in Fruita on a brand new carbon fiber Cannondale Trigger and I couldn't help but wonder—as good as that bike felt—what it might feel like with bigger wheels beneath it. Though I admit to wanking on and on about wheel size these days, I really don't spend a lot of time thinking about the diameter of my wheels when I ride—that's sort of like thinking about having sex when you are having sex. You miss the forest for the trees and all that.
But on that particular day, my mind wandered over to the topic of wheel size. The Trigger 26er was an absolute rocket, but on particularly chunky sections of Horsethief, I found myself muscling my way through the chop. A larger diameter wheel might skim over some of that same stuff. Hmm….
Two years on, I've corralled the bigger-hooped version of the Trigger and will be reviewing it for a print edition of Bike Magazine. In the meantime, here's a quick preview of the goods.
SPLIT PERSONALITY
The Trigger is built around the same general design as Cannondale's burlier Jekyll and Claymore models. To wit, the bike features a twin-tube rear shock (the DYAD RT2) that, with the flick of a switch, enables you to change the bike's rear travel from 130 to 80 millimeters of travel. Fox builds the shock for Cannondale, but the designer is Peter Denk, who made a similar rear shock for Scott's Genius bikes a ways back (they've since changed rear shock designs).
In short, you hit the little handlebar-mounted switch and you go from trail bike to cross-country racer.
Front suspension duties are handled by Cannondale's Lefty SuperMax Carbon PBR—a fork that Cannondale claims is their lightest and stiffest to date. The fork weighs a mere four pounds, yet Cannondale claims it is actually stiffer than models such as the Fox 36. That's a claim that a lot of people will dismiss as bullshit, but Lefty forks have been proving themselves to be remarkably stout since their debut 15 years ago. It's really not all that surprising when you consider the fork sports a 36-millimeter stanchion which slides into a 46-millimeter upper tube and that the whole affair is tied up with two burly crowns.
PREMIER PARTS
There are actually four Trigger 29ers in the 2014 line up—this one being the crème de la crème of the bunch. As such the full carbon frame is decked out in swank bits. Highlights here include a SRAM XX1/X01 drivetrain, RockShox Reverb Stealth post, Mavic CrossMax ST 29 wheelset, Schwalbe Hans Dampf rubber, and Magura Six brakes.
Given all the pricey parts hanging on the carbon frame, you might be thinking, I bet this bike ain't cheap. And, yes, here's the painful part: it sells for $8,120. But before you curse us for profiling another expensive bike, consider this: Trigger 29ers start at $3,470 (that'd be the Trigger 29 4) and they all sport the same DYAD RT2 rear shock. In short, you can get many of the same core technologies that you see on this bike for a lot less.
SO, WHAT'S THE BIG DEAL?
A lot of bikes claim to be versatile and many of them do a good job of handling a wide range of trails, but a few select bikes twist the knob to 11, so to speak. Cannondale's Jekyll comes to mind. Scott's Genious LT bikes do strong work here as well. The Trigger is intriguing in that it has the potential to bridge the gap between cross-country race whip and all-purpose trail bike. On paper, those two categories may seem similar, but out on the trail, they are like tuna fish and vanilla ice cream. Very different beasts altogether. Cross-country rigs should be biased towards gaining elevation—they are not known for their, as the kids might say, "shreddability" on descents. Trail bikes should be just as good going down as they are going up.
Does the Trigger truly morph from skinsuit race weapon to burly trail bike at the flick of a switch? Look for a review in an upcoming issue of Bike.