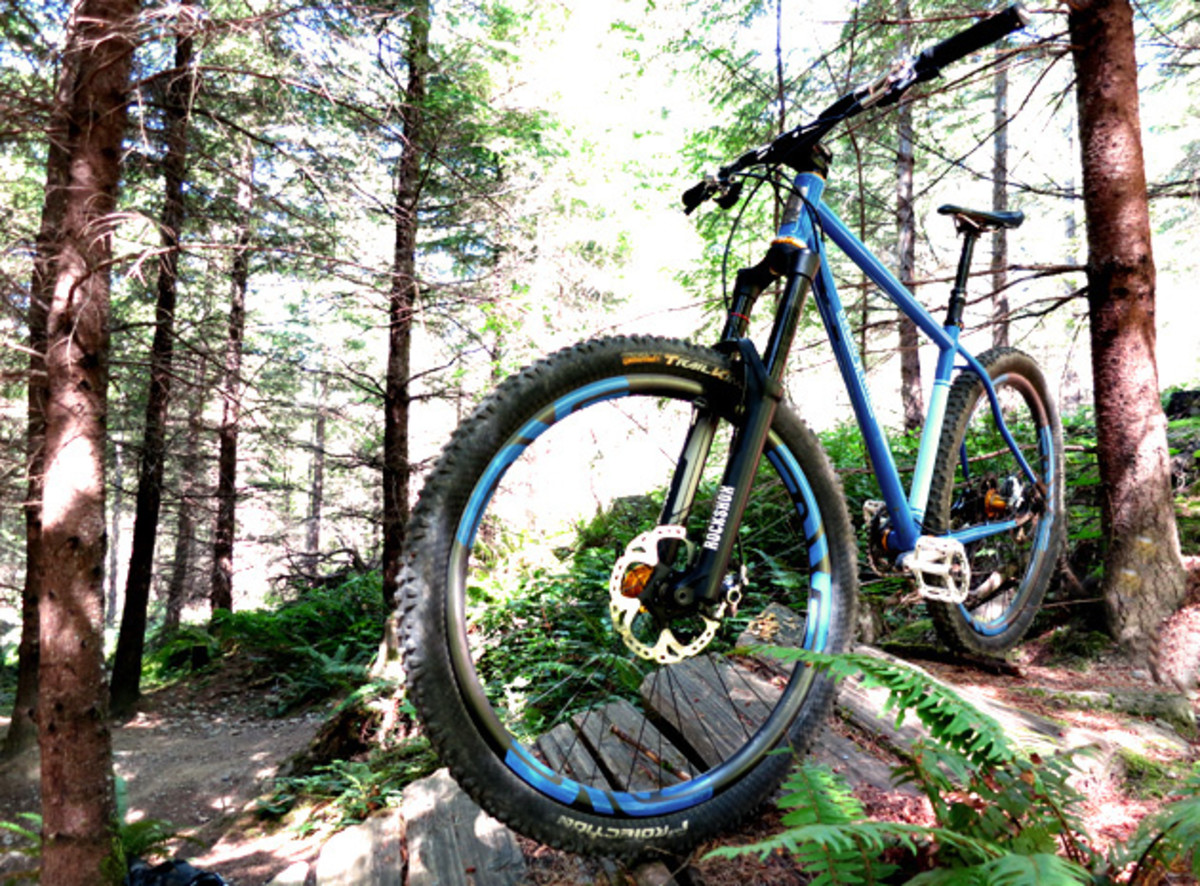 By Vernon Felton
Breadwinner Cycle's Bad Otis is a beautiful bike and while beauty is in the eye of the beholder, I'm not the only one who feels this way. This bike—the very one I just finished riding—was awarded Best Mountain Bike at this year's North American Handmade Bicycle Show, an event that is packed floor to ceiling with lust-provoking bikes.
Otis is pretty.
More importantly, it's interesting as hell. A 6-inch-travel RockShox Pike spearheads the front of the steel hardtail. This isn't your typical cross-country race bike. We'll soon post an interview with Ira Ryan and Tony Pereira—Portland's dynamic duo framebuilders who crafted the Bad Otis—in which we'll cover the nitty gritty behind the Bad Otis, but in the meantime you could probably sum up the Bad Otis with one word "Braaahhp!." Ultra slack head angle, short wheelbase, plenty of room for monstrously fat tires. The Bad Otis is a bruiser that merely happens to look like Venus de Milo.
So, here are the basics. The frame is a stout mix of Columbus and True Temper tubing (a 6-inch-travel fork puts a load of stress on a headtube and downtube). With a 6-inch-travel fork up front, you're looking at a 66-degree head angle. The frame is loaded with all manner of nice details including stealth dropper post and derailleur routing. The frame is also very versatile. Thanks to the 44-millimeter headtube you can run either straight or tapered fork steerers. Likewise, you can put just about anything on the rear end of the bike, thanks to the Paragon Machine Works PolyDrops, which allow you to run the Bad Otis just about any way you can image—geared, singlespeed (chain or belt drive), through-axle or old-school quick release, etc. Despite the burly build, it weighs in at 25 pounds on the nose. Hot damn.
As for pricing. The Bad Otis is built in Portland by two of the most respected frame builders in the country: It ain't cheap. You're looking at $1,895 for the frame.
Our test bike (Tony Pereira's personal rig) came equipped with Chris King headset and bottom bracket, Enve wheels and bars, XTR brakes and crank, a RockShox Reverb post…yeah, you'll need to get a second job cutting lawns to afford the Bad Otis, but after a few rides aboard this thing, that almost sounds like a perfectly logical thing to do. This bike is bad, indeed…as in "Spank me—I'm being bad!" Otis isn't just pretty, it's ridiculously fun to ride.
How much fun? I'll be back next week with an interview and a ride report.