Liv invited bike-minded journalists from all over the world to Sedona, Arizona, last week to enjoy the (not-so) slickrock and slalom through the cacti aboard two new bikes: the 160-mil Hail for the all-mountain test and the 120-mil Pique for our sweltering cross-country rides.
One thing was immediately apparent: These bikes aren't updated versions of anything. After the success of the Lust (the single best-selling mountain bike for both Liv and its parent company, Giant Bicycles, in 2015), and with feedback coming in from women all over the world, the folks at Liv knew they were on to something good, but they wanted to provide something truly great. Enter the Pique and Hail.
Riding the Liv Pique
The success of the Lust proved that women are willing to spend money on a product designed specifically for them. With access to global body dimension databases, Liv started the Pique from scratch with the aim of building a lightweight and stiff race-ready carbon machine. The model I rode–the $8,795 Pique Advanced 0–boasts a frame consisting of a carbon front triangle and an aluminum rear end, and comes dressed to the nines. The Pique Advanced 0 is ready to get after it with a 120-mil-travel RockShox RS1 fork, RockShox Deluxe RT3 trunnion-mounted shock, SRAM Eagle 12-speed drivetrain and Rise 60 carbon hoops, a 750-mil-wide carbon bar and Giant's 100-millimeter-drop Contact dropper post.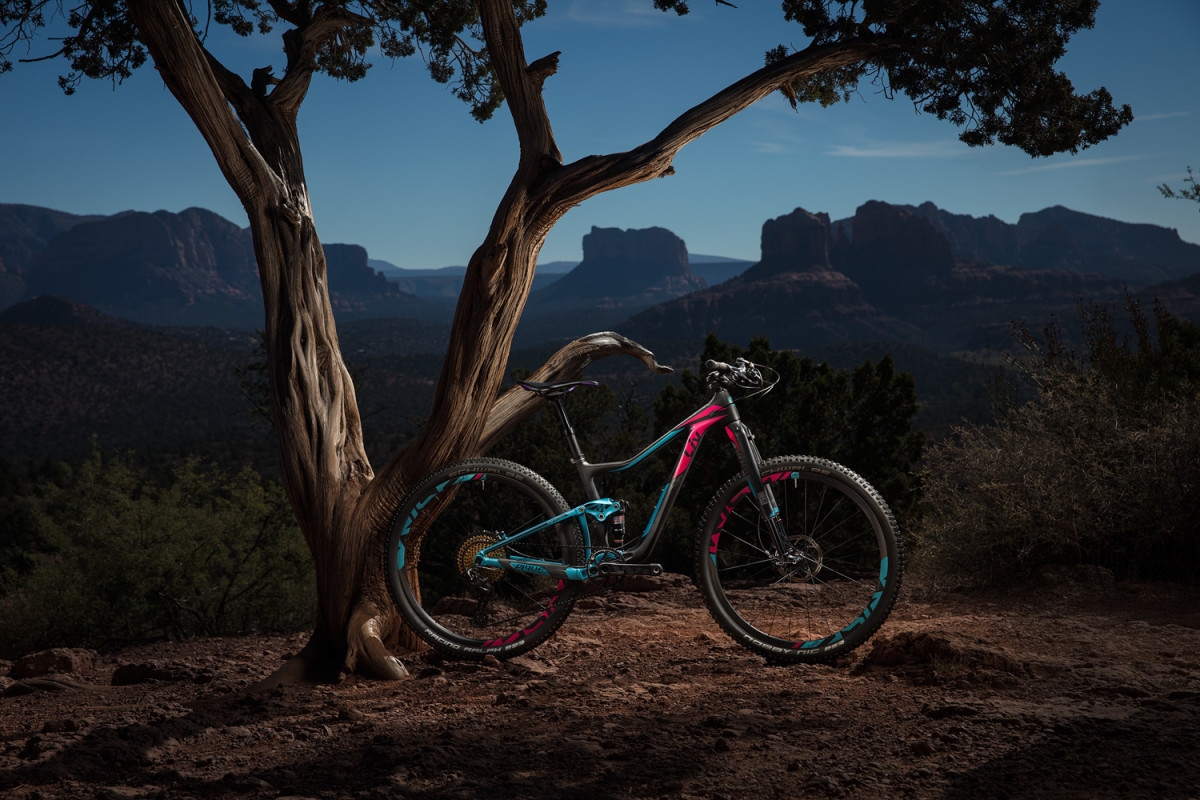 Our day aboard the Pique was spent navigating Sedona's red rock canyons on technical, undulating trails. Things I noticed on our ride together: The RS1 is a very stiff fork, and in fact the overall bike felt very, very stiff. This is typical of XC rigs, but at times I felt like I was in a wrestling match with mother nature trying to climb up Sedona's notorious squared-off rocky ledges.
This could have been due to my struggle with finding my center over the bike on punchier climbs, and also my being used to riding bikes that provide a bit more compliance. In other words, finesse is important with this bike. Mistakes can't be hidden by monster trucking into an obstacle. Fortunately, at just under 23.5 pounds (without pedals), it's easy to move the bike around when necessary. Conversely, when I came into a rock garden on speedy descents I had to ensure that I was in control of the bike, and not the other way around. Because of its light weight, it can pinball a bit.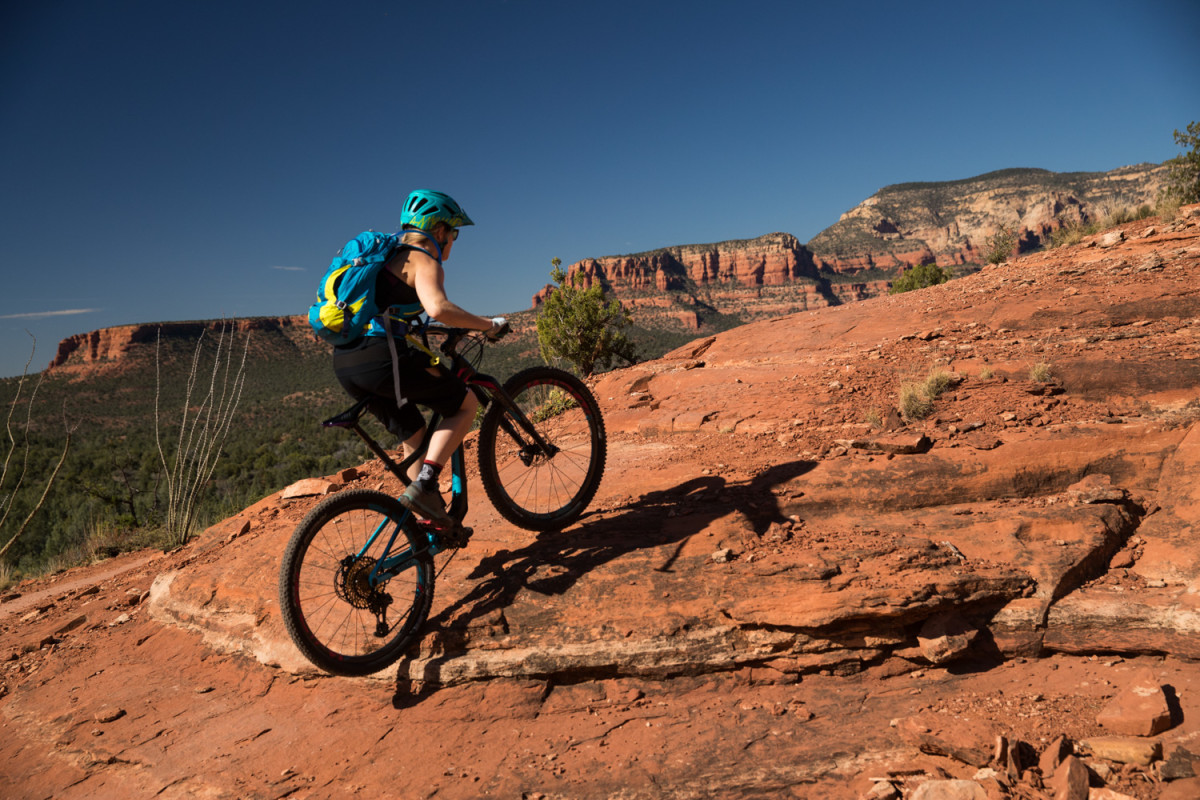 There are a couple of things worth nothing about the Pique. The 73-degree seat tube angle puts the rider fairly forward over the frame. At first I thought the reach felt long (392 millimeters on the small) and moved my seat forward. This threw my weight off center and caused my rear wheel to spin out on punchy climbs. I didn't have this issue after returning the seat to a centered position, but still struggled with the reach until I'd spent enough time on the bike to get used to the positioning.
When pointed downhill, the Pique Advanced felt more like a 140-mil-travel bike–despite its 70-degree head angle–eating up everything we encountered on the more cross-country-oriented trails we rode. Pretty cool for a lightweight, short-travel bike.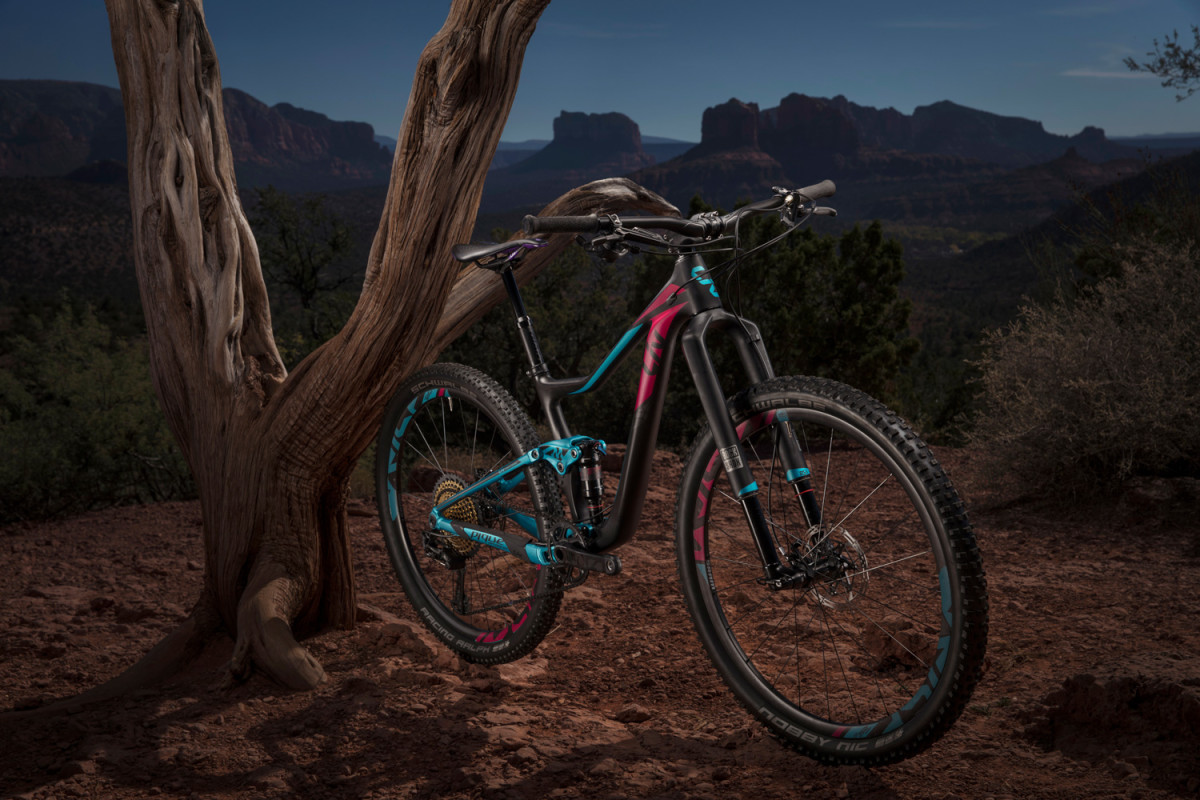 The Pique is available in six models, with carbon and aluminum options ranging in price from $2,375 to $8,975. If 120 millimeters seems a bit shy, Liv also offers the $4,125 Pique Advanced SX, which features a RockShox Revelation fork that's adjustable between 120 and 140 millimeters of travel.
Riding the Liv Hail
If the Pique doesn't fit your riding style, there's a good chance the Hail will. The Hail is Liv's no-holds-barred all-mountain bike. Simply put, Liv didn't skimp on anything on the Hail Advanced 0. It retails for $8,250 and sports every bell and whistle you could want on an all-mountain rig. The RockShox Lyrik fork is adjustable between 130 and 160 millimeters to help get up and over obstacles on burly climbs. SRAM Guide brakes keep you in control through high-speed sections and SRAM's Eagle drivetrain provides plenty of low-end range for challenging ascents.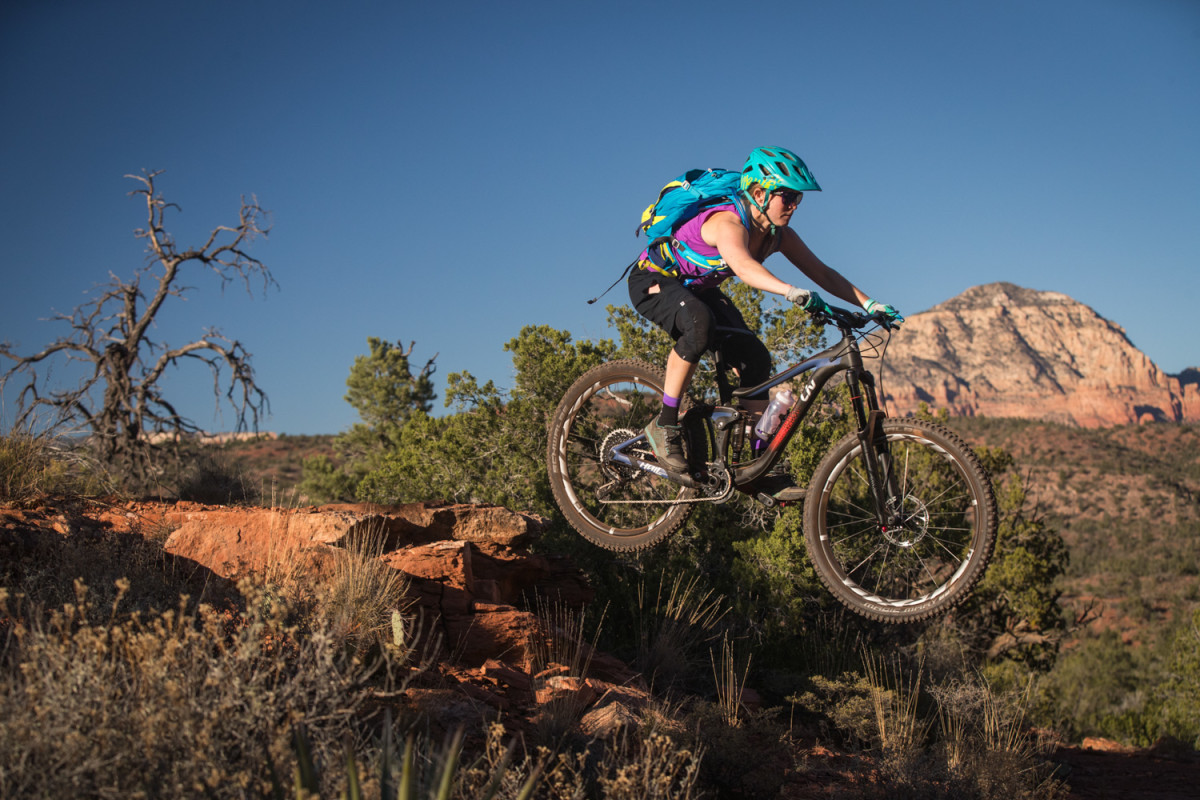 It's nice to have the option to drop the Lyrik in travel, and in doing so lower the front end, but honestly the bike climbed so well over all kinds of terrain that I never felt the need to do so. For a 160-mil-travel bike this thing destroys climbs. In fact, I almost had an easier time climbing with the Hail than with the Pique, but that could definitely be due to my riding style.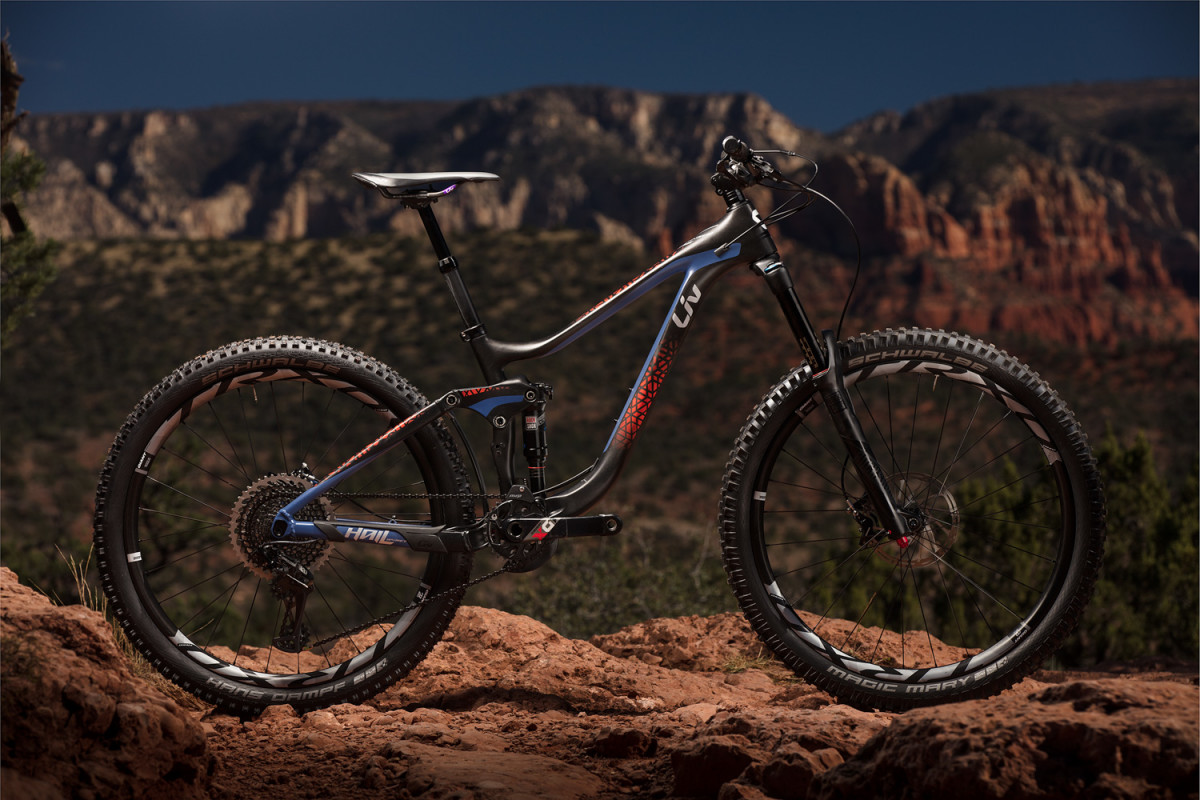 A beefy tire combo consisting of a 2.3 Magic Mary up front and Hans Dampf in the back kept us rolling through some sharp rock sections. Marys aren't the lightest tire on the market, but the rolling weight wasn't all that noticeable when set up tubeless and coupled with Giant's TRX carbon rims.
The Hail's geometry is also a bit different from what you'd find in other similar size offerings. The Maestro suspension–delivered by a trunnion-mounted RockShox Deluxe RT3 shock–allows for a lower standover height–something I've always appreciated. Interestingly, Liv went against industry trends and raised the Hail's bottom bracket to alleviate pedal strikes and provide more confidence when pedaling through technical sections. The trunnion-mounted shock allowed the rear wheel to be moved in, thus keeping the wheelbase tight and the overall ride agile. I was really impressed with the clearance through rocky sections, and its playfulness on the descents, and the bike still felt very stable in technical terrain, as well as when cornering. It really is an all-around fun bike.
It takes a seriously dedicated army to launch a movement. It's more than just an idea, and it's more than just talk. Liv is the army behind the only mountain bikes designed specifically for women from the ground up. "As a female cyclist, I think it's really important that we all raise each other up," said Amy Stanfield, Liv's global marketing director. Liv's brand story is focused around bringing more women into the sport and making biking more approachable. But the unscripted story lies in the passion the employees and athletes feel for riding and their commitment to empower other women to join the tribe. And while, of course, the folks at Liv want you to ride their latest and greatest machines, what they really want is for you to feel the magic of the bike and how it can be so much more than just a machine.
More info at liv-cycling.com.