Kona has never been a wallflower brand. Bikes named: Sex, Stinky, Coiler, Stab, Humuhumunukunukuapua'a and Unit have all worn Kona head badges. Back in the day when every brand had to have its own tires, Kona came up with the Break and Enter, and the Scratch and Sniff. There was a handlebar grip named the Pink Starfish at some point, that according to one high ranking Kona spokesman was so named because it resembled "a bleached stripper's bunghole." There is a sense of humor that at times not only borders on the inappropriate, but smashes straight through into that place where people who so choose could find plenty to get offended about.
But that sense of humor is tempered with a humility, and a genuine "this is who we are" sense of self that permeates the brand. It's not a front, they aren't putting on airs. This-irreverent, at times over the top, gritty, real, always down for some mischief-is just how Kona rolls. And to a jaded old journalist who has sat through So... Many... Damn... Powerpoint... Presentations... over the years, all put forth by shiny people who every year spout the same damn hyperbole about their bold new graphics, this is a very refreshing thing to be confronted with. Committed people, who love what they do, ride the wheels off their bikes, but aren't afraid to be honest about their biases.
Because of this, ever since I was working in my very first bike shop that also happened to be a Kona dealer (Velo City in San Francisco-RIP Holland Jones, thanks for the education), I have respected and enjoyed Kona as a brand. I recall a product launch back around 2000 in North Vancouver, where company owner Jake Heilbron was presenting a new Scandium hardtail, one of the key draws that caused us all to be there, and said something like "Well, here she is. We were really excited about this one. But then we put it on that machine that jiggles and flexes everything and it kind of blew apart in about 20,000 cycles. Sooo, we're not gonna be making it this year. Sorry. But we've got some other great bikes, some awesome riding lined up, and we're going waterskiing this afternoon!"
That was a long time ago, though, and it's also been a long time since I've attended any product launch as part of the media, having spent a few years being that guy on the other side of the Powerpoint clicker, grappling with how much truth to tell and how much fun to have. So, arriving in Squamish last week for a combined Kona dealer and media event, I was wondering if the beloved misfits of my memory were still there, or if, like so many things, they'd been forced to grow up and start wearing Dockers. As if on cue, walking up the front steps of the hotel, I heard a bellowing cheer go up from the pool, and looked over just in time to glimpse longtime Kona rep Willy Warren arcing several feet above the water, seated in a very comfortable looking wicker armchair, before performing a classy reentry with a splashdown that might have left a seismic imprint. I felt reassured.
So, having set the scene, let's talk about two of the standout bikes from this trip (for the numbers, everything I rode was a size large):
Kona Hei Hei Trail DL
The Hei Hei has long been Kona's go-to XC race platform, and in current guise is a 29er with a 100-millimeter travel setup that Kona calls Fuse Independent Suspension. This is a single pivot suspension with a solid rear triangle. The seatstays flex slightly to compensate for the arc of the rocker located on the seat tube, differentiating this from the multi-link system in use on the longer-travel Process line of bikes. Fuse is ostensibly lighter and stiffer-fewer moving parts, solid rear triangle-and therefore more suited to the demands of XC racing. Makes sense.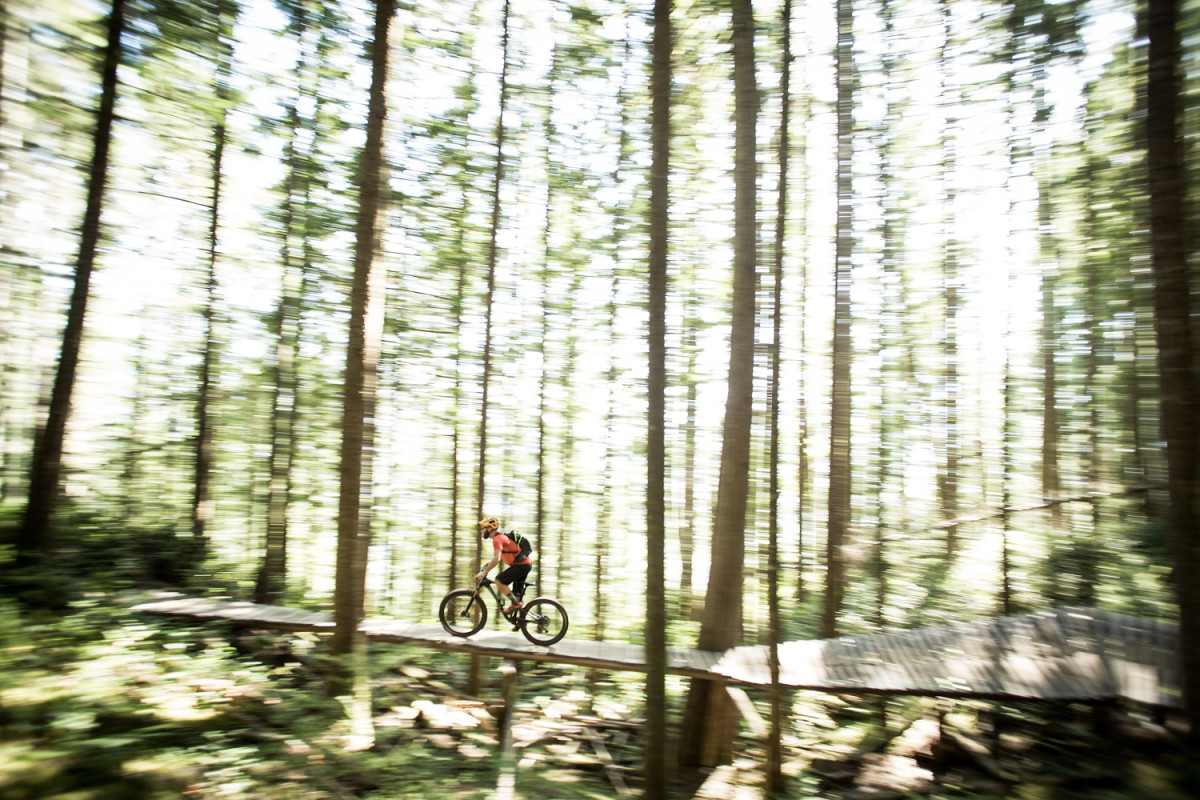 The Hei Hei is described within Kona, and by riders everywhere, as "the race bike you can shred trail with." It is slacker than most dedicated XC rigs, has routing for dropper posts, generally comes specced with a 120-millimeter fork, and so the moniker fits. However, in a moment of mashup lucidity, Kona took all these traits of their XC rig, then applied smaller hoops with beefier tires (in this case Maxxis Tomahawk 2.3's running on WTB 31 millimeter carbon rims), bumped the travel to 140, and slacked the head angle back a degree, rendered the frame in carbon fiber, and hey, presto, whole new ballgame: The Hei Hei Trail DL. It comes specced with a Fox 34 Float Air fork, Fox Float DPS shock, Shimano XTR rear derailleur, XT shifter and brakes, Hope hubs, RaceFace cranks, KS Lev dropper post, a sub-27-pound weight, and a very competitive $6,000 pricetag.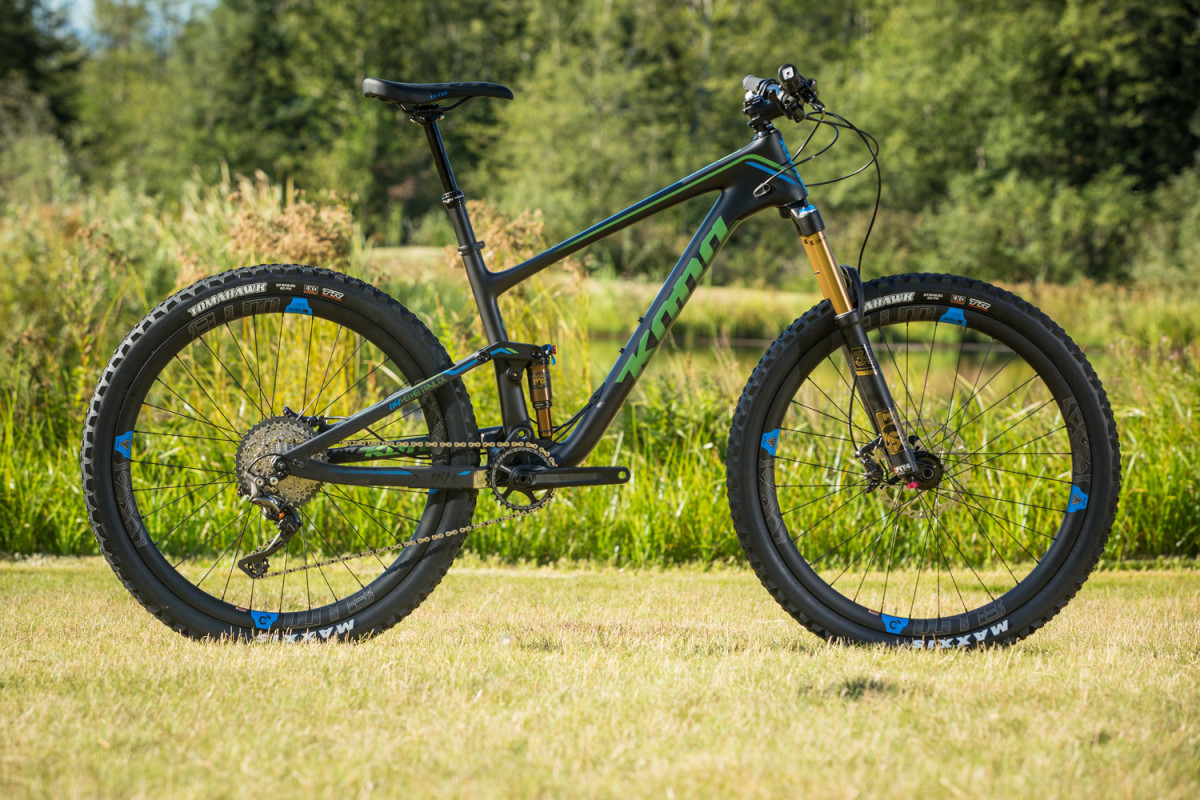 Travelwise, the Hei Hei Trail is in the same territory as the Process 134, but this is a very different bike. The reach is shorter than both the Hei Hei racebikes and the Process, and the wheelbase is over an inch shorter than the rangy Process.
Our first day of riding was aboard the Hei Hei Trail DL, and the route chosen started with a long uphill grind that went from fire road to singletrack in a mostly sustainable grade with a few solid kicks to the groin just to make sure everyone sweated profusely. In this terrain, the bike performed admirably. It climbs like an XC racebike-steep 75-degree seat angle, tucked in chainstays, taut suspension and a manageable wheelbase made for a bike that rolled the sustained grades fast, ate the punchy sections without complaint, and was even fun to nip around uphill switchbacks (something that is becoming the bane of modern trail bikes as the trend toward long and slack continues to extrapolate). It is decidedly on the snappy end of the trail-bike spectrum.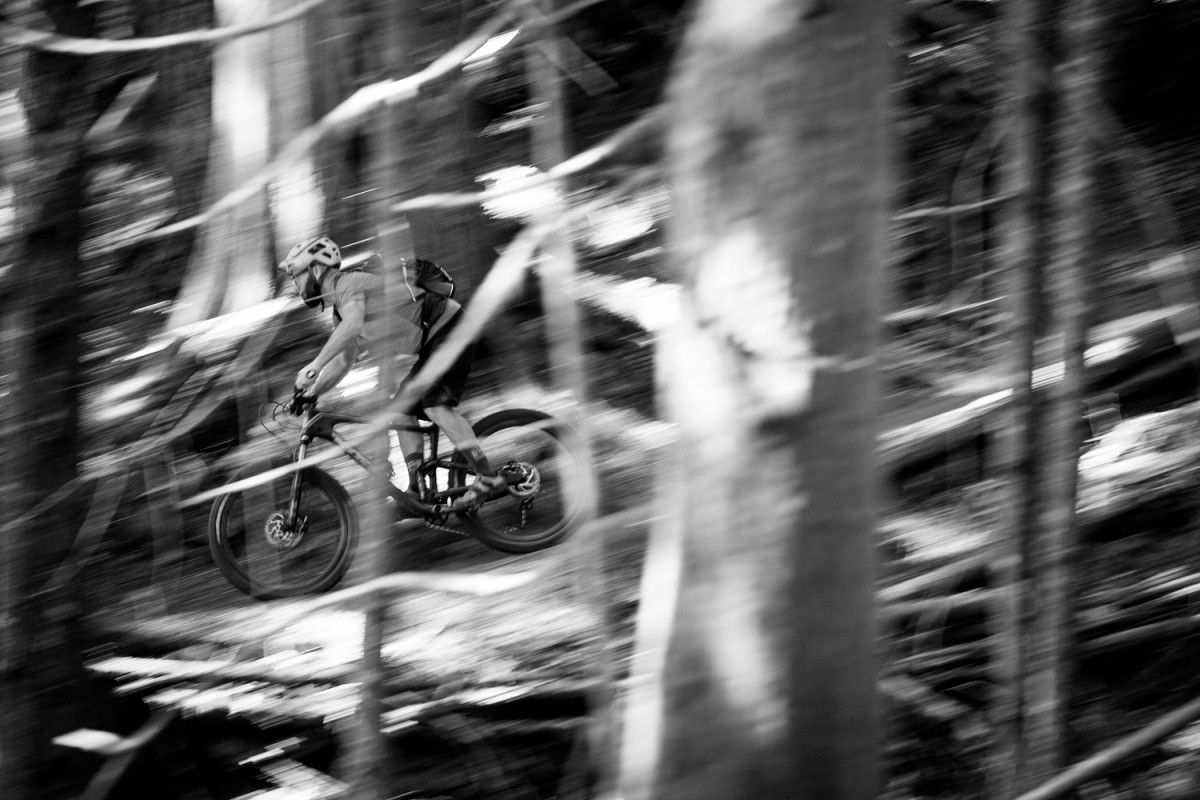 Climbing done, the ride then turned a bit primitive on us. Loam, roots, rocks, slabs of rock, more roots, little sections of chunk, some nerve-wracking (for a Californian, otherwise the kind of stuff that 13-year-old B.C. kids rail while checking their Instagram feeds with one hand) rock-to-drop to wide-skinny to tree root to chunky trail again, feeding eventually into some lines with options to jump or not to jump before finally dumping us back at Hotel Kona.
Caleb Smith, the Kiwi giant in charge of media herding, described the day's ride in local trail names as "up Legacy, down Let it Rip, onto Recycled, then Fred, Tinder, Your Mom, then finished on Pseudo Tsuga." The usual, apparently. The Hei Hei felt bred for this kind of riding, the kind of bike that a fit XC-sorta rider with a good skillset might want for races like the B.C. Bike Race, or as an everyday trail bike if he or she wanted to burn huge climbs fast without dying and still have fun ripping the downs. It's planted but playful, nimble enough to be fun in the tight terrain but still stable enough to not scare the bejesus out of its pilot. It's not as plank stable, nor as plush, as the Process, and at times the suspension felt like it could use some more tweaking to get it just right (this is the bummer about single-ride previews, it's difficult to get a bike dialed in while at the same time coming to grips with riding foreign trails), but it was still a hell of a fun bike to ride in this terrain.
Big Honzo DL
Totally changing gears, both physically and mentally, I opted to take Kona's 27.5-plus hardtail out for the next day's sampling of chunky, scary riding. To be honest, I was a bit nervous about this. As a card carrying Old Guy, I am no longer as enamored of hardtails as I once was because they hurt. Young and fit people can tough it out all they want, but I have finally come to terms with both technology and my own creeping mortality, and I am thankful for efficient dual suspension and its ability to cushion me from the hammering that mountain biking in technical terrain dishes out.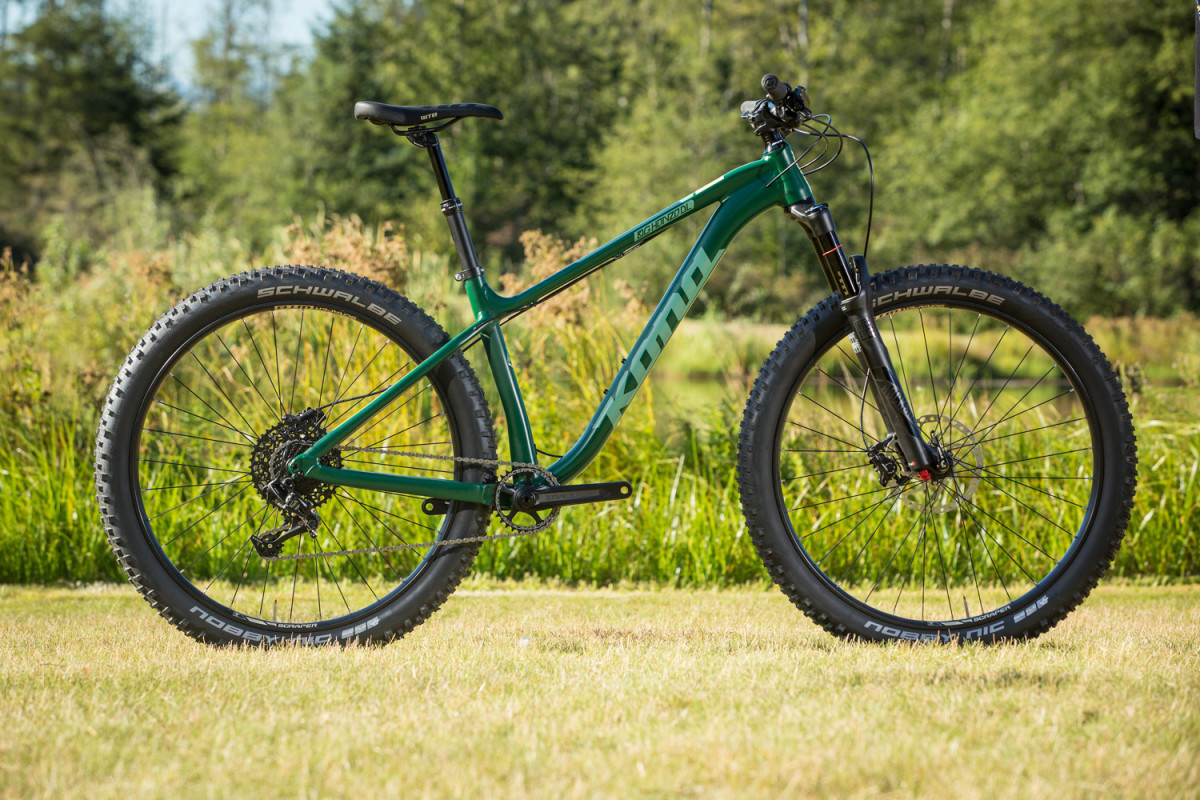 So the Big Honzo, it's a hardtail. But, in keeping with Kona's long-and-slack way of building bikes, it's a 27.5-plus hardtail that has a 46.25-inch wheelbase in spite of its stubby 16.3-inch chainstays, a 75-degree seat angle and 68-degree head angle with a RockShox Yari 120-millimeter fork. Kind of like an anti-mullet: party up front, all business in back. For $2,400, you get a burly aluminum frame with Schwalbe Nobby Nic 2.8 tires spooned onto WTB Scraper 40-mil rims, Shimano Deore hubs and brakes, a SRAM GX rear derailleur and NX shifter, and an 11-42 cassette spun by a 30-tooth chainring on RaceFace Aeffect cranks. Kona opted to go with a dedicated 27.5-plus setup on this bike; there are no optional dropouts to run 29-inch wheels instead. If you want a 29er, they offer a Honzo 29. If you absolutely have to experiment and slap 29-inch wheels in this frame, they will probably fit, but what is the point? The reasoning behind this, as far as Kona is concerned, is that it makes sense to design a bike as a dedicated package. Every time wheel size or suspension travel options come into play, some element of the bike gets compromised. So, in the case of the Big Honzo DL, Kona opted to go 100-percent plus size. Given that there is plenty of vocal hesitation about plus bikes within the design team at Kona, they did an outstanding job of building a dedicated platform.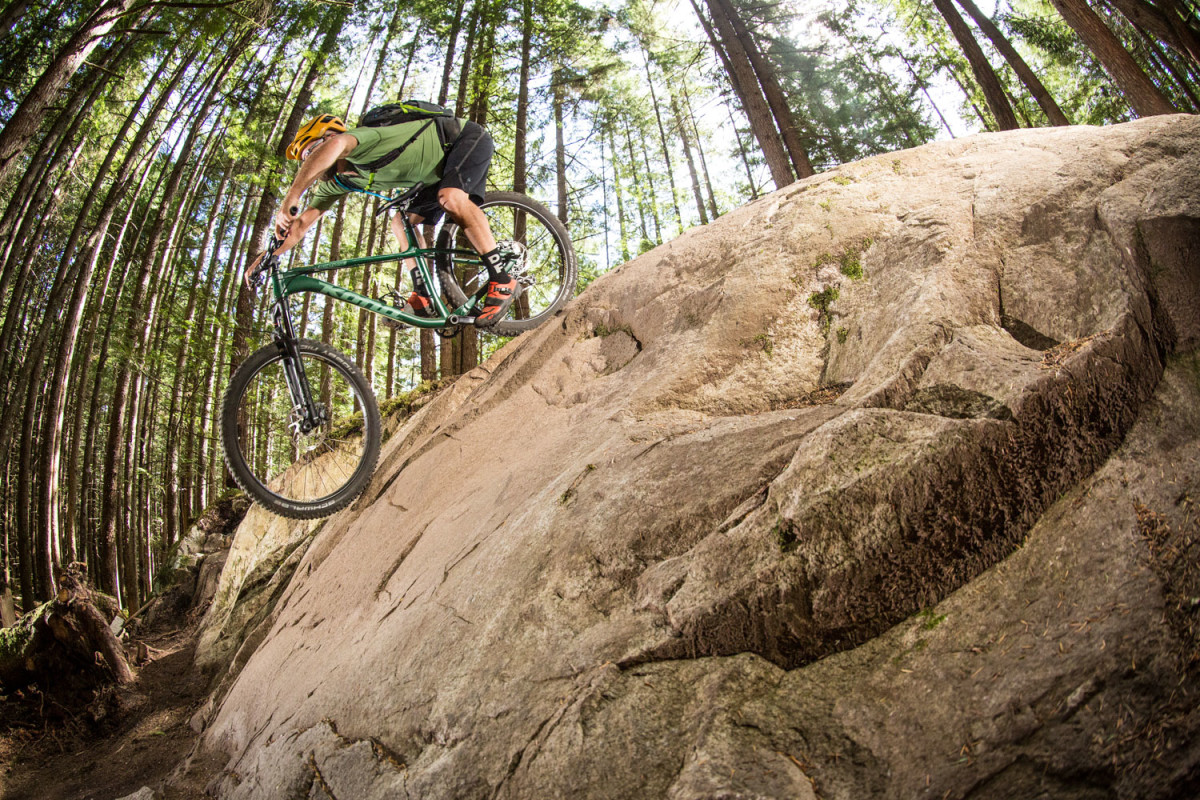 Damn, I had fun on this bike. Slightly beat up from the previous day of riding, and the ensuing nocturnal social activities (barely controlled mayhem combining elements of "Fight Club," "Lord of the Flies," and ritualized tribal posturing as performed in the highlands of New Guinea but with bikes and alcohol involved), I was fully expecting to have my eyeballs beaten out of my skull. Instead, I had one of those days where things just feel right. I put 15 psi in the giant tires, remembered how to shift weight and push the bike around without suspension and had fun from beginning to end. Using the Caleb Smith translator, my description of "singletrack up, to chunk, to slab, to more chunk, to steep things, to narrow bits, back to the jumpy sorta flowy bits to home," was apparently "50 Shades of Green and then down Rupert." Whatever. I didn't really miss rear suspension at all. And I had more fun in one ride on this bike than I have had on a hardtail in a very long time. So much so, that I am kinda kicking around the idea of getting something like this as a regular rider. In technical terrain it was an absolute blast. Traction was awesome, the bike handled like magic, and the little bit of extra cushion in the big tires made a ton of sense (with full-suspension bikes I have been grappling with the pros and cons of plus-size for several months now, whereas for this bike it was all pro, no con).
One Last Ride
Another evening of Kona's version of "The Hunger Games," involving fatbikes, life preservers, y-front undies, beer can slaloms, Frisbees, menacing heckling, log obstacles, wrestling and an obligatory pond to ride into, left me wondering if this was in fact less of a dealer event to showcase bikes than a chance for Kona to haze its dealers and see if maybe they had the right stuff. If they can't hack Kona Hunger Games, maybe they shouldn't be Kona dealers. No sane brand would do something like that, though. Right? Still, the thought did cross my mind. It's a different kind of culture brewing up there, that's for sure.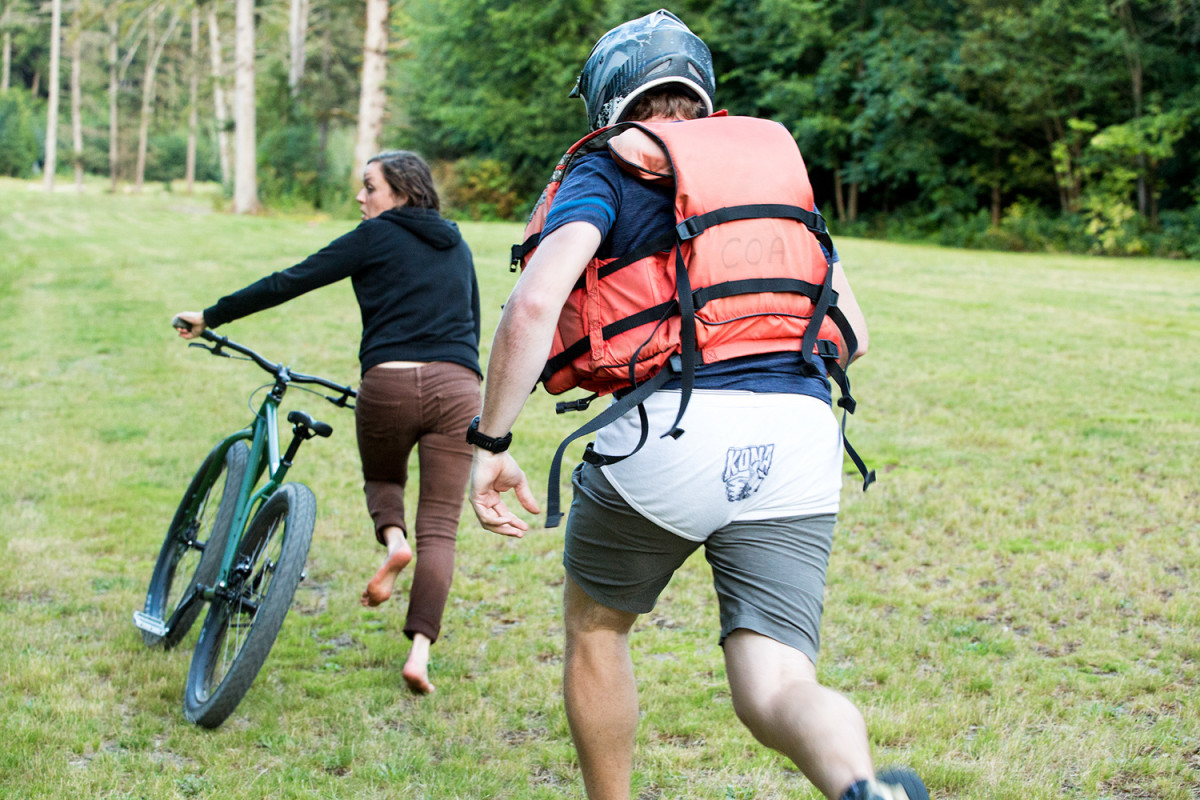 Opting to stick around and get one last day of riding in, I was treated to an afternoon of slabs by Caleb ("Entrails to Boney Elbows to Hueso" he says). He wanted me to ride a straight up Hei Hei DL-100-mil rear, 120-mil front travel, standard "XC bike that can rip the technical" issue-in order to prove just how true that adage is. So he threw me straight off the deep end of my comfort zone, on a bike with the brakes reversed from my usual right front backward ways, and sent me and my puckered sphincter down a series of steep slabs, the likes of which I haven't ever really encountered before because I live in California, in a place where technical riding isn't really so. And because I am old, and don't really like falling off cliffs anymore. He proved his point, and I can attest that, yes, the Hei Hei, with its pinner little 29×2.0 tires and nervous little 32-millimeter fork stanchions, can indeed rip the technical. But after pounding the travel donuts right off either end of the suspension repeatedly, and gripping the brakes until they faded to useless and my forearms cramped, I would have paid good money to be on either of the bikes from the previous two days.
It's a different kinda mindset in the Kona world, that's for sure. One that I admire and fear, in equal measure.