It must be nearly a decade ago now, but I recall Niner Bikes CEO Chris Sugai telling me he believed that in the near future, nearly every performance-oriented mountain bike would have 29-inch-diameter wheels. That hasn't come to fruition yet, but with its newly updated Jet and Rip, Niner is looking to bring us one step closer.
The Jet
The revamped Jet is built around a 120-mil-travel, full-carbon frame that utilizes Niner's CVA (Constantly Varying Arc) suspension design, a dual-link system relying on counter-rotating linkage forces to produce what Niner describes as an efficient and fully active suspension platform.
"Modern geometry" is the buzz phrase for most bike launches these days, and it typically means that the rear end has been shortened, the reach lengthened, and the head angle slackened. That's what's going on here: The Jet's chainstays have been shrunk from its predecessor's 455 millimeters to 434 millimeters, the head angle raked out from 70 degrees to 67.5 and the reach stretched significantly on all sizes. The frame is compatible with 29er tires up to 2.4 inches wide, and, thanks to the Boost 148-spaced rear end, can also accommodate 27.5-plus tires up to 3.0 inches wide. As with pretty much all these new 29ers that can moonlight as plus bikes, the Jet utilizes a longer-travel fork when set up with the big tires, going from 130 to 140 millimeters of travel to keep the geometry consistent.
"We view the plus wheels as an option, or a feature, as the frame is still a 29-inch-wheeled frame," said Niner associate brand manager Brad Cole, who now finds himself in the awkward position of having to explain why a bike that says "Niner" on the downtube is sporting 27.5-plus wheels. "As technology continues to advance we want to maintain our mission of building the best bikes possible and embrace new technologies."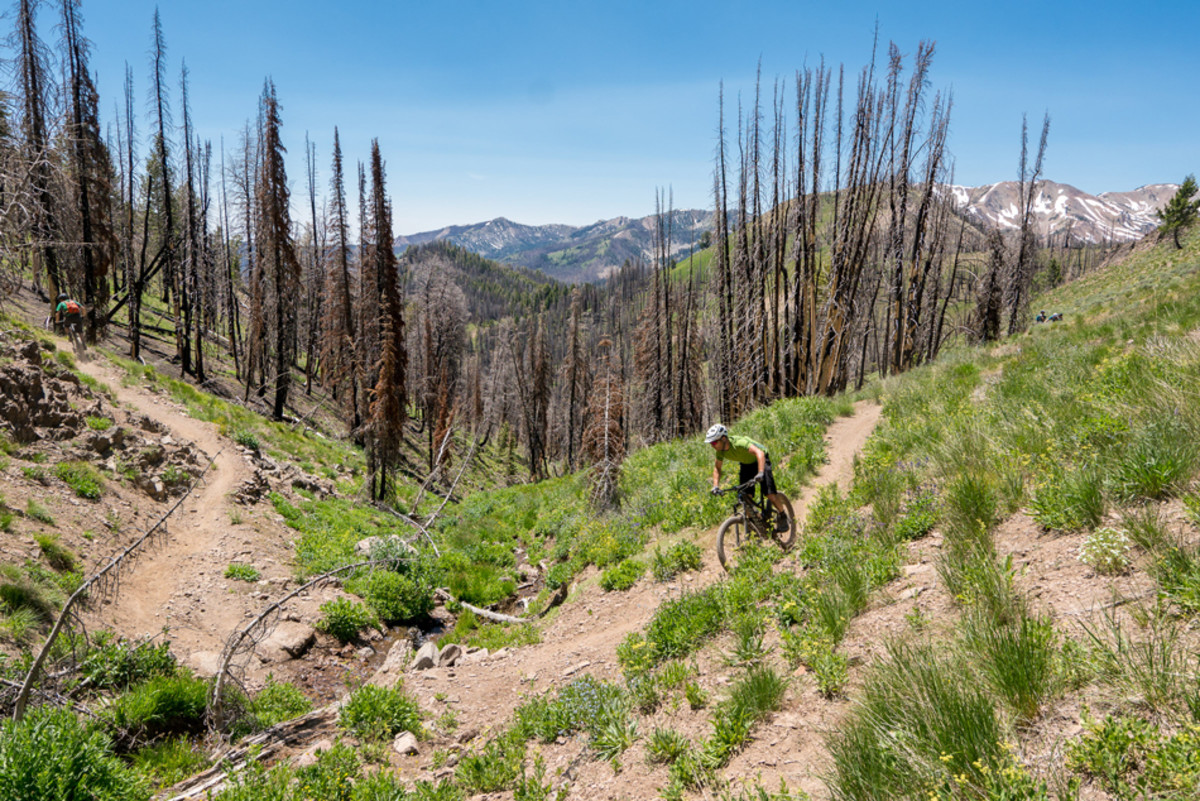 Not to be outdone by the array of wheel- and tire-size offerings currently on the market, the slew of drivetrain configurations can also be a compatibility head scratcher. Niner designed the Jet to play nice with practically all drivetrain styles, including single- and double-ring mechanical and electronic setups. Integrated ISCG 05 chainguide tabs are on call for riders seeking additional chain retention. Niner has also made the switch to hassle-free threaded bottom brackets. Internal cable and hose routing certainly boosts a bike's "Gucci" factor, but unless one has a background in glass-bottle model-ship building, service and installation of internally routed components can make a root canal seem delightful. Conveniently, the new Jet features a port under the bottom bracket to simplify accessing internal routing, along with an additional opening at the seat tube and bottom bracket junction where a Shimano Di2 battery can be tucked away.
Complete bikes will be available in both plus and 29er configurations, and the four stock builds range in price from $4800 (Shimano SLX) to $9500 (SRAM Eagle X01). View geometry and build options.
Jet's First Flight
Day one of our backcountry trip found us climbing over 3000 feet to the Coyote yurt, which is situated about 9000 feet above sea level in central Idaho's incredibly scenic Smoky Mountains. The tool for the job was the 27.5-plus-equipped Jet.
The optics of the balloonish plus-size tires understandably makes one think they're less than ideal for climbing. Furthermore, plus tires are designed to be run with unusually low air pressures (around 12 to 16 psi for a 160-pound rider), which also goes against conventional thought for cross-country efficiency. After grinding uphill for several hours, though, I was impressed by how well the Jet propelled me upwards. The plus-size Maxxis Rekon and Ikon tires muted most trail chatter and debris, while the increased traction was noticeable on steep and sandy uphills.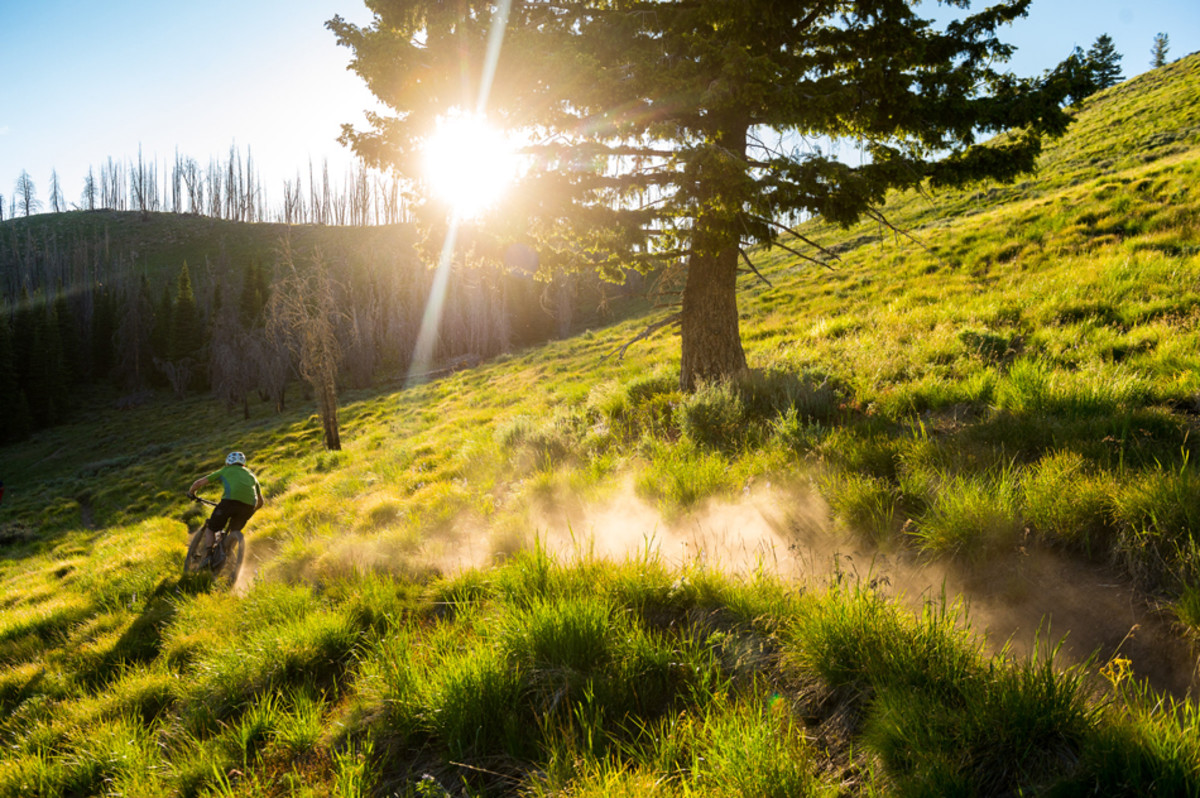 Riding unfamiliar bikes on foreign terrain can present a variety of issues related to bike setup, fit, or nagging little performance quirks. Perhaps the strongest compliment I can give to the Jet after this initial ride is that the bike seemed to disappear beneath me during the long stint in the saddle, and allowed me to take in the Sun Valley scenery.
The Rip
As with the Jet, the full-carbon Rip is also available as a 27.5-plus bike, but I rode the standard 29er version, which features 150 millimeters of rear-wheel-travel mated with a 160-mil-travel fork. The plus-size builds are spec'd with a 170mm-travel RockShox Lyrik fork to address the difference in effective wheel diameter and retain the desired 67-degree head angle.
At the heart of the Rip you'll again find Niner's CVA dual-link suspension design, which Niner says uses chain and link tension to counteract suspension squat and unwanted movement so the bike reacts to both terrain and pedaling inputs independently. Niner describes the Rip as their most capable trail bike, and to achieve this status the all-new frame uses Boost spacing to tighten up the rear end for more agile handling. Also like the shorter travel Jet, the Rip features the opening near the bottom of the downtube to simplify internal routing, a threaded bottom bracket and ISCG 05 chainguide tabs. However, unlike the Jet, the Rip is only compatible with single-ring drivetrains. Available in four build options for both 29er and plus-size, the new Rip ranges in price from $4700 (Shimano SLX) to $9800 (SRAM Eagle X01). View geometry and build options.
Ripping a New One
Day two's task: ride about 25 miles back into Sun Valley on undulating, yet mostly downhill singletrack. But not before enjoying the delicious breakfast prepared in the yurt by The Cyclist Menu.
With 150 millimeters of rear-wheel travel, on paper the Rip might look more sluggish than the shorter-travel Jet. However, equipped with a Fox 36 fork and Fox Float X shock, I ran the Rip's suspension in the open setting all day and was impressed by how well the bike maintained momentum both uphill and down. The frame's compact rear end keeps the rear wheel under the rider's weight for improved climbing traction and zipping through downhill switchbacks. A large portion of the second-day's descent was through loose and rocky terrain, which made the extra travel and burlier tires welcome additions.
From a few feet away, the Jet and Rip look very similar. The jump in travel and more aggressive geometry became evident everywhere from pumping swells in the undulating terrain to blindly bombing steep, loose chutes. As with the Jet, after simply one ride (albeit, an all-day ride) I was impressed with the Rip's balanced suspension performance and how the bike chewed up terrain and allowed me to focus on the terrain ahead. Look for more on these new bikes once we've cranked out more miles.