I feel lucky to be the resident 'old guy' on Bike's staff because it means my love for the most amazing 29ers can be completely unabashed. The greatest 29ers are some of the fastest mountain bikes ever created, and if my passion for covering ground as quickly as possible relegates me to the 'old man' category, then so be it. Getting old rules–especially when you finally start to realize your wildest dreams.
And the new Specialized S-Works Enduro 29/6Fattie is certainly one of those dreams. The previous Enduro 29 was already one of my favorite bikes of all time, so when I learned the company was redesigning it–and making it 650-plus compatible–I was keen to see how the changes would affect its performance on the trail. I was blown away by the new incarnation from the moment I powered it up a protracted series of punchy climbs.
"How can this bike be climbing so well when they slackened the headtube angle from 67.5 to 66 degrees?" I asked myself as I tackled one steep section after another. "Why isn't the front end wandering like it does with most bikes this slack?" I theorized that the impressive front-end control must be due to the steepening of the seat tube angle from 75 to 76 degrees, putting my body forward just enough to tame what might otherwise have been an unwieldy front end.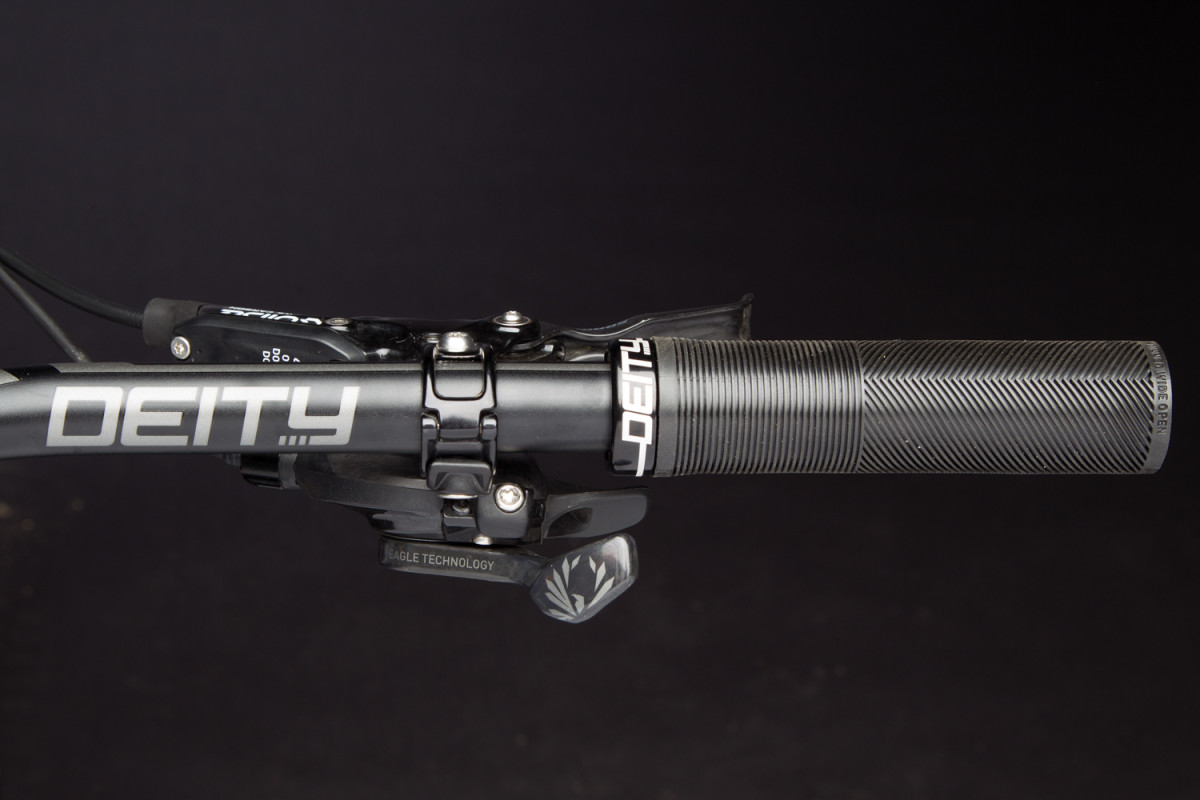 I wondered if the bike's climbing prowess would come at the cost of inferior descending capabilities, but on my first steep downhill–which happened to also be a minefield of off-camber babyheads–these concerns were instantly alleviated. The Enduro 29 felt like a full-blown downhill bike, its 165 millimeters of travel gobbling up the burl while the big wheels blasted through the rocks like Godzilla crushing his way across Manhattan.
I have a serious aversion to the term 'quiver-killer' (and, in fact, I instituted a ban on the use of it in Bike), but with a beast that climbs and descends this well, I had to ask myself if this was the one bike that could fulfill all my trail-conquering needs. Then I remembered that this new Enduro 29 was designed to accommodate 650-plus wheels, giving it a potential alter ego called the '6Fattie.' Though I've been slow to warm to plus-size wheels and tires, recent experiences in extremely wet conditions–coupled with the presence of ice-slick, off-camber roots–have helped me appreciate the superior traction afforded by the ability to run markedly lower tire pressures. If the all-around performance of the 29er setup doesn't make this bike a quiver-killer, the option of it doubling as a 650-plus sibling might.
---
Dream Builds are from the December issue of Bike. Get a copy here.
---
Yet another feature enhancing the Enduro 29's versatility is the inclusion of the S.W.A.T. Door that Specialized first introduced last year on its Stumpjumper model. This hatch, accessed underneath the bottle cage, allows for the storage of tools, food and even a light jacket inside the downtube. For me, the ability to transfer weight off my back and into my bike is much appreciated, and it makes my dream build even more suited for big adventure.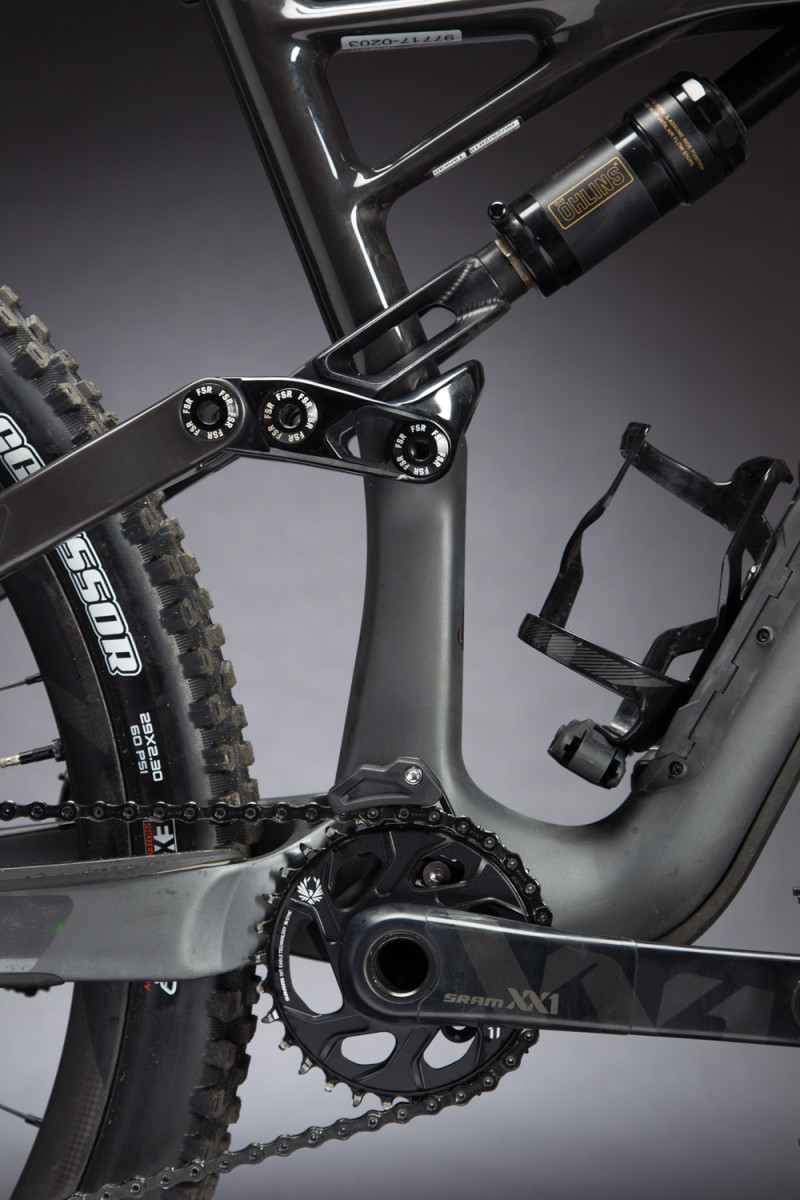 The fact that this Enduro 29 is an S-Works model–with an $8,500 price tag–means it's already essentially a 'dream build,' and its drool-inducing array of high-end components left me struggling to find parts to 'upgrade.' So in most cases, I didn't.
The Öhlins fork and shock that come on the S-Works have proven a real treat, offering high levels of adjustment for riders who love to personalize their suspension. The custom Öhlins STX shock has adjustable compression and rebound damping, and an 'autosag' mechanism that makes initial setup foolproof. Up front, the Öhlins RFX 36 fork is proving to be a burly trail brawler and offers adjustable rebound as well as high- and low-speed compression settings.
When it comes to the drivetrain, it would be hard to improve upon the stock SRAM XX1 Eagle, with reliable shifting that's as precise as its namesake's vision. The Eagle's 12 speeds seem to offer me both physical and psychological relief on the steepest climbs, and even though I've adapted nicely to 1-by-11 drivetrains, I'd be lying if I said I haven't frequently felt grateful for that 12th gear.
Likewise, the SRAM Guide RS brakes that come on the S-Works leave little to be desired, and I've found that their unparalleled modulation is a huge benefit in technical terrain. For their part, the Roval Traverse SL 29 wheels are living up to their reputation for reliability and performance, and their 30-millimeter inner rim width pairs perfectly with the Maxxis Minion DHF tire I'm running in the front and the superb Maxxis Aggressor tread in the rear.
Even though I admire the functionality of the stock Command Post dropper, I opted instead for the trusty KS Lev Integra post, which has won me over the past few years with the smoothness and reliability of its infinite travel.
Of course the blue-blooded prestige of these major components demanded that I inject some punk-rock style and grit into my cockpit, so I went all-in with brand-new offerings from Deity Components' completely revamped 2017 line. The sleek-yet-strong Skyline handlebar is a perfect 787 millimeters wide, and when mated with the 35-mil Copperhead stem (which features a low, 30-millimeter stack height) my controls feel coiled and ready to strike. Adding an element of luxury are Deity's new single-clamp Knuckleduster grips, whose ultra-comfortable ribbed design provides ample relief to trail-battered palms.
For posterior comfort, I chose Deity's new Speedtrap saddle, which features Kevlar sides with a beautifully embossed synthetic cover atop an SDG-designed base and solid titanium rails. And for my pedals I went with the tried-and-true Deity TMACs, whose deep concave mid-section affords greater grip and control than any other flats I've tried.
The sum of all these parts is an über-capable, all-around trail slayer that I'll use to chase my many other dreams all over the world.
Related: