Words: Sean 'Griz' McClendon
Photos: Anthony Smith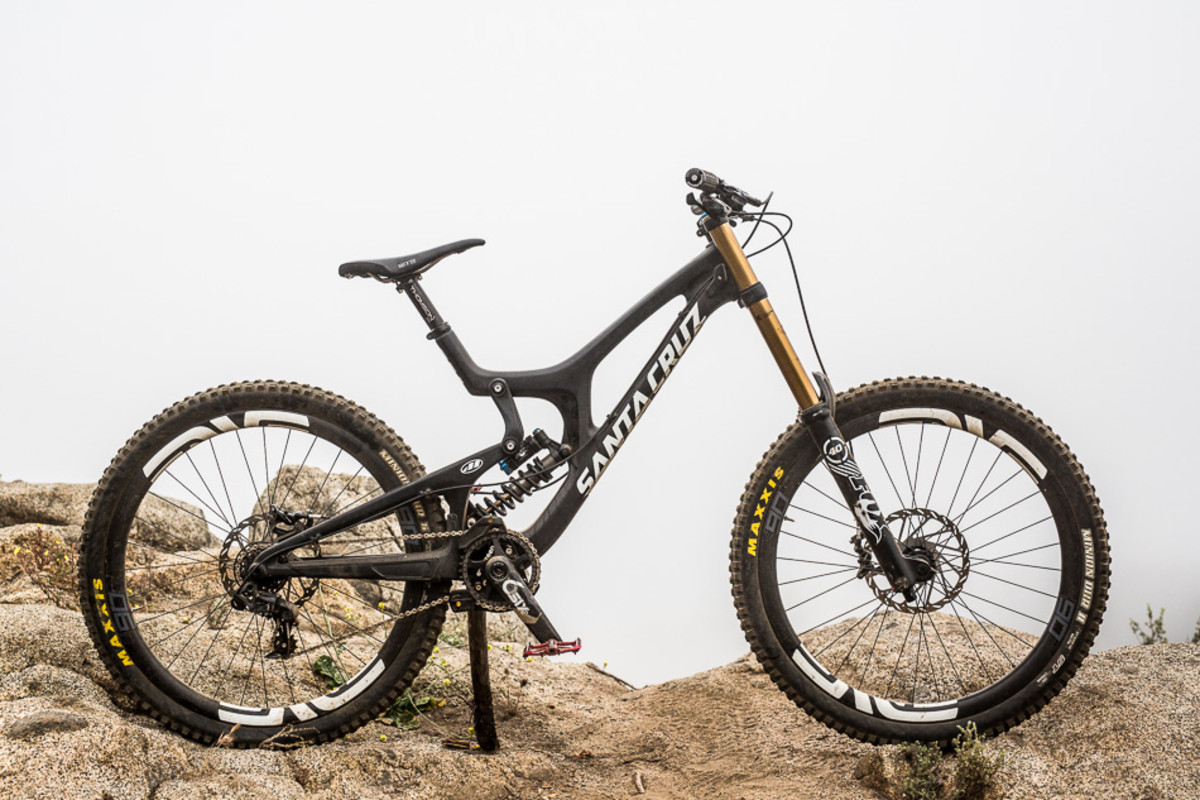 The Santa Cruz V10 is best known for winning races and finishing atop the podium. With development aided by one of the most successful teams in World Cup downhill history, the Santa Cruz Syndicate, V10 is reflective of the new generation of downhill race bikes in which high-tech carbon-fiber frames and 27.5-inch wheels are the norm. The most obvious changes to the 2015 V10 are that it now wears 650b wheels, has 8.5 inches of Fox suspended rear-wheel travel and a longer reach. Features include adjustable geometry settings, a trouble-free threaded bottom bracket, molded rubber protectors, dual grease ports and sexy lines passed on from the previous generation. Dressed in black, our Carbon CC V10 came complete with the Enve M90 carbon wheel upgrade and SRAM X01 DH build kit, and weighed a paltry 35 pounds with pedals. The price of this sled spits in the face of poverty at $10,800. Taking full advantage of the opportunity to rip a bike I definitely can't afford, I did my best to make the V10 wail from SoCal to Port Angeles, Washington.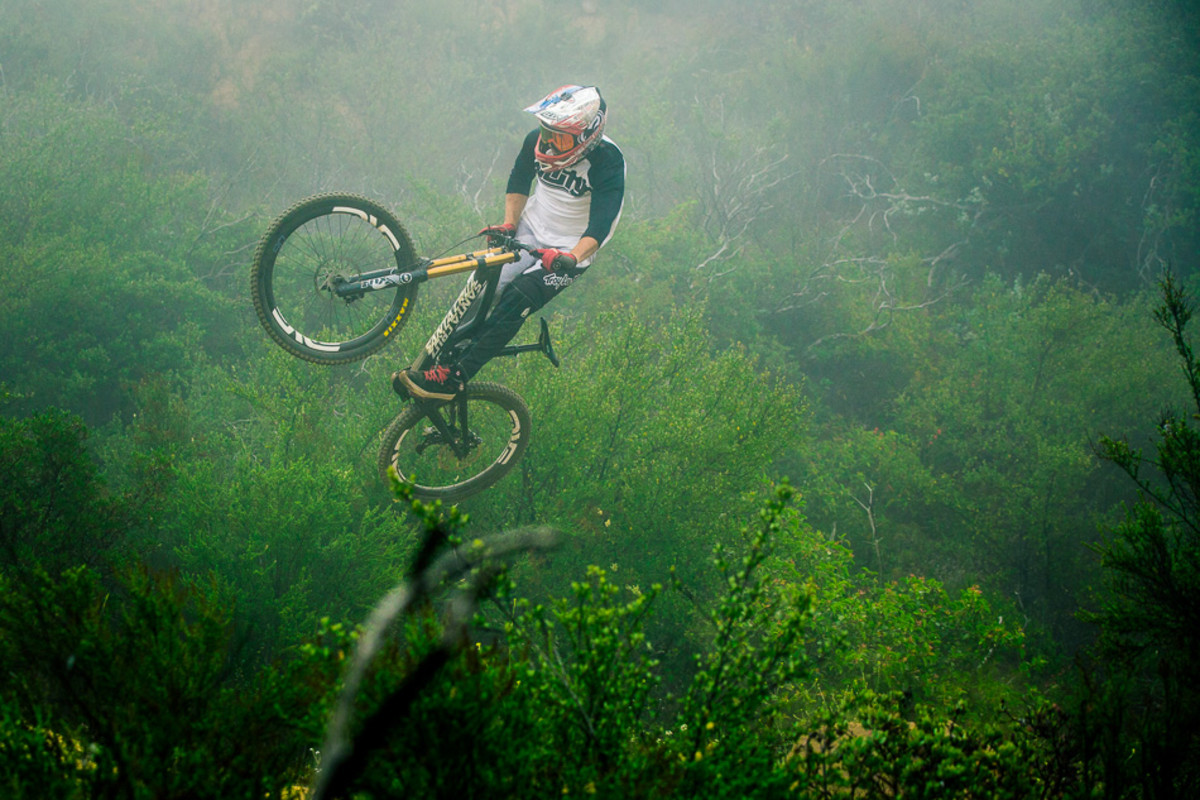 At 5-foot 10 inches, I opted for a large frame and it fit like a glove with plenty of reach, optimal 17.3-inch chainstays and a well-positioned 14-inch bottom bracket height. Starting off in the high geometry setting, I felt at home immediately, especially considering I was acclimated to having my feet nearly on the floor on my previous ride. My second test session took place on a steep Southern California downhill track in rare mud conditions, with current downhill World Champion, Gee Atherton. The pace I was able to maintain–thanks to the tow from Gee–told me a lot about the V10. This bike inspires the kind of feeling Kid Rock exudes in his "Bawitdaba" music video. The 64-degree head angle and bottom bracket height of the high setting felt awesome in all areas of the trail and really stood out when linking together sequences of tight berms in the slippery conditions.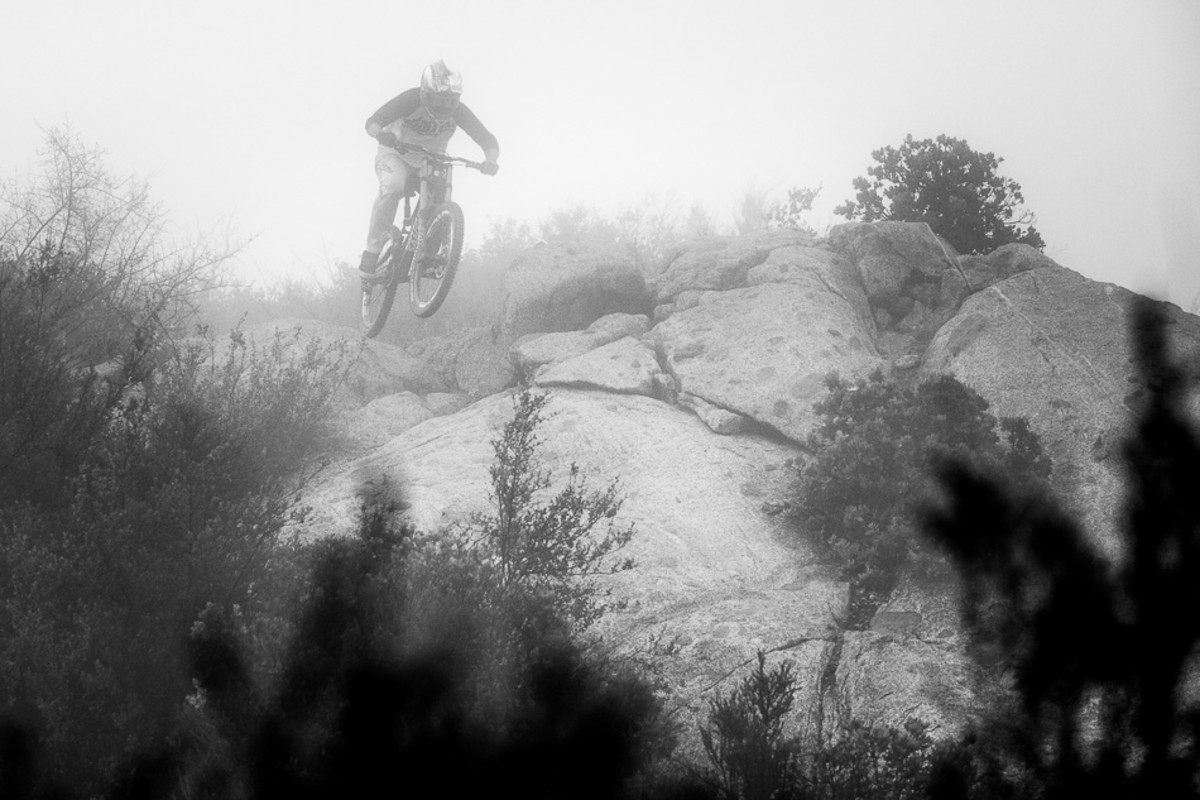 It's amazing how easy this bike is to flick around on the trail while remaining firmly planted in rock gardens and loose off-camber bits. With the Fox 40 air spring set at 65psi, I gradually worked compression settings–both low- and high-speed–four clicks from closed. When jumping, I dialed the last four clicks on high speed. I definitely felt my confidence spike when riding the V10, and found myself consistently riding creative and challenging lines with a level of traction and effortlessness I seldom experience. My pedals weren't clipping rocks, and at no point did I get the impression that I absolutely needed the bike to be any lower or slacker, even considering the steep pitch of the trails I'd been riding–but it is definitely nice to have the option.
After about 10 rides I started testing in the low geometry setting–dropping the bottom bracket a quarter of an inch and slacking the headtube a half-degree–and proceeded to crash repeatedly on a trail I know like the back of my hand. It turns out that 6-mil bottom bracket change made the chance of pedal strikes go way up, as I found out in an unfortunate high side into a boulder field. I did wind up messing with the shock tune a bit in an effort to get the bike to ride higher in its travel, but wound up preferring the high setting most of the time.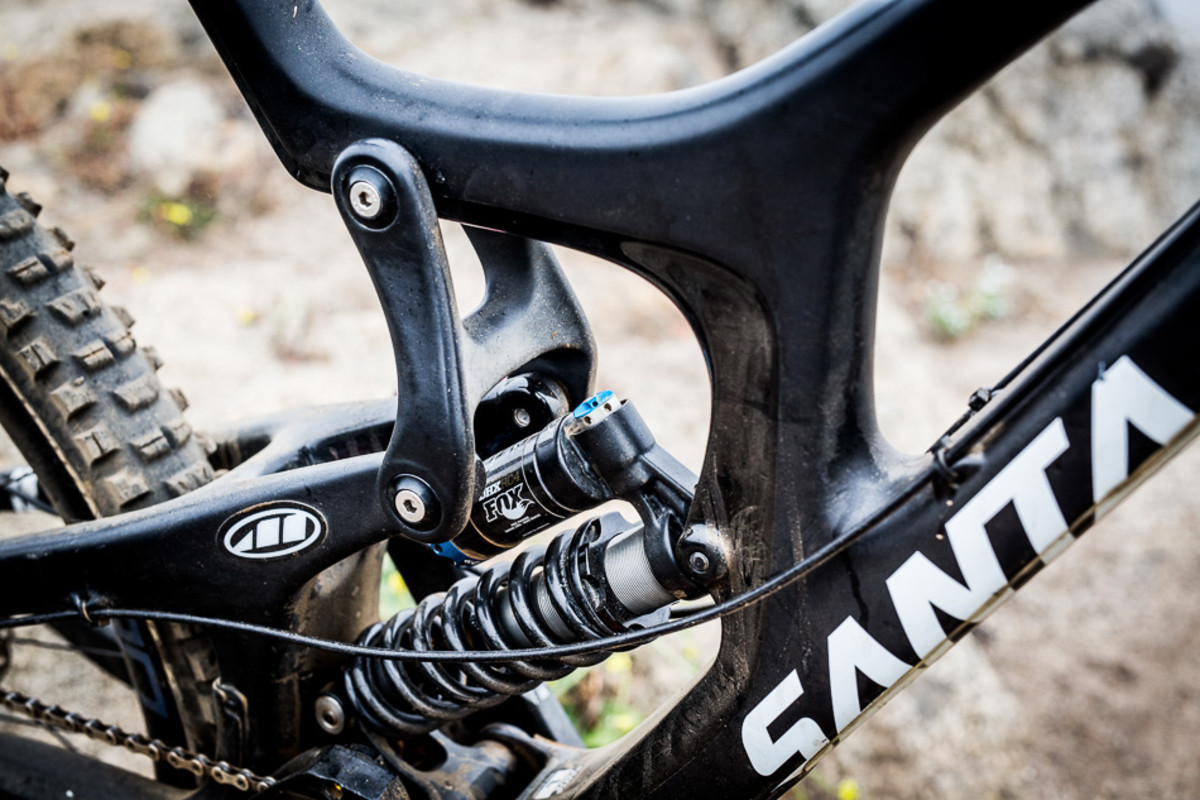 After collecting myself from my crash, I did a quick inspection of the bike and didn't see any failures. I wasn't hurt, either, but my confidence took a beating, for sure. It wasn't until the following morning that I noticed a puncture in the rear Enve M90 rim. Not a crack but an actual hole in the side of the rim. There's no doubt that Enve wheels offer serious performance gains, but seeing a hole in a $1,000 rim sucks. There's really no way of knowing if an aluminum rim would have failed in this exact scenario, but even if it had, a nice aluminum rim is one-tenth the cost of an Enve. That said, I continued to ride on the M90 rim for months without any noticeable performance loss, and the damage never worsened, which restored my confidence that they can take some serious abuse. Because the rims are as pricey as they are, it's hard not to hold them to similarly high expectations; however, it's probably unrealistic to expect any rim on a downhill bike to be indestructible.
The frame doesn't have internal cable routing, but it isn't necessary thanks to the clean lines and integrated fork bumpers. Santa Cruz has legitimately set the standard for integrated fork bumpers, delivering clean, quiet cable routing. The V10 rides with minimal noise thanks to reliable locking-collet pivot hardware and a threaded bottom-bracket shell. The Race Face SIXC cranks are simply outstanding as well. Santa Cruz provides a clear vinyl sheet with the bike to protect contact points and avoid cable rub. I made use of the vinyl on the downtube and even utilized a section of it on the toptube and headtube area to prevent foreign brake levers from scratching the frame while shuttling. Also included with every Santa Cruz bike is a killer grease gun to use on the Zerk fittings on the lower link that keep the bike running smooth and silent. Lastly, the SRAM drivetrain and Guide RSC brakes delivered World Cup performance. I got six months of steady pull before the rear brake needed a bleed.
Nearly every test session on the V10 was fueled by punk rock music, which definitely enhanced our rides together. Even with the anti-establishment lyrics motivating the rides, the bike shrugged off every attempt of mine to destroy it. The V10 is tougher than a gutter punk in a circle pit, holds traction like no other and weighs less than any production downhill rig on the market. If you've got the speed and the money, the V10 can keep pace every time, and is guaranteed to put the hurt on competitors and riding buddies alike.