If you aren't already excited about Rocky Mountain's all-new Maiden downhill bike, check out this edit from Anthill Films featuring Rocky Mountain athlete Thomas Vanderham. When you're done watching, read on to learn more about this dreamy rig.
For the past couple days, we've been high up in the Canadian Rockies at Retallack Lodge, getting in over 20,000 feet of descending on Vancouver-based Rocky Mountain's brand new downhill bike, the Maiden. After four years of development and much anticipation, Rocky Mountain has just announced the full-carbon Maiden to replace the Flatline, which received its last makeover in 2010. The bike gets all the modern updates that you'd expect from a high-end downhill bike these days, with a full carbon chassis (including the link), internal routing with integrated fork bumpers, massive pivots and of course, 27.5-inch wheels. The Maiden is even compatible with Shimano's Di2 electronic shifting system, with internal battery storage.
But wait, what's that flippable axle all about? Even with all its updates, the Maiden will happily rock out with 26-inch hoops too. I didn't believe it either, until I saw Rocky Mountain ambassador and freeride godfather, Wade Simmons' bike built up with the nearly extinct wheel size. Nobody knows where he found 26-inch rims and tires, but there they were, holding up his otherwise modern Maiden.
Seriously though, it's pretty awesome to see Rocky support 26-inch wheels on this ground-up design at a time when 26 is simply disappearing. There are plenty riders out there with perfectly good 26-inch parts that this carbon-clad beauty could give a whole new life to. All you need to do to run small hoops is install the provided spacer under the head tube. This achieves the the closest possible trail value and geometry numbers for either wheel size.
Like many other Rocky Mountain models that feature Ride-9 adjustable geometry, the Maiden is also adjustable. But instead of nine different configurations, there are four, affecting the head angle and bottom bracket height.
The Maiden uses massive bearings and oversized axles for the pivots, aimed at durability and low maintenance. The two main pivots use a cassette tool interface for the locking collet-type axle, which looks cool, but isn't the type of tool that most people carry in their pack. Luckily, locking collet axles usually do a great job of staying snug.
You may have noticed already that the Maiden is spec'd with BOS suspension. This goes for three out of the four models, with the entry-level spec on X-Fusion dampers. Rocky Mountain chose BOS for the feel, adjustability and long service life of its open-bath dampers. That, and the boutique suspension is sure to be an eye catcher.
Ride Impressions: Rocky Mountain Maiden World Cup
Snappy. That's the word that best describes the Maiden's handling. The short 425-millimeter (16.7-inch) chainstays put the rear wheel under the rider, making it easy to square off corners like Thomas Vanderham. Okay, perhaps not just like him, but you get the point. The tight stays allowed me to put the rear wheel anywhere I pleased, stuffing it into catch berms, around switchbacks and manualing rhythm sections. But I also found it easier to wind up in the back seat than on other, longer bikes. To maintain control over the bike, I had to aggressively weight the front end.
Once I found the bike's balance point, maneuverability on Retallack's tight terrain was exceptional. The Maiden almost feels like a heavy all-mountain bike instead of a light downhill bike. That is, it's not hard to get it to play around on the trail. It plows through stuff like a downhill bike should, but it's never unwieldy, like some gravity rigs can be. I've mostly been riding trail and all-mountain bikes recently, so I was expecting it to take a lot of time to feel comfortable on the Maiden. But aside from finding the balance point, I was good to go.
Even though myself and all the other testers on the trip were happy with low/slack Ride-4 geometry setting, I still wanted to play around with it. To get a feel for each extreme, I went from all the way the lowest/slackest setting to the highest/steepest. This only changes the head angle by just under one degree, but it definitely made a noticeable difference in the ride. The bike sat up a bit more, pushing some more weight to the front and making the bike handle the tight stuff even better. I noticed that when tired, I'd have an easier time dipping into and out of corners without having to preload the suspension quite as much. The small forward shift in weight balance made it less likely for me to wash my front wheel out as well.
The BOS suspension was interesting. The Idylle Air fork was extremely supple off the top, but can be adjusted to run nice and high in the travel. The bushing tolerance feels loose, giving a slight loose headset feeling, but it doesn't seem to affect overall handling. All of the adjustments (low-speed rebound, plus high- and low-speed compression) work well, but you'll need a tool to make any changes. The theory is that if you need to get a tool out to fiddle with your suspension, you'll make more thoughtful adjustments. Cane Creek has a similar view on it. Plus, once you dial your suspension in where you like it, you shouldn't have to make adjustments all the time. The Stoy shock was a solid performer over two days and 20,000 feet of descending. As with the fork, the high and low, plus rebound adjustments all functioned and had plenty of range. I found the factory settings to have a bit too much high- and low-speed damping, but that was easily solved.
Shimano Saint brakes, shifter and rear derailleur, e.thirteen TRS plus chainguide, Maxxis DHRII tires, and Race Face cranks, seatpost and handlebar round out this $7,000 build. I had a blast riding the Maiden these past couple days. The short learning curve is great for riders who swap back and forth between trail and downhill, and the agile, park-like feel of the short rear end make the Maiden a solid performer. Sizing runs from small to extra large, and pricing ranges from $4,500 to $10,500. The Maiden will be available beginning in October.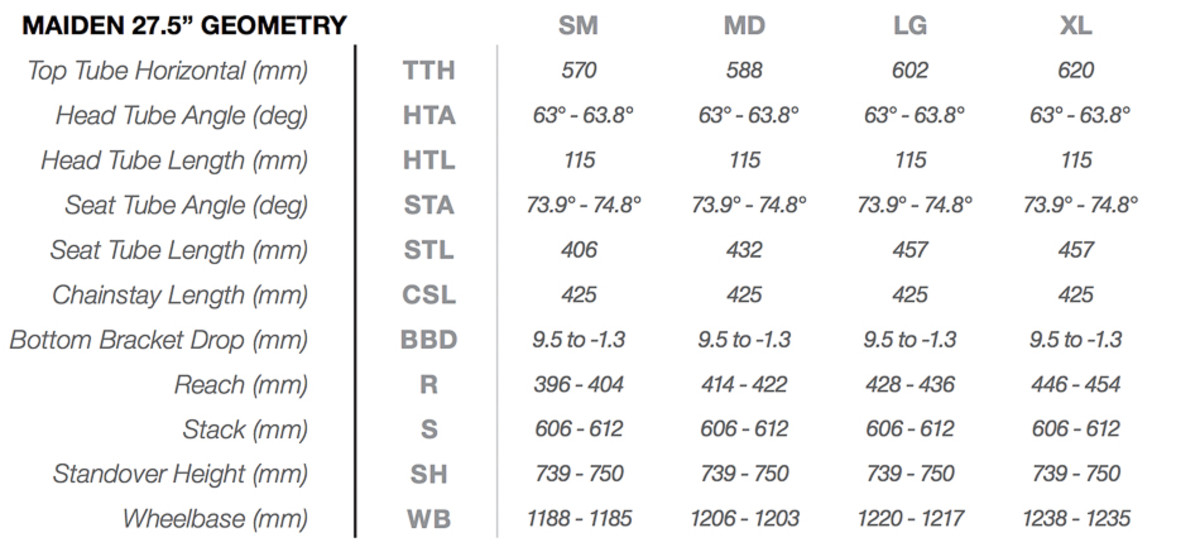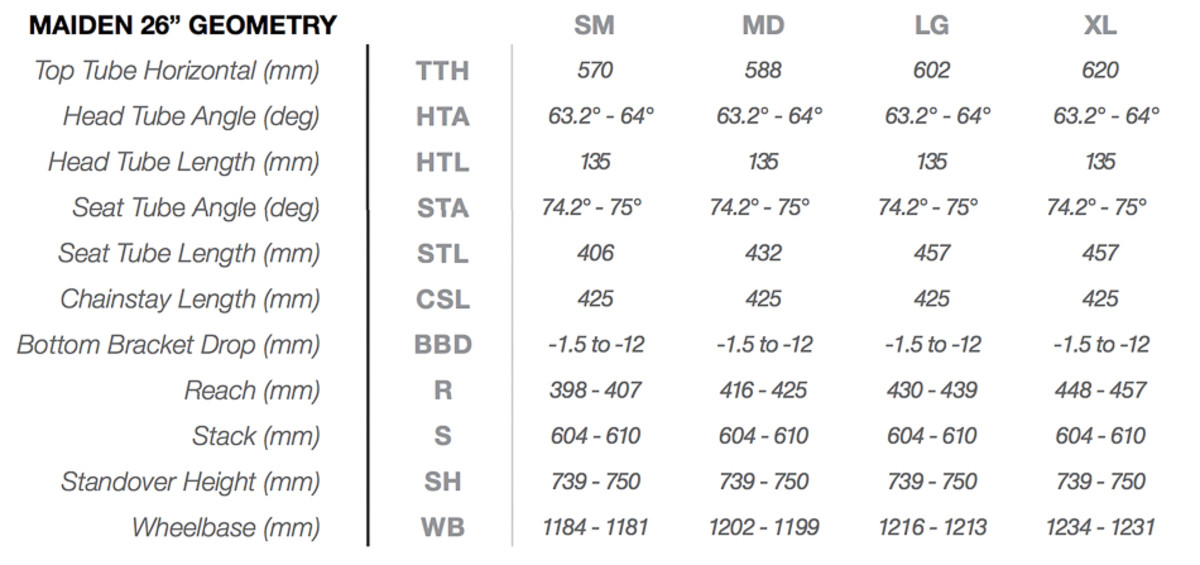 For more on the Maiden, check out Rocky Mountain's website.
Related: