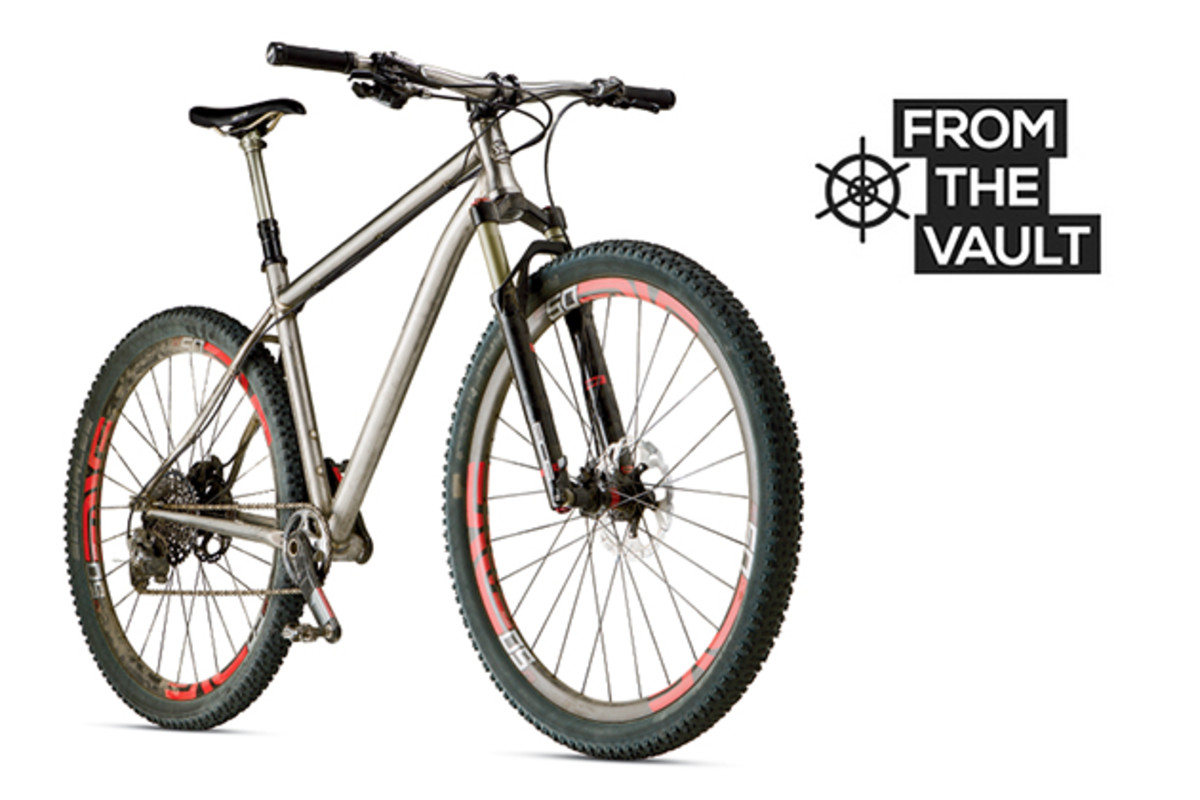 Words by Ryan Palmer

Price: $3,500 (Frame Only)
Spotbrand.com
I SPENT MY CHILDHOOD WITH MERLIN AND INDEPENDENT Fabrication catalogs hidden inside my school textbooks, daydreaming of someday owning a titanium frame. I've since had several frames made out of the exotic material, but those boyhood dreams come back to life every time I see one.
Needless to say, my interest was piqued when the newsletter announcing this new Spot titanium frame arrived. The Cream isn't for the masses: It's a three-year product of passion made with little regard for cost. Each tube was selected, shaped and tapered to provide the desired ride feel, vertical compliance and lateral stiffness. Spot doesn't buy their dropouts. They make them. It turns out that making the patented Kobe Slider dropouts–which split to accept a Gates Carbon Drive belt–from titanium is really pricey. Other details include the beautifully machined tapered headtube and a seat-tube cutout, which serves the dual purposes of increasing tire clearance and vertical compliance.
Much of the three-year development was spent on minimizing side-to-side bottom-bracket flex. Gates Carbon Drive is very sensitive to chain line. Too much flex and the belt could get kicked off. I opted for a geared build, which according to the company's president, Andrew Lumpkin, will be available from Spot in the future (for now it's a frame-only or a singlespeed build). But I definitely benefited from the lateral stiffness–it's easily the most stable titanium frame I've ever ridden. Yet it still has that telltale feel and forgiving ride quality that makes the material so coveted.
The Cream provides a surprisingly comfortable ride for a hardtail. The 29er wheels roll over everything and the 69-degree head angle finds a balance between nimble and stable. While I only tested it with a 100-millimeter fork, I think it'd be fantastic with 120 millimeters of travel. That said, the stock BOS Dizzy fork provides top-notch damping control for such a short-travel fork.
Does Spot expect to sell a ton of these things? Probably not. But it was never about that anyway. It is a bike designer's dream realized, and we think that's rad–despite the astronomical price tag. I can undoubtedly say that it's the best-handling titanium frame this dreamer has ever ridden.
This story originally appeared in the "Against The Grain" November issue of BIKE.