Right around the time I found out I had scored a coveted entry to the B.C. Bike Race, the redesigned Juliana Joplin short-travel 29er came out. I took this as a sign, and immediately asked the powers that be at Juliana if I could test the Joplin during the seven-day stage race. I figured that a 29er would be the ticket to helping make those long days in the saddle more comfortable, and race veterans had suggested that no more than 100 millimeters of travel was necessary for the XC-centric courses. Still, B.C. cross-country does not equal XC in the rest of the world, so I was concerned that the Joplin's combination of 110 millimeters of rear travel and 120 millimeters in the front might leave me bottomed-out and broken-spirited.
My worries were in vain. This bike was a perfect match for the relentless roots, tight trees, occasional steeps and fire road climbs served up every day as the race made its way from North Vancouver to Vancouver Island, to the Sunshine Coast, back to the Shore and up the Sea-to-Sky Corridor. The week started off with slick roots and peanut butter muck in Cumberland, thanks to overnight rain, but on the Joplin, which was outfitted with Maxxis Minion tires front and rear, I was able to power up through the technical climbs and thick mud. I grew more impressed as the week went on and the terrain dried out–although the Europeans smoked me on every fire road connector, I found advantages on technical singletrack climbs and descents, where the Joplin's trail geometry and XC weight excelled. A trail-appropriate 68-degree headtube angle and larger-diameter wheels enabled descending with ease, giving me the confidence to let go of the brakes as I peered over the edge of a rock roller in Squamish, or stared down a tangled mess of roots in North Vancouver. The low-and-long frame geometry­–a 13-inch bottom-bracket height and 23.7-inch toptube (size medium)–provided stability, whether the bike was pointed up or down. Noticeably, the Joplin whipped around several series' of tight uphill switchbacks with the snappiness of a smaller-wheeled bike, thanks to its 17-inch chainstays.
The bike comes race-ready right out of the box so I only made a few changes, but each one made a huge difference when rubber met dirt. The current version of this top-end, $8,000 Joplin CC XX1 comes with SRAM's Eagle groupset, which includes the ultra wide-range 10-50 cassette and a 30-tooth front chainring. That personal-pizza-sized 50-tooth cog essentially provides a granny gear for a single-ring setup. When I got the bike, though, Eagle wasn't ready yet so my version came with SRAM's 10-42 cassette and a Race Face Next SL crankset with a 30-tooth chainring. This range is perfect for my home trails in Laguna Beach, where the steep, unforgiving grades could easily send one-by believers running for their doubles. But the knowledge that I was facing many thousands of feet of elevation gain over a relatively short period of time prompted a switch to a 28-tooth chainring, which provided relief on climbs and allowed me to keep something in the tank for the next day's stage. Even with a 28 up front, I only spun out on the occasional fire-road descent, and these few moments of wild pedaling paled in comparison to the mental and physical benefits of having an easier gear range for the long haul.
The other major change I made to the stock build was the wheelset. The Joplin came with ultra-stiff Enve carbon rims (a $2,000 upgrade) wrapped with a Maxxis Minion 2.3 front tire and Ardent Race 2.35 rear tire–certainly a fine set-up. But I used the B.C. Bike Race as an opportunity to test Bontrager's new Kovee XXX Boost TLR 29 carbon wheels. The Waterloo, Wisconsin-made rims are race weight–1,390 grams for the set–but sport a width more commonly seen on all-mountain wheelsets. The Kovee has an internal width of 29 millimeters, compared with 26 millimeters on the Enve M60 HV. Three millimeters may not look like much on paper, but it does make a difference when it comes to rims, and that added width aids in the ability to run lower tire pressure, improving traction. I eagerly replaced the Ardent Race tire with a Minion DHR II to match the front, which was the single most important swap I made. While the Ardent Race may be lighter, faster-rolling and more suited to XC racing, the Minion's wide side-knobbed tread performs far better in pretty much every condition and during every single stage I was grateful for my decision to beef up the rear tire.
I also added a few accessories to the frame to carry gear, since I'd heard the aid stations were frequent enough to negate the need for a pack. The Revelate Designs Gas Tank was plenty big enough to store spare parts, a hand pump, an energy bar and gels and the emergency equipment required by race organizers, including a whistle, matches and space blanket. Though the toptube bag is designed to attach to the stem, I found mine to be more accessible when it was attached to the seatpost; it fits fine in both places. I added Backcountry Research's Race Strap to my saddle rails to snugly store a tube and tire levers. I stored one water bottle on my frame and carried a second–the insulated Camelbak soft flask­­–in my jersey pocket as a backup. I only used it once or twice, though, since race organizers indeed set up well-stocked aid stations about every 10 miles.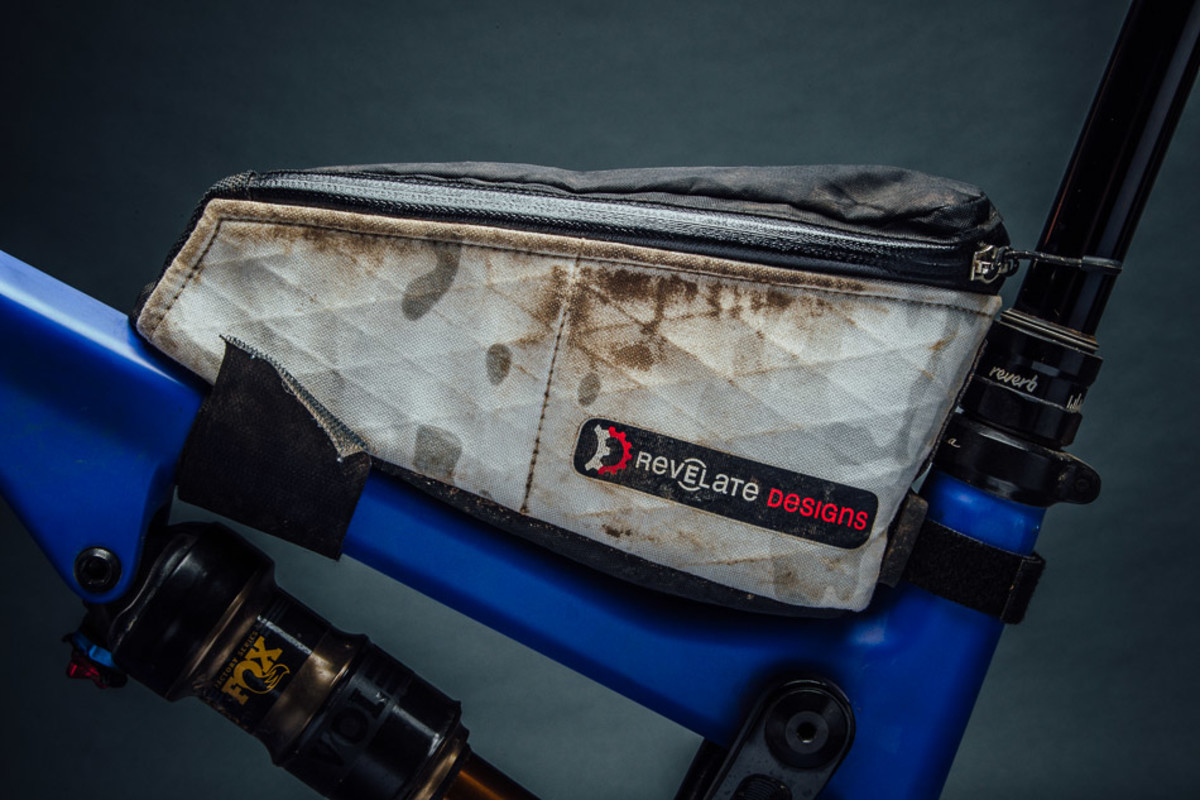 The B.C. Bike Race is a monster of an undertaking for anyone, especially those who don't race or train regularly (ahem), and my goal was to finish strong–gassed, sure, but not so far in the pain cave that the experience was miserable. After seven days, 30,000 feet of climbing and 185 miles of trails, I accomplished this goal, in no small part because of the Joplin's comfort and capabilities.
Related:
BCBR Tested: Specialized S-Works Stumpjumper 29