I didn't test ride any of my past three personal bikes, and the Range continues that lineage of irresponsibly–but thoughtfully–chosen steeds. I knew what I was looking for: a 160-millimeter-ish weapon with a descending prowess rivaled only by its aptitude for flickable fun. I was seeking balance–not climbing to descending balance–but balance akin to a mix CD of Metallica's "Kill 'em All" and Eddie Murphy's "Party All the Time." A sonic mismatch perhaps, but music to my ears in the form of a bike. And since hearing Mike Ferrentino and Vernon Felton's description of the Norco Range in last year's Bible of Bike Tests, I couldn't shake the thought of building one up.
The Build
I also haven't shaken my New England soul-rider roots; no matter how good full-suspension bikes get, I still have a constant hankering to ride a hardtail. But I need a chassis I can trust to slay what demons lay in wait down the unknown trails I drop in on while on assignment for Bike, so a hardtail was out of the question. I consoled myself by starting my build off with a cockpit from Chromag–a Whistler-based brand that specializes in steel hardtails. I can't say the 35-millimeter-diameter handlebar thing is really a step forward, but the oversized BZA bars and stem are visually confidence-inspiring, complementing the Range's stout headtube like the bloodstained hilt of a headsman's blade.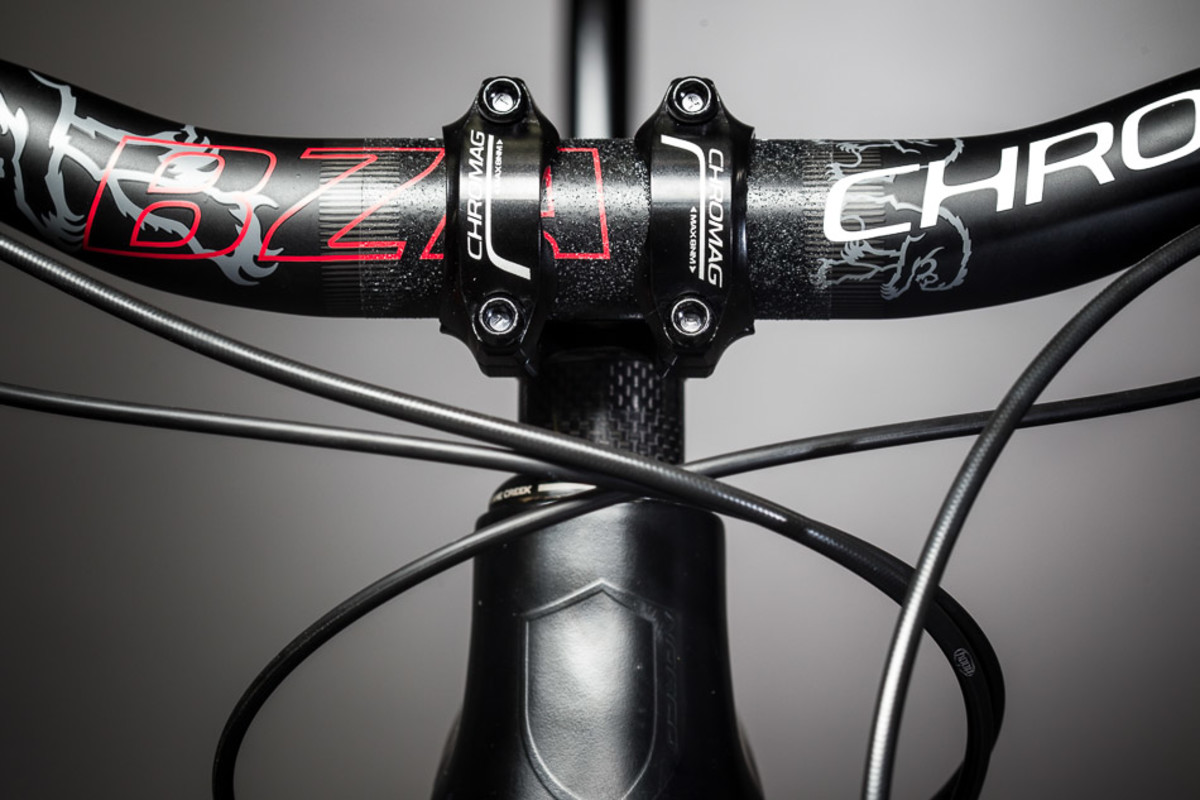 I'm already impressed by the supreme power of Hope's Tech 3 E4 stoppers, but equally important to me is the ability to dial in the lever position–and Hope's brakes are at the top of the class in that respect, offering hairsplitting reach and pad contact adjustment. The ergonomics of Specialized's SRL lever make it my favorite dropper-post controller, and mine is cabled to a 150-millimeter KS Lev Integra, which gives me plenty of room to get off the back. Chromag's comfy Trailmaster DT saddle and Scarab pedals round out my contact points. For drivetrain, I've hooked up a pair of Race Face's light and stiff SIXC cranks to SRAM's X01 bits, which need no introduction at this point.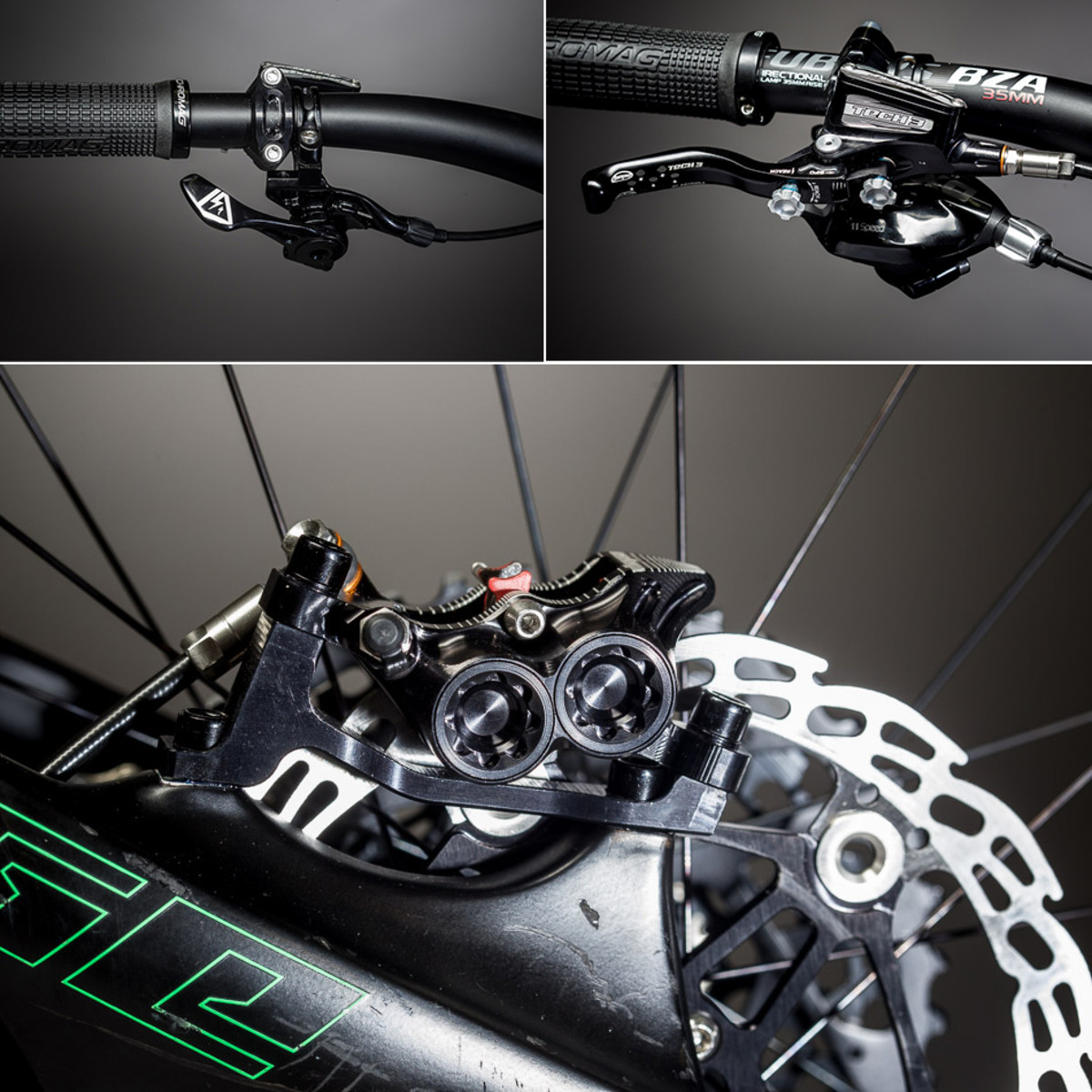 Specialized's Roval Traverse wheels have a more forgiving feel and deflect less than most carbon hoops, and while the build started off with a pair of 2.4-inch Continental Trail Kings, they didn't quite work out. More on that further down. The FIT4 version of Fox's 34 impressed me every time I rode it this season, so I opted for the 36 with that same damper. Then I matched the 36 with a Float X rear shock to ensure that I'll have an accessible platform on both ends for SoCal fire-road slogs.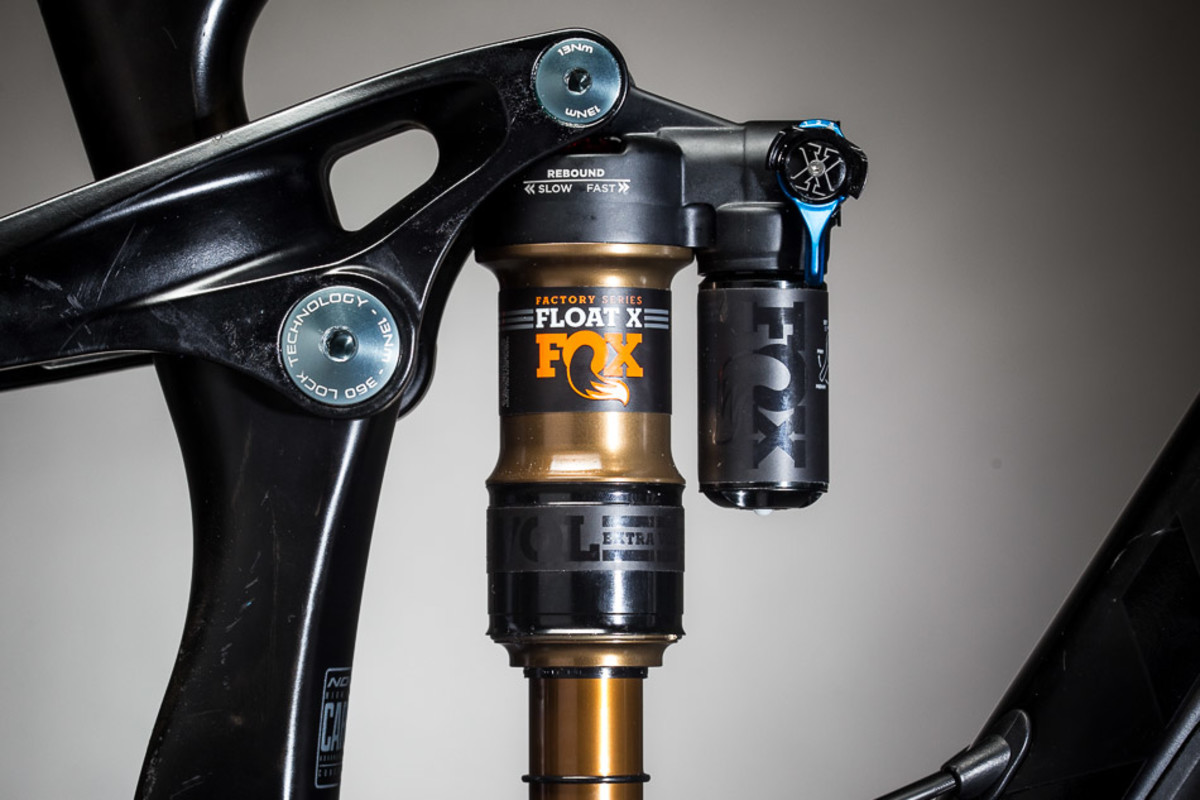 The Ride
It didn't take long before I knew that my dream would require a few reality checks. Just because your dinner guests are five of your best friends doesn't mean they're all going to get along with each other. Similarly, even if you know and trust each individual part you're putting on a build, it's conceivable that there will be a couple incompatible pairings. Such was the case on my build. The 2.4″ Continental Trail Kings are among my favorite tires, and I expected their large casings to jibe with the wide Roval rims. But when mounted, the sidewalls bulged beyond the outermost knobs, which gave the tires feeble off-camber grip. I also had to switch to Hope's standard rotors, since the wider, vented center on the floating rear rotor I began with didn't quite clear the seatstay when the wheel flexed through corners or under pedaling loads.
With the rotors switched and the Contis swapped out for 2.4″ Onza Citius tires (review coming soon), I was free to focus on the Range's capabilities. With 430-millimeter chainstays and a 66-degree head angle, I found the bike to be a bit of a handful on technical climbs. Its saving grace is the impressive traction on tap from the supple rear suspension, which allows it to contend with techy pitches. The compression adjust on the shock comes in handy while motoring through flat sections, but the Range actually pedals with reasonable efficiency when left wide open–especially for a Horst-link-based design.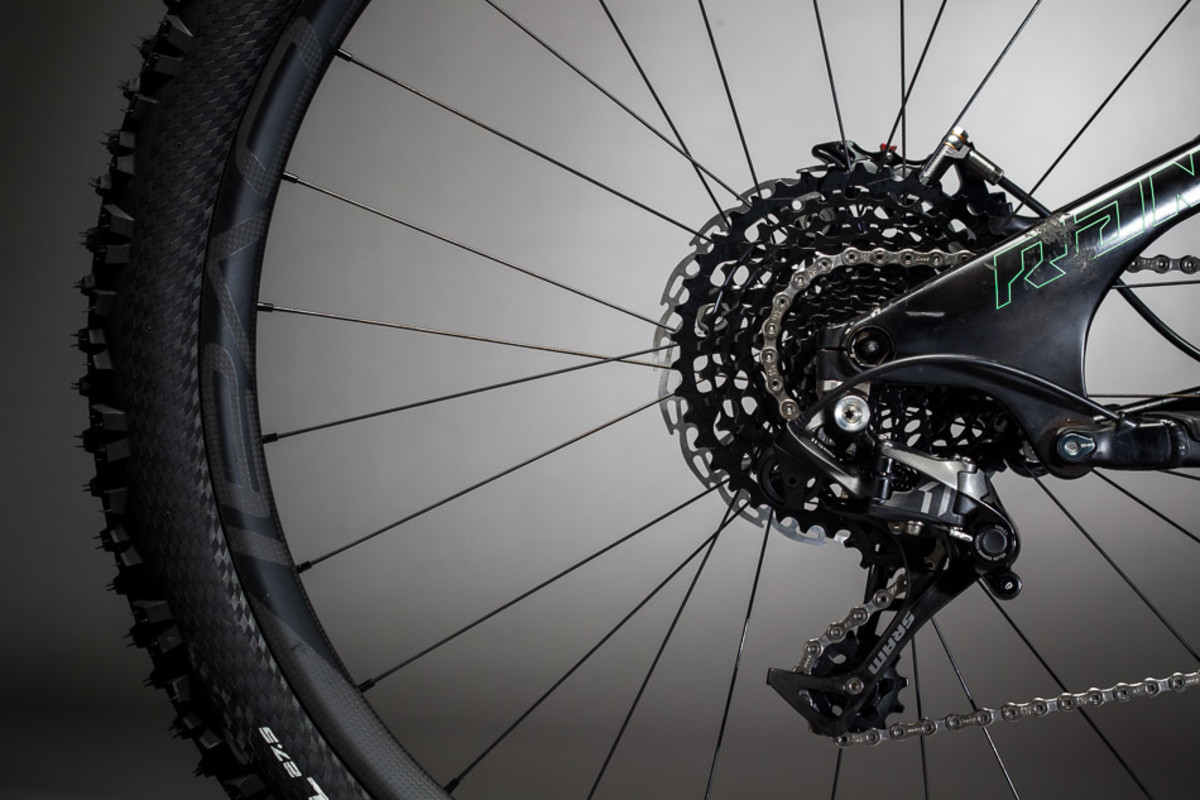 Most important to me with this build, though, was descending performance. After all, I wouldn't have chosen a slack, Horst-link bike if I'd been looking for peppy uphill performance. My hope was that the Range would balance its calm demeanor on descents with a liveliness that's lost on most six-inch bikes, and the Norco didn't disappoint: it charges descents with travel that starts off pudding soft before easing into a supportive midstroke. Line changes, manuals and quick carves through corners feel intuitive with the compact rear end, and the combination of the big Onza tires and wide Roval rims results in boundless traction at high speeds.
Beyond the minor changes I made to the tires and rotors, every component on the Range has served honorably. But the standout would have to be the combination of the KS Lev Integra dropper and the Specialized lever that it's cabled to. The long lever and the smooth, controlled action of the post allow me to regulate my seat height with more precision than any other setup I've ridden. With a slight push on the lever I can drop or raise the post to any point in its travel, modulating the movement incrementally–even with the seat unweighted on the upstroke. Of course, my favorite place for the seat to be is all the way down. While the Range is content flowing through berms, jumps and mellow trail, it's when I am on the edge of my ability, dropping down chunky, high-speed or steep trails that this weapon is most bloodthirsty.
Stay tuned for more dream builds over the coming weeks.
Check out last year's builds:
Vernon's Giant Trance Advanced SX
Nicole's Scott Contessa Genius 700