This Kona Hei Hei review first appeared in the June 2014 issue of Bike.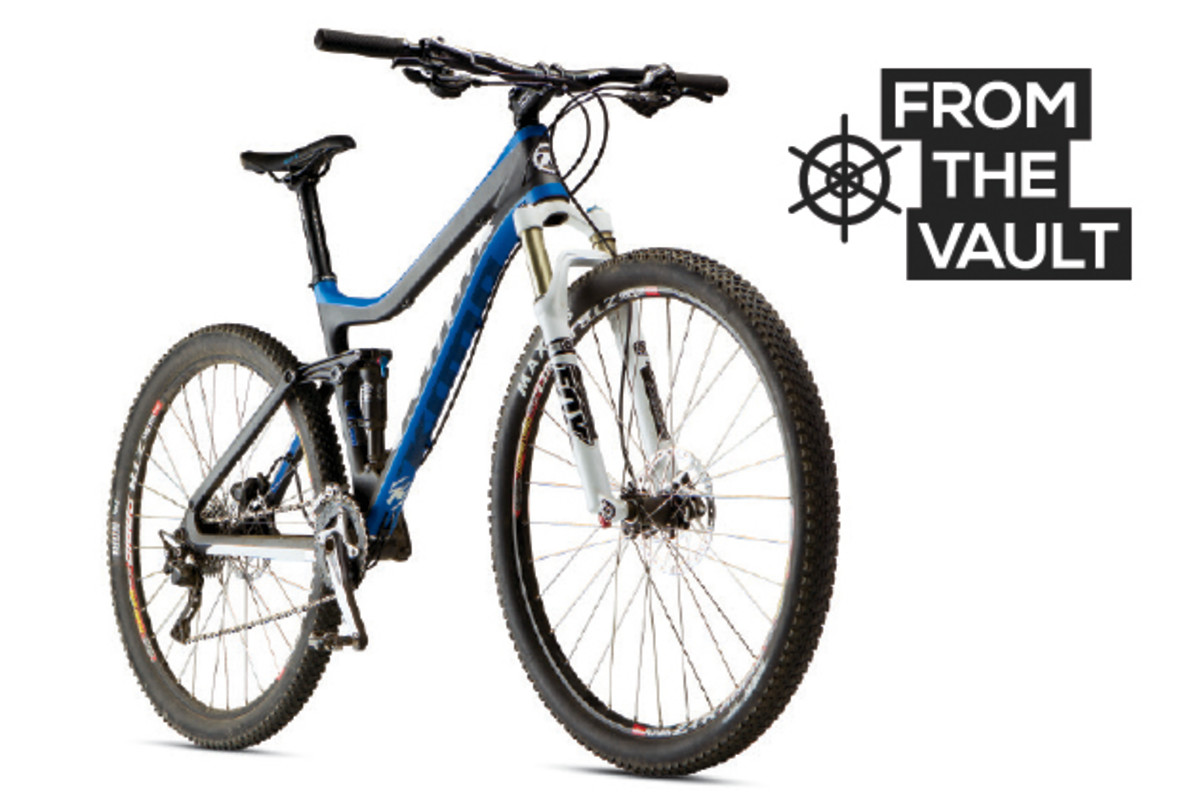 Kona Hei Hei Deluxe | $4,000 | KONAWORLD.COM
Vernon Felton | Test Location: Bellingham, Washington
The packaging of Kona's Hei Hei may have changed several times since its debut in 1990, but its overriding raison d'être has remained the same: Go fast. The sticker on the handlebar says it all: "For competition use only."
Of course, once you start slapping stickers on bikes that basically proclaim, "Stop your slacking and win a goddamn race already" you better cough up the goods and deliver a bike that'll actually get racers across the finish line respectably. Did Kona deliver the goods? We'll get there. First, here's a bit of background.
While 650b is all the rage these days, going fast in a crosscountry setting is still the domain of 29ers and, to that end, this latest version of the Hei Hei is shod with wagon wheels. There are four Hei Heis in the 2014 Kona line–two very affordable aluminum models and two carbon versions. Our $4,000 Hei Hei Deluxe is quipped with a complete carbon frame (front and rear triangles alike) and hung with a mix of Shimano SLX hard goods (brakes, cranks, shifters and front derailleur), Fox suspension bits (CTD Evolution shock and Float 32 Float CTD Evolution fork) and Stan's ZTR/Shimano SLX wheels.
I'd tested a 29er Hei Hei a few years back and had, frankly, walked away not terribly impressed. It was a fine bike, but it didn't light a fire under me. The rear end was long, the rear suspension felt a tad dead. On the whole, it left me shrugging and muttering "meh." My experience on the latest incarnation of the Hei Hei 29er, however, couldn't have been more different.
Yes, the Hei Hei can move on out under steam. Not a huge surprise, really. Take a 27.36-pound bike, slap on big wheels and outfit it with a fork and rear shock that can be locked out and, well, it should pedal up a mountain with some alacrity. But there's more to it than that.
Kona wrings a lot of performance out of the Hei Hei's 4 inches of suspension. If I were going to be all racer boy about it, I'd have run between 9 and 10 millimeters of sag, but since I like using all my travel, I ran the Hei Hei differently. At a full 25 percent sag the Kona pedaled surprisingly efficiently when run wide open and was buttery smooth on small to mid-size rocks and roots. After a couple hours of trail time, I'd started using the suspensions' Trail settings on climbs, but Kona's refined Walking Beam design (now called "Beamer Independent Suspension") does a fine job of simultaneously managing both suspension bob and trail chatter, even without the aid of Fox's little blue levers.
What's more, the Hei Hei Deluxe is downright playful. Kona shortened the chainstays a few years back to 17.5 inches and while the Hei Hei is not as nimble as some other premier XC bikes, it's no slouch in the truly tight stuff. The Kona likes to be popped, pushed and ridden hard. Yes, it's fast, but I like the Hei Hei Deluxe because it's actually fun.
This is a cross-country racer that has a life beyond the race tape. So, while the sticker doesn't lie–the bike is a race whip, no doubt about it–the Hei Hei Deluxe isn't necessarily for 'competition use only.' And I mean that in the best possible way.

Ryan Palmer | Test location: Southern California
It took less than 60 seconds of trail time to realize that the Hei Hei rules, and about the same amount of time for it to feel as though I'd been riding it for years. Here's the rundown: Receive bike from Vernon, assemble, install dropper post, pedal 100 yards to the trail, drop in, grin. The first couple trails we normally hit from the office include tight, bermed turns and flowing jumps. The moment the Hei Hei's wheels left the ground and the bike snapped out of that first corner, I knew this was one rad cross-country machine. The twinkle-toed Hei Hei dodges and weaves like Mickey trained it, and skips down the trail like a little kid on the last day of school.
At four grand, the Hei Hei Deluxe comes equipped with a full Shimano SLX group–including hubs–and XT Shadow Plus rear derailleur. The SLX crank sports a lovely 24-38-tooth double, a combination that gets along really well with this sprightly 29er. SLX gets overshadowed by XT and XTR, but it's an ideal group. It's durable, works perfectly and is easy on the eyes. It's all any of us really needs. Trails are smoothed out by a Fox Float CTD Evolution fork and shock, offering 100 millimeters of front and rear travel.
The heart and soul of the Hei Hei Deluxe is its fresh new carbon frame, with smart geometry and internal cable routing for the shifty bits, while brake and dropper post mounts adorn the toptube and downtube, respectively. With short, 444-millimeter (17.5 inches) chainstays, 28 millimeters of bottom bracket drop–that's the difference between the axle height and the bottom bracket height–and a 70-degree head angle, the handling of this bike can be characterized as quick and playful, yet stable. It's easy to get the front wheel up to manual, but it stays planted on steep climbs. It dives into corners like a smaller-wheeled bike, but gets gobs of traction, like only 29ers can. If you forget any of these numbers, fear not; they're printed right on the seat tube along with reach, stack, pivot bearing measurements, shock dimensions and other vital stats. Pretty cool.
The slack in-class head angle provides an excellent amount of stability, but is steep enough to retain the XC feel of the bike. Even with this mid-level build, our test bike came in at a respectable 27.5-pounds, with tubes and pedals. Just going tubeless–which can be done with the Stan's ZTR rims–costs only a few bucks and saves considerable weight from the get-go. The Hei Hei felt even lighter than what the scale said, which can probably be attributed to the poppy feel of the bike. It feels so light underneath you that minimal effort is required to flick the bike anywhere you want it to go and power up climbs.
What makes Kona's suspension designs so special is that there's really nothing special about them at all. That is, they're simple. Straightforward. They don't confuse the shock with funky leverage curves or axle paths. They just work–actively, predictably and with minimal linkages and hardware. Riding with the Hei Hei's shock set to Trail mode will likely satisfy most riders most of the time. Especially long climbs or descents may cause you to reach down to flip the switch, but I find that both pedaling efficiency and bump sensitivity are pretty good in the shock's middle setting.
The Hei Hei reminds me of when mountain bikes were just called mountain bikes, before trail or enduro or over-mountain. I'd challenge anyone to take this Kona for a ride and not have a great time. It is a joy to ride, simple as that.
More Kona reviews: