JULIANA ROUBION | $6,600 | JULIANABICYCLES.COM
The Juliana Roubion was the belle of the bike ball inside the garage at the Bible, its turquoise matte paint job and shiny parts beckoning from the racks. Its reputation as a kick-ass adventure-mobile had preceded our meeting, in no small part due to Juliana's affiliation with 'it' brand Santa Cruz Bicycles.
As expected, the Roubion, which is a repainted Santa Cruz Bronson frame built with parts handpicked for female riders, did not disappoint. The fact that the Roubion is not a 'women's-specific' frame couldn't have been further from testers' minds as we ripped the berms and tore through rock gardens on this very capable bike. The 6 inches of VPP suspension, centered around a Fox Float CTD rear shock, felt plush without slogging, and the RockShox Pike RCT3 fork provided exceptional front-end handling. There was some bob while climbing with the shock in 'Trail' mode, but switching into 'Climb' tempered that feedback and made the bike feel more efficient. The 720-mil Juliana flat carbon bar paired with a RaceFace Turbine stem aided confidence up front, although one tester would have preferred a riser bar and shorter stem. That said, the sturdier bars are a huge improvement over Juliana's original narrow-gauge design.
Testers also gave high marks to the Reverb Stealth dropper, Maxxis High Roller tires, SRAM X1 drivetrain and Raceface Turbine Cinch crankset with a 32-tooth chainring–although some might find that a 30-tooth is friendlier for the big-mountain climbs you'll inevitably want to tackle on the Roubion. The external cable routing could also be cleaned up a bit, but that's getting picky. The geometry felt balanced on a size medium to our testers who ranged from 5-foot-4 to 5-foot-7. The 67-degree headtube angle the slackest of the three all-mountain bikes we tested–17.3-inch chainstays, 23-inch toptube and 27.5-inch wheels combined to create the whole package: aggressive on the descents, stable while cornering and capable on climbs. If the pricetag is discouraging, you can nab the frame and shock for $2,900. Hopefully next year Juliana expands its lower-cost carbon frame option to the Roubion, which would make this rad ride that much more attainable. – Nicole Formosa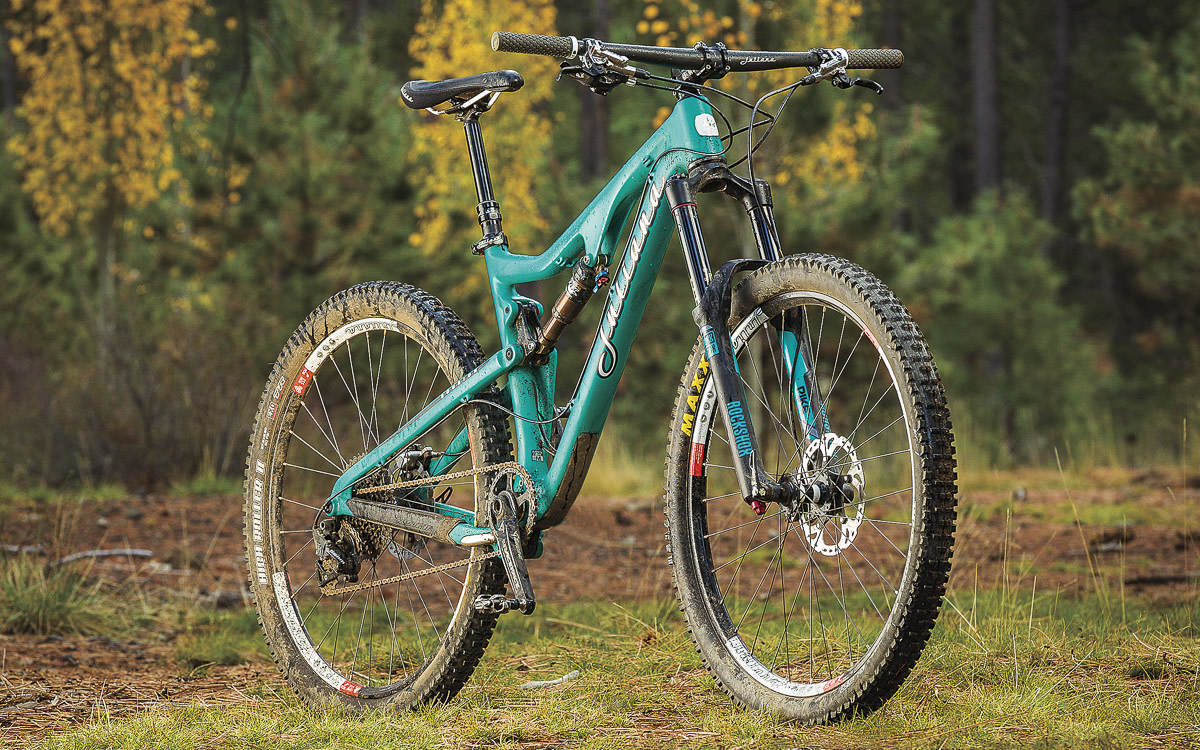 Q & A with Katie Zaffke, marketing manager – Juliana Bicycles
We had questions about the new bikes before we even got our test rigs, so we sent out a few queries—the kind of things we thought you might be asking yourself when you're looking at this bike. Then we sent out another round of asks if any major questions or issues came up during testing. Here's the feedback we received from Juliana marketing manager, Katie Zaffke.
Consider this a bonus feature—just a little something extra to chew on if you're still hungry for information after you've watched our video reviews and flipped through the Bible of Bike Tests.
—Vernon Felton, Bible of Bike Tests Moderator
VERNON FELTON: So the Roubion model is running the identical frame as the Bronson. Am I correct in stating that the things that make it "women's specific" are the cockpit components?
KATIE ZAFFKE: If you're talking about physical variables, then, yes, a women's-specific saddle and handlebar width are the only differences. The only real differences we see between men and women as it relates to bike fit is scale—women tend to be smaller than men on average. And when it comes to the spec of bike, we don't expect women to compromise on performance, so it's spec'd the same as our Bronson XO1.
In year one, we used a smaller-diameter grip and handlebars, but found the issue was more about brake lever reach—something that has actually been addressed by the brake manufacturers with reach adjustors.
VF: Some people would argue that a woman's specific bike should incorporate an entirely different frame (for a given model) than the male version. Other folks argue that the frames should be the same and that it's the component choice that matters. It would appear that Santa Cruz is in the latter group. If I've characterized that correctly, what's Santa Cruz's official reasoning/position on how to best make a women's-specific bike?
KZ: Again, the differences for bike fit comes largely down to sale factors with the caveat being that women tend to have wider hipbones and narrower shoulders than men—differences we address with the saddle and handlebar. Regardless of gender we recommend riders select a bike size based on reach.
Our "official reasoning" behind our women's-specific bikes is that women deserve the best trail riding experience and that comes from proven geometry, engineering and spec.
Our conversation with women riders through our demo crews, rider ambassadors, and employees tells us that they don't want some dumbed-down version of mountain biking. They take mountain biking—and fun—seriously, and that's what Juliana as an idea delivers.
VF: Which components on the Roubion are designed with women in mind?
KZ: We think women riders considering our brand want a premium riding experience and have, therefore, selected the components accordingly—and not based on gender.
VF: Do the fork and shock receive a different tune geared towards lighter riders?
KZ: We spec air-sprung shocks and forks from RockShox, FOX and Cane Creek and they all have an amazingly broad spectrum of tuning range to accommodate women of all weights.
VF: Any chance that an XS version of the Roubion might become available in the future? At this point, the recommended rider height begins as 5'1", correct?
KZ: With a long-legged bike like the Rubion, it's hard to accommodate a lower standover and handlebar height given its 150 millimeters of travel. We offer XS sizing on our Origin and Nevis for extremely small riders.
More reviews of women-specific bikes:
Norco Sight Carbon Forma