By Vernon Felton
Breadwinner Cycles' Bad Otis is not the kind of bike that blends in with the scenery. The bike turns heads every time it's on the trail. No big surprise—this one right here took top honors in the mountain bike category at this year's North American Handmade Bicycle Show. Since I keep getting asked "What is that?" every time I ride the Bad Otis, I thought we'd go straight to the source—Tony Pereira and Ira Ryan, the bike's creators.
Tony Pereira and Ira Ryan, have been fixtures in Portland's cycling scene since they started their respective framebuilding shops (Pereira Cycles and Ira Ryan Cycles) in 2006. In 2013, the two framebuilders got all Wonder Twins Activate and joined forces to form Breadwinner Cycles. Their company now offers eight different models—all handmade in Portland.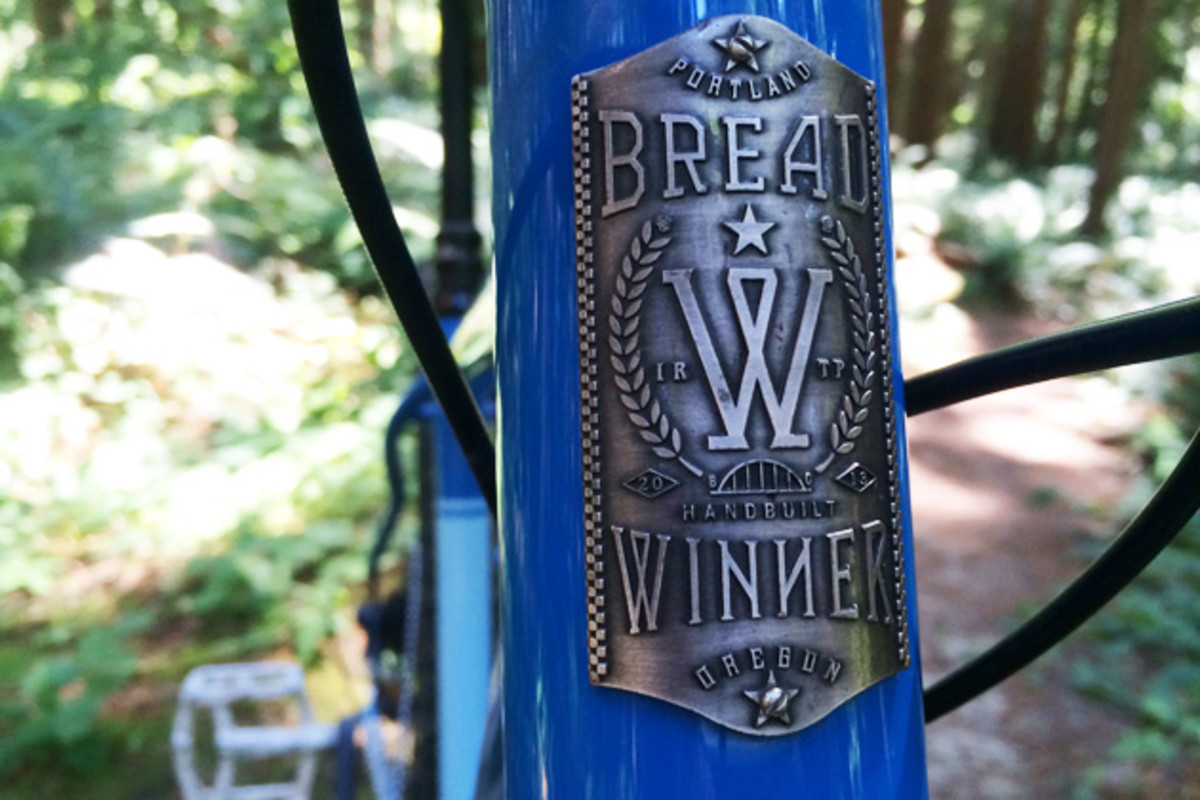 BIKE: Why? What led you two to team up and create Breadwinner in the first place?
TONY PEREIRA: Ira and I have known each other for nearly nine years. We met just after I moved to Portland in 2005. A couple years later we started riding together as part of Rapha Cyclewear's Continental crew–a group of riders that set out to document some of the best road rides around the US.
In 2009 we were approached by Rapha to come up with a design that they would offer as part of their bicycle collection. Over the next two years we built a few batches of the bikes and found that we really liked working together. At the same time, Ira got married and my wife and I had a son, so we were looking for ways to grow our businesses to support our growing families. We bounced around quite a few ideas and eventually decided to take what we loved (building custom bikes) and got rid of what was holding us back (multi-year waiting lists) and Breadwinner was born.
BIKE: How's business been since you started the partnership?
TONY: Breadwinner has taken off better than we could have hoped for. It's really gratifying to put your work out there and have it be accepted so enthusiastically. We have riders all over the world and it keeps on growing.
BIKE: Why the Bad Otis? What kind of ride experience were you looking to create with this bike?
TONY: The Bad Otis is the evolution of an idea I had brewing in my head for the past 3 or 4 years. I've been an avid mountain biker since the `80s and got into the singlespeed 29er groove for the past decade or so, after becoming disillusioned with clunky suspension linkages and unreliable drivetrains. In the last handful of years, as trailbuilding has evolved, I wanted a bike that would rally the berms and jumps better than my XC bike, but I still love the simplicity of a hardtail. Otis has nice short chainstays and a slack headtube angle so it rips around corners, enough front suspension to swallow rocks and landings, plus a dropper and 1x drivetrain. It feels really tight when climbing and is a bunch of fun ripping down the trail.
BIKE: Who do you see as the ideal rider for the Otis?
TONY: Experienced riders who like to ride all day, know how to pick a line and handle a bike well, and want something light and simple that can corner fast and still climb. As good as the modern trail bikes are, they still don't climb like a hardtail and they don't work at all when the shock blows out. I'm not here to argue against full-suspension bikes–there are some great ones out there–but there's a lot to love about the simplicity of a hard tail.
BIKE: Clearly, there have been "long travel hardtails" for years now—since the late `90s, really. Where does the Bad Otis fit within that niche?
TONY: There's no question that this isn't a new idea. When I first thought about making a longer-travel hardtail it was going to be a 29er with a 120-millimeter fork and a 69-degree head angle. The next year I started thinking maybe a 140mm fork … kept thinking about it and wasn't happy with the forks available.
Eventually 650b started to take hold and I decided it would be a 27.5. Then the Pike came out and I thought it would be a 150. I was talking to a buddy who is a Pro enduro racer and he said, "You should just go 160." I thought about and decided he was right. The extra 10 millimeters of travel was only going to make it better.
Back to your question: I think the Bad Otis benefits from where we've gotten in the evolution of suspension forks. The Pike and the new Fox 36 are light and smooth and have great pedaling performance with a ton of travel. Before now, a long-travel hardtail was going to have a pig of a fork on it. We didn't invent the idea, but the time is right for it.
BIKE: Were there bikes you particularly liked that inspired any aspect of the bike's design?
TONY: Honestly, I didn't really study a lot of the long-travel hardtails, while designing the Otis. A friend of mine has a Honzo, so I knew about that, but I think 29er wheels are way too big for this much travel. Most of the others I've seen have been very overbuilt. I studied all the modern full-suspension trail bikes to see where they landed for headangle and chainstay length, then just went for it.
BIKE: There are a lot of really nice and utilitarian touches on the frame. If both of you had to pick the thing your most proud of about the Bad Otis, what would it be?
TONY: I'm really proud of how well the stealth dropper routing came out. It's a bit of a pain to build, but combined with the internal brake line, the bike looks really clean. The handling is spot-on too. We also got the chainstays really short and the bike manuals really nice and just pivots around switchbacks.
BIKE: What are some of the finer details on the frame that people might not pick up on at first?
TONY: The Paragon Polydrop dropouts make for a bike that can keep up with the ever changing standards out there. By swapping out inserts it can accommodate 135 x 10, 142 x 12 (Shimano or DT) and can Shimano direct-mount or standard derailleur mounting. Plus, if another "standard" arrives, Paragon will likely make a new insert for that. You could build it up with whatever you've got around without being locked in when you want to upgrade in a year. It's a really smart system. Other little things that mean a lot to us: clean cable and line routing, tire clearance for up to 2.4s, beefy and light headtube. Also, the frame only weighs about 4.5 pounds.
BIKE: Is the Bad Otis essentially a stock frame or can buyers order up some degree of custom touches to the frame? I ask this since I've seen some Breadwinner models described as "semi-custom."
TONY: There's not really any such thing as a "stock" Breadwinner. All our bikes are custom made-to-order. We have an interview process that ensures that every bike fits perfectly and handles the way our customers expect them to. We maintain control over the essence of how the bikes perform, but tailor every bike to suit the rider. There are eight stock paint colors and we offer custom paint as an option. We should never have called our bikes semi-custom.
BIKE: Have you had any orders on the bike since the NAHBS (National Handmade Bicycle Show)?
TONY: We've sold a solid handful of them with more on the way. Winning Best Mountain Bike at NAHBS always helps!