If you missed our first two galleries, you can check them out here and here. We also checked in with riders at dirt demo to find out their favorite bikes, and found out about how Velofix is taking bike repair service on the road. Without further ado, here is our final product coverage from Interbike 2016.
Blackburn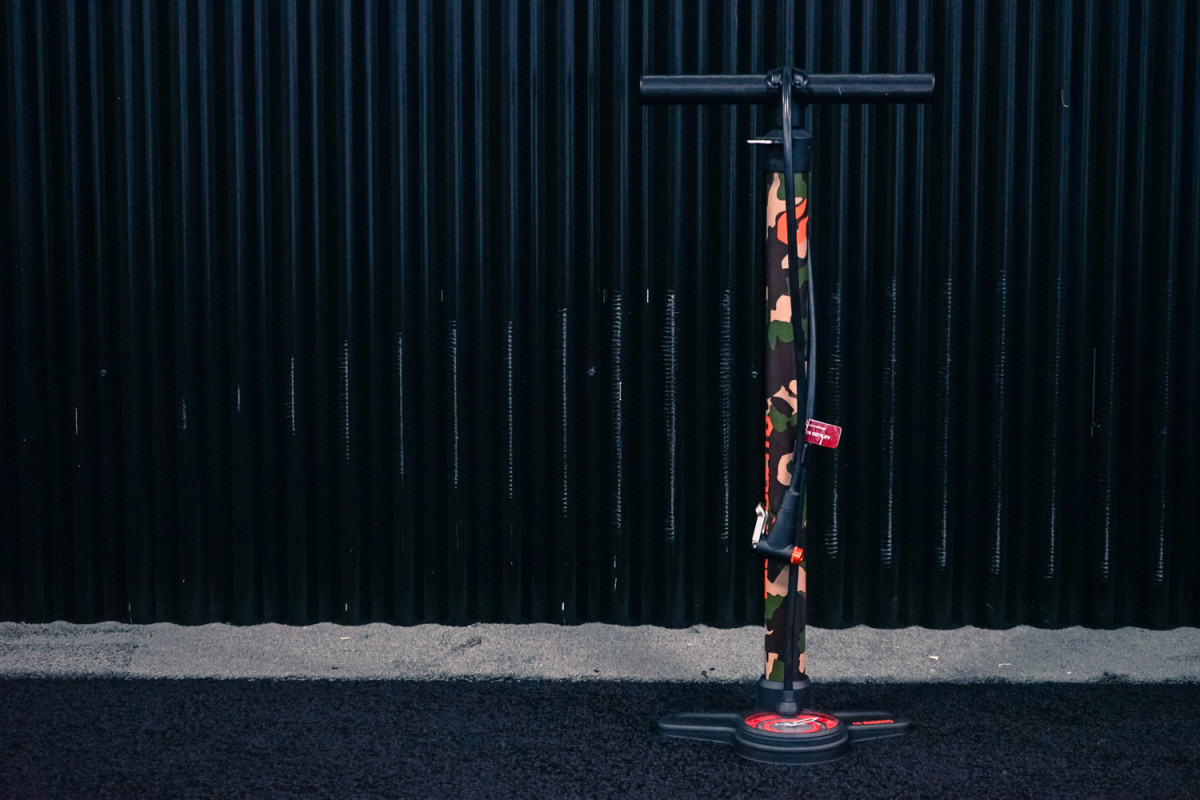 Blackburn has a full range of pumps that cover the price spectrum from $30 all the way up to $110. The Chamber HV shown above is a mountain-specific tire inflator. It pushes a high volume of air through its all-steel construction, and the massive gauge at the bottom allows for readings in single PSI increments.
The head, which has a bleed button, is compatible with any valve, and the handle is fitted to a 31.8 clamp, so you can swap it out for those old bars you've been trying to find a use for. The hose is long enough to reach a bike in a work stand or hitch rack, and there's a bottle opener to make your post-ride routine go smoothly. MSRP is $80.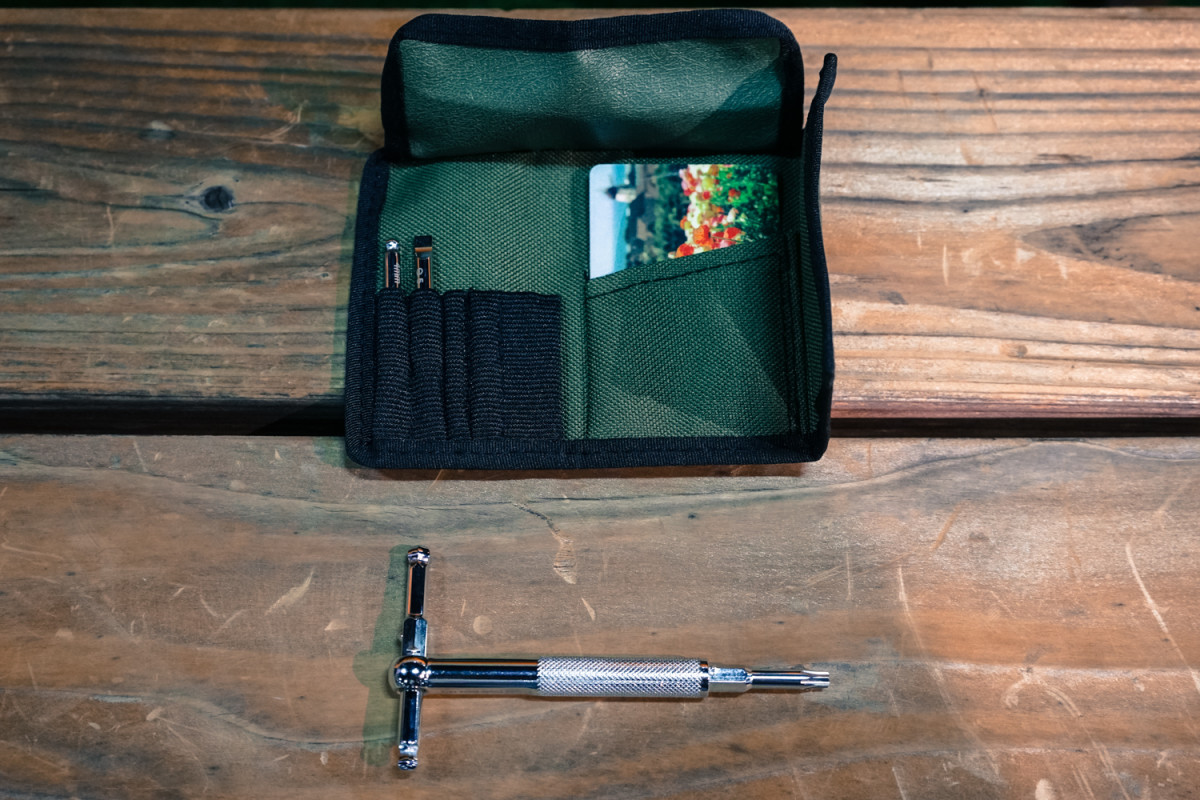 Blackburn's $20 Switch tool is a modular T-handle that's well-suited to hitting those hard-to-reach places, and can provide ample leverage while doing so. It comes with T25 and T30 torx bits, 2.5, 3, 4, 5, and 6-mil allen bits and a flathead screwdriver. It's stored in a nylon carry case that holds the bits, wrench and a couple cards.
Silca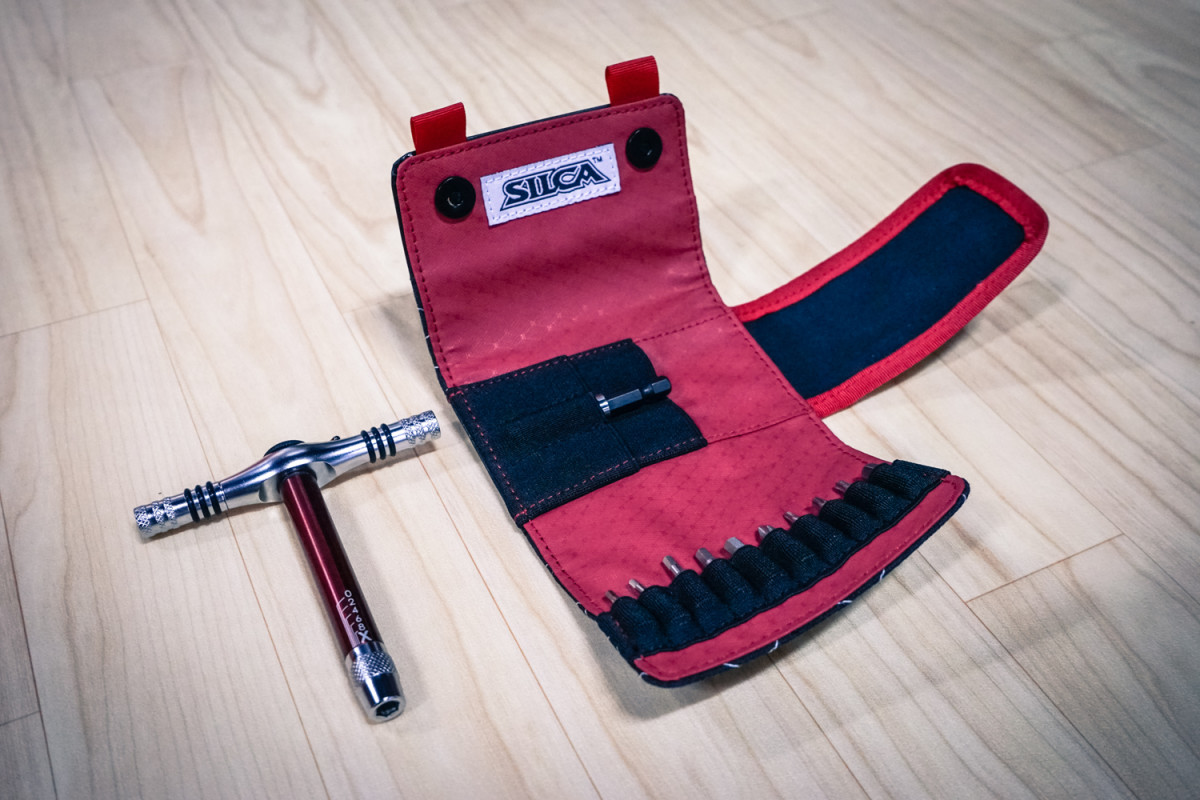 Silca's crowdfunded T-Ratchet + Ti-Torque tool will be shipping out starting in January. The tool uses a patented titanium rod that flexes under torque to give a visual reading between two and eight newton metres with the scale printed on the tool. It can be configured to work as a basic ratchet, a ratchet with an extension, a T-ratchet or a T-ratchet with an extension. The kit ships with 10 bits in a waxed-canvas carry case. Retail is $98.
POC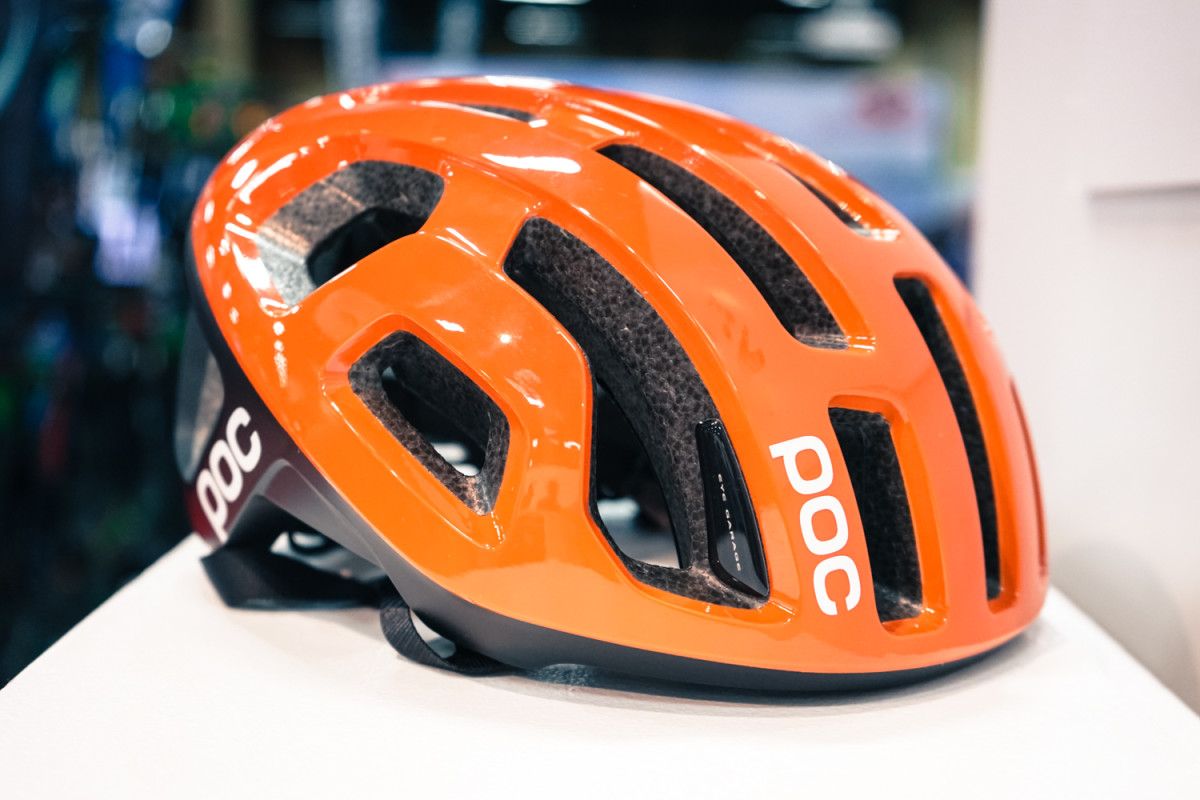 This year marks POC's 10th anniversary, and the Swedish brand is celebrating the occasion with a selection of new mountain gear. Among the softgoods and new pads is the Octal X cross-country helmet, which is basically identical to POC's Octal road helmet, but features an Aramid weave to give the shell greater structural integrity and improved puncture resistance. The outer shell also extends an extra three millimeters over the EPS to further shore up the Octal's construction. It weighs in at a feathery 210 grams and retails for $250.
Deity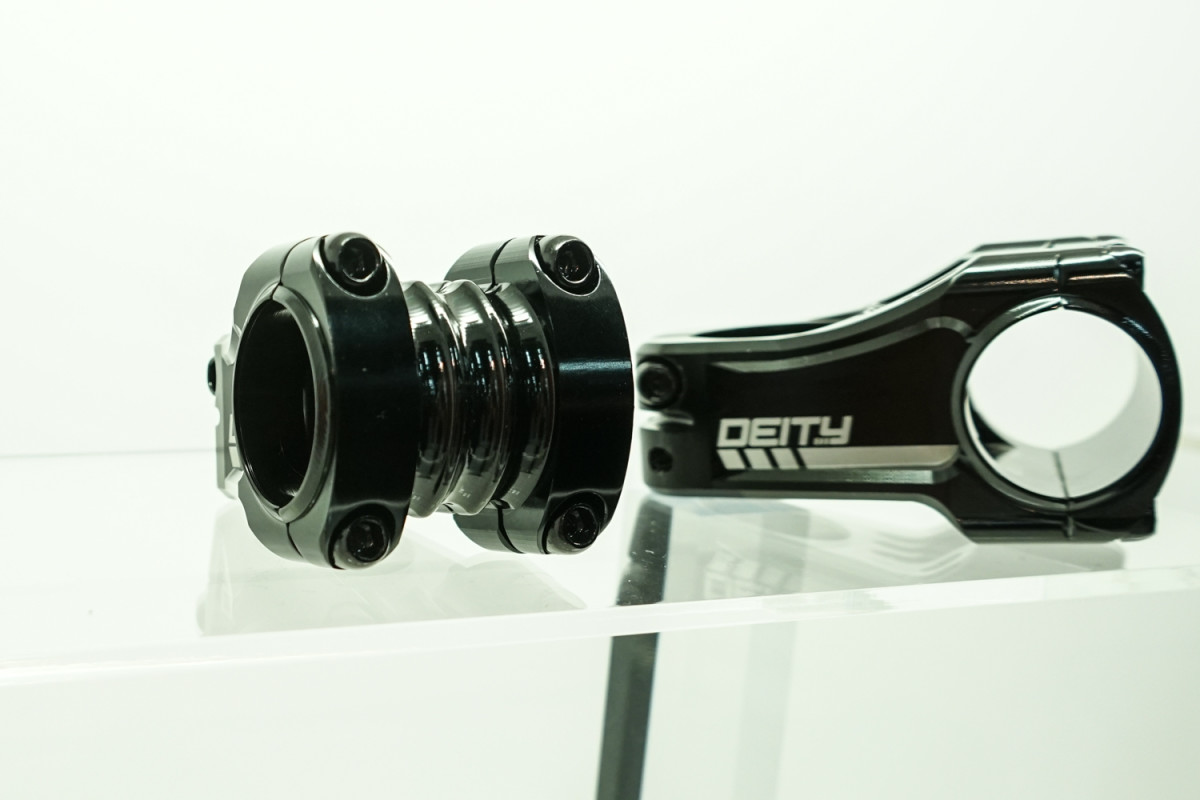 Deity showcased a new selection of handlebars, a new pedal, grips and some seats at the show, and has a lot more new product launching in February. The new Copperhead stem shown above caught our eye with its unique face plate that resembles a set of venomous fangs. Deity is sticking to a 31.8-mil clamp with the Copperhead, which is CNC machined from 6061 T6 aluminum, and will be available in 35, 50 and 65-mil lengths. Pricing is yet-to-be announced.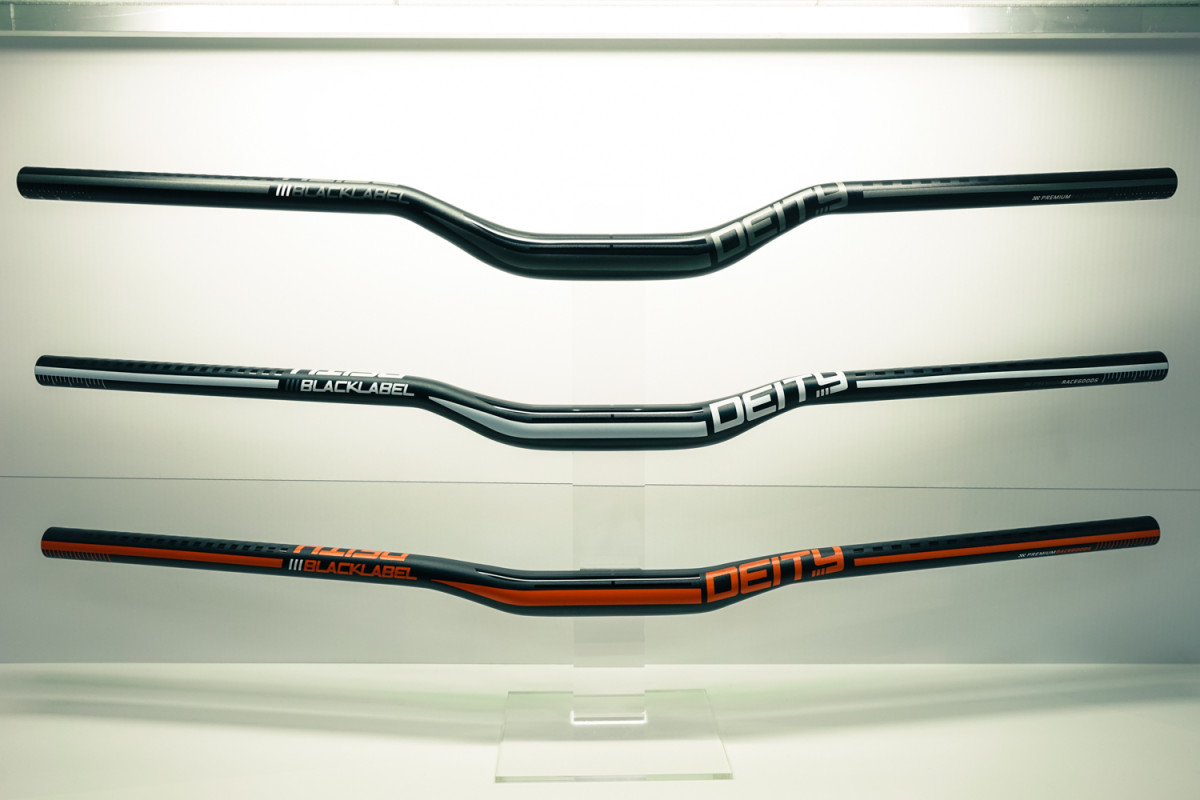 Along with a new 787-mil-wide Skyline handlebar and an all-new 35-mil-clamp downhill bar called the Holeshot, the venerable Blacklabel bar has received an update, growing to a width of 800 millimeters and getting some new graphics.
Suomy
Italian helmet brand Suomy made its U.S. debut at Interbike this year, introducing seven moto-inspired lids into the highly competitive market. The carbon-fiber Jumper full-face is the line's marquee helmet, weighing in at a scant 690 grams. The $600 Jumper is made from one mold attached to a solid carbon shell to keep weight down, and its visor incorporates Suomy's signature plastic bolts so that the visor breaks away in a crash, potentially reducing injury. Suomy is well-known in Europe for its motorcycle helmets. It launched its bicycle helmets in Europe two years ago.
Sidi
Sidi is once again setting the standard at the Gucci end of the shoe spectrum, with its $550 carbon-soled Tiger shoes. The souped-up Drako moves the two dials on the closure system–which are replaceable–to the middle of the tongue instead of the side to avoid impact damage. It also uses Sidi's adjustable heel retention device, reinforced rubber toe and microfiber upper. Oh, and the yellow option actually glows in the dark, so there's that.
If $550 sounds a bit rich, it is–the Tiger is the most expensive shoe Sidi makes, but according to Sidi's marketing coordinator, Jamie Lilly, that hasn't stopped Sidi diehards from putting their money where their feet are. "We've gotten so many preorders for it," she said, "it's insane."
Sombio
North Vancouver-bred apparel brand Sombrio showed a whole wall of new goodies aimed at riders who prefer the subdued style of the freeride-inspired company, but we particularly liked the above jersey, which incorporates an image from photographer-extraordinaire Margus Riga. Sombrio is selling the Renegade men's jersey and Vista women's jersey designed around a classic B.C. image taken by Riga, a longtime contributing photographer to Bike. Other standouts at the Sombrio booth included the Riff skinny jeans, designed with an articulated knee to accommodate kneepads, a reflective cuff and a zippered back pocket and the women's Robson denim shorts. All Sombrio apparel comes with a lifetime guarantee against manufacturer defects.
More coverage of Interbike 2016:
Velofix Takes Service on the Road
Interbike 2016: Wolf Tooth, Osprey, Park Tool and More
Interbike 2016: Industry Nine, 100%, Yakima, RockyMounts