IBIS MOJO HD3 | $7,540 | IBISCYCLES.COM
You're looking at the new Ibis Mojo HD3–a redesign of Ibis' storied all-mountain bike. The bike wears 650b (27.5-inch) wheels, like the Mojo HDR that came out in the spring of 2013, but gains an inch of rear suspension for a total of 6 inches (150 millimeters) courtesy of Dave Weagle's DW-link design.
Ibis also lightened the frame and updated the Mojo HD's geometry, growing the toptube an inch. With the stock 6-inch-travel Pike fork, the HD3 sports a 67-degree head angle–that's nowhere near what we'd call steep, but it does set the HD3 apart from a growing number of enduro bikes that wear 65- and 66-degree headtubes. "We wanted a bike that was confidence-inspiring downhill, but didn't feel sluggish everywhere else," explains Ibis founder, Scot Nicol.
This bike is anything but sluggish. In fact, it quickly proved itself one of the best climbers on test and was cited by several reviewers as the most nimble and playful bike in this category. What's more, there's none of that wheel flopping or front-end vagueness on steep climbs that afflicts some of the slacker enduro rigs.
The new Mojo HD is no shrinking violet on the downhills, but on the steepest and most technical descents it didn't possess the same absolute calm that we experienced on bikes with more relaxed front ends, such as the Yeti SB6C and the Giant Reign. Engineering, however, is all about trade-offs. In this case, Ibis aimed to create what it deemed a better-balanced enduro machine and that meant giving up a sliver of downhill prowess in exchange for better climbing performance. While that doesn't sound cool on paper, it's probably right on target with what most riders are looking for in a do-it-all bike.
You can get the Mojo HD as a frame or dressed up in one of nine build kits. We opted for the SRAM X01 kit and chose up- grades in the form of a Fox 36 fork and Ibis' own extra-wide, carbon 741 wheelset. As with the frame itself, there's not a weak link anywhere here. – Vernon Felton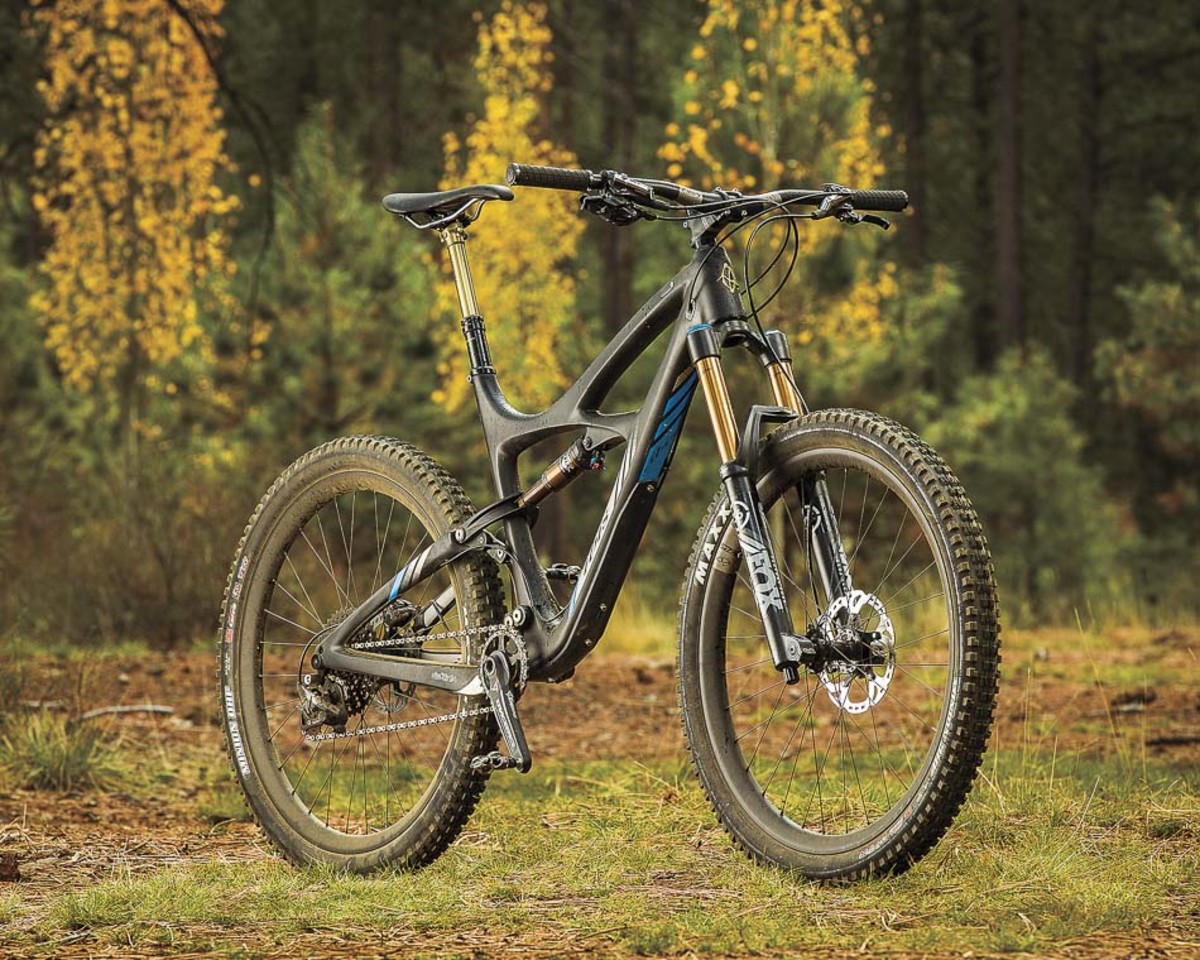 Q & A with Scot Nicol, founder and frontman – Ibis Cycles
We had questions about the new bikes before we even got our test rigs, so we sent out a few queries—the kind of things we thought you might be asking yourself when you're looking at this bike. Then we sent out another round of asks if any major questions or issues came up during testing. Here's the feedback we received from Ibis founder and frontman, Scot Nicol.
Consider this a bonus feature—just a little something extra to chew on if you're still hungry for information after you've watched our video reviews and flipped through the Bible of Bike Tests.
—Vernon Felton, Bible of Bike Tests Moderator
VERNON FELTON: The Mojo HDR was already a very capable enduro/AM bike. What, apart from the bump to 150 millimeters of travel, sets the new bike apart from the Mojo?
SCOT NICOL: This is a ground-up redesign, which allowed us to gave it fully modern, longer, lower, slacker, geometry, 150 millimeters of travel, and a bunch of other details, like a water bottle on top of the downtube, versatile internal cable routing, a drop in weight, and pedaling performance on par with the Ripley.
VF: What were the key riding traits that you were trying to impart on the new bike?
SN: We wanted a bike that was confidence inspiring downhill, but didn't feel sluggish everywhere else. Yes, that's a bit of a jab at the too-slack bikes that are popular these days.
VF: What did you do to actually make those goals a reality?
SN: The longer/lower geometry and 650B wheels make it a capable descender. The steeper seat angle and pedaling performance keep it snappy and fun. The dw-link was great when it first came out, and now, 10 years later, Dave and our engineers are even more in sync, giving us exactly what we're asking for in a suspension platform.
VF: What sets the new bike apart from other bikes in this niche?
SN: As mentioned above, the dw-link continues to get better and better. This bike is V5 of the dw-link. The HDR was somewhere around V2 or V3. It keeps getting better and better and we're the only company on V5. Through years of refinements we've arrived at a point where pedaling performance has been decoupled from travel. A 120-millimeter bike does not automatically pedal better than a 150-millimeter bike. That means you can have a plush 150-millimeter frame, not touch the lock out lever, and the bike will not bob. That makes it extremely versatile.
The goal with the dw-link tune on this bike is to pedal well and have better small bump sensitivity. The leverage rate is the same linear feel with a slight ramp at the end that we've always liked. It keeps the suspension feeling consistent so that you know what it's going to do in a given situation.
Variable leverage rates and shock tunes can make a 150-millimeter bike feel like it has 160 millimeters, or the other way around. Since dw-link bikes tend to sit high in the travel and have a very linear feel to them, it makes the available travel feel very useable.
Since the bike sits high in the travel, we can also keep the bottom bracket height relatively low, and we like what that does for the way the bike performs.
VF: You opted to go for 150 millimeters of rear suspension when most all-mountain and enduro bikes are sporting 160 millimeters of travel. That's not a night-and-day kind of difference, but I'm curious, why did you choose to go a little shorter on the travel than is the norm these days?
SN: We think 150 millimeters of travel will be good for most people's riding needs. We felt it struck the best balance for a climbable enduro-style bike. For example, if we went 160, people would be putting 180-millimeter travel forks on the Mojo HD3 and then the frame would need to be heavier and slacker to handle that.
VF: What are some of the less obvious changes that you guys made to the Mojo?
SN: You might notice that we've changed to a ZS56 lower headset. This allows for a bigger gap between the top tube and the down tube, which results in a stronger front end with no weight penalty. It's particularly effective on the small and medium frame sizes.
There's also a lot of versatility with the cable routing. If you peek under the upper link at the back of the seat tube, you'll see some threaded inserts, which is where our direct-mount front derailleur adapter goes. We wanted the bike to look super clean with a 1X drivetrain and still have the ability to run XTR 2X and XT in our double configuration too.
VF: How long has the new Mojo HD been in development?
SN: We started this one in about December 2012, making it the fastest Ibis suspension-frame development to date. We still probably take an extra six months doing the 3D surfacing than most companies, but other than that, we're getting a lot faster.
VF: Who is the ideal rider for this bike?
SN: Since the first Mojo came out in 2005, we've built fun to ride long-travel bikes that strike a balance between climbing and descending. This new bike is your do-everything, long-travel mountain bike, extremely playful and fun to ride.
If you like the looks of the HD3, but the price tag is a bit high for you, check out this more budget-friendly version.