GT SENSOR X PRO | $4,340 | GTBICYCLES.COM
The Sensor X Pro is a rather specialized and kind of tightly niched trail bike. Looking it over, what with the beefy frame, single-ring and chain guide, wide-ass bars, super-short stem and plenty of fork up front, it could easily be mistaken for a much longer travel all-mountain rig that's ready for some lift access. But it's not, it's a 130-millimeter trail bike, and that's bitchin'.
Janey Mack can this thing climb. It had seemingly limitless traction, even stomping out of the saddle. And when we say stomping, we really mean it. It's spec'd with a 32-tooth chainring driving a 10-speed rear. This doesn't give much of a low range, which made some of our testers a bit grumpy, but honestly it wasn't that bad–the efficient pedaling camouflaged much of its gearing shortage. It's also nice to know that after punishing yourself on a climb that a bike can deliver the goods on the way down. The 130 millimeters of AOS suspension is tightly packaged and sits low in the frame. Erik Buell built a company around the concepts of mass centralization and a low center of gravity, which made for some very nice-handling motorcycles. When applied to bicycles, the same holds true. The extremely competent rear end, coupled with the stiff frame, mauled our test loop's 1,000-foot descent. Of course having a 150-millimeter Pike up front, along with a 67.3-degree head angle and an aggressive cockpit, didn't hurt either.
At last year's Bible, we had a few niggles with the components on the Sensor that we felt were holding back the bike. Fast-forward one year and GT deserves a round of high-fives for crushing the spec–from the 2.4 Continental Mountain King tires to the Shimano SLX brakes to the magnificent Pike fork–they got it all right.
It's hard saying how many of these GT is going to sell, especially if it's sitting next to the full carbon Expert model on the showroom floor since they're the same price. The Expert has a lower spec, but also gains a 2×10 drivetrain. But the thing is, the kind of riders who are interested in a bike like this know exactly what they want, and clearly so does GT. – Simon Stewart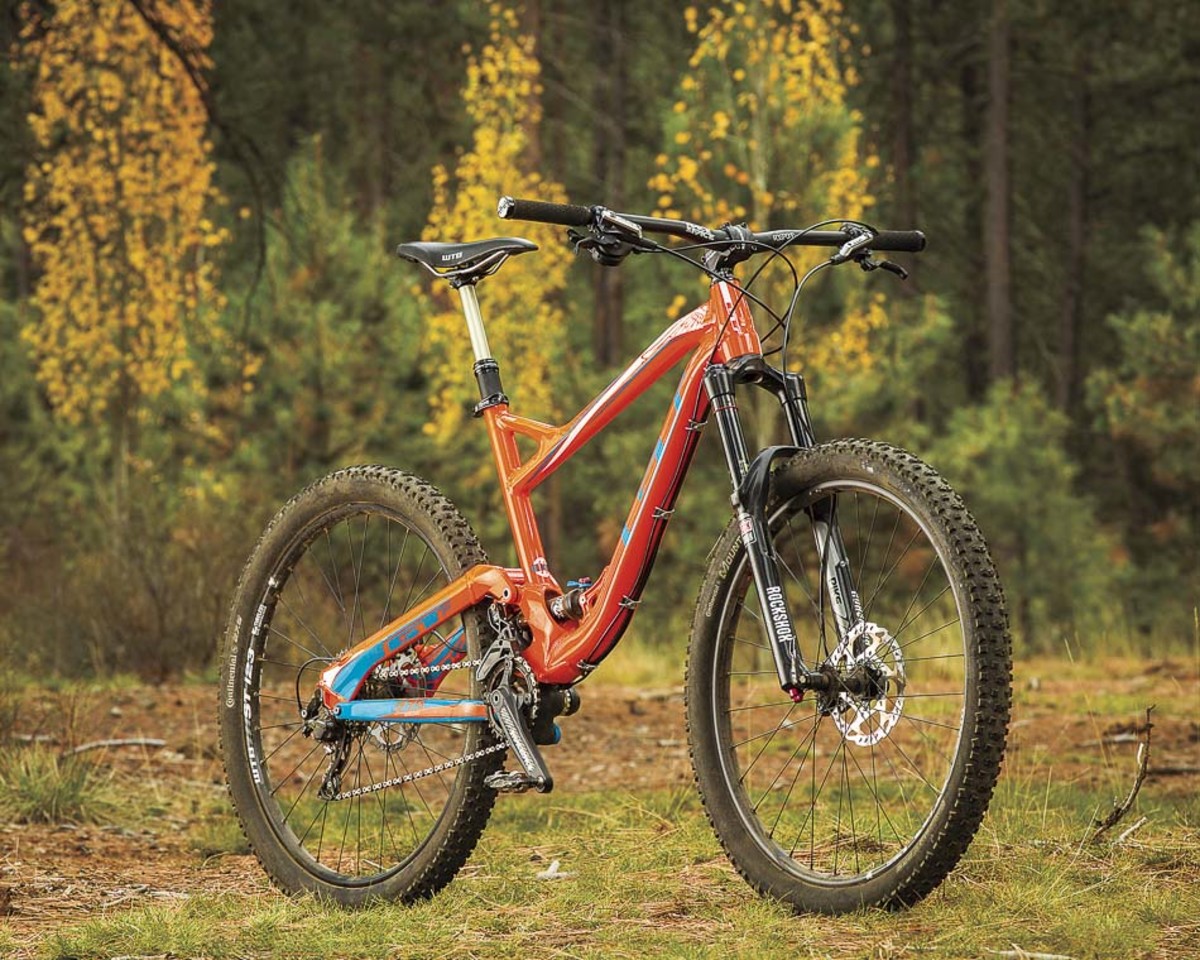 Q & A with Todd Seplavy, product manager – GT
We had questions about the new bikes before we even got our test rigs, so we sent out a few queries—the kind of things we thought you might be asking yourself when you're looking at this bike. Then we sent out another round of asks if any major questions or issues came up during testing. Here's the feedback we received from GT product manager Todd Seplavy.
Consider this a bonus feature—just a little something extra to chew on if you're still hungry for information after you've watched our video reviews and flipped through the Bible of Bike Tests.
—Vernon Felton, Bible of Bike Tests Moderator
VERNON FELTON: So, at first glance it looks like the frame stayed the same (from the 2014 model) and that the spec is basically everything riders like us were asking for when we rode last year's Sensor: the stouter Pike fork, the cleaner front-derailleur option (that is, 1X)…
What were your key goals with the component spec on this particular bike, since the Sensor X Pro seems like the "Evo" model in the aluminum line of Sensor bikes.
TODD SEPLAVY: The frame is actually very similar to last year's Sensor aluminum frame. They're nearly identical, but for 2015 we did change the standard Sensor alloy frame a bit, giving it a lighter and a little sleeker rear end. The Sensor X frame that you're testing here, however, is essentially identical to last year's version. Since the 2015 Sensor X is meant to be a bit rowdier than the other `15 Sensor models, we wanted a little beefier and stiffer rear end on it to better match the more aggressive fork and components—that's why it has a different rear end than other model-year 2015 Sensor bikes. It's a very stiff bike and, yes, it's basically our "Evo" style version of the Sensor trail bike.
VF: You went 1X on this rig. That said, there are a couple ways to go that route. Why did you choose to take this particular path—that is, a 32-tooth, narrow-wide ring mated to a 11-36 10-speed cassette? I ask because some riders are going to find the 32-tooth ring a bit steep and might wonder why you didn't go 30 or even 28-tooth ring…though a 28-tooth would require a Direct Mount crank, which I imagine ties your hands up a bit as a product manager.
TS: So, yeah, a 28-tooth ring requires a Direct Mount-style crank and at an OEM level, that is hard. It drives up cost. As for why we didn't go with the 30-tooth ring, we had to look at which regions of the world this bike was likely to be popular in. The particular kind of bike tends to be strong with guys like the Brits and guys in the Northeastern United States and the reason I think that's true is that they look at a bike like our Force model and they say to themselves, 'I will never need a bike that has 150 millimeters of rear travel—that's way too much travel for me.' Plus the terrain in those parts of the world tends to be a bit flatter, so they're likely to be spun out at times with the 30-tooth ring. You guys are testing bikes in Bend and you have big climbs—you're probably looking at your knees and wishing you had the 30-tooth. It cuts both ways. Really, we just had to make a decision on what would be the best set-up for riders who are likely to want the Sensor X Pro.
VF: Naturally, if someone is looking at this bike, they might also be looking at the Force. What kind of rider/riding conditions is better served with the Sensor X Pro?
TS: Yeah, that's a tough one. It's really a super-duper fine line between those two bikes. It comes down to what are your local trails like and what are you doing with the bike? Are you taking it out to the jumps? Are you doing shuttle runs with it? They're both very capable bikes on the same terrain, I guess it comes down to which ride feel you prefer—the Force has that deeper, "plusher" feel to the rear end. Some people, on the other hand, might like the Sensor and feel it's a bit more playful. It's really just a matter of rider preference and regional tastes.
VF: Nice job on the spec for this bike. The only thing I saw missing was a taco bash and ISCG-05 mounts on the frame. Why is that?
TS: While you could mount some taco guides to our bike, we don't have ISCG-05 mounts on it because, technically speaking, it's not awesome performance-wise to have a lower guide on some A.O.S. bikes. Besides, narrow-wide rings do a pretty damn good job of holding chains on there. But, hey, you still can put a bb-mount guide with a bash on there if you wanted to since this bike has a threaded bottom bracket. You do have that option here.