Perhaps it was the little yellow Vibram logo, or maybe it was the burly-feeling rock print that occupies the demilitarized zone between the upper and the outsole. Whatever it was, as soon as I picked up Giro's Terraduro shoes, I had visions of backcountry hike-a-bikes and big, rugged alpine descents.
GIRO TERRADURO | $180 | GIRO.COM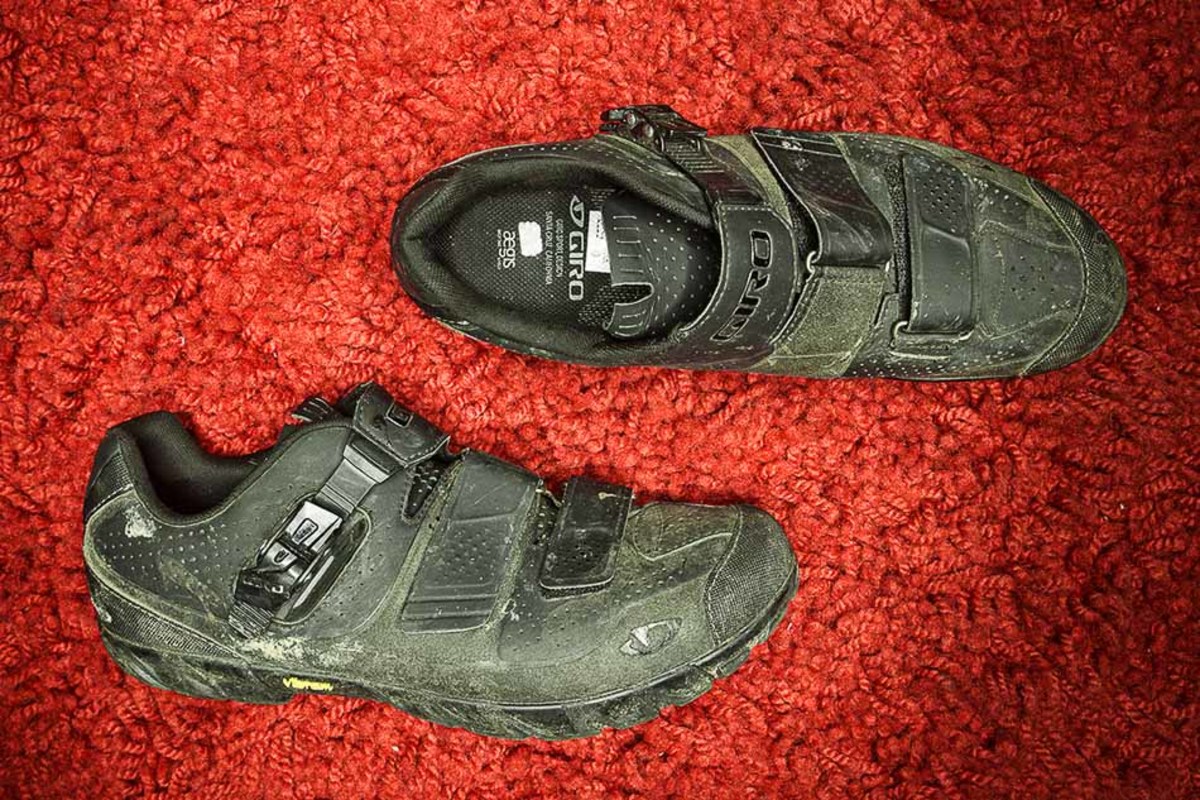 Photos by JP Van Swae
Thankfully, this wasn't my first rodeo with Giro, so when I stepped into the 44.5-size Terraduros I didn't contemplate what egregious lie I'd told that caused my feet to grow nearly a full size overnight in some cruel inversion of Pinocchio's ailment. Every shoe I've tried from the Santa Cruz-based company runs a half to three-quarters of a size small, so my feet felt right at home in the 44.5-despite the fact that I've never comfortably worn any other shoe in a size larger than a 44.
Out on the trail, the deeply-recessed cleat and tall outsole lugs provided a convincing amount of grip on the pinned platforms of the HT X1 pedals I tested them with, resulting in a few low-speed tumbles when I found myself unable to unclip quickly enough to get a foot down. After I acclimated to the increased effort required to unclip and the initially restricting feel of the Terraduros gripping the pins, I grew quite fond of the increased contact and support when clipped in. Of course, you don't need to take any of that into consideration if you're going to run a more traditional clipless pedal without a platform.
Giro earns five gold stars, a check-plus and at least three high fives for the shank design on these suckers. And not because it's made of some uber-optimized hybrid of carbon and unobtanium, but because it's flexible in the toebox, allowing relatively natural foot articulation when walking. Combined with the Vibram Mont outsole, which curves upward at the toe, I found these to be the most hike-competent clipless shoes I've ever stepped into, confirming my initial impression that these would be a top choice for any hike-a-bike or backcountry adventure. Additionally, the deeply-recessed cleat alluded to above is rarely felt contacting the ground, which means less cleat wear and more traction.
Since the shank is only designed to flex in the toe, the Terraduros' walkability doesn't effect power transfer, which felt direct and efficient. At 460 grams (no cleat, size 44.5), they're right on par with the Five Ten Kestrels I recently reviewed, and while they sit about 100 grams heavier than competitively priced XC kicks, they are infinitely more functional for average trail riding, and the extra heft hasn't caused me to hesitate to slip them on when heading out on daily rides. Touches like the reinforced toe cap add some bulk, but are worth their weight in gold if you ride technical trails.
I found that the uppers breathed nicely and were very comfortable. The EVA footbed stays put, conforming well to the shoe's internal contours, and can be swapped for Giro's Supernatural Footbed kit, which, for $50 offers three levels of arch support. My flat feet got along swimmingly with the stock footbed.
The nearly identical ladies' offering is called the Terradura, and Giro also sells the high-volume Terraduro HV for all you fat-footed folks out there. The stock footbed is antimicrobial-treated, and has, thus far, successfully warded off the funk.
Giro originally had issues with the outsole separating from the shank, but those faulty shoes were confined to the the initial production run, and that's all been sorted out. As always, I recommend that you try 'em before you buy 'em, but Giro does offer a 60-day comfort guarantee if you end up in the wrong size or with otherwise malcontent feet. The Terraduros are winners in my book: they're durable shoes that will please most any trail rider, but will especially suit those whose rides often turn into adventures.
Looking for content similar to this Giro Terraduro review? Have a look at these other kicks.
Five Ten Kestrel