This time last year, I was working in a bike shop, getting ready to sell bikes all summer long. As the sales manager and official "mountain bike dude," I was training the shop's new hires to sell bikes, especially those in the two- to three-thousand dollar range. We ended up having poor sales in that price point, and I think this bike is why. We didn't have it, but the Giant dealer across the street did, and I'd wager that five or more went out the door every weekend.

The Stance comes in three models, starting with the Stance 2 at $1,470. Reviewed here is the high-end Stance 0, which costs $2,650 and is the only version to include a dropper post. Of course, you can't just slap a dropper on a bike with a bunch of cheap parts and call it good. Giant also specs Fox Float CTD Evolution suspension front and rear, and a pragmatic cocktail of Shimano SLX and XT parts takes care of the drivetrain and braking. A couple years ago, components of this level on a bike under $3000 was unheard of, and if you do some looking you'll find that there still aren't many bikes out there that can compete with this one on the basis of value alone. Let me know in the comments if you find one: I'll review it.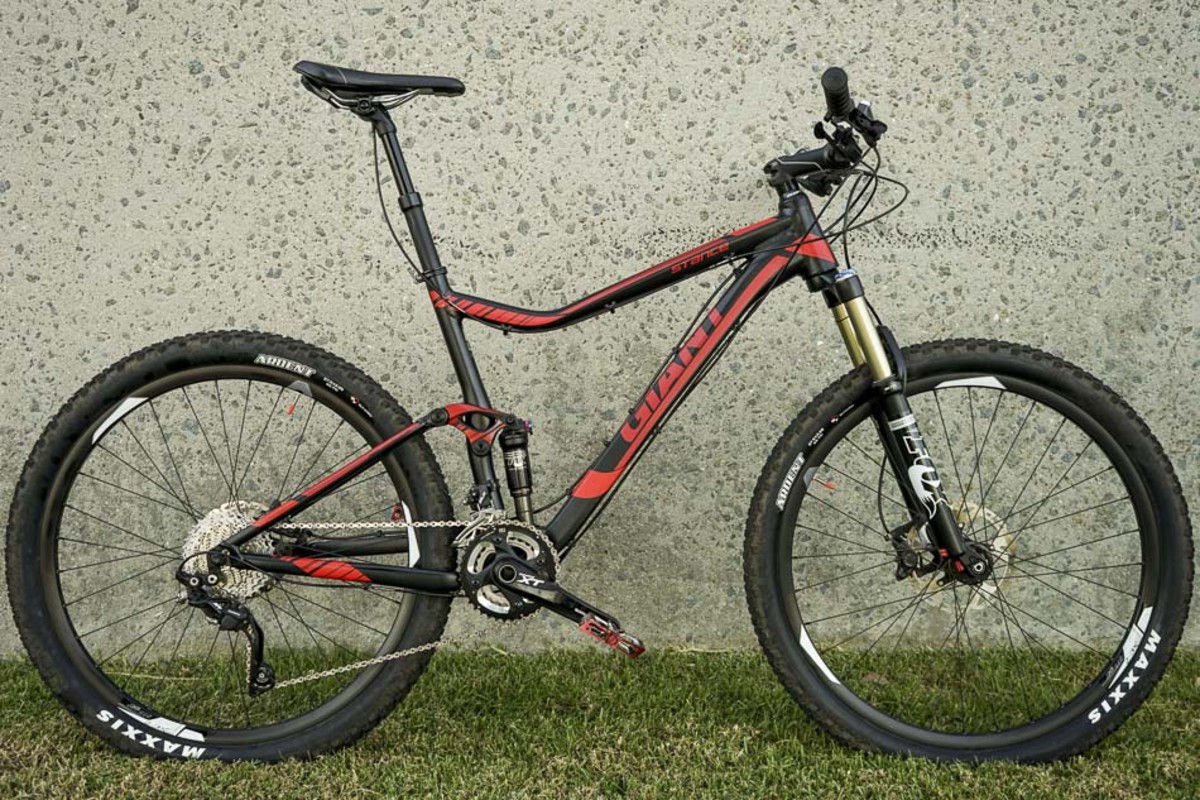 The frame closely resembles Giant's Trance when viewed from the drive side. Only the most discerning eye would notice the lack of a through-axle in the rear end and the simplified single pivot version of Giant's Maestro linkage. It's a clean-looking machine with a simple "get the job done" aura about it.
And get the job done it does. With 120-millimeters (4.7") of front and rear travel, the Stance appears on paper to be on the less-aggressive end of the trail bike spectrum. But I found it amenable to more aggressive riding than its travel would suggest, and was able to push it down my local jump line with relative confidence. I took a rain check on the one really sizeable (about 7 foot) step down, mostly because I was sure that I would roll away (or not roll away) with a flat in the front, or rear, or both. The somewhat-short 45.3" wheelbase exhibited some twitchiness on fast, rocky sections, while the 68° head angle was begging for more throttle twisting.
The Stance truly shined when motoring along on rolling terrain, with its short wheelbase able to dissect and clean punchy technical climbs and rail through tight corners. I frequently put the CTD lever to use on the rear shock, but consistently ran the Fox Float CTD fork in Trail mode to keep the front end riding high. When ridden in Trail mode, the Stance's quick acceleration made easy work out of most climbs and allowed me to apply quick bursts of power to maintain or regain speed through twisty sections of trail.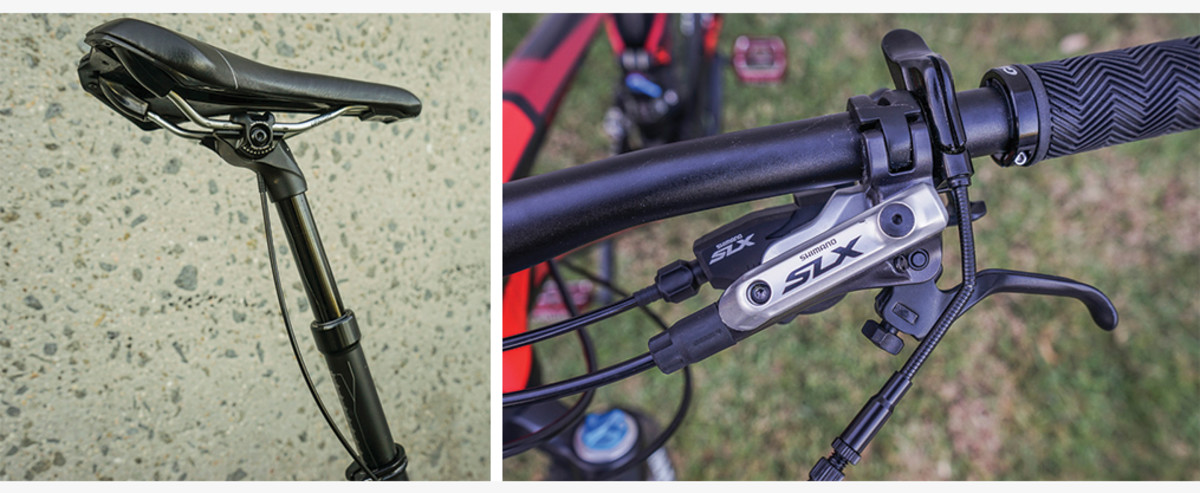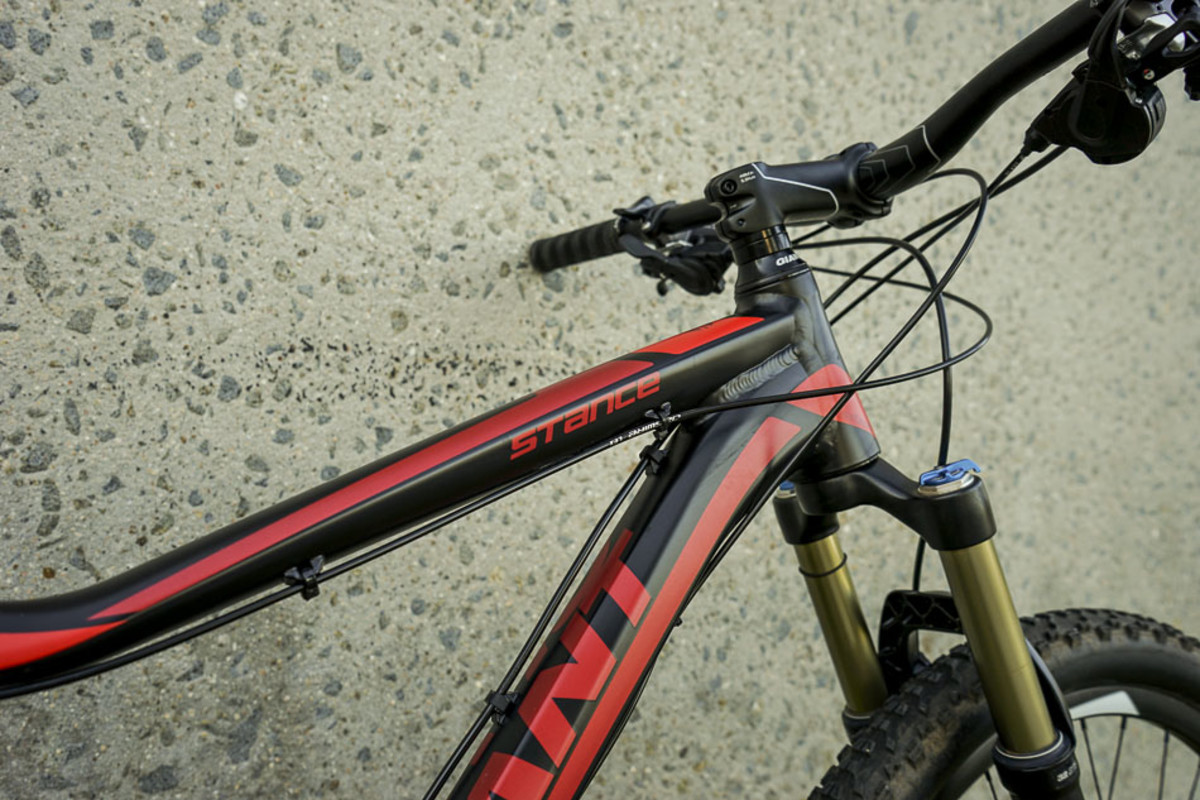 The cable-actuated Giant Contact SL dropper post performed without issue, and I actually got along well with the lever once I had it finagled into a good spot. I can't pick on the Stance for weight, either: the size large I tested came in at a respectable 30 pounds, pedals included. The quick release out back is a bummer, but won't matter to most riders looking for a rig in this price range. It's tough to critique the build on this bike given its pricepoint, but if I were to pin down one thing to change, I would go for a beefier front tire: even entry-level riders would benefit from the added traction and suppleness of a 2.4" Ardent.
The Shimano SLX brakes, shifters and front mech exhibited the solid performance we've come to expect from the workhorse groupset, and the XT rear derailleur and cranks are a nice touch. Honestly though, I'd rather pay a bit less and get a full SLX build. It will be interesting to see if the recently-announced SRAM GX and Shimano XT 11-speed drivetrains will make it down to this price bracket in 2016. If they do, bikes around the $3000 mark will be packing a lot of value.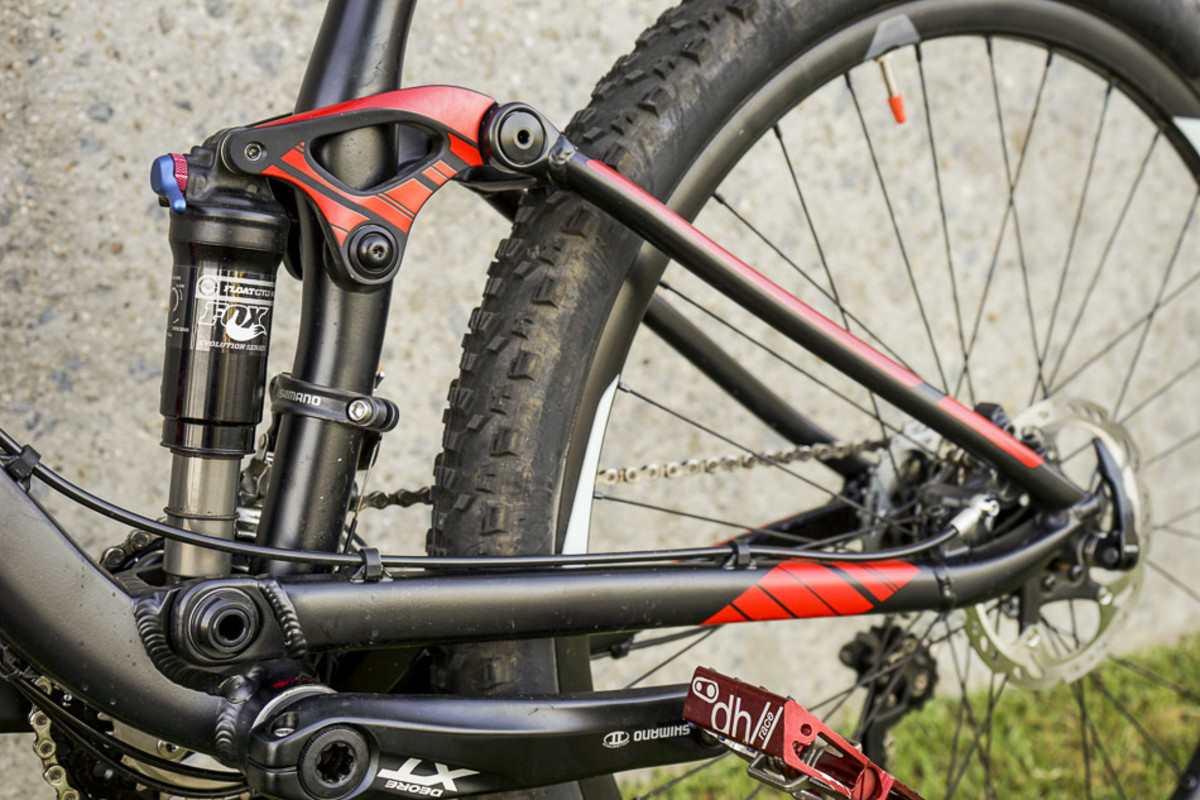 If I had a friend seeking a versatile bike under $3000, this would be high, if not on top of the list of bikes I'd give them. Riders looking to push themselves on descents might not be satisfied with the Stance's demeanor at high speeds, but those looking to get into their first "real" mountain bike will find themselves much more in sync with the Stance's nimble geometry than they would with something slacker and longer. They also won't be held back if they want to try a few local XC races, and might actually have some cash left over to pay their entry fee.