GIANT REIGN ADVANCED 27.5 1 | $4,750 | GIANT-BICYCLES.COM
Giant Bicycles has stepped up its game in the longer-travel department, launching this redesigned 6-inch-travel Reign built around 27.5-inch wheels. The company spent more than two years developing this bike with input from its enduro racers, and its geometry and build are reflective of a modern all-mountain machine.
The 65-degree head angle instills confidence on steep descents, while the 73-degree seat angle allows for a comfortable climbing position. I spent much of last summer and fall aboard the new Reign, racking up hundreds of miles on a variety of terrain–from burly British Columbia trails to primitive alpine singletrack and rocky Nevada desert–and found it to be a very capable descender. It doesn't climb as efficiently as its shorter-travel sibling, the Trance Advanced 27.5, but I found this to be a fair tradeoff for its descending prowess.
After several of our testers rode the Reign back-to-back against the other 6-inch-travel 650b bikes in this year's Bible, some felt it was a less-supportive climber than several of its peers. Giant has stressed that the bike was designed with a view toward enduro racing, when speedy descents are paramount and most of the climbing is merely a matter of grunting up doubletrack in time for the next stage.
One welcome change to the Reign is the retirement of the proprietary OverDrive 2 steerer-tube sizing. Featuring a .125-inch increase in the upper section of the tapered steerer tube, OverDrive 2 was designed to add stiffness at the handlebar. Though it might well have increased stiffness, it also meant a diminished ability for the consumer to personalize the cockpit, and buyers were often limited to the stock headset/stem/fork combo.
The version we tested, which retails for $4,750, offers good value. Equipped with a RockShox Pike fork, a RockShox Monarch Plus DebonAir shock, a RockShox Reverb Stealth dropper post, Shimano SLX brakes and a drivetrain composed of an SLX crankset and a Shimano XT rear derailleur with Shadow Plus, this bike is not in need of any immediate upgrades. – Brice Minnigh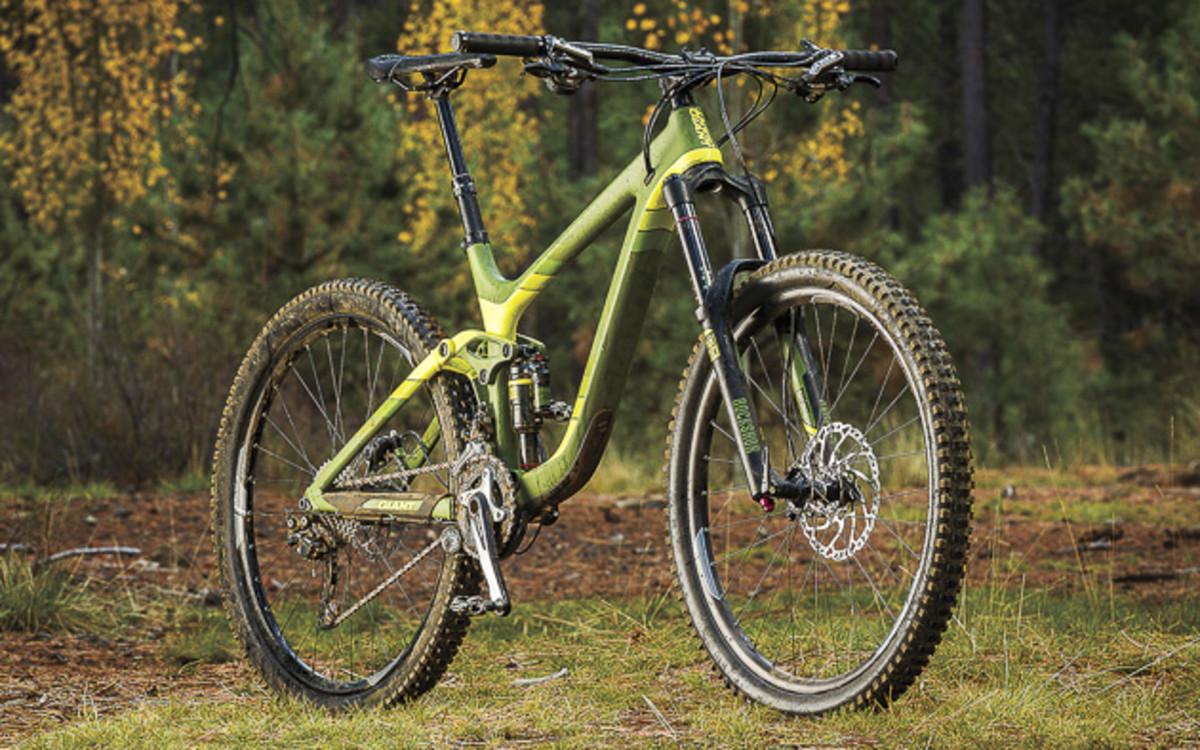 Q & A with Andrew Juskaitis, global senior product marketing manager – Giant Bicycles
We had questions about the new bikes before we even got our test rigs, so we sent out a few queries—the kind of things we thought you might be asking yourself when you're looking at this bike. Then we sent out another round of asks if any major questions or issues came up during testing. Here's the feedback we received from Giant Bicycles' global senior product marketing manager, Andrew Juskaitis.
Consider this a bonus feature—just a little something extra to chew on if you're still hungry for information after you've watched our video reviews and flipped through the Bible of Bike Tests.
—Vernon Felton, Bible of Bike Tests Moderator
VERNON FELTON: How did you guys get the chainstays so short this time around? They're shorter than the ones on the Trance Advanced and the Reign is sporting more travel. Damn.
ANDREW JUSKAITIS: You'll notice in the images below how the Reign 27.5 (orange) uses a single-spar rear swingarm, while the Trance 27.5 uses the split-spar design. We were able to shave over 5 millimeters off the overall chainstay length of the new Reign 27.5 by moving to this "tighter" design—without sacrificing tire size or mud clearance.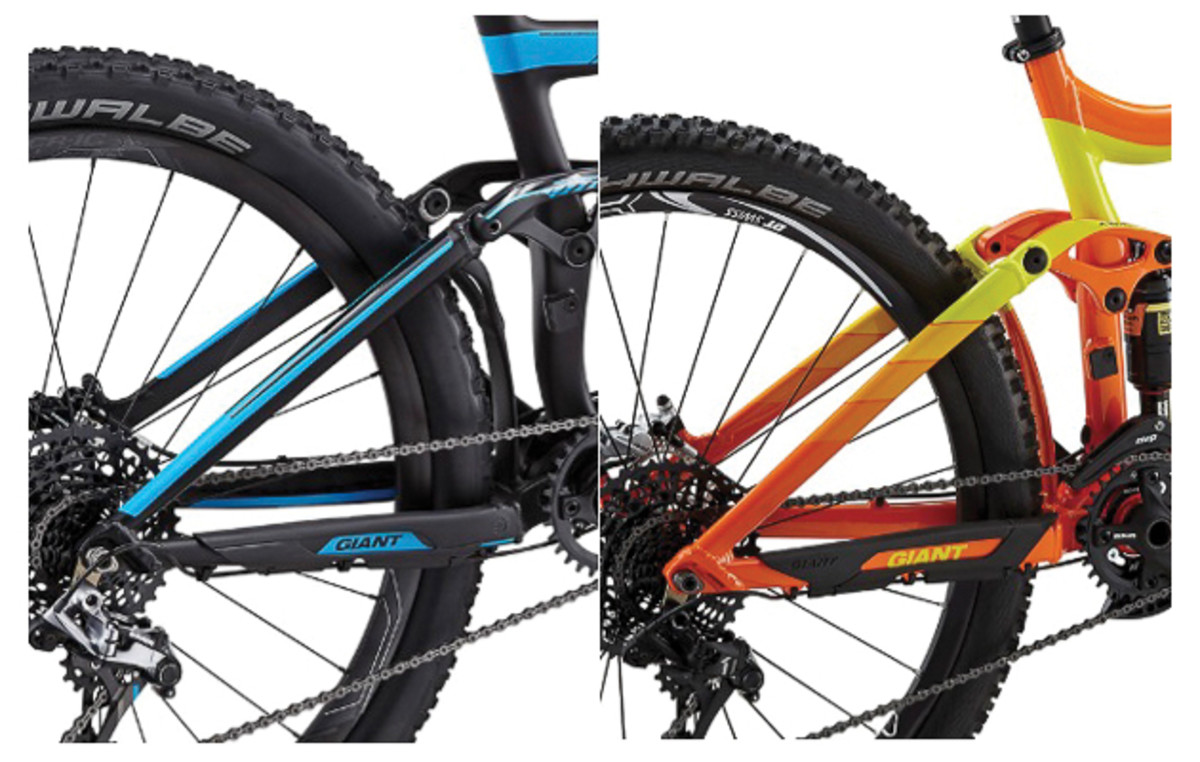 VF: The size medium Reign sports a 24.4-inch horizontal top tube…on the whole, it looks like the Reign is getting the longer cockpit, shorter rear end treatment. Was the goal here to update the overall rider position on the bike?
AJ: Absolutely. We wanted to integrate the more modern "longer toptube, shorter stem" geometry to provide improved bike stability, without sacrificing overall handling [i.e. sluggishness]. The longer toptube and shorter stem combo places the rider in a slightly more far-forward position as the older short toptube/long stem position, and also loses the "tiller effect" of the older 90/100/105mm stems. As you know, short stems are all the rage…and for good reason—they minimize floppy steering feel and help provide pinpoint steering response. As explained in my previous answer, the shorter rear end helps tuck the rear wheel in under the rider's butt nice-and-tight—to minimize overall wheelbase length for fast handling/flickability through tight trail conditions.
VF: This is a major overhaul of the Reign. What were your fundamental goals this time around? Where did you feel the Reign could be improved and what tweaks did you make to make those improvements a reality?
AJ: Our Enduro World Series racers needed a bike that could handle the higher speeds and rougher "raw" European courses, so we started with their needs in mind. By lowering the center of gravity, and elongating the cockpit (without lengthening the stem to accomplish this) we created a 160-millimeter travel, wicked-fast race bike that can also be ridden with confidence at slower speeds trough incredibly rough trail and park terrain.
The new Reign really is Giant's "do all" bike for 2015. No, you're not going to kill it at your local XC/trail race on a Reign 27.5 (the Anthem 27.5, or even the Trance 27.5, are better alternatives), but for riders who prefer to ride seriously challenging terrain and need a highly stable, but still flickable rig—we believe Reign 27.5 is the best option out there. Add our now-legendary Maestro suspension system and you've got an efficient climber (even with a 65-degree head angle) as well as a highly-active descender.
As I mentioned earlier, we pulled out every engineering stop in the book to get the chainstays as short as possible—not an easy feat for us. Also, we wanted to balance front wheel stability, so we asked our suspension partners to build us custom-offset forks (46mm over the more-traditional 42mm) to help provide the right amount of front-end feel.
See what we thought of these other all-mountain rippers:
Yeti SB6C
Specialized Enduro Elite 650b & 29