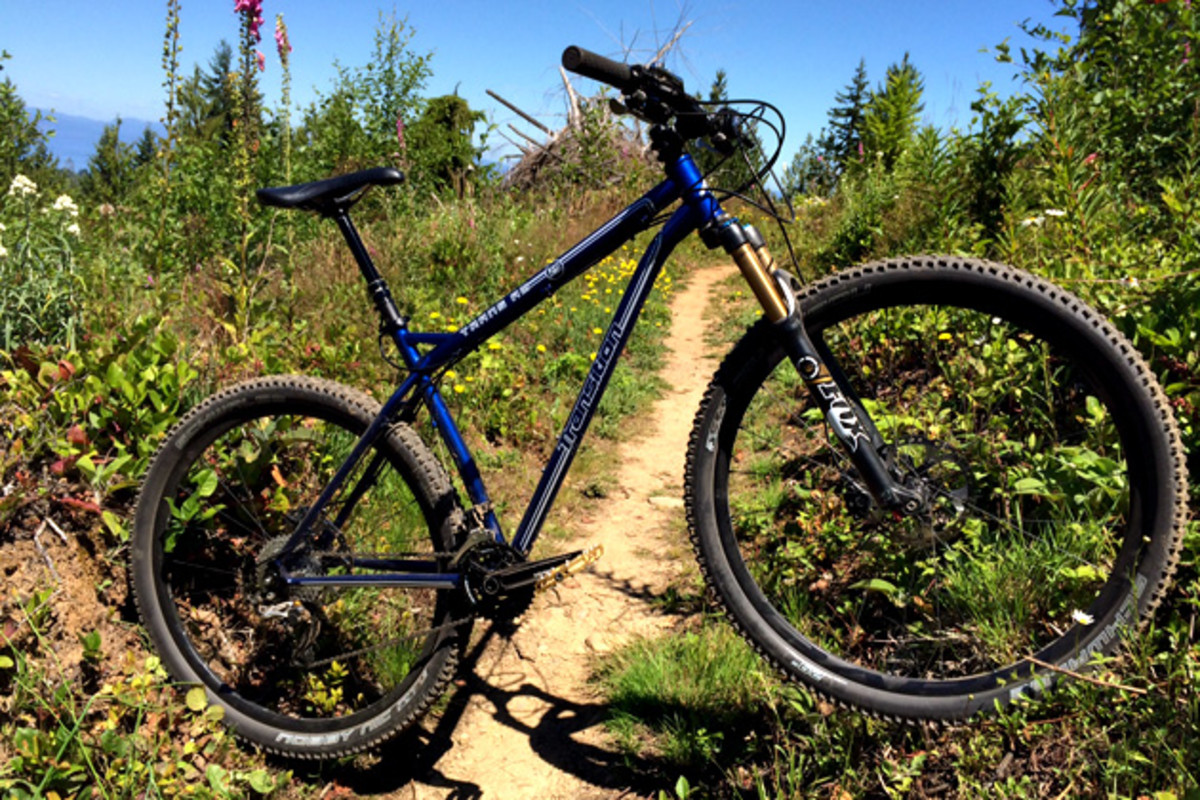 By Vernon Felton
Ride Report: Transition TransAm 29 1
Price: $4,100 ($700 frame only)
A few weeks back I mentioned that Transition's TransAm 29er had made its way into my hands for a review. While I've still got plenty of time before I hand in my final verdict for the print version of Bike, here are a few more thoughts on the rig, mid-test, as it were.
If you think of 29er hardtails as being the domain of featherweight race whips, the TransAm 29 steps right up and dispels that stereotype. Yes, it's a 29er. A steel 29er at that. This, however, is no crusty throwback to yesteryear. Transition calls it an all-mountain hardtail and while a lot of companies might add a wide bar and short stem to a bike and label it "all mountain", the Transition TransAm 29 does that label justice.
For starters, it's no lightweight. The bare frame weighs more than six pounds. This thing is built to be beat on and the massive (well, for steel, at least) oversized 4130 chromoly frame tubes help it withstand years of pummeling. Want to run a chainguide? You can do that—Transition bestowed the hardtail with ISCG-05 chainguide mounts. Want to run it as a singlespeed? A geared bike with 142 x 12-millimeter through axle? How about an old school 135-millimeter quick release? Yep. Yep. And Yep. The TransAm sports convertible rear dropouts that enable you to run the bike a whole lot of different ways. Nice. Up front, you've got the same flexibility working for you. Thanks to the 44-millimeter headtube, you won't have any trouble finding a headset or fork that'll play nice with the frame. Finally, the TransAm's seattube inner diameter is 30.9-millimeters, which means finding a dropper post for this rig is about as easy as it gets. There are plenty of hardtails still rocking 27.2-millimeter seattubes, which narrows your choice of posts considerably.
In short, the TransAm 29 is very well thought out. If you want to go the frame only route, you're looking at $700. We opted for the top-tier build kit (plus a RockShox Reverb dropper post), which boosted the retail price to $4,100, though the base-level complete bike sells for $1,900. The takeaway here is that you could truly build this bike on a budget.
Out on the trail, the bike has a no-nonsense demeanor about it. Yes, there's some forgiveness from the steel frame, but it rides with a tough-as-nails feel to it. The relaxed head angle (68-degrees) and centered cockpit (longish top tube mated to a stubby RaceFace Turbine stem) make the bike feel confident as you dip your toe into steep, technical descents. Of course, if you haven't been riding a hardtail in a while, you are quickly reminded that, "Oh, crap, I have to start choosing smart lines again." The TransAm 29's front end kind of begs you to ride recklessly and the rear end sends you a follow-up reminder that "reckless" and "stupid" are not actually synonymous. It took a few rides to realize that I couldn't ride chunky descents like an idiot and then I was well sorted and happy.
So far, my only suggested tweak to the bike would be the rubber. I'd opt for wider tires than the stock Schwalbe Nobby Nic 2.35s that encircle the Easton Vice wheels. To get the maximum performance from this bike, I needed to run lower tire pressures and, consequently, wider tires. Fortunately, tires are easy to replace. The Nic is not a bad tire, but I'd opt for something more in keeping with the "all mountain" ethic.
That's it for now. Stay tuned for more in the pages of Bike.