Bike had the privilege of receiving early production samples of the 2016 Fox 34 FLOAT and DPS shock. The new 34 FLOAT fork is completely revamped, while the FLOAT DPS shock features both an extra-volume air can and revised internals. The samples arrived just in time to be tested on some of the world's best trails during our trip to Rotorua, New Zealand for the fist of three Crankworx festivals this year.
Factory Series 34 FLOAT
The Skinny
When Fox updated its 36 RC2 fork last year, with its sleek new chassis and internals, it came in at the same weight of the 34, but offered both better small bump control and more adjustability. Fox had essentially antiquated its own product. We knew it couldn't be long before the 34 platform would receive a similar treatment to bring it back into the fold.
Accordingly, the 34 received a complete redesign from the inside out, which resulted in weight savings of roughly half a pound. It clearly borrows chassis structure from the 36, with a similarly slimmed crown, arch and dropout. But that's not all: the FIT4 damper uses the same 10-millimeter shaft architecture found in the FIT RC2 damper to increase oil flow to the base valve.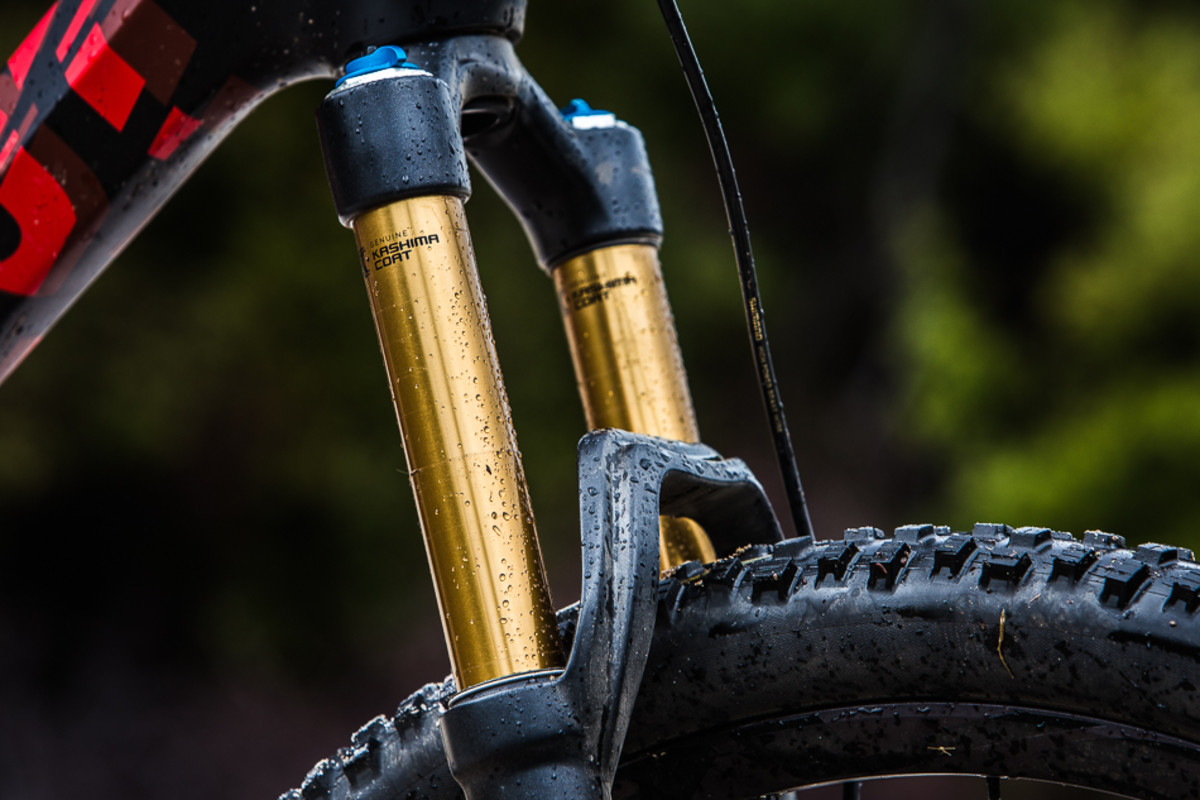 Like CTD, the FIT4 damper has three compression positions, but Fox is doing away with its "climb, trail, descend" moniker for "open, medium, firm." Other than changing the words on the knobs, the black one formerly known as "trail adjust," which tuned compression in the middle setting, now makes 22 clicks of low speed compression adjustment in the open setting–just like RockShox's Pike.
Providing compression adjustment in the open setting makes sense because the middle (previously "Trail") setting has a mechanical platform in the form of a sprung shim stack that has to be pushed through every time the fork compresses, which results in harsher small bump performance and compromised tracking in rough sections. The open setting, therefore, is a much more suitable place for fine compression adjustment to live, since this is where riders will be looking to dial in the best descending performance. A dual circuit rebound allows the fork to keep up with high frequency impacts, and to recover from deeper hits in a more controllable manner.
The 34's all-new air assembly features self-equalizing positive and negative chambers, reduced friction and the addition of volume spacers to adjust spring rate, all while shaving about 125 grams from the previous generation.
Impressions
Immediately noticeable was the reduced system friction, resulting in fantastic small bump sensitivity. Small changes to bushings, seals and coatings all come together to create a much more lively fork. Between the ability to fine-tune low speed compression and and air spring curve, open mode on this fork is much more rideable than on previous generations. Riders can keep the air pressure lower to maintain top-end sensitivity without blowing through the travel when things get steep. Overall, it's just a much more controllable fork than its predecessor.
You don't get the high-speed compression knob that the 36 RC2 has, but it sort of doesn't matter. High-speed compression is a pretty tough thing to adjust because you don't get to feel it that often. The vast majority of your impacts affect the low-speed circuit, and when you do get into the high-speed stuff, you're probably more focused on staying alive than feeling the nuances of your fork's compression stroke. It's kind of nice not having that knob sitting there, begging me to futz with it. On the other hand, if there's no high-speed compression knob, what will I blame the next time I get dropped on a downhill?
Aside from the new 34 being a quarter-pound lighter than the RockShox Pike, the two forks are very much alike. Both have a bladder damper with 3 compression settings and adjustment in the open mode, and both have a self-equalizing air spring that utilizes easily-installable volume spacers. Riders can tune either fork in the same exact ways–nothing more, nothing less. I only have a few rides on the 34, but so far I'd be hard pressed to pick one over the other. The only thing that bugged me about the early production fork I received is that the blue "open, medium, firm" knob moves when adjusting the black "open mode adjust" knob, which turns low-speed compression tuning into a two-handed affair. On the Pike, I've gotten in the habit of reaching down to make on-the-fly adjustments to the small compression knob, which proved to be less convenient on the 34. Other than that, the two forks are eerily similar, and both as awesome as the other. For trail riders looking for amazing performance in an impressively light (3.85 pounds) package, the new 34 will surely find its place.
Factory Series FLOAT DPS
At first glance, it might look like the FLOAT DPS is just a larger air can, but there's more to it than that. "Trail" bikes come in a lot of different flavors, and "trail riding" means something different to everyone, so this shock needs to be flexible. Some riders want an ultra-firm platform, some prefer a softer feel over pure pedaling efficiency, and others want to maximize downhill performance. Bringing all of that versatility into one shock is where the new acronym comes in. DPS stands for "Dual Piston System," a shock architecture that permits a firmer climbing lockout without compromising bump control in the open and medium settings. It's like a separation of church and state. Also, just like the new 34, the black switch now adjusts compression in open mode.
You may have seen spy shots showing blacked-out prototypes of shocks equipped with EVOL air cans going all the way back to 2012, but none have made it to production until now. The EVOL can increases the volume of the negative air chamber, creating a much more supple feel at the top end for small bump performance. The bigger can also makes the whole spring rate more linear, which means that there's better support in the mid stroke when compared to a standard high-volume air can.
Impressions
Let's get the boring part out of the way first: The firm mode is firm as hell. The FLOAT DPS does a fantastic job of making itself not a shock, which is fantastic news for all of Europe and a dozen guys in Colorado. For those who like suspension to do stuff, you'll also be pleased.
It's tough to tell if the EVOL air can or dual piston thing was more responsible for the added suppleness and control, but I'm not sure I care. It took a couple tries to get the sag just right on my test steed–a 130-mil Ghost Riot–but once I did, I was rewarded with a smooth, consistent feel. Off the top, the FLOAT DPS is easier to initiate travel than the current FLOAT shock that was previously installed on the bike.
While I do prefer the feel of the new shock, I'd have to admit that, on this bike anyway, it wasn't a massive improvement. You shouldn't expect it to transform your XC-flavored 120-mil trail bike into an enduro slayer, but discerning riders will notice improved traction and control. I appreciated the open mode adjustment feature, which allowed me to mess with the ratio between compression and preload (air pressure). This definitely gives the rider a bit more room to play around with feel without compromising traction by going into medium or firm modes. The softer feel off the top and added mid-stroke support of the FLOAT DPS makes it a really good choice for adding some suppleness to short- and medium-travel bikes.