Today, SRAM officially announced the release of its XX1 Eagle and X01 Eagle groups, both of which feature a massive 10-50-tooth, 12-speed cassette. For those who're counting, that's a 500-percent range, enough to match that of a double chainring system. If SRAM's first attempt didn't eliminate the need for a front derailleur, Eagle definitely does. In fact, SRAM told us that it has officially shut down all development of mountain bike front shifting. That's a bold move, especially considering that its first single-ring drivetrain, XX1, came out only a few years ago.
What SRAM is calling 'Eagle Technology' is more than just a 50-tooth cog slapped onto the back of an 11-speed cassette–SRAM says Eagle is "lighter, tougher, quieter, and more precise," so let's dive in:
Eagle Cassette
But first let's start with the cassette, which is essentially a 50-tooth cog on the back of an 11-speed cassette … sort of. The new 12-speed cluster has the same exact gear steps as the 10-42, until of course, it goes up to the 50-tooth cog. It's essentially the one-by we already know, but with a big 'ol bail-out gear. In other words, it's like putting the granny gear on the cassette instead of the crank: the 8-tooth jump is close to the 10-tooth jump a typical double provides.
In order to squeeze the extra gear in the same amount of room (Eagle will fit on any XD driver body), the cogs are spaced closer together–meaning that it is actually an entirely new cassette. The dedicated 12-speed spacing also means that Eagle is Eagle. There are no 11-speed parts that will cross over to an Eagle drivetrain.
If you plan on pimping your ride with the gold cassette, you'll have to splurge for XX1, but if you prefer black, you've got your pick between XX1 and X01.
XX1 $420 / X01 $360
Eagle Chainring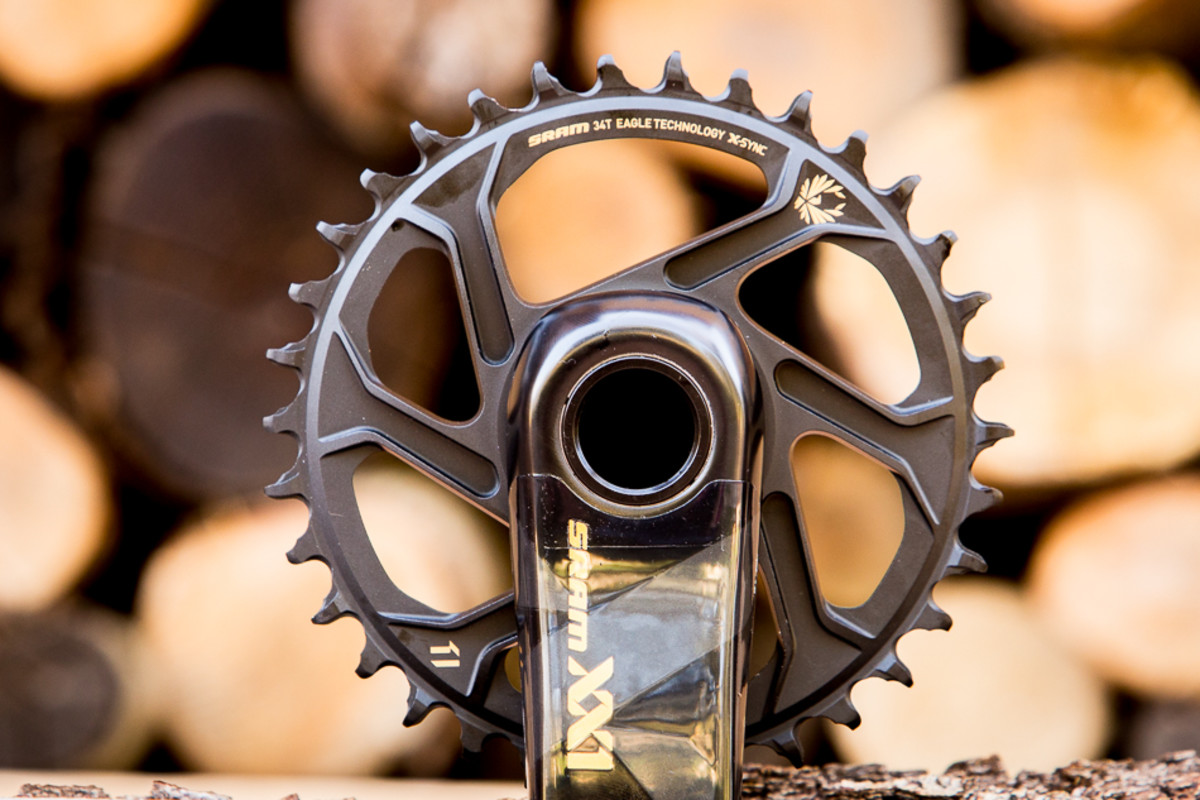 An Eagle chainring can be used on a current 11-speed system, which could be a good thing for those planning on sticking with 1×11 because SRAM claims that the dramatic new X-Sync 2 tooth profile lasts much longer than than existing X-Sync rings. The new tooth shape has more mud clearance and features cutouts in the material to prevent chain suck as the ring wears. The $100 Eagle rings will be direct-mount only, will fit on existing SRAM direct-mount cranks, and will be available down to a 30-tooth and up to 38.
Eagle Cranks
New hollow carbon construction makes the new XX1 cranks lighter and stiffer than their predecessors. While XX1 is completely hollow as seen in the photo, X01 has a foam core to make it strong enough for the abuses of professional enduro racing. This marks a defined separation in SRAM's direction for the two groups. XX1 is mainly aimed at cross-country racing and light trail use, while X01 is built to withstand heavier use. Starting off, XX1 is available in gold and black, and X01 will be offered in red and black.
XX1 $425 / X01 $390
Eagle Derailleur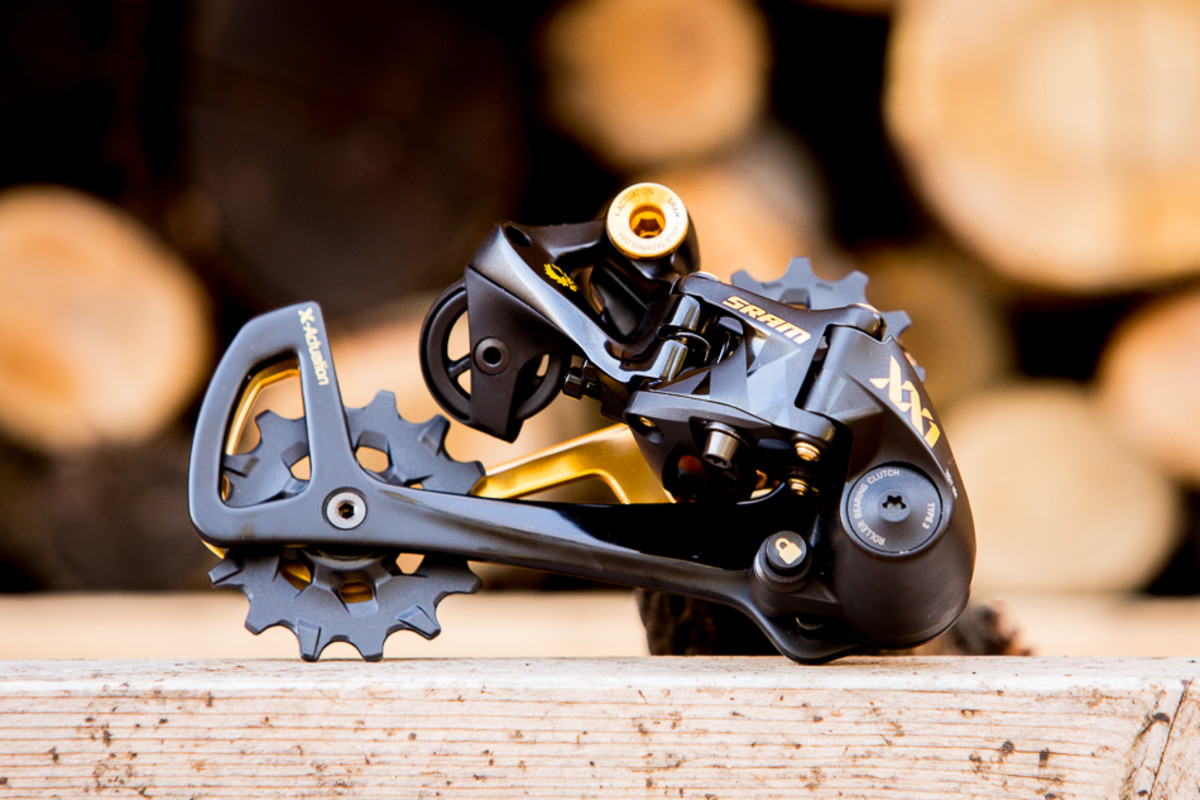 The new 12-speed derailleurs feature a larger 14-tooth X-Sync lower pulley to accommodate shifting across the massive 500-percent range. They also sport a quieter, smoother Type-3 roller bearing clutch mechanism. XX1 has a stiff and light carbon cage while X01's aluminum cage provides plenty of impact resistance. Even with the large jump in gear range, the derailleur's ground clearance change is negligible.
To combat a common issue with its 11-speed derailleurs either backing out of or seizing onto bikes, engineers designed a new B-knuckle and B-plate. The B-plate is serrated so it can securely grip the hanger, while the knuckle now pivots on a bushing to keep it from seizing. All Eagle derailleurs will see this update. The improved B-bolt assembly will be a running change to existing 11-speed derailleurs, and will also be offered as an individual part.
XX1 $298 / X01 $220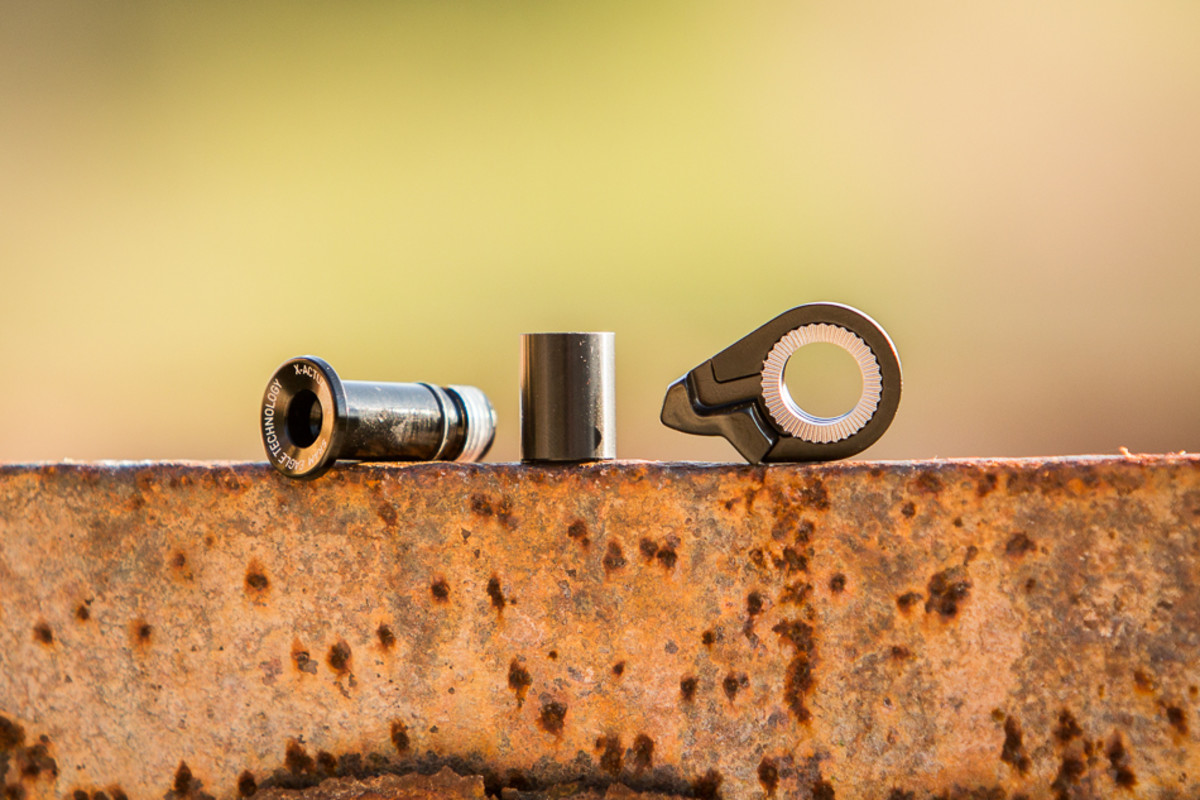 Eagle Shifter
Ergonomics of the shifters remain the same, but inside SRAM engineers added a 12th gear, and while they were at it, updated the internals to create what SRAM claims to be a more durable product with a smoother, more-precise shift. XX1 gets a carbon trigger and top cover, while X01 is aluminum. Both shifters have an adjustable trigger button. SRAM also offers an Eagle Grip Shift for XX1 and X01.
XX1 $162 / X01 $127
Ride Impressions
I've had just two rides on Eagle–one on XX1 and X01–so this is by no means a full review. That will come later, after we've had plenty of time on full-production parts. However, what I noticed on those couple rides was interesting.
Basically, I noticed nothing, which is a good thing. The stuff worked, and I just rode. And when I needed a bail-out gear, it was right there. It shifted quickly and precisely every time, even between the 42- and 50-tooth cogs. The stuff does what it's supposed to do, which is let you focus on riding.
For the most part, it feels very similar to the 11-speed group, but the shift is ever so slightly more refined. This is in part because of SRAM's new 12-speed chain, which is kind of a masterpiece. SRAM built all new machines and utilized new processes and techniques in the development of the Eagle chain. It's not just narrower. The plates also have smooth, rounded edges, as well as chamfers at the rivet holes, so the rivets sit flush with the outer plates. The level of detail in the chain is pretty impressive.
SRAM expects most riders switching from its 11-speed groups to Eagle will bump up their chainring size by 2 teeth. Doing so results in a higher high gear and lower low gear. Going up 4 teeth will get net a similar low gear as with a 10-42 cassette, but will give you a much higher top speed. Both Eagle groups I rode were equipped with chainrings 2 teeth larger than I normally run, and the resulting range was perfect for me. Cruising paved roads or fast fire-road descents allowed me to go a bit quicker, while still allowing me to access an easy enough gear for steep, leg-quivering climbs. All and all, Eagle seems to be a good move. I'm looking forward to spending a lot more time on it.
Eagle is expected to be available in June.
Read more:
The Best of the 2016 Bible
SRAM's Eulogy for the Front Derailleur