When I walked through the booths at Interbike, amongst all the chatter about e-bikes and fat bikes, for some reason I wasn't at all taken aback when I saw the bright orange emblems of KTM plastered against one of the far walls. A motorcycle company at a pedal-fest? That couldn't be right, could it? Yes, the bicycling industry has adopted electric power and fat tires, and ran with it, but there's no way they could have embraced fossil fuels too? Is there?
Displayed on the far wall of the complex were two rows of human-powered pedal bikes. And pretty badass ones at that.
How so? You ask.
Try a carbon, 1×11 hardtail that weighs just shy of 19 pounds. Or if that doesn't tickle your fancy, how about a 160-millimeter, 4-bar, all-mountain machine that looks like it's ready to take on a multi-stage enduro race? Still not convinced, how about a 110-millimeter 29er that looks like it'll give Trek, Specialized and Yeti a run for their money.
If it seems like KTM has their wheels planted securely in the industry already. And you're wondering why the hell haven't I heard about this company before (and you don't live in Europe) then that's because they have been making mountain bikes since 1964.
So, yes, they have experience. 50 years of it.
And now for only the second year in over 5 decades, KTM bikes are available in the U.S.A. through KTM Bike Industries USA, which is headquartered in Miami.
But back to the bikes.
Along the wall were three bikes that caught my eye, a race-ready cross-country hardtail, a very playful-looking cross-country rig and a 4-bar enduro bike. All of these bikes share similar features, such as internal routing, a press-fit bottom bracket, tapered steerer tube and an integrated flat-mount for the rear brake caliper, eliminating the need for caliper adapters.
Myroon 29 Prestige 1-11
The featherlight of their fleet, the fully-carbon Myroon 29 Prestige 1-11, was one of the first bikes to catch my eye. Mainly because people were lining up to give it the pinky test–the bike on display weighed just shy of 19 pounds. It sports a Shimano XTR 1×11 drivetrain, XTR brakes, RockShox RS-1 fork and KTM Prime wheels.
There are seven other Myroon 29 models, ranging from $3,800 to $10,500.
Scarp 29 Master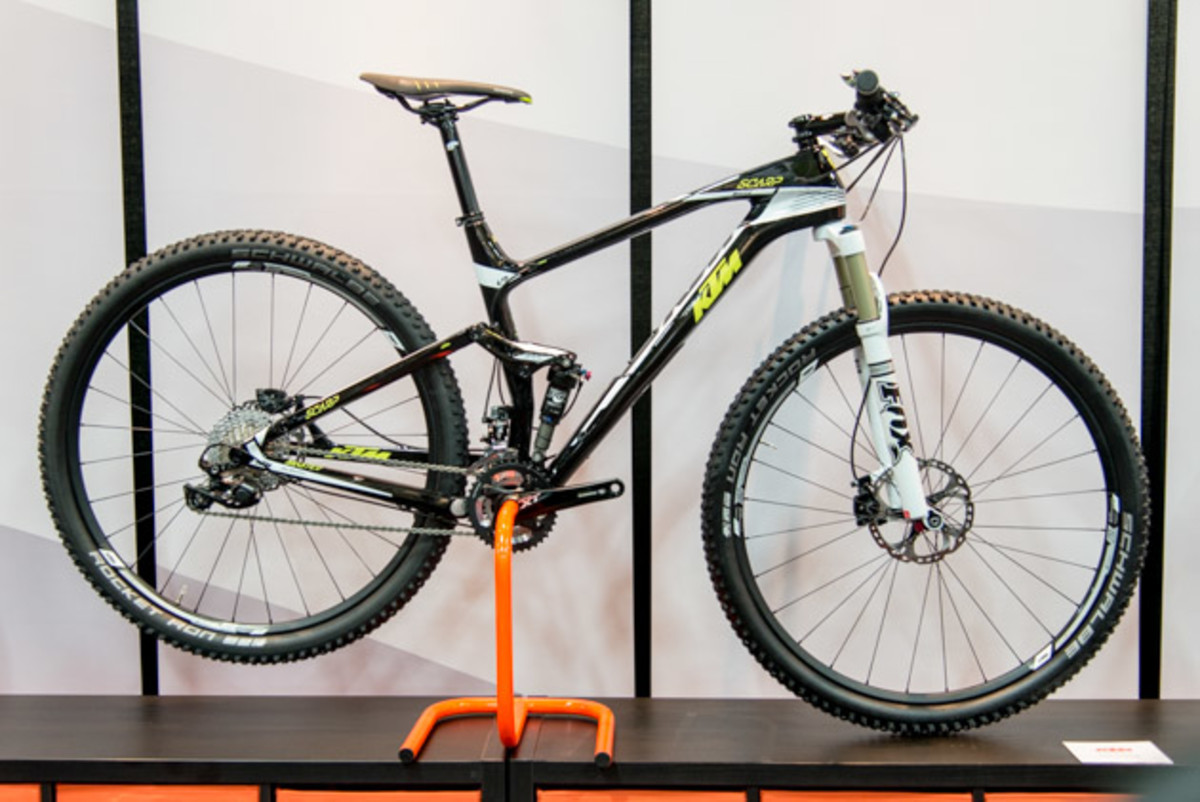 The full-suspension sibling of the Myroon is the Scarp, which comes in either 27.5- or 29-inch models. On display was the Scarp 29 Master. This slick looking bike has a carbon front triangle and an alloy rear, sports a Fox Evolution fork and in the rear, a Fox Float CTD. The drivetrain is Shimano XT and retails for $5,900.
Other Scarp builds range from $4,294 for the Elite to $11,500 for the Prestige 22s Di2.
Lycan LT 271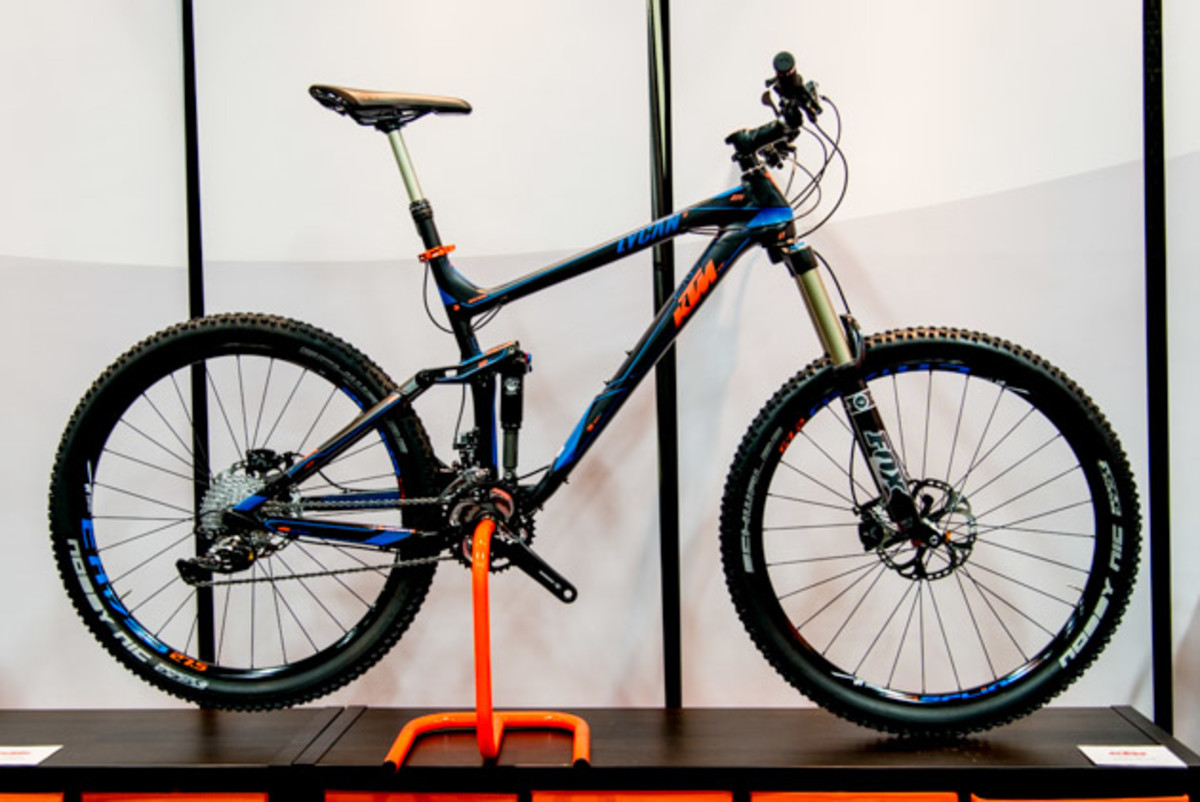 The longest travel bike at their booth, the Lycan LT, is equipped with 160 millimeters of travel, a 66.5-degree headtube angle and 27.5-inch wheels. The 271 comes with a Fox 34 Talas up front, a Fox Float CTD in the rear and a Kindshoc LEV dropper post. It's also setup with a Shimano 2×11 XT drivetrain, plus an XTR rear derailleur. This model retails for $6,900.
The other two other builds, the 273 and 272, retail for $4,200 and $4,600, respectively.
Other bike reviews from Interbike 2014:
First Impressions: Giant Reign Advanced 27.5 1
First Impressions: Transition Scout 1