RockShox has revisited its Boxxer downhill fork with some pretty substantial tweaks, even if it doesn't look like it from afar. SRAM gave us the opportunity this February to spend three days trying out the new fork on the trails of the Queenstown Bike Park in New Zealand.
Here are the basic details:

• The chassis is unchanged, except for slight modifications to the 650b version in offset and length, as well as some minor construction methods that were established during the construction of the Pike fork.
• The lightest production downhill fork on the market with a claimed weight of 2,585 grams for the 26-inch Boxxer World Cup.
• Now features the Charger Damper compression system.
• Black stanchions, just because.
• Rapid Recovery rebound.
• Change in designations. World Cup = Air and Charger Damper, Team = coil and Charger Damper, RC = coil and Motion Control.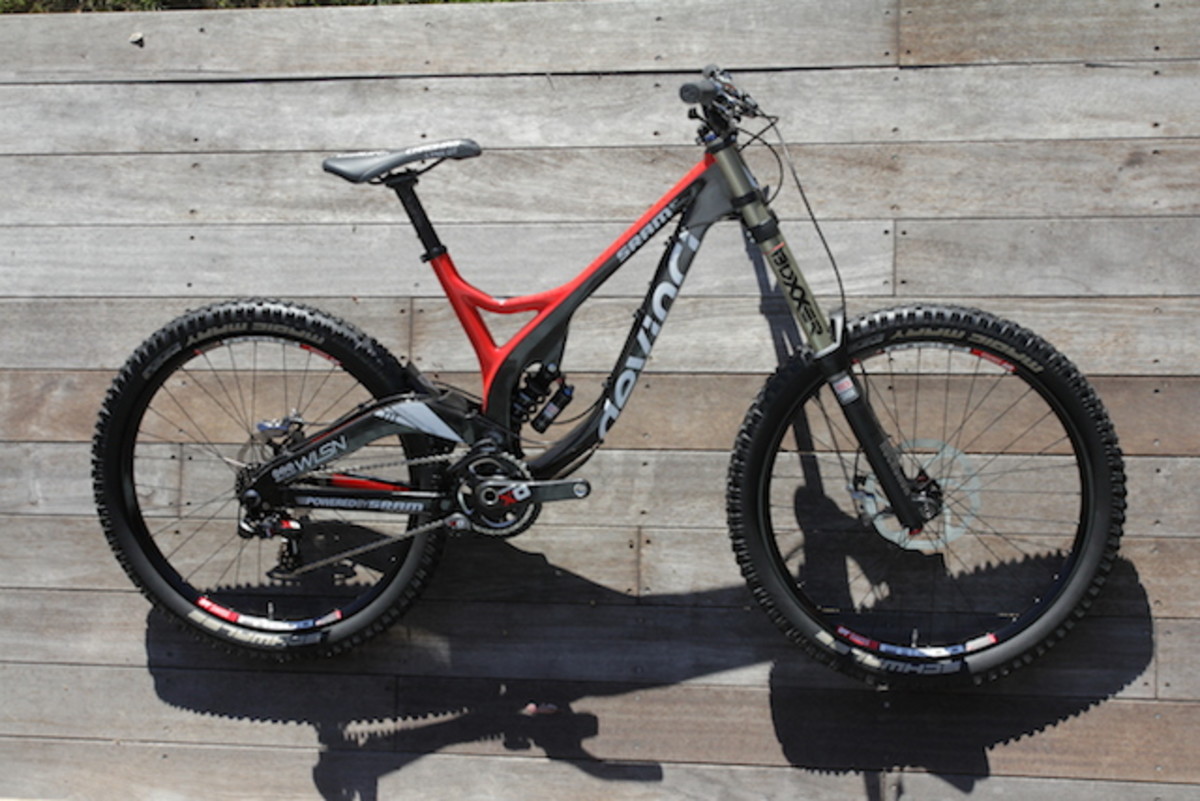 Charger Damper

As expected the Charger Damper system that has given rise to the popular Pike fork makes its way on the Boxxer. The Charger Damper is a fully sealed cartridge that uses shim stacks and staged circuits so compression control is managed through the damping circuits instead of the spring curve. It allows a plush feel with incredible small-bump compliance that doesn't dive or pack up as the fork's travel deepens.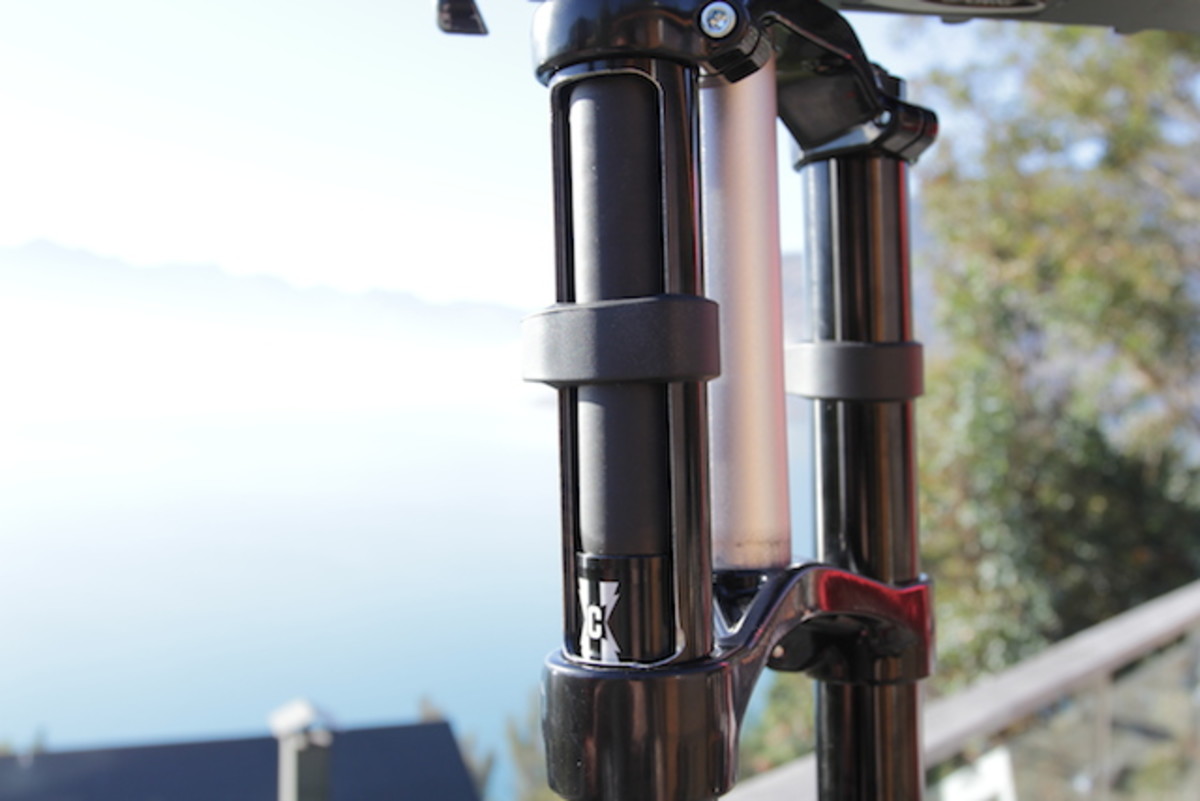 Charger uses an expansion bladder system so that when oil is displaced throughout the full range of travel it is accommodated in a fully sealed environment. Since no air can be introduced into the system, the fork's guts clean and contamination-free and damping performance is super consistent.
Dials

External adjustment has been reduced to a single compression adjuster and a beginning stroke rebound-adjuster. For a number of years RockShox's RC2 DH dampened forks, have had a lot of external dials – high-speed, low-speed, beginning and ending stroke rebound– but RockShox has gone back to basics for the new Boxxer.
Jeremiah Boobar, long travel product manager at RockShox, explained that there was a long process of developing a base tune on the Boxxer that would satisfy most riders. Test sessions and lengthy R&D was executed by teams of clandestine pro and amateur testers. One such tester was Adam Billinghurst, who put the new Boxxer internals through their paces while descending one million vertical feet in the Whistler Bike Park last summer.
"I feel confident we have the right tune. We recruited a broad range of test riders and fine-tuned the base setting until we felt we could settle on what works best for riders. Only the upper percentile need slightly different tunes, and if you need to do this then it can be adjusted internally. It's harder to do but if you really feel you need to change it then you should know how to do that overhaul," Boobar said.
So, rather than giving people a handful of dials and letting them run wild, riders should be able to trust that the fork arrives at your door with a great base setup, with plenty of option to make internal adjustments. There are two ways you can adjust the fork beyond the external dials: Bottomless Tokens are plastic air volume spacers that can be added or removed to change the spring curve. You an also reconfigure the shim stack. The former is a piece of cake and the latter is a little more technical. But like Jeremiah says, if you need to do it, you'll probably know how (and probably love getting covered in lube and suspension charts.).
Charger Damper Upgrade Kit

I spent two-and-a-half days on the Boxxer, which gave me chance to run the fork in various setups to get a feel for it. On day one I started with an older Boxxer and spent several laps figuring out a new bike and trails. Then I added the Charger Damper upgrade kit and hit the same trails again.
Immediately the difference was noticeable. The trails were extremely dry, dusty, steep in places and fast. On the first laps, maintaining traction was not easy and my hands were getting tired quickly, but with the Charger Damper upgrade I found myself able to keep the front wheel from washing as quickly and I certainly wasn't as fatigued.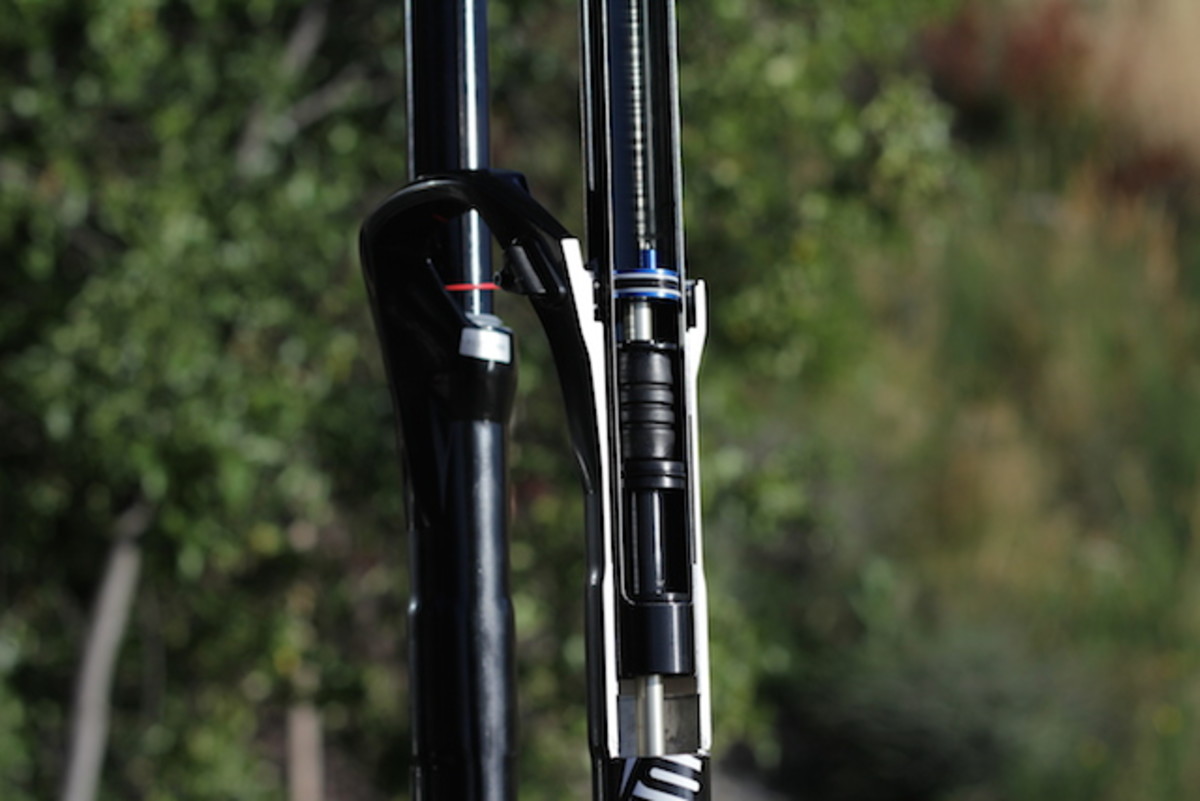 I've experienced the Charger in the Pike and loved the performance so it shouldn't be a total surprise to see improvement, but to see the old Boxxer fare so badly against the new one was peculiar. The old fork felt wooden, notchy and dead, and while I'm not going to say the older Boxxer was the best downhill fork out there, I've never considered it that bad. Was this just because the Charger really is a better system in comparison to the old one or what?
I believe in evolution. I believe that suspension companies are always attempting to achieve incremental developments, not just so they can outsell their last product, but because things can always, always be improved upon. Nothing is right first time. The previous Boxxer was the best RockShox was able to do at the time, but over time engineers have discovered and created ways to refine and progress their processes and products. The Charger Damper is one of those products.
The new Boxxer has some changes, but if you have an existing Boxxer and want to simply upgrade it you can. For $379 RockShox will sell you the Charger Damper kit which will replace the damper in any 2010-2014 35-millimeter-chassis Boxxer Race, Team, RC, R2C2 and World Cup.
2015 Boxxer: Ride Impressions

On day two we were handed a bike with the all-new Boxxer. This was where the real testing and setup began. With an entire day ahead and just one fork to ride it gave me the chance to try out various setups using both the internal and external adjustments.
As discussed earlier, there are external low-speed compression and rebound dials; everything else is internal. I started with air pressure at 25 percent sag, one Bottomless Token and eight clicks of low-speed compression–out of a possible 16–much like I'd ran the day before. I was urged to try the fork without any low-speed damping, and I was impressed. The fork still didn't dive or wallow under braking or pedaling. Then it was suggested to me that I could lower my air pressure to increase top end suppleness. I did, but when the trails became steeper, faster or more rowdy the fork felt like it pushed a little deeper in the stroke than I wanted. The solution to was to reduce the air volume using a total of three Bottomless Tokens.
Bottomless Tokens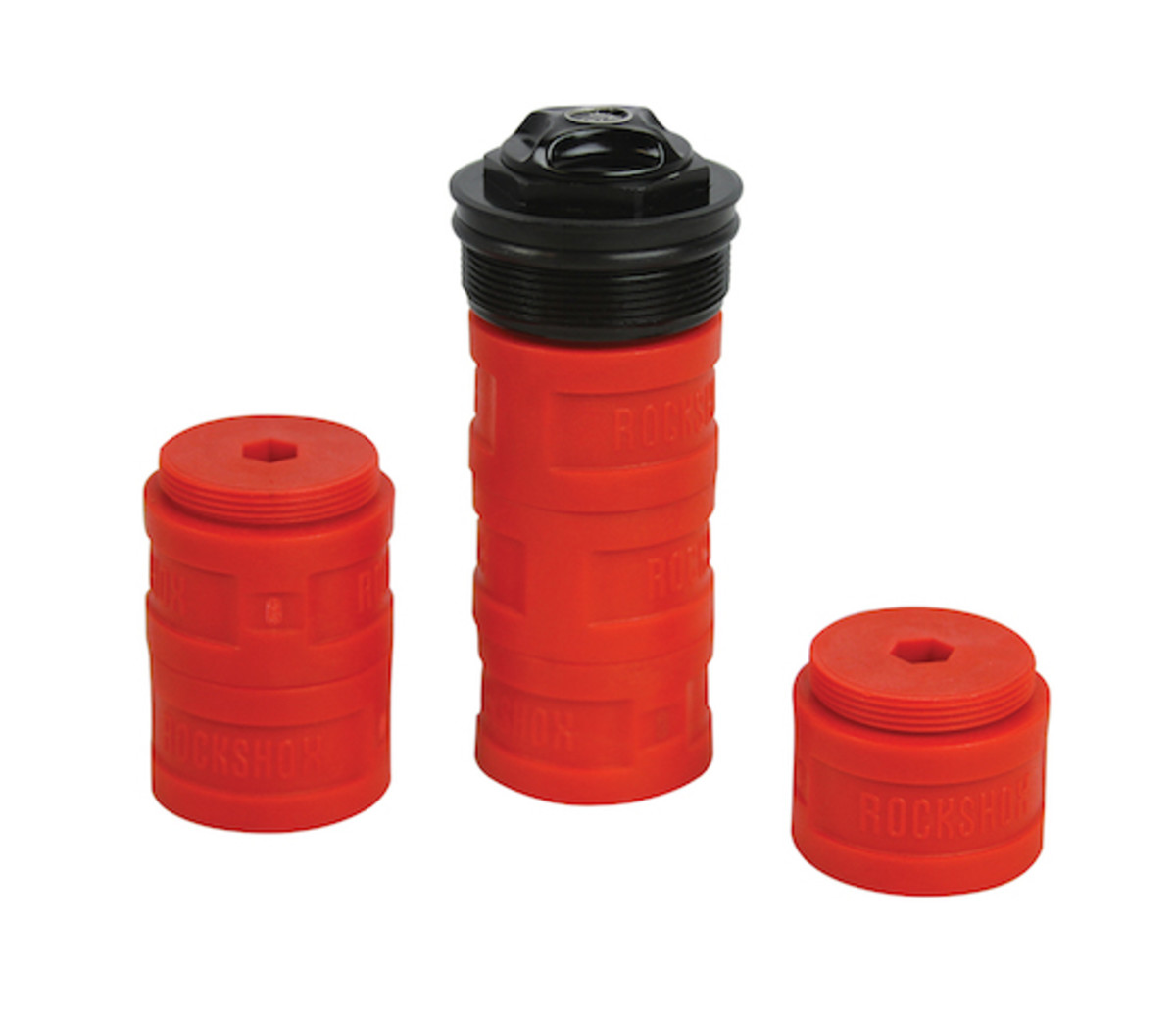 By now you may have seen the helpful setup videos featuring Sean "The Wizard" Cruickshanks. If you've managed to see past his 'World's Most Interesting Man' beard and sexy voice, you'll understand that this simple piece of plastic can be used to reduce the air volume (not to be confused with air pressure) in your fork. By reducing the air volume it increases the ramp at the end of the stroke, giving the fork more of a bottomless feel. All this means you can personalize the air spring in your fork very easily.
I'd wanted to keep the plush feel to the Boxxer, but not get so far into the suspension stroke, so that it would allow me to ride more aggressively in the lower and mid portions of the travel and also know that when I needed that last third of the stroke it was going to be well-controlled and resist harsh bottom out. Lowering the air pressure from 80PSI to 75PSI¬ and the air volume did this.
What I had now was one fork that felt like two. It felt like I had a buttery, plush, low air pressure fork, which helped the fork track true and maintain traction exceptionally well, but didn't become overwhelmed when the larger hits came through. Changing the Bottomless Tokens takes no time but can really make a difference to the performance of the fork.
I never felt the need to play with the shim stack in the fork, despite it being an option. The adjustments I could make through the air pressure, air volume, low-speed compression and rebound were plenty enough for me. It allowed me to finish up with a fork that I was absolutely comfortable on; provided a huge amount traction despite the blown-out, dusty nature of the trails; and on which felt like I was riding on a cushion of air. Perhaps with more time I could improve on the setup a little more, but one thing is for sure–I think it would be hard to make a dog's dinner of the fork. Perhaps less is more, in terms of adjustments. I've never been a fan of too many dials on suspension forks, just so long as the ones provided were the right ones. I think RockShox has struck that balance between giving riders enough of a bracket to tailor a fork to their specific needs, but not overwhelm them with an array of colorful knobs that can lead to a paralysis of choice or poor setup.