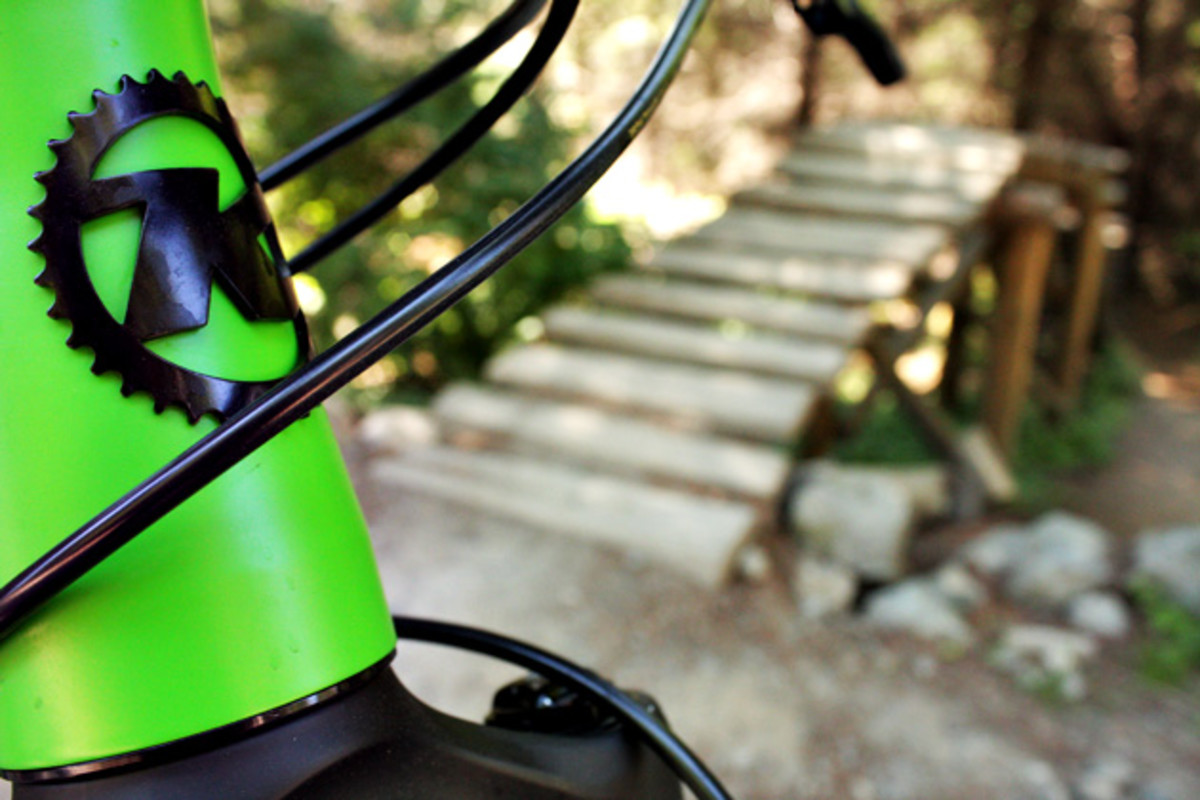 SO … WHAT'S NEW?
The 2015 Kona Bikes launch is notably light on the Kool-Aid drinking; they give you lunch, you go for a ride. The bikes either speak to you or they don't. That, in a nutshell, is how Kona rolls: unpretentious, matter-of-fact and straightforward. Was there a ton of new and improved and whiz-bang going on in Bellingham on Monday? Not really. But that doesn't mean the 2015 Kona models aren't interesting as hell. Kona hit its stride in 2014 with the debut of the new Process line—low-slung, slack and sporty rigs that seemed far more capable in technical terrain than the sheer inches of travel would suggest. Kona adds two new Process models for 2015 and a slew of other cool rigs as well. Here's the story.
THE 167—THAT 26ER PROCESS
At a time when the entire bike industry seems desperate to ditch the 26-inch wheel for good, Kona is rolling out a Process shod with, go figure, 26-inch hoops.
Why?
"We did it just to piss off the Internet forum trolls," quips Kona senior industrial designer Jack Russell, before he gets serious. "We don't subscribe to the idea that any one wheel size is 'the perfect wheel size,' and we're lucky to work in a company that allows us to ignore the latest trends and just, you know, make the bike that we honestly think is best. The Process 167 is meant to be a park bike, a replacement, really, for the Entourage—and one of the things we really liked about the Entourage was the short (16.3-inch) chainstays, low bottom bracket and snappy handling. The best way to replicate that was with a 26-inch wheel and, really, that's the end of the story. Twenty-six inch wheels just made sense on this bike."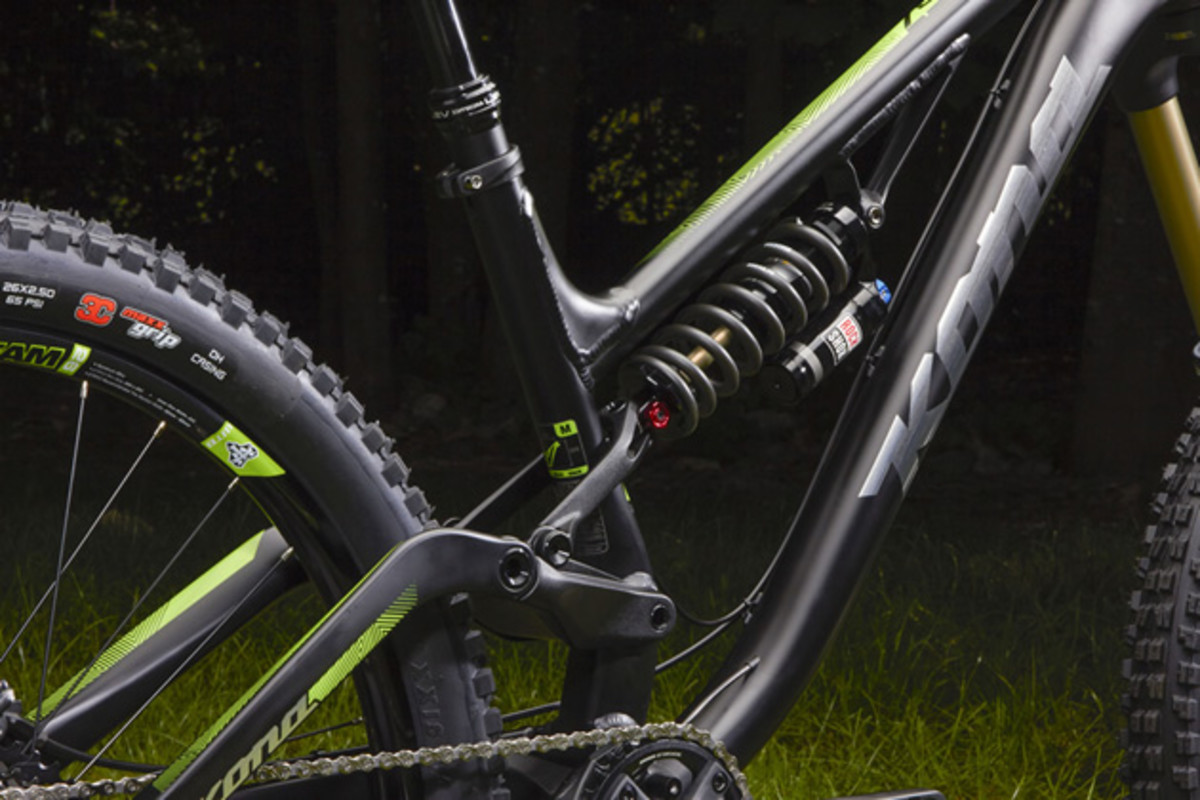 If the Process 167 doesn't scream 'chairlift' to you at first glance, it's worth noting that plenty of riders are hitting spots like Whistler Bike Park aboard the shorter travel Process 153 and 153 DL models. And, you've got to hand it to Kona, those bikes are proving up to the task, despite being slanted toward the all-mountain/enduro side of the riding spectrum. The Process 167, however, was squarely made with the park in mind. The bike features a slack (65-degree) headangle, a 170-millimeter RockShox Pike fork and is listed as being spec'd with a RockShox Vivid Air rear shock, though the demo models on hand sported RockShox coil units. So, yeah, the bike should rip descents. That said, Kona did want to improve on the Entourage's ability to gain elevation (we don't all live within pedaling distance of a chairlift). To that end, the Process suspension design should be a big improvement for anyone who has to earn their turns the honest way.
I keep saying 'should' because, dammit, the Process 167 was a hot commodity at the dirt demo on Monday. I couldn't get my hands on one and had to opt for the Process 153 DL, which as it turns out, lives up to the hype with a supple, balanced suspension, decent climbing traits (I took my rig for a spin up and down nearby Galbraith Mountain) and a freakishly nimble feel in tight corners. It took me a while to push the bike to its limits—I kept thinking I'd reached them, only to find the bike capable of carving corners I know like the back of my hand, faster than I've ever believed possible. Hot damn! I'm looking forward to getting aboard the Process 167 and comparing notes.
PROCESS FOR THE TINY FOLK
Shorter riders get the, er, short of the end of the stick when it comes to nabbing bikes that actually fit and perform well. Sure, anyone can make an extra small hardtail, but things get complicated quick (from a design point of view) when you add anything north of 4 inches of travel to the recipe. Kona, however, is debuting a Process in 2015 for wee folks. The Process 134 SE comes in extra-small, small and medium, with the extra-small accommodating people as short as 5'0".
HOW ABOUT A CARBON PROCESS?
That is probably the million-dollar question. Plenty of riders expected Kona to roll out a carbon-fiber framed version of the Process in 2015, and while that may still happen before 2015 breathes its last breath, Kona isn't showing off a carbon Process at this launch. In fact, Kona gravity product manager Chris Mandell Skyped in from China where he was working on the new bike. The short answer to why you're not seeing the carbon Process yet is that Kona is taking its time to get it just right.
"We could have created a carbon Process using the kind of techniques that are common in the bike industry today and we were on track to do that," Kona's Russell later explained to me, "but we also had the opportunity to start from scratch and develop a new way to fabricate a truly innovative carbon frame. We decided to go that second route. The carbon Process will come out—I can't say when exactly—but it will be worth the wait."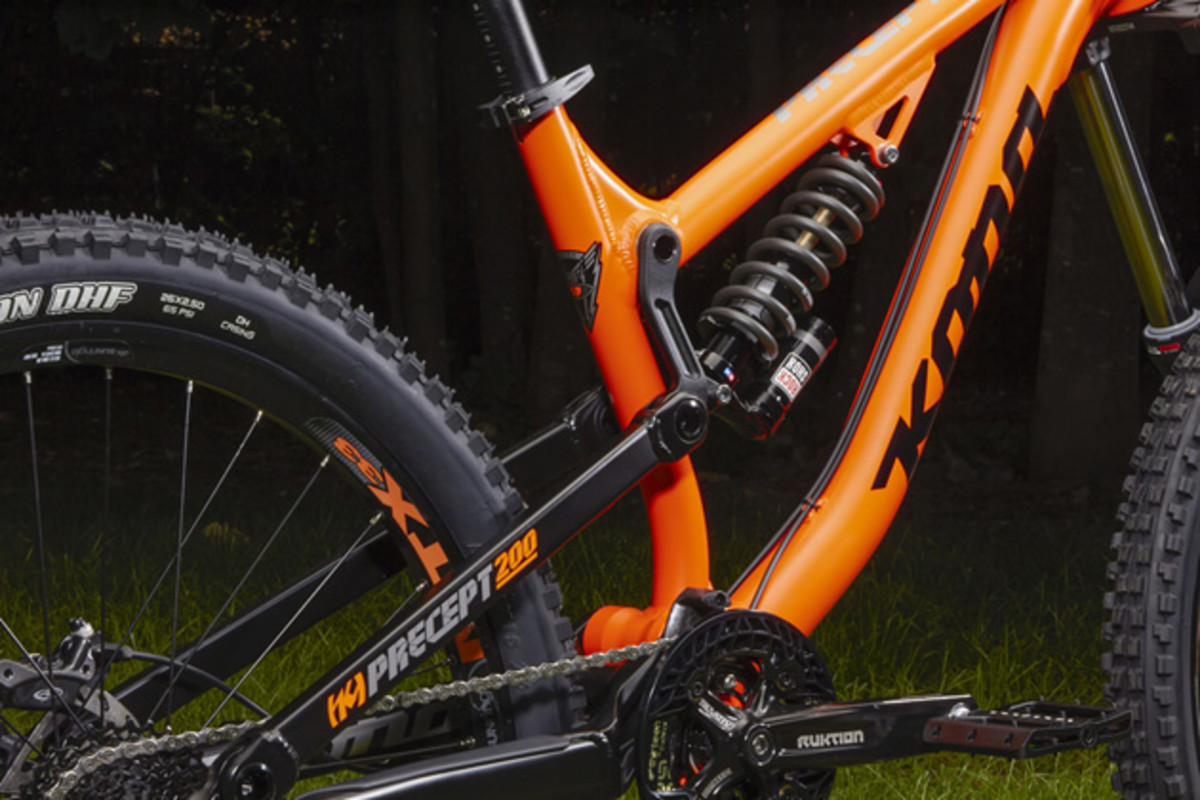 BUDGET DH PACKS A PUNCH
Downhill bikes are the caviar and champagne orgy of the dirt world. Big bikes just don't come cheap. While the Precept 200 isn't 'cheap' ($3,000), it is definitely affordable by downhill standards. What's more, Kona's Russell is clearly stoked on the bike.
"We have a lot of cool bikes this year, but I really like the Precept 200. I've been riding it a lot in Glacier and it's just great. It's so good that I haven't even gotten around to building up my carbon Operator frame yet."
That says a lot right there. The Precept 200 sports a RockShox Domain RC dual-crown fork, SRAM Code R brakes, RockShox Kage R rear shock and a mix of Truvativ and Kona house-brand components.
A LOT MORE THAN GRAVITY ON THE TABLE
Kona often gets slapped with the freeride label, but the company has always been more diverse than its reputation might imply. For 2015, Kona is offering an even wider range of short-travel cross-country bikes, hardtails, cyclocross rigs, utility bikes, sleek road bikes and gravel grinders. Though we've been focusing lately on the more aggressive hardtails like the Honzo, Kona still has its thumb on the cross-country pulse. One of the coolest bikes this year? The Reynolds 520 chromoly Explosif, which features internal dropper post routing, sliding 142×12 dropouts (you can run it geared or singlespeed), a RockShox Recon Gold 120-millimeter fork and a smattering of Shimano SLX and XT components. The Explosif will sell for $2,200 and there's also a titanium Explosif frame in the offering, crafted by Lynskey Performance Designs.
More Kona news:
Video: Inside the Kona Process
Dual tester: Kona Hei Hei review