In early November, we published a piece entitled Making the Cut: Bikes of the 2017 Bible, but we had to leave a bike off that list because Evil hadn't actually released it yet.
That bike–the Evil Calling–was such a blast to ride that we've been having cold sweats since mid October trying to keep our lips sealed about this whippy little monster. We thought we'd have to wait a whole 'nother month to share the news until we got a call from Kevin Walsh–Evil's head honcho–giving us the go-ahead to spill the beans. So without further ado, here's what our testers thought of the Evil Calling after riding it during the eighth annual Bible of Bike Tests. Sorry, you'll still have to wait until the new year to watch the Roundtable, because, well, it's not done yet.
Evil Calling – Quick Specs
Frame Material: Carbon
Wheels: 27.5 or 26+
Travel: 130mm rear, 140mm front
Threaded bottom bracket
Head Angle: 66.4°/65.8°
In-triangle water bottle mount
Front and rear Boost spacing
Trunnion-mount RockShox Super Deluxe shock with eyelet bearings for added sensitivity
MSRP: $6,900 (pictured build) / $2,900 (frame)
Weight: 29.5 (large), 28.9 (medium)–as tested at Bible, no pedals
View geometry, specifications
Watch: Luke Strobel and Billy Lewis Ride The Calling
It wouldn't be Bible without a new introduction from Evil Bikes. And it wouldn't be an Evil if it didn't make us re-think what a bike in its category is capable of. With 130 millimeters of rear travel and 140 up front, the Calling brings Evil's signature characteristics to the mid-travel, 27.5-inch platform.
It's as long and low as we'd expect from Evil, and has the slackest head angle in the mid-travel category. The essentially single-pivot design of the DELTA link delivers a fancy leverage curve instead of a fancy axle path. There's a subtle ramp-up around the sag point for pedaling and pumping, then a steep ramp-up just before bottom-out. The magic of the DELTA linkage is particularly valuable on a bike like the Calling that lacks the benefits of big wheels or big travel. Its natural pedaling platform allowed most testers to climb comfortably and efficiently all day with the rear shock wide open. And thanks to its supple feel in the early stroke and bottomless feel in the late stroke, it descends like a 150-millimeter bike. But because of that firm platform in the middle, it's more playful than any long-travel bike could be. One tester observed that at high speeds, it expertly walks a fine line between agile and twitchy.
We spent our test loops pumping and wheelie-ing the Calling around like a BMX bike, but when the time came to straightline through the frequent rock gardens of our test loops, the stable geometry and techy suspension would pull us through every time. One tester partially credited this to some moderate lateral-front-triangle flex, though we never agreed how noticeable it was. We did agree that the Calling held its own on the jumps and drops. We repeatedly subjected it to hucks that most mortals would prefer at least another inch of travel for.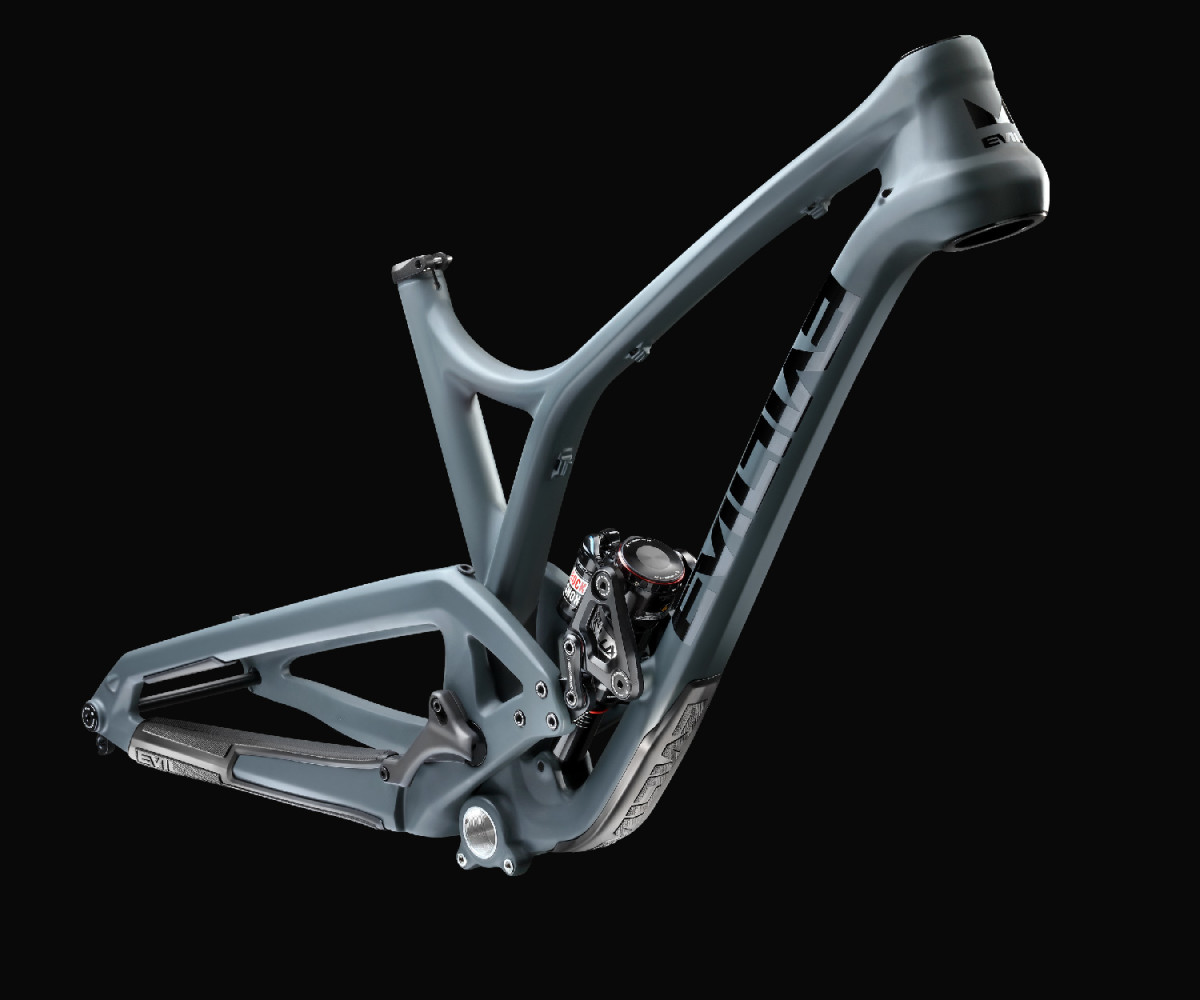 The frame has thoughtful details like a return to the threaded bottom bracket, a clever and quiet integrated chainguide and a trunnion-mount rear shock. This revived trend in shock design allows frame manufacturers to run longer rear shocks in less space–space Evil uses for a full-size bottle mount.
Evil has again shaken our longstanding definition of an established category. By now, we should know better than to let that surprise us. –Travis Engel
View The Calling's geometry and technical specifications.
Here's what Kevin Walsh had to say about The Calling:
"After the Following did its rounds we started to see an overwhelming amount of requests for a 27.5 version. We had already been throwing the idea around, but this gave us enough motivation to make a smaller wheel version that would give its older brother a run for his money.
Most of us have been on the 29 train at the office, so we weren't jumping with joy when this thing arrived. It wasn't the usual childish huddle around the bike stand waiting to take turns trying the new bike. We had ridden 27.5 bikes and although they are fun, the 29 had stolen our hearts for the moment.
Well that changed as soon as we slung a leg over this bike-shaped skateboard with 131mm of Delta System up and down action. I don't think a bike is capable of making you ride better, they can certainly give you confidence to ride above your ability, but nothing makes you a better rider except for you. With that said, this bike will make you ride like a criminal. It is like a little sports car with too much horsepower and track tires. You want to get on the gas and get sideways at any opportunity and cause trouble. You will find yourself unnecessarily slashing and rock flinging at every opportunity. Luckily for you we don't have traffic violations on the trail, otherwise it would be a lengthy jail sentence, extensive public service and considerable rehabilitation to rejoin society."
More Evil goodness:
Video: Luke Strobel and Billy Lewis Ride The Calling
Making the Cut: Bikes of the 2016 Bible
Dream Build: Evil's The Wreckoning
The Story Behind Evil's The Following
Evil's The Following | 2015 Bible of Bike Tests