DVO showed off a brand-new fork and shock, as well as an updated version of its Diamond fork at this year's Sea Otter Classic. Here's a quick look at the brand's new suspension bits, which are slated to be available this summer.
New Sapphire Fork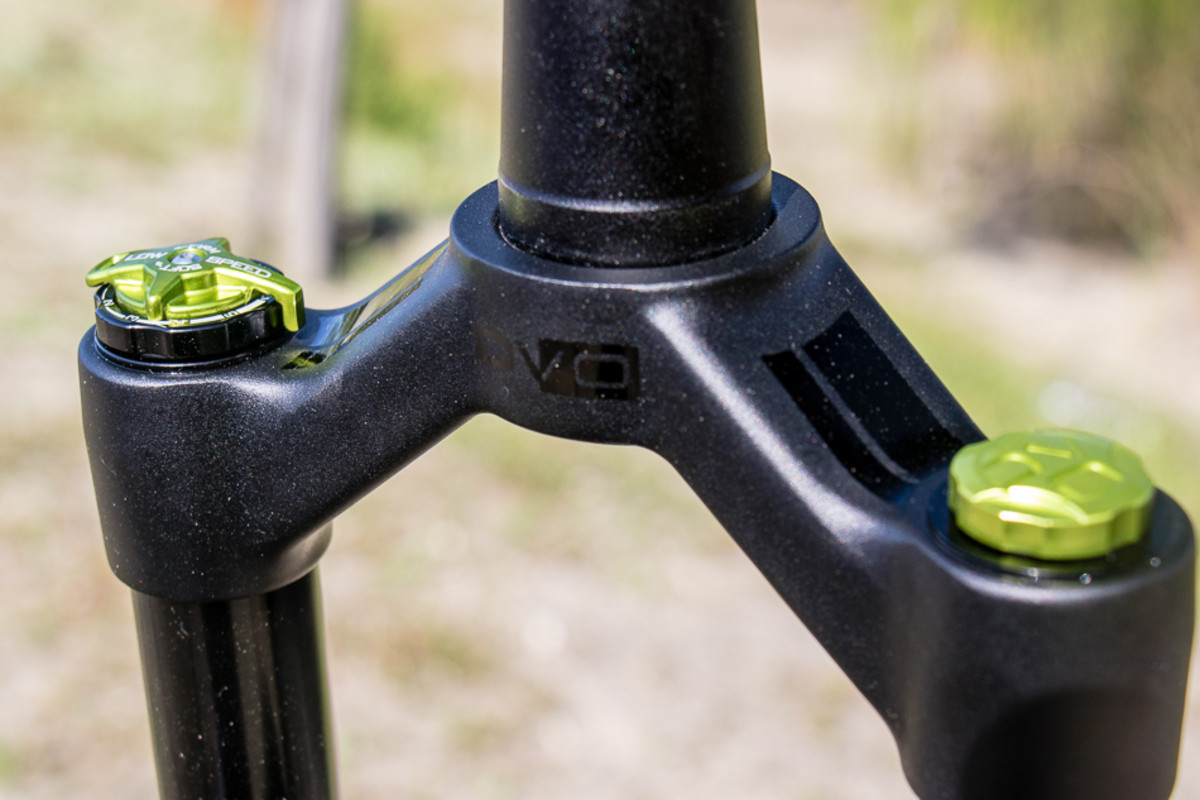 Building on the momentum generated by its Diamond trail and all-mountain fork, Los Angeles-based DVO suspension has developed the Sapphire–a lighter-weight trail fork available in three travel options: 100, 120 and 140 millimeters. According to DVO's Tom Rogers, the Sapphire sheds a healthy amount of weight by integrating the air spring into the stanchion, rather than employing a cartridge inserted into the fork leg.
The Sapphire features a 15mm thru-axle, 32mm stanchions, Boost hub spacing, externally adjustable high- and low-speed compression settings, and is available for both 650b and 29-inch wheel sizes. The claimed weight, including axle and uncut steerer tube is 1900g (4.18lbs). The Sapphire will be available in three colorways: lime green, black (shown) and pewter. MSRP: ~ $899
Redesigned Diamond Fork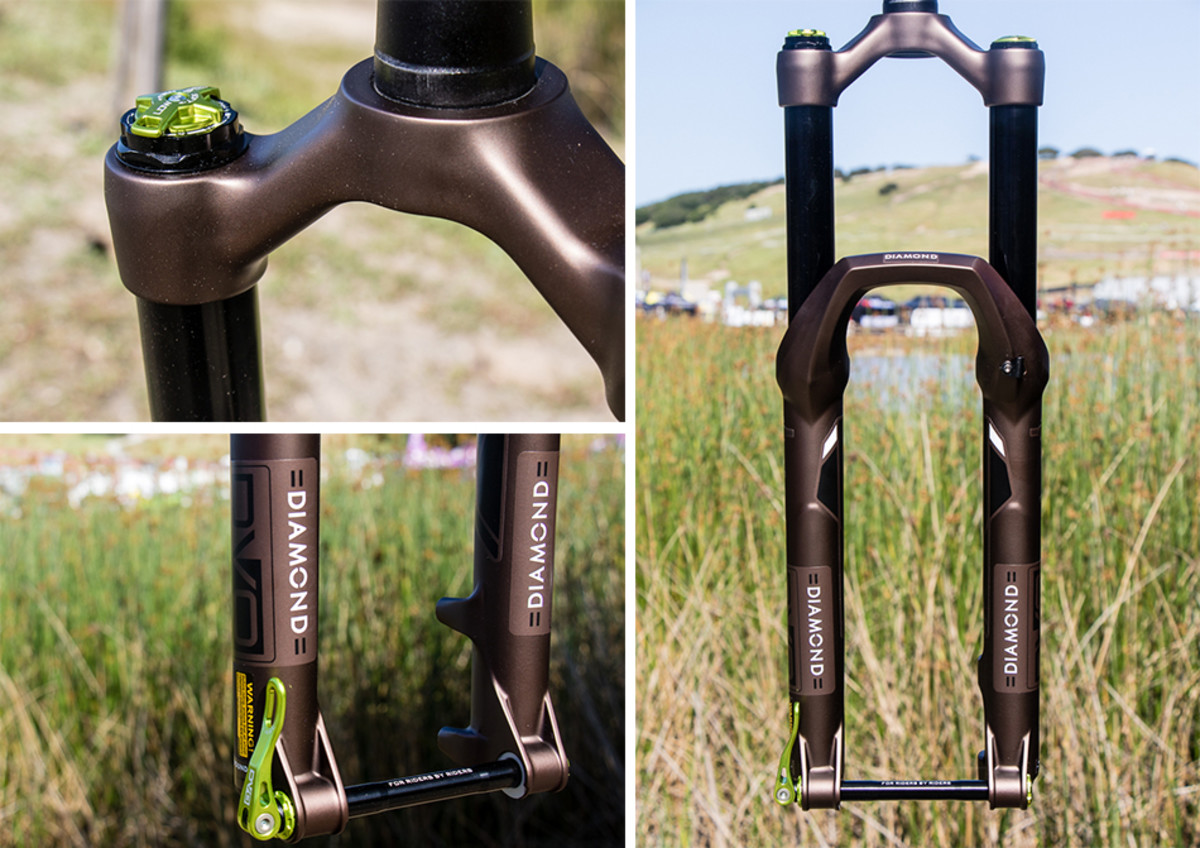 The Diamond has received a makeover. Available in both 650b and 29er versions, the 650b variation has up to 170mm of travel, while the 29er maxes out at 160 (but could be set to 170mm with some internal tinkering). The goal with the new Diamond was to shave some weight with an all-new lower casting, which is also designed around Boost-hub spacing, accommodating wider tires.
Like the Sapphire, the Diamond utilizes a 15mm thru-axle and features DVO's externally tunable high- and low-speed compression. The redesigned Diamond still sports DVO's OTT (Off the Top) adjustment, which allows riders to adjust the fork's sensitivity in the initial part of the stroke. The all-new Diamond is offered in three colorways: lime green, black, and a dark copper (shown).
Topaz Shock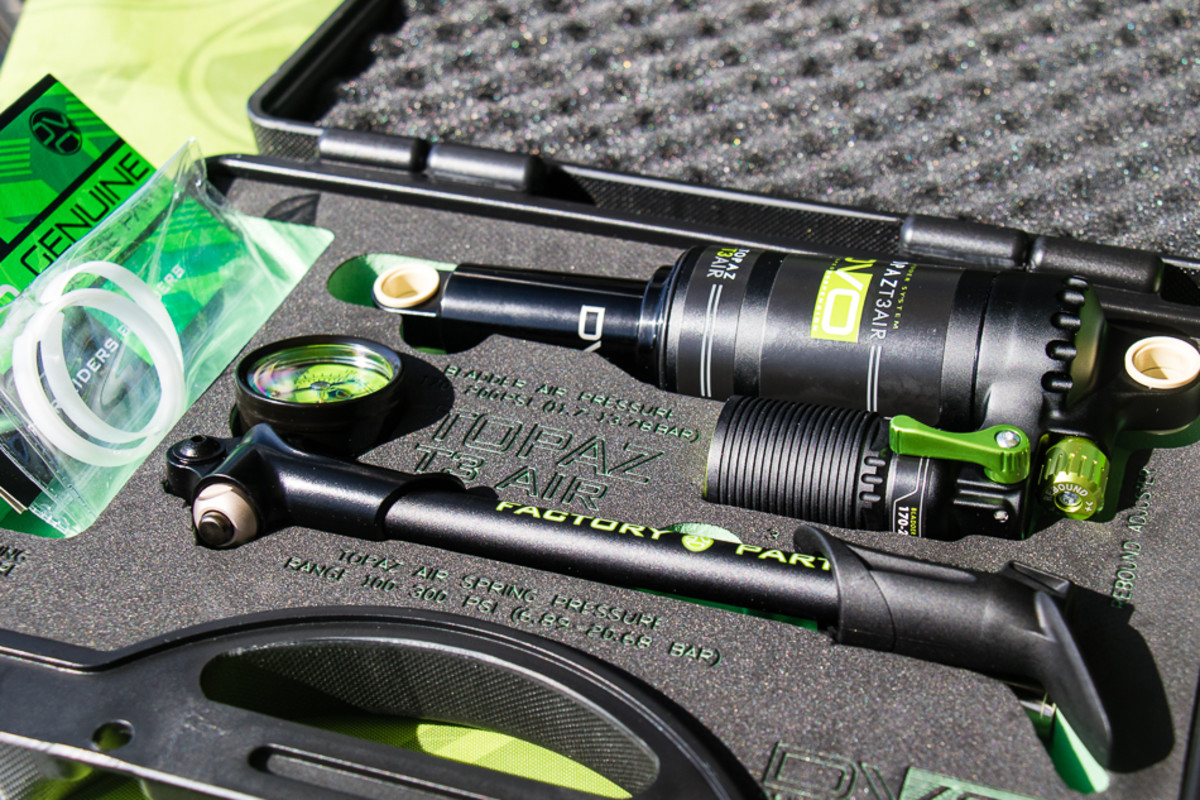 On the rear-suspension front, DVO's unique-looking Topaz "piggyback" shock will soon be available, and is designed for aggressive trail riding. The Topaz features three compression settings: firm, medium and open. The Topaz air spring is also internally adjustable by adding volume-reducing spacers. The machined alloy "fins" on the reservoir are strategically placed to increase surface area and help cool the shock during long and rough descents. Look for the Topaz to be available in many of the current imperial shock lengths, as well as metric standard lengths. MSRP: ~ $500
More from Sea Otter
X-Fusion's Inverted Fork is Ready for Market