Diving straight into steep, technical, unfamiliar trails can be a bit intimidating. Not exactly something that you would want to tackle on a bike that you just threw a leg over for the first time, but that's exactly what happened the first time I rode the Rocky Mountain Altitude a couple summers ago in Whistler when the 27.5-inch-wheeled version debuted. The terrain was challenging, but just the type of riding that I love. And although the trails were unfamiliar, the Altitude and I got along as though we'd been riding together all summer.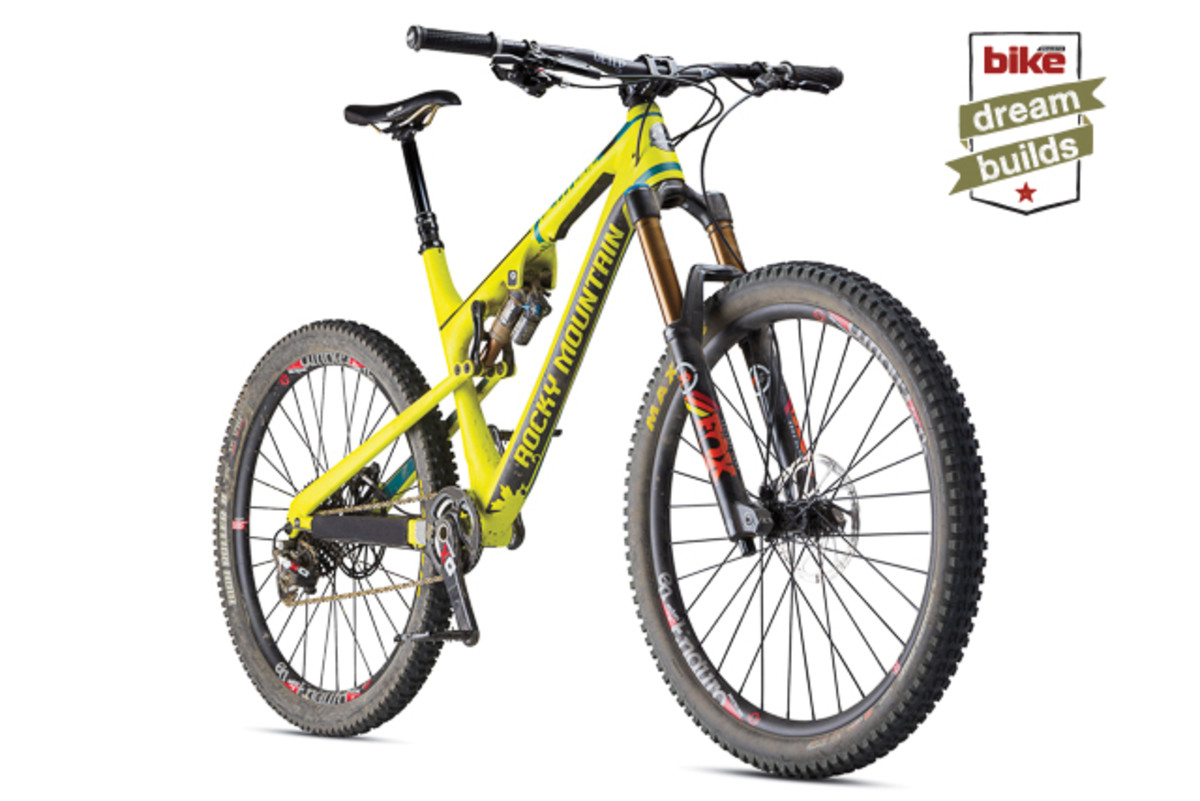 In 2013, when Rocky introduced the Rally edition of the Altitude, a bike with a slightly more aggressive geometry and build kit, I knew that it was time to get re-acquainted with the bike that had left such a positive impression on me.
One of the most interesting features of the Altitude is Rocky's Ride-9 adjustable geometry. Not only do the nine settings let riders fine-tune the geometry to best suit their style and terrain, but the different positions will also will also give the rear shock different ride characteristics as it moves through its travel. You have the ability to ramp-up the shock for heavier, more-aggressive riders, orgive it a more linear feel for lighter weight riders. I settled on the most forward position, giving me the slackest possible headtube angle of 66.2 degrees and lowest bottom-bracket drop possible of negative 14. Combine that with its tucked-in 16.8-millimeter chainstays, and the handling characteristics are everything I look for in a bike. After only a few runs under my belt on the Altitude, I felt confident enough to drop into some of my favorite steep, technical trails that I usually only hit when I'm feeling 'on.' It had me believing that anything was possible, just like my first day riding the Altitude in Whistler.
A luxury feature that I love about the Altitude is the internal cable routing. The rear shift cable for the SRAM XO1 drivetrain and internally routed RockShox Reverb are cleanly tucked away, and the seamless integration leaves me with only two bolts on the bars connecting all the controls. Smartly the only cable routed externally is that of the rear brake, making any maintenance or service a breeze.
I decided to ride the new-and-improved Fox Racing Shox 36 Float FIT RC2, which comes stock on the Rally edition. With 160 millimeters of travel, the new 36 is suppler and more tunable than ever, and a perfect complement to the bike's playful geometry. I matched that with the new Fox Float X, but unlike the stock Rally edition I opted out of the handlebar remote for the trail-adjust switch to avoid cluttering the cockpit.
The Deity Skyscraper pedals are a low-profile, long-pin masterpiece, a perfect match for someone like myself who never clips in. Looks and grip aside, though, the pedals have yet to develop any play and are still as smooth as ever.
With their Torch hubs, the Industry Nine Enduro wheelset has been exactly what I was looking for: light, stiff, with unbeatable free-hub engagement. Two of my all-time favorite tires–the Maxxis Minion and High Roller 2–are mounted on the I9 wheels. No matter what the conditions–from wet roots and rocks to what I'm more accustomed to these days: dry, dusty and loose–that tire combination has always been a top-performer.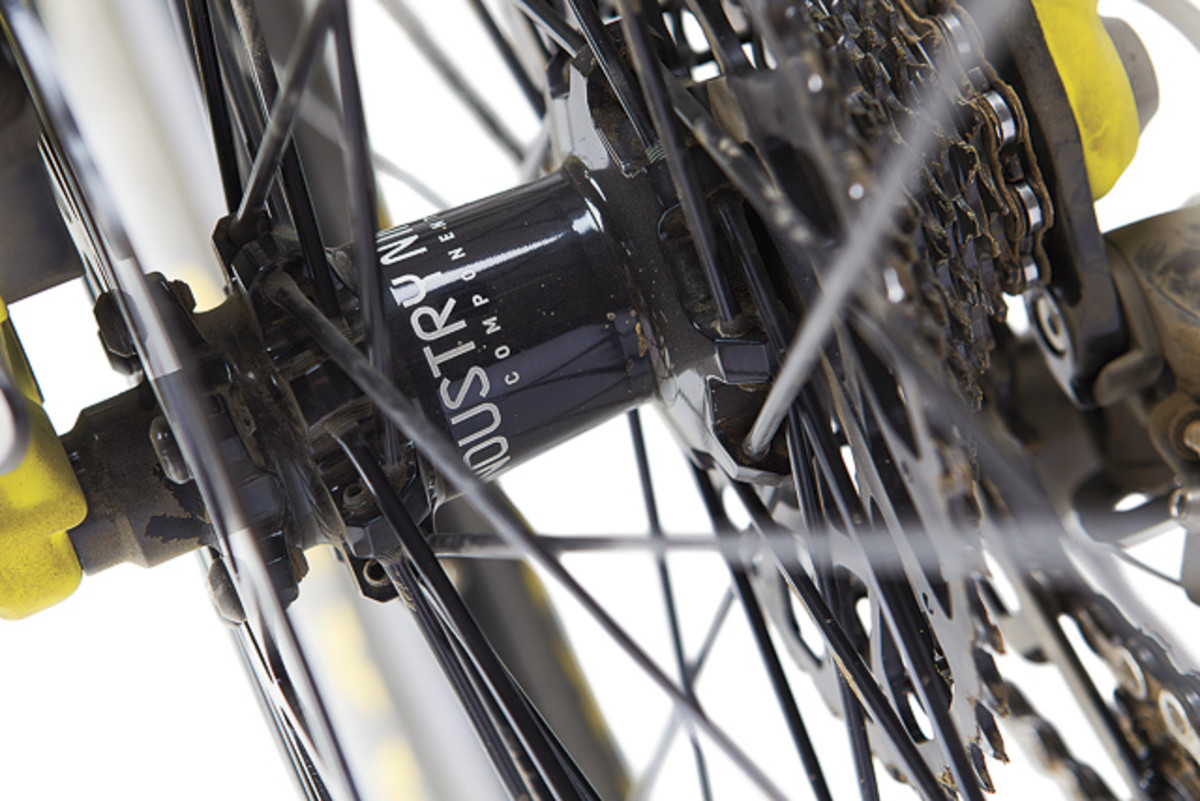 The sum of all the parts on the Alitude is one of the most-capable, no-compromise trail bikes I've ridden. Everything on this bike is about performance. From long technical climbs to, more importantly, steep scary downhills, there's nothing about this bike that is holding me back.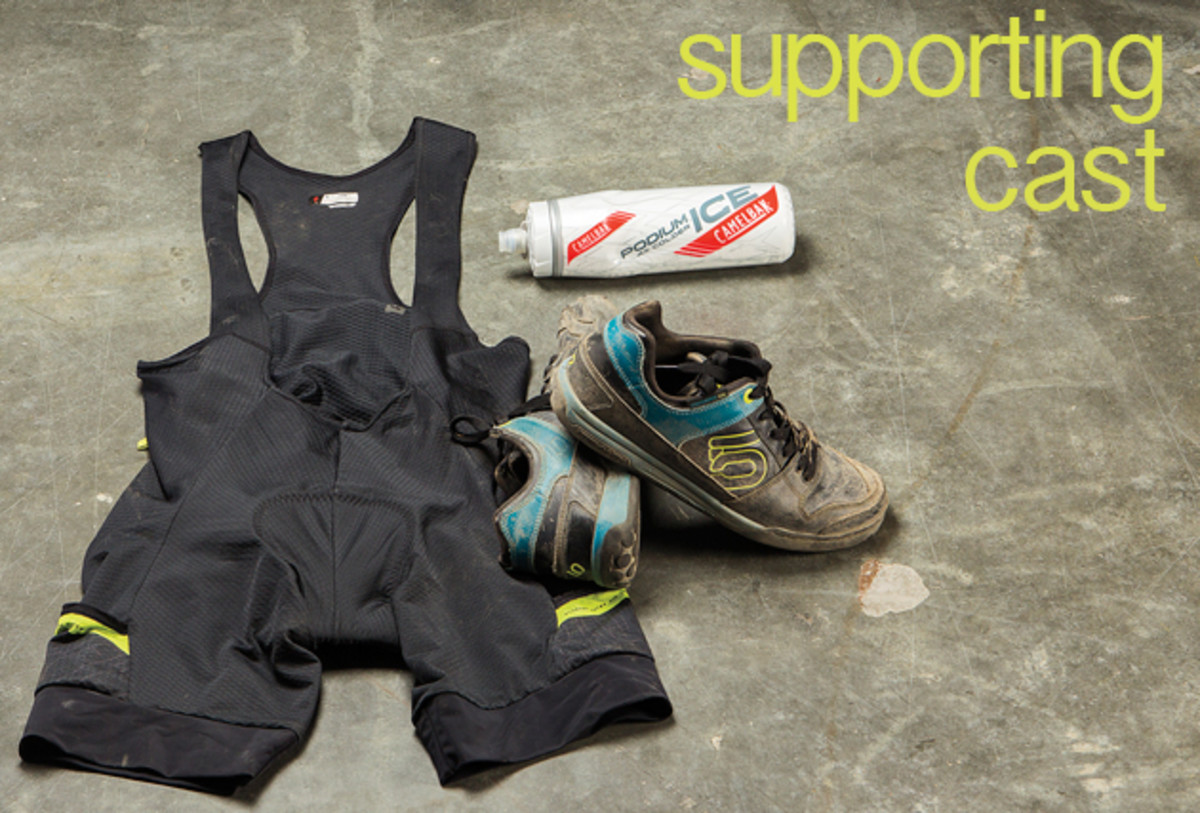 SPECIALIZED MOUNTAIN BIB WITH SWAT | $88
The Specialized SWAT bibs have changed the way I ride. I've always preferred the feeling of riding without a pack, but often that meant I would end up leaving behind critical items that could help me get home in case of a mechanical. It's come back to bite me a few times. The SWAT bibs have solved that problem. Tools, water and air stay tight to my back in the three main rear pockets. It's amazing how much you can carry while still having that free 'no pack' experience. Since I got these last spring I haven't worn anything else.
specialized.com
CAMELBAK PODIUM ICE | $25
A water bottle may seem like an odd choice for an editor's pick, but in the scorching Southern California heat I can't seem to live without the Podium Ice bottle from CamelBak. Before my rides, I fill it to the brim with ice and more often than not when I run out of water I've got ice cubes to chomp on to get me through the last part of my ride. If you're like me and have ditched the hydration pack for a bottle, the Podium Ice is a must-have.
camelbak.com
FIVE TEN FREERIDER VXI ELEMENTS | $125 Anyone who's ever ridden Five Ten shoes knows how great their stealth rubber feels on the pedals. However, I had tried a few models that just felt a bit overbuilt and bulky for long days pedaling. These Freerider VXi Element shoes are a different story, though. Ultra-slim and lightweight, they stick to the pedals like I'm clipped in and sport a fit and feel that is unmatched with any other flat pedal shoes I've worn. fiveten.com
Want to drool over editor Brice Minnigh's Santa Cruz Nomad Dream Build?