DIAMONDBACK MISSION 2 | $3,800 | DIAMONDBACK.COM
With an updated frame for 2015, the Mission has a new look and feel. For starters, the Knucklebox suspension design has been streamlined from a Rube Goldberg project to a simpler link while maintaining engineers' desired ride characteristics. Diamondback also changed the shock orientation from vertical to nearly horizontal, increased travel to 160 millimeters and, of course, switched to 650b wheels. We tested the mid-priced Mission 2, which includes a Fox 34 fork and Float CTD shock, 1×10 SRAM and Race Face drivetrain and SRAM DB5 brakes, which share a similar lever design to the new Guide brake. One thing every tester mentioned was the unbeatable traction of the Schwalbe Hans Dampf tires.
Testers were put off by the 10-speed single-ring setup, which comes nowhere close to offering the gear range of SRAM 1×11. Sure, single rings are popular but testers agreed that this setup feels a bit forced. Even with the 30-tooth chainring, it's pretty stout gearing for a pretty stout bike. For those wanting a wider gear range, the parts to turn it into a double run about $175.
Climbing efficiency is surprisingly good on the Mission. It settles nicely into its travel and offers a fair amount of pedaling support even when the shock is left open. Still, most testers opted to climb with the shock in the middle compression setting. Every tester agreed that the rear suspension was great at bear-hugging the ground, but that the Mission is lacking in the playful department due to its nearly 18-inch chainstays. Long stays create nice high-speed stability, and can probably also account for the bike's climbing prowess, but do dampen maneuverability. Despite the claimed 66.7-degree head angle, more than one rider noticed that the front end felt a bit steeper than other bikes in the all-mountain category. This isn't a bad thing–it helps the bike's climbing prowess–but the tradeoff is in high-speed stability. Another strong suit: It's easy to find the Mission 2 for significantly less than the listed price, making it attainable to more riders. – Ryan Palmer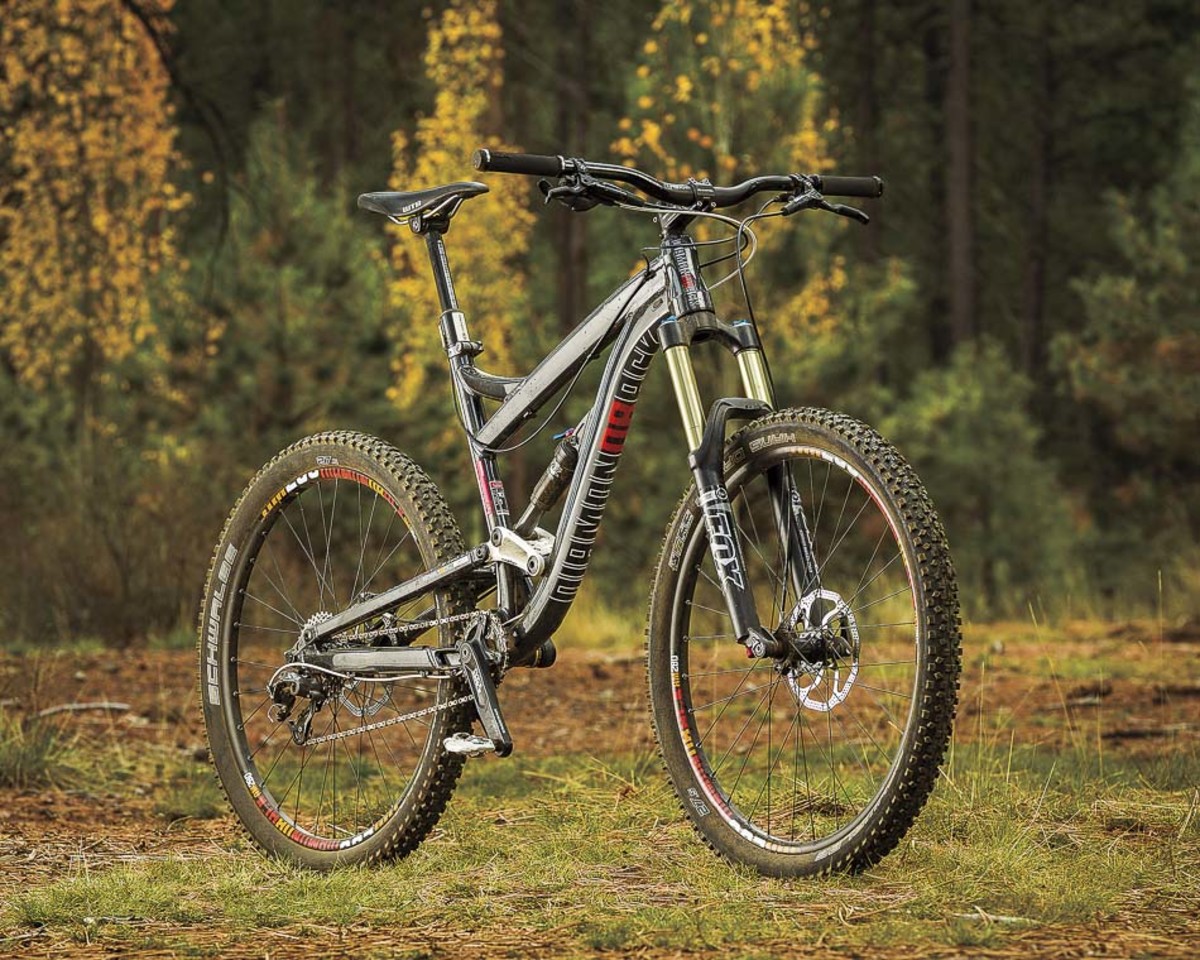 Q & A with Jon Kennedy, former marketing manager – Diamondback
We had questions about the new bikes before we even got our test rigs, so we sent out a few queries—the kind of things we thought you might be asking yourself when you're looking at this bike. Then we sent out another round of asks if any major questions or issues came up during testing. Here's the feedback we received from Diamondback's former marketing manager, Jon Kennedy.
Consider this a bonus feature—just a little something extra to chew on if you're still hungry for information after you've watched our video reviews and flipped through the Bible of Bike Tests.
—Vernon Felton, Bible of Bike Tests Moderator
VERNON FELTON: When you guys set out to re-design the KnuckleBox, what were your key performance goals? What, in other words, did you feel could be improved?
JON KENNEDY: When redesigning the Mission, we had these main goals:
1. Move to 27.5-inch wheels to enhance the speed and capability of the bike
2. Increase travel from 150 to 160 millimeters in the rear
3. Increase torsional stiffness in the rear end
4. Maintain a low standover and lower the center of gravity
VF: How does the new design accomplish those goals?
JK: First, pulling the rear shock out of the original KnuckleBox position within the frame and rotating it forward in the frame allowed the needed space for a longer-stroke rear shock, which enabled us to reach our travel goal of 160 millimeters with ease. We maintained our signature KnuckleBox ride and feel without sacrifice. Then, by moving the rear shock away from the seat tube we were able to manipulate the seat tube shape to gain more tire clearance. This migration of the rear shock also allowed us more space to make the seatstay bridge more robust. The change in the seatstay brace made a huge difference in the overall performance of the frame and its ability to track in corners and handle better in technical or rough terrain. Fortunately, standover height did not measurably change with the new design as we increased the travel to 160 millimeters and the wheel size to 27.5-inches.
VF: The chainstays on the Mission are not grossly long for a bike with this much travel, but they are longer than about half of the bikes in this niche. What was the thinking here? Was it a simple matter of providing enough room for big tires and the suspension linkage or was Diamondback looking to impart a certain ride quality by going a bit longer?
JK: It was a combination of all those things. The linkage design does limit us a bit on overall chainstay length. However, rider feedback from our first testing samples were very favorable regarding the "Ride of the bike" with the chainstay length we currently have. I really do believe there is too much focus on "short" chainstay length versus ride performance. Sure, it's easier to say that shorter is better for the status quo, common reasons. But really, for a bike like this, the slightly longer chainstay offers great stability through the toughest terrain and feels way better carving big berms/turns. I would also argue that the balance of the frame front to rear is improved as well with the slightly longer stay.
VF: The new Mission frame is lighter than its predecessor, right? How much weight did you cut and how did you achieve that?
JK: In this case, we worked hard to fit in the larger wheels and not increase the weight. To date we have not seen a significant loss in weight for this frame as compared to the previous Mission. However, the performance increase is very measurable.
VF: What are the benefits of the new shock-mount location and shock orientation?
JK: More travel, increased stiffness, bigger wheels, faster without sacrificing suspension performance, stand over and center of gravity.
VF: You went with the 1X 10-speed option (the 30-tooth giving you almost the same basic low gear ratio as a XX1 32-tooth ring set up). I imagine you went this route to keep the price at an affordable level (as opposed to going X1 or X01 and really having to upcharge for that cassette). Were you happy with the gear range and ratio?
JK: Very! For many years before "official" "1X systems" many people in the NW have lived in the 32-tooth ring with a 10-speed cassette. We went with the 30-tooth ring to offer the lower range opportunity.
VF: Who do you see as the ideal rider for the Mission?
JK: The mission is your quintessential all mountain steed. And therefore, we see the full gamut mix of AM riders, park riders and even enduro enthusiasts. It's a very capable bike in a variety of applications.
VF: What kind of trail do you feel the bike is best suited to? I know, lame question, but then again, I think you can parse the AM category pretty finely these days based on a bike's strengths.
JK: I'd say it does great in steep, technical terrain as well smooth, flowy trails. The bike climbs great, so it lends itself well to a wide variety of all-mountain experiences.
See what we thought of these other all-mountain rippers:
Durango Moonshine
Specialized Enduro Elite 650b & 29