Photos by JP Van Swae
We had a nice rim-width progression in this test, ranging from 23 millimeters to 35 millimeters. We used the same tire for each test with the idea that we could focus primarily on rim width, and tested each wheelset back-to-back on the same bike. Note that "wide" in this context refers to rims intended for use with "normal size" mountain bike tires–not fatbike or plus-size tires.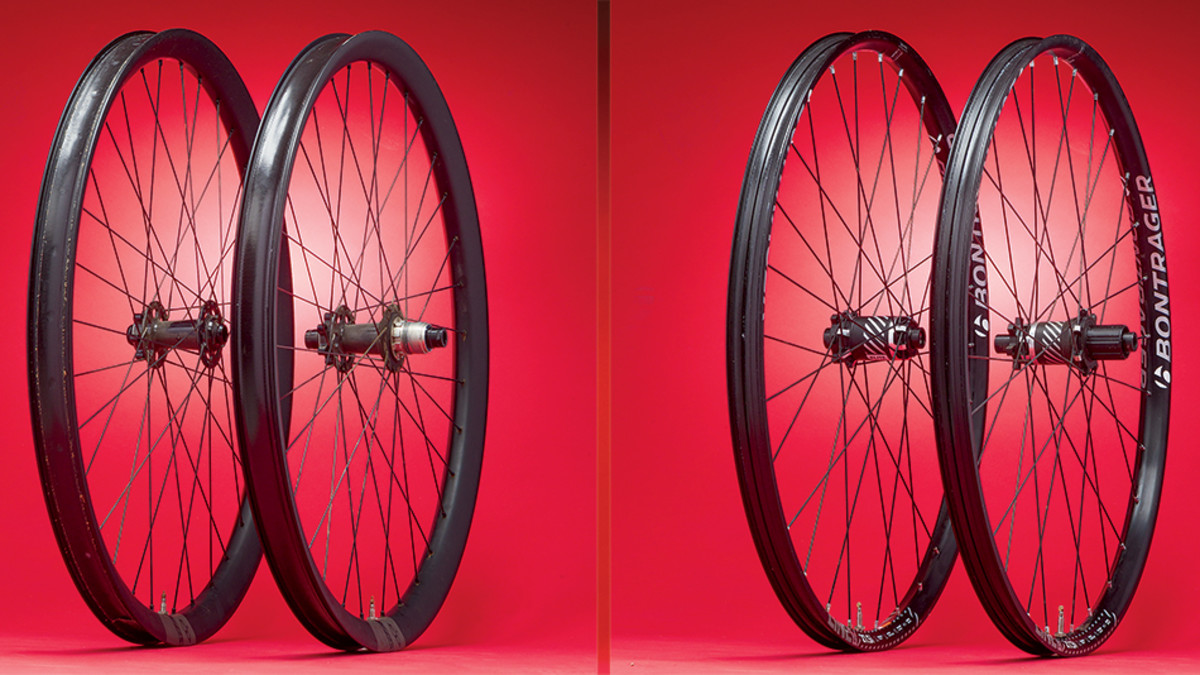 IBIS 741 | $1,450
Coming in at a tire-stretching 35 millimeters wide, the Ibis 741s look like a cross between a motocross wheel and a bicycle wheel, and that's a good thing.
Ibis originally chose to use a high-end Taiwanese machine shop to manufacture its own 32-hole hubs, which rode on burly Enduro bearings. However, the rear hub has now been replaced by a DT Swiss 350 with a 54-tooth star ratchet. You can't blame Ibis for changing to the industry standard for durability, and the price reflects this upgrade having gone from $1,300 to $1,450.
Besides being so damn fat, the carbon rims incorporate a hook-less bead design, which simplifies the layup process and beefs up the sidewall, creating a stronger rim. They were incredibly easy to bead up tubeless and I bet it could've been done with a floor pump. Ibis also will be making the rims available separately.
I kept expecting some sort of a drawback while riding these super-wide rims: a bad habit, weird handling or something, but that just wasn't the case. All the excellent trail manners just seemed amplified. I suppose, though, if you were digging for a rub, it would be that you need to choose tires with a rounder profile, thus limiting your selection. My favorite attribute of wider rims is how they absolutely maul corners. It's got to be a combination of the reduction in sidewall deformation, making the initial turn-in insanely responsive and adding traction. Whatever it is, I'm sold. I've gone fat and I never want to go back. – Simon Stewart
BONTRAGER LINE ELITE TLR DISC 27.5 | $1,000
Things are heating up nicely in the wheel world with the current wide-rim trend. Bontrager has jumped in with its 28-millimeter offering, and I say kudos for not trying to out-fat everyone. An internal rim width of 28 millimeters is plenty chunky but not fat, although just last year it would've been considered fat.
In addition to the wide rims, there are a lot of things to like about these wheels. The TLR tubeless system is fantastic and comes in a close second to Mavic's UST for ease of setup. These wheels also had some of the smoothest hub bearings and one of the quickest freehub engagements in this test. The stacked spoke system positions opposing spokes on the same plane in order to produce a better spoke-bracing angle, equating into a stiffer wheel. The offset spoke holes, which reduce the amount of dish, also contribute to the stiffness. It all makes a difference, as they are good and stiff and accelerate well.
At 1,760 grams, they were nearly the heaviest wheelset of the test, but it wasn't noticeable. As it stands now, the Elites are only available in 27.5 inches and there is no carbon version yet.
There are definite advantages to the wider rims, and while these are not the widest, they were still able to reap the benefits of their fatter counterparts. I ran the same lower pressures without incident and climbing and cornering traction was superb. It's also conceivable that at 28 millimeters you don't have to be as picky finding tires with nice round profiles as you do with other wider rims. – S.S.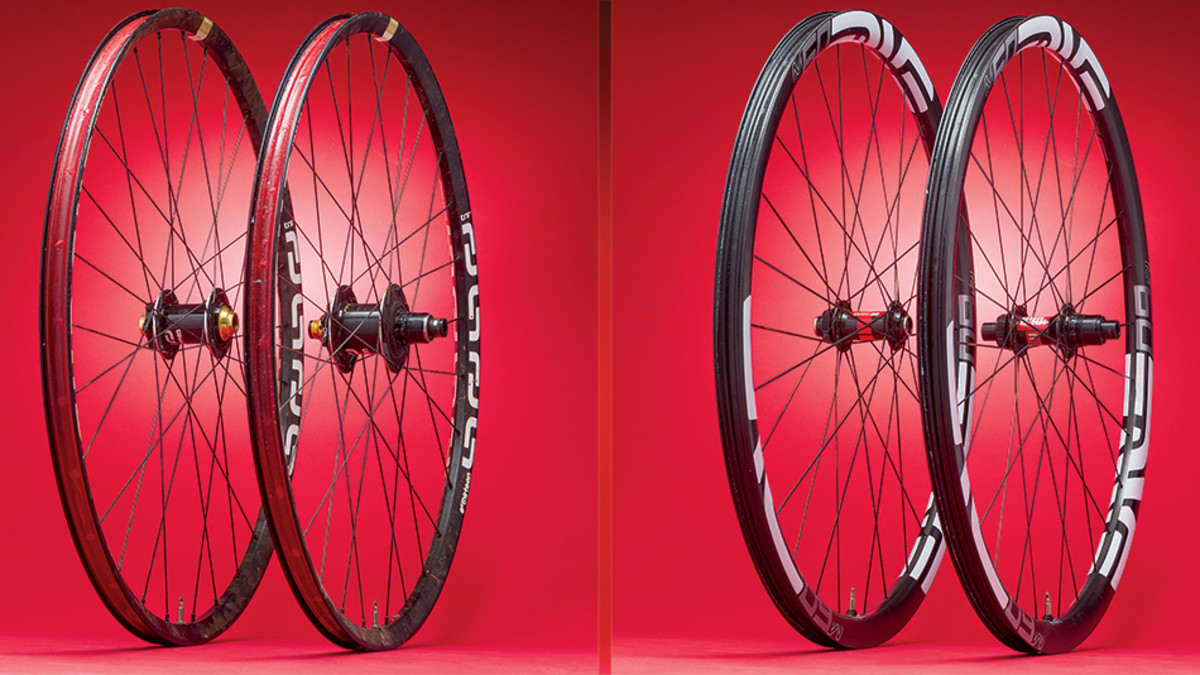 E.THIRTEEN TRS PLUS 29 | $700
The first thing most people notice about e.thirteen wheels is the oversized hubs. This isn't just to turn heads; it's an integral part of the wheel system, and a modern take on a decades-old concept. High-flange hubs build wheels with shorter spokes and a wider bracing angle, resulting in greater lateral stiffness and less spoke deformation. This isn't something that is immediately detectable on the trail because the TRS Plus wheels aren't overly stiff. The ride quality was so agreeable that it was actually easy to forget about them altogether. They don't seem like anything special until you need to rely on them. Even the fiercest corners and flubbed moto whips couldn't make the wheels flinch. They'd shrug off drops, flat landings and rock gardens with ease, while politely asking for more. We tested the 29-inch version, which came in at 1,940 grams with tape and valves. It's not the lightest wheelset that can be had for under a grand, but certainly isn't too hefty. Acceleration is snappy because most of the weight is kept close to the hub. A fairly lightweight rim and relatively short, high-tension spokes build a wheel that feels sturdy, yet light-footed.
Angular contact bearings are nice because you can adjust the preload on them, just like a headset. They also tend to be more reliable than a standard bearing and much more appropriate for use in hubs. The rear hub uses a 3-pawl ratchet system offering quick 6-degree engagement. With compatibility for 15- and 20-millimeter front and 135 or 142 rear axles, including standard and SRAM XD driver bodies, the TRS wheels ship ready to fit a wide variety of bikes.
– Ryan Palmer
ENVE M60 FORTY 29 | $2,720
Nothing says 'My other bike is a Porsche' like a set of Enve hoops. It's amazing how popular these carbon rims have become in such a short timeframe, especially considering the $1,000 per rim sticker price. The M-series rims, which debuted last spring, feature four rims catering to different riding styles. The numbers represent the percentage of descending versus climbing, so the 23-mil internal width M60 Forty is roughly aimed at aggressive trail riding.
Each one of the 29-inch hoops weighs merely 400 grams, but it's not really about that. You can buy an aluminum rim that's just 50 grams more, for about $900 less–if it were about the weight nobody would envy anything. So what's all the hoop-la about? These things are distinctly and unapologetically stiff, and they will completely transform the feel of your bike. If stiff is what you're after, these are the wheels to have. The remarkable acceleration is instantly noticeable, allowing punchy, technical climbs to be conquered painlessly. Riding these rims, I felt as if I were borrowing Tyler Hamilton's doped-up legs. Descending revealed equally transformative traits. At first, the unforgiving hoops felt like I had an inch less travel and 10 more psi in the tires. The M60s prefer to ricochet and deflect off obstacles rather than flowing through them, which is tricky when getting to know them. That's not to say that they aren't extremely capable–they are–but there's no doubt that the increased stiffness adds a level of harshness.
Our test wheels were built with DT Swiss 240 hubs and weighed 1,580 grams with tape and valves. Enve also sells rims built with DT 180 or Chris King hubs, or all by their sexy selves. – R.P.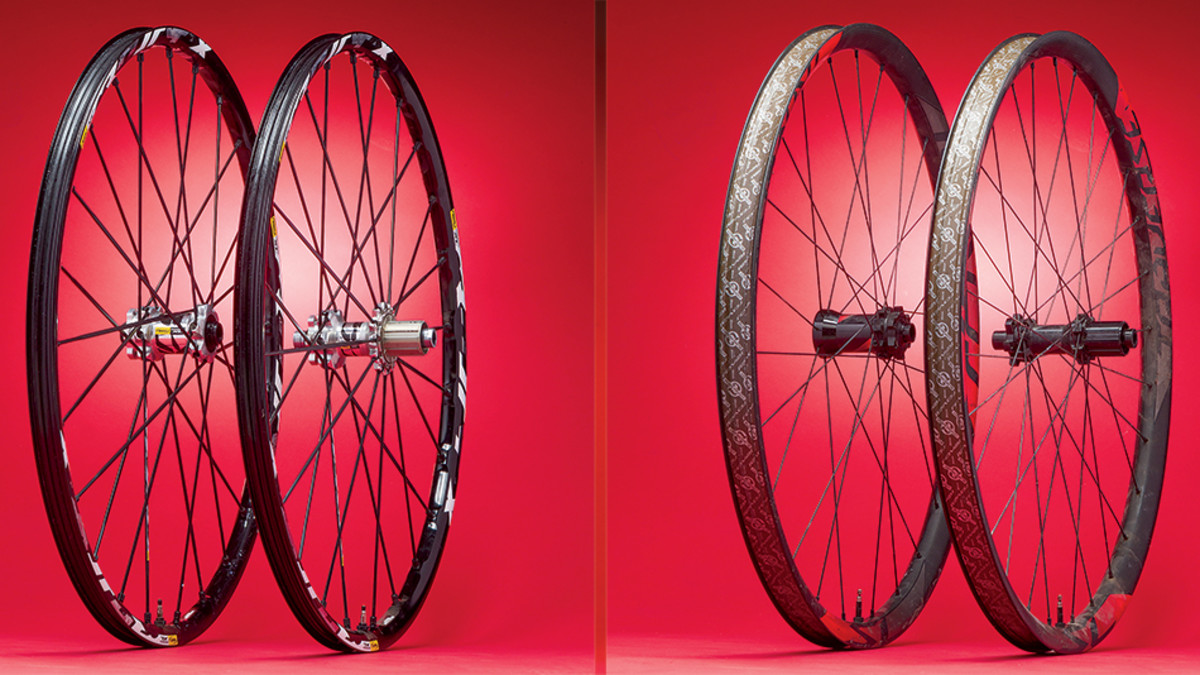 MAVIC CROSSMAX XL WTS | $1,000
There's something to be said for a design that's been around for a while and has benefited from many years of evolution and refinement. The new Crossmax XLs come to the table with all of Mavic's time-tested and proven technology. I remember how I lusted after the first iteration of the Crossmax. When I finally got a set, I ran them for years and have subsequently beat the hell out of many sets since then. Not once was I left stranded, and I was constantly amazed at the abuse they could handle. After riding this latest version, I've no reason to doubt that this reliability and durability record will be remain intact.
Within the burgeoning Crossmax line, there is also the Enduro, which has a somewhat controversial 21-millimeter front and 19-millimeter rear rim width. Mavic touts a reduction in rolling resistance for that skinnier rear. It has abandoned that concept on the XLs, which feature a 23-millimeter rim width on the front and rear. It's tricky not to compare the two, as they are both aimed squarely at the enduro market, although they're branding the XLs as an adventure wheelset with enduro capabilities. Hell, at 1,710 grams apiece, they even weigh the same.
Honestly, after riding all the wider rims in this test, I wish these were 5 millimeters wider. But then again, I love how easy these are to set-up tubeless. I love how easy they are to maintain. I love how stiff they are. I love how they ride and I love that they are not yellow. In fact, they are pretty damn good-looking. – S.S.
ROVAL TRAVERSE SL FATTIE 650B | $1,500
The Roval Traverse SL Fattie is Specialized's 30-millimeter-wide carbon wheelset, new for 2014. All Traverse SL models now feature DT Swiss 350 rear hub internals with a 54-tooth star ratchet and a super-quick 6 degrees of engagement. Specialized is continuing to use the zero-bead hook design seen on other Roval wheels, which eliminates a known weak spot on the rim, and thus far has proven itself to be legit.
The wheels came with the molded plastic rim strip installed and were easy to set up tubeless. However, Roval has another trick up its sleeve with its ingenious tubeless plug design–simple little plugs with an O-ring that snap into the spoke holes. That's it. They're lighter than a rim strip and also work with tubes. Brilliant.
With each increase in rim width throughout this test, less tire pressure was needed and the extra traction was tangible. At 30 millimeters and 1,530 grams the Fatties struck a fine balance of width and weight. They were the lightest and consequently the liveliest wheels in the test. They felt super snappy and pulled out of corners beautifully. I'm going to go ahead and say it: Wide rims belong in the same category of influence as dropper posts. Roast me if you must, but do yourself a favor and go ride wide first. – S.S.