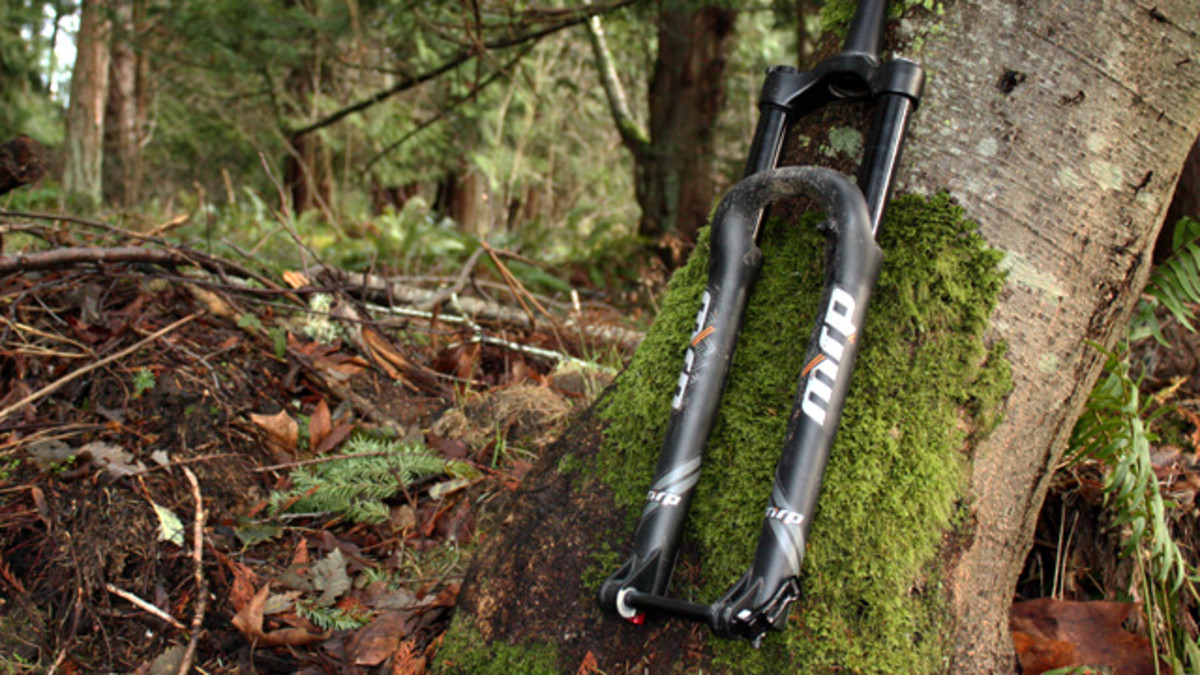 The Stage is MRP's all-mountain/enduro fork. Of course, calling something "enduro" these days can mean just about any damn thing–it's a sprawling sorta pseudo category in its own right with people running everything from slack, shorter-travel 29ers to 650b-shod mini-DH machines. Given just how varied the niche is, it's not so suprising that MRP's enduro fork comes in a wide range of travel and wheel size options.
MRP offers a 26er/650b-compatible version with a travel range of 140 to 170 millimeters. I, however, opted for the 29er version of the fork, which is available in 120 to 150-millimeter travel lengths (in 10 millimeter increments), and is also adjustable internally.
The Stage bobs about on MRP's EQUALair spring system. There are the usual damper knobs to fiddle with, including a rebound damper and a low-speed compression damper. There is, however, also a separate Ramp Control knob–conveniently located atop the left fork leg, which lets you tweak the air spring's progressivity.
Happily, all those knobs actually do something when you futz with them. I'm of the crusty school of thought that feels that there's a pretty narrow range of rebound damping that actually makes sense 99 percent of the time and, yup, you can find that happy place on the Stage, though 18 clicks might be a bit excessive. Likewise, the compression adjuster (easily reached atop the right fork leg) lets you reduce bob on climbs and yet still allow for a reasonably supple feel off the top. That Ramp Control knob though…this is I really dig. The adjuster allows you to really change the fork's feel–from fairly linear to very "rampy"–on big hits.
DETAILS: MRP STAGE
Travel options (26/27.5): 140, 150, 160, or 170mm
Travel options (29): 120, 130, 140, or 150mm
Claimed weight: 4.4 pounds for 29-inch version, 4.3 for 26/27.5
Externally adjustable compression, rebound and ramp
Internally adjustable travel
Steerer: Tapered (1.5 to 1.125″)
Offset: 43mm (26/27.5″), 51mm (29″)
Brake Mount: 180mm Post Mount
Wheel sizes: 26", 27.5", 29"
Axle: QTAPER 15mm
MSRP: $989
mrpbike.com
The Stage chassis struck me as acceptably stout, but not as burly feeling as a Pike or, more to the point, a Fox 36–forks that I've been swapping back to back on the same frame. The Stage's 34-millimeter stanchions and sleek forged crown are up to the task in the middle of the travel range (up to 130 or 140 millimeters of travel), but if I were looking for something to spearhead a bike that was going to spend most of its time descending, I'd like a burlier chassis. I'm not saying this thing's a noodle, because it isn't, but at 160 or 170 millimeters of travel? Yeah, bring on the burl. Definitely.
Complaints? I don't have many. I'm running the 2015 version, which is a bit noisy as you cycle through its travel. MRP says their 2016 iteration sports a new rebound architecture that quiets things up a bit. In truth, the noise bugged me for the first couple rides and then I stopped noticing it unless the guys I was riding with asked me what was up with my fork. In other words, it wasn't quiet, but I couldn't actually feel it through the bars. Not a deal breaker. I rarely use travel-adjusters on forks, so it didn't bother me that the Stage lacks an easily accessed knob to get that particular job done, but if you do prefer to drop travel mid ride, you'll be bummed to find that adjusting travel on the stage requires tools and some quality time in your garage.
On the whole, I'm fairly impressed with the Stage and I guess I should be: at this price, it's playing in the same ballpark as the best forks on the market–it outta be good, and it is. The compression stroke is very smooth and you can easily tune the thing till the cows come home. I'd like to see MRP offer a similar fork with a bigger crown and stanchions at the same weight. If the Colorado company can pull that off, you'll be seeing more of these things on the trail.
Related: