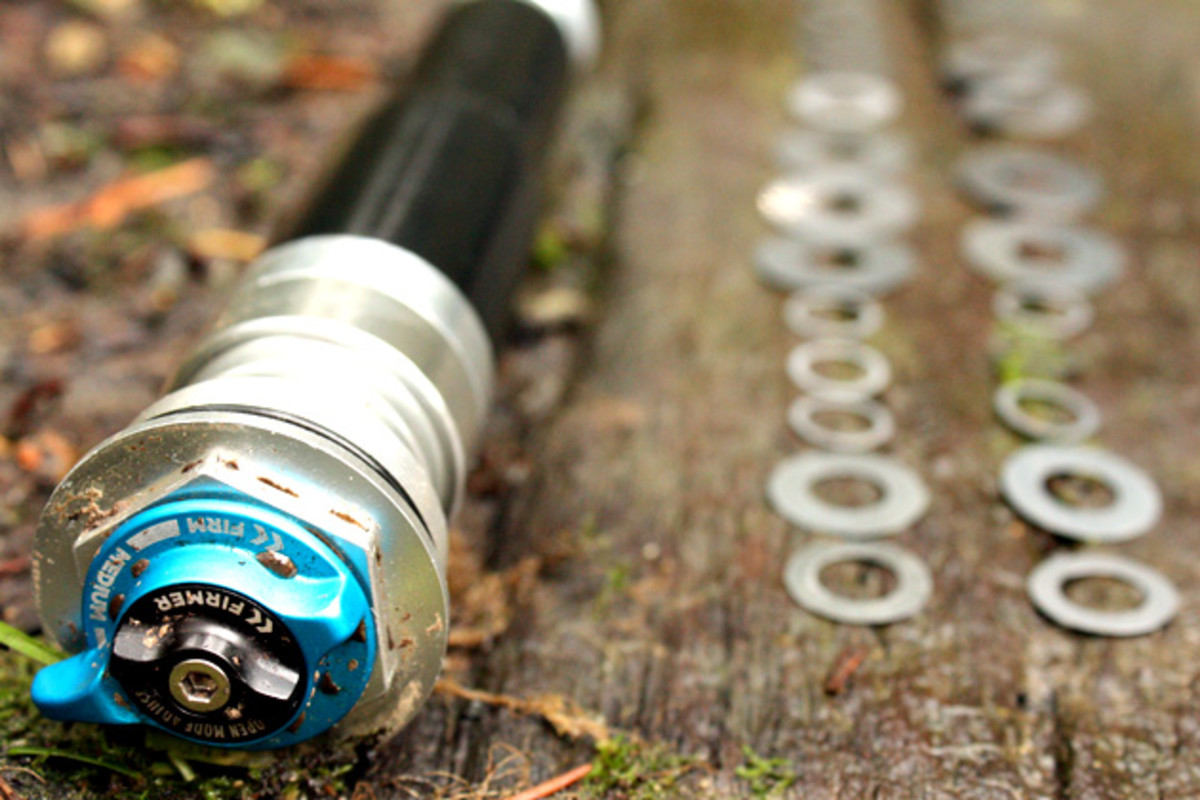 I received a cryptic email last week from Mark Jordan and Louis Angeley, from Fox–the marketing guy and suspension technician had a new FIT4 damper tune, they'd be cruising through the Pacific Northwest and wanted to drop on by.
What was this new tune all about? How did it change fork performance? They weren't saying. It was all very cloak and dagger. This was to be a blind taste test–bolt a Fox 36 onto my Evil Following give it a spin on Galbraith Mountain. Come back to the parking lot. Insert a damper cartridge with a different tune, head back onto the test loop and see what happens.
Was I game? You're damn skippy, I was.
Lap One
The lap began with a 25-minute climb up singletrack–not a monster of technicality, but a stretch of mud littered with a goodly amount of roots, rocks and a few ledges. We'd then pedal up a bit of fireroad before hitting the descents–some of it steep and rowdy, some of it pedaly stuff, a few berms, some akward corners…good all mountain-style fare.
On that first lap, the Fox 36 behaved itself nobly. I'm a fan of leaving forks wide open whenever possible, at least on singletrack climbs because opting to put a fork in "Trail" model often results in my front wheel ping-ponging about on techy bits. That's not an issue with the FIT4 damper, which brings a raft of improvements to Fox's offerings, not the least of which is an Open setting that offers 22 clicks of low-speed compression damping adjustments. Sure, you can switch to the fork's "Medium" or "Firm" modes, but eight to 10 clicks in the Open mode yields a fork that remains sensitive without bobbing about like a hobby horse. Good stuff.
So, back to the ride: the Fox 36 felt good on the climb–really good, in fact. When it came to the descent, I was puzzled by one thing–how were the Fox guys going to improve on this? Seriously. Fox has taken its lumps in recent years for the performance of their lower-end, Evolution-series forks, which had a tendency to dive through their travel while in "Descend" mode, but the FIT4-equipped forks that've been roaming the trails since last spring are a much different (and better) breed.
I'd installed the test 36 fork the night before and had noticed that the fork bottomed out too easily, even when sag was set at 25 percent. The addition of a volume spacer, however, cured that completely and the fork was both ridiculously smooth and perfectly controlled, with a nice bit of ramping at the end. Want to make it more progressive? Just add another spacer. I'm not Mr. Aggro Jumper, however, and two spacers were all I needed.
But, yeah, I was a bit flummoxed by the prospect of changing the 36–the fork felt ridiculous good right out of the box.
Lap Two
Angeley slaps in the new FIT4 damper and we head out for round two. Within the first five minutes of singletrack climbing, it's clear that something new lurks inside the Fox 36. The fork seems to ride a bit higher in its travel (despite sagging in at the same point) and yet feels more controlled. Traction is better. Considerably better, in fact. On the descent, I feel more in control as well, but I have to admit that could also have been just the benefit of warming up and getting into a groove. We pedal off the mountain.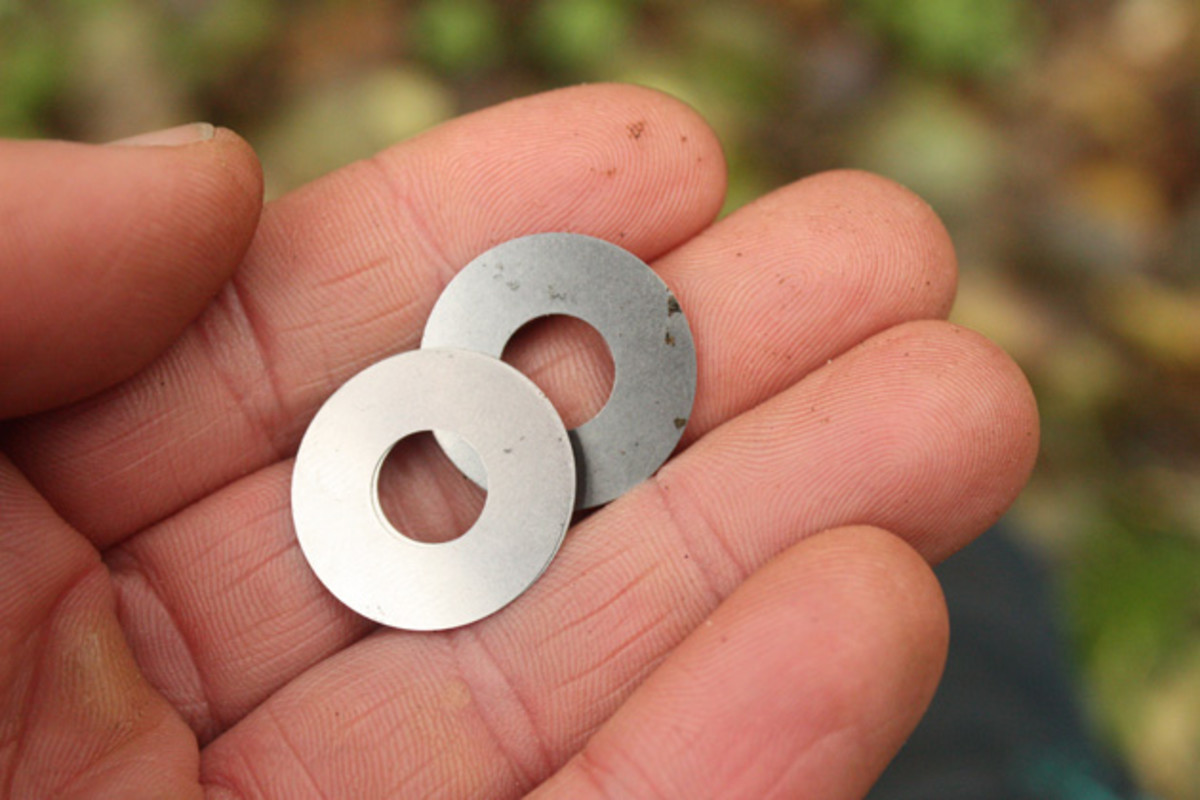 It's Called E16
Back at the car, Jordan and Angeley finally divulge what was going on. They call the new FIT4 tune "E16" and it all boils down to shims.
Really. It's just shims. No unicorn blood, gypsy tears or eye of Manticore at all. Sorry if that sounds anti-climatic, but as with all things hydraulic, everything boils down to precisely controlling the flow of oil and that's where the new shim stack comes into play.
"Over the last couple of model years," explains Angeley, "we made massive changes, which is why, really, what we have here is simply a fine tuning of that FIT4 technology. We're just dialing it in."
Angeley hands me a stack of a couple washers and instructs me to try and bend them. They don't give. They are stout little buggers. Then he hands me three, paper-thin washers backed by a thicker fourth shim. Pushing at the center of the stack, they feel as firm as the previous set of shims. Push near the edges and it's a whole different story. They bend with ease. And that is the key to the story.
"It was a question," says Jordan, "of how we could get a little more sensitivity off the top of the stroke without sacrificing the support. "
"Feeling those new shims in your hand is the best way to get a sense of what's going on here," explains Angeley. "The center portion is still stiff and strong, but the edges want to curve out and flex under pressure, which is what allows for oil flow and that supple feeling when your tire is hitting the small rocks and roots. The oil hits the shim, it can't go through the center, so it flows to the edge which bends so the oil can pass through, which gives the fork that great sense of support with just the right amount of suppleness."
That sensation of the fork riding high and yet giving better traction and control in the more challenging sections? That's what's was at play here; the new tune offers improved oil flow on those challenging sections of the ascent.
I could feel that difference on the climb. It was harder for me to parse the differences between the two tuning options on the descents. I tell Jordan and Angeley as much.
"If you ride this new tune and then go back to the original tune," says Angeley, "you'll notice the new tune has a bit less feedback and increased traction. In a place that has a lot of hard edges and big stones, like Moab, your hands are going to be happier when you finish the ride on the E16 tune. With the stock tune, you'd be experiencing a little more feedback the whole time."
Who'd be interested in the new tune?
Early on, Fox's suspension engineers were considering E16 the ideal tune for lighter riders who, you can imagine, might get rattled around on forks a good bit and could benefit from a fork that transitions into its travel more easily. Field testing, however, suggests that a lot more riders would benefit from E16.
"After all the comments and feedback we've been seeing on these blind ride-test sessions," says Jordan, "I think E16 makes sense for a much broader range of riders. Everyone really. You still have all the support, but it's much more sensitive off the top."
So when does E16 hit the streets?
E16 is a model-year 2017 product, which in our corner of the universe amounts to something like "right after Sea Otter." In other words, the E16 tuning option will be available sometime around May of 2016 when the "2017" Fox 32, 34 and 36 forks roll out. Since this is a simple tweak to the FIT4 damper, anyone who currently owns a FIT4-equipped Fox 32, 34 or 36 fork can also send their fork to Fox for an upgrade once the 2017 product begins rolling out into shops.
Cost to upgrade your fork to the new tune?
"For just the damper re-valve, it'll be $75," says Jordan. "Our Service Department will offer both the 2016 tune or this 2017 E16 tune, it's just a matter of what the rider wants. If you have been riding your model-year 2016 fork this past season, you're probably going to need a full fork service by the time E16 becomes available–we definitely recommend it. With a service, the damper is already being rebuilt, so you get it re-valved at the cost of parts along with the full service. The estimated service price of a fork is $175 (for more info, check this out].
"In the past," says Jordan, "we sort of tip-toed around stuff like new tunes, but with such a drastic change in performance without any penalties at all? I can see us pushing this pretty hard. We're always moving forward. We've got more than a year now with the FIT4 damper and this is essentially the next progression of it. The way bikes evolve also has an impact on how we need to tune our forks. Frames get stiffer, geometries change, wheels get stiffer, tires get bigger–it all changes what you feel in your fork and we're constantly evolving our tunes to keep pace with that. It's a small change–in terms of what's being added and what's actually happening inside the fork–but it makes a big difference out on the trail."
Related:
First Ride: Fox 34 Float and DPS Shock