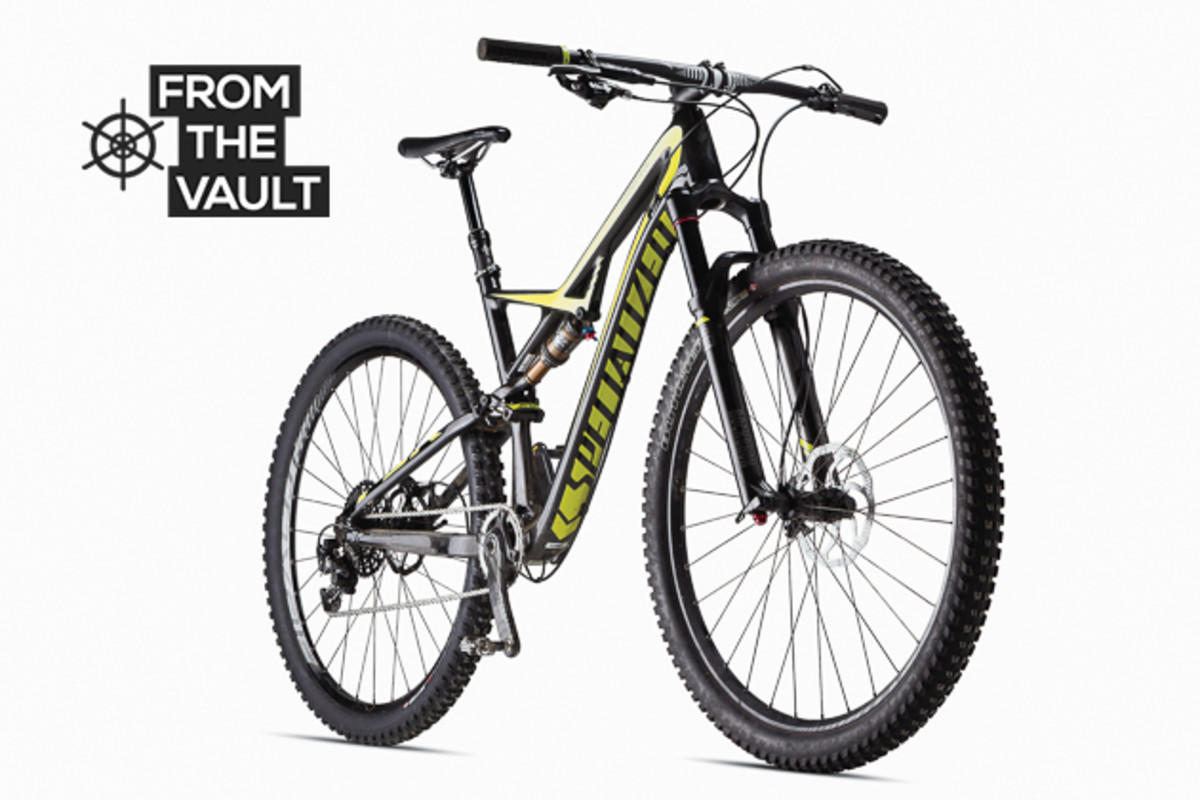 $6,000
SPECIALIZED.COM
TESTER 1: Ryan Palmer
TEST LOCATIONS: France, Arizona & Southern California
It's not every day we find a bike that is equally at home stomping through rock gardens and charging fire road climbs, but this bike does just that. The Camber EVO exhibits the playfulness of a smaller-wheeled bike, yet offers the traction and rollover that comes with wagon wheels. On top of that, it pedals more efficiently than any other FSR I've ridden to date.
The Camber is a category splitter between Specialized's race-bred Epic and infamous Stumpjumper. The regular Camber sports 110 millimeters of travel and feels a lot like an Epic without a Brain shock. It's a great choice for XC or marathon riders who don't love the Brain. On the flipside, the 120-millimeter Camber EVO feels like a whippy little Stumpjumper.
Most suspension designs are heavily engineered around pedaling efficiency. That is, they use, in varying degrees, the tension of the chain to keep the shock from being too active while pedaling, even when it is fully open. FSR, on the other hand, is unaffected by chain forces, allowing the suspension to be supple and active, and relying on the shock, not kinematics, to provide support. In turn, most Specialized bikes bob like a buoy when climbing with the shock open. Not the case with the Camber EVO. The thing pedals really well, even while humping up long, technical climbs. It feels distinctly un-FSR, in a good way.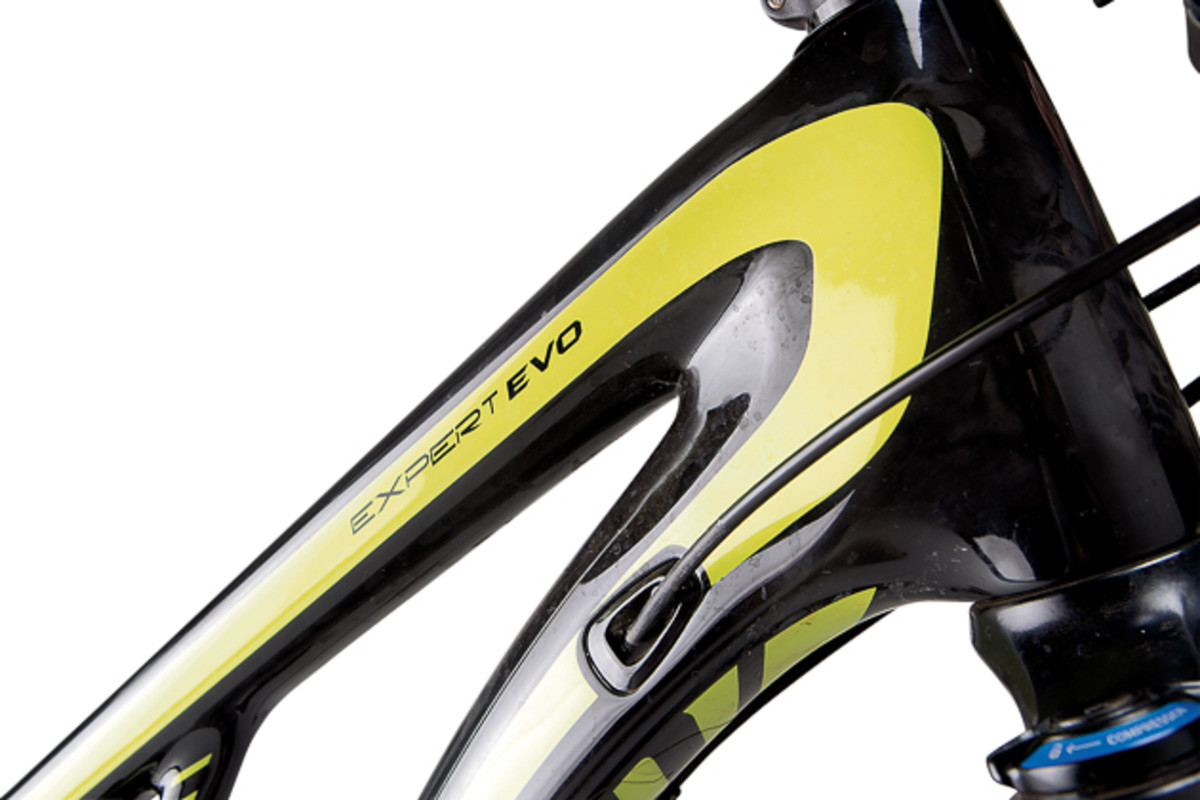 Handling is brought to you, in part, by a low 13-inch bottom bracket, 68.8-degree head angle and 17.75-inch stays. Despite the relatively short travel, the big wheels and confidence-inspiring geometry empowered me to the same extent that longer-travel bikes do. The difference is in the feel. The Camber EVO cannot be described as plush, but instead lively and agile, snapping out of corners and popping lips. It doesn't soak the trail up like a sponge, but rather lets you feel the trail; connect with it. And connect it does with those big wheels wrapped in Specialized Butcher and Purgatory 2.3-inch rubber, providing gobs of grip.
Arguably, the most genius thing about this build is the custom-lowered RockShox Pike that, thanks to the Charger damper, sits nice and high it its travel– a great trait when dealing with just 120 millimeters. The cockpit setup is completely reasonable with a 90-millimeter stem and a 750-millimeter-wide, 10-millimeter-rise bar– both Specialized branded. SRAM X01 makes the wheels go around while Formula T1 S brakes attempt to slow them down. You might notice that the bike in the photograph does not have Formula brakes installed. We gave the Formulas a fair shake, but after a healthy bed-in time at the Bible of Bike Tests in Sedona, Arizona, they were still scary weak. I swapped the pads because I figured the originals must have gotten contaminated, but it didn't help, so off they came.
The brand's three-position, internally routed Command Post IR dropper post is much better than previous generations. Improvements include a lighter, yet more secure head design, lower friction and lower air pressure in the main spring, reducing the amount of force it takes to move the dropper through its stroke. –Ryan Palmer
TESTER 2: Brice Minnigh
TEST LOCATIONS: Arizona & Southern California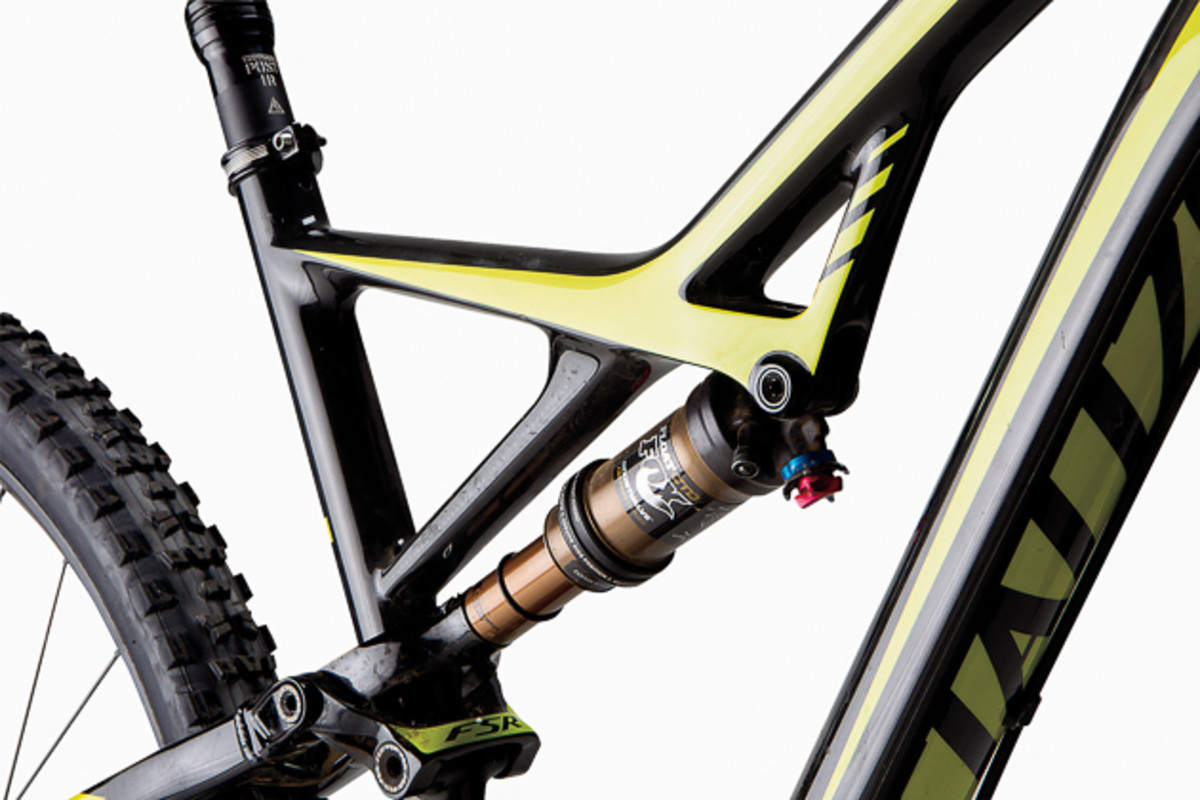 I have a confession to make: A selfish ulterior motive was behind our decision to publish this dual-tester review on the Specialized Camber Expert Carbon EVO 29, despite the fact that we've already given this bike top billing in our 2014 Bible of Bike Tests. To be perfectly honest, gear editor Ryan Palmer and I loved the Camber so much we simply wanted to ride it more–and compare it with our respective Stumpjumper and Enduro 'Dream Builds' in back-to-back shred sessions.
But our motives were not entirely selfish. We also had you, our reader, in mind: The Camber is a bike you should know about. It could easily be the flagship bike of some manufacturers' model line-ups, but in Specialized's stacked all-star cast the capable Camber has had to remain content with its steady supporting role. While the Enduro and Stumpy rightly continue to rack up the accolades, the Camber Expert Carbon EVO 29 is happy with its day job of slaying technical singletrack with the precision of Tom Cruise's top plastic surgeon.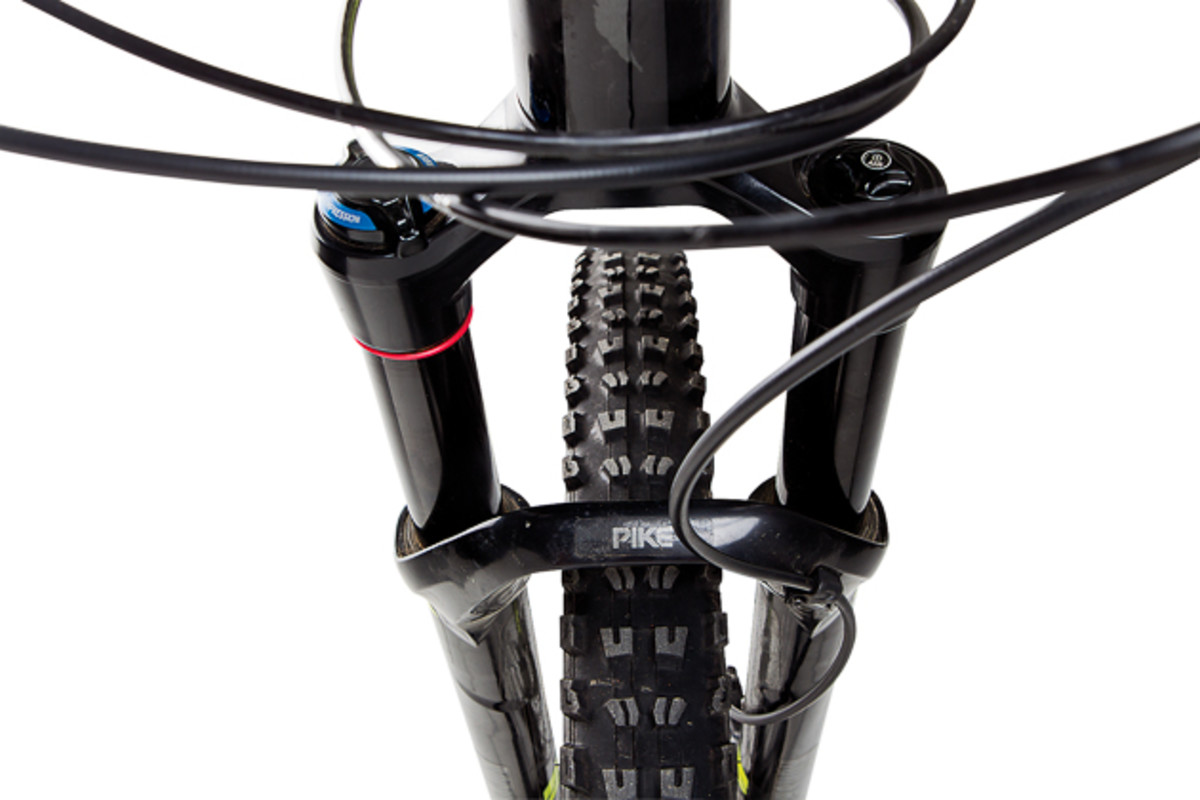 Though it feels like blasphemy to say this, there are many rides on which I would reach for the Camber 29 before my Enduro 29–especially if they involve some long climbs. On all but the most technical climbs, the Camber pedals better than its beefier FSR brethren, which are known for pedal bob while climbing with the shock wide open. This is not the case with the Camber, which has less travel and employs a lower leverage ratio, allowing for more efficient pedaling than other FSR models.
On long, grind-it-out climbs, the stiff and lightweight Camber is ruthlessly efficient. I often felt like it was begging me to ride harder and faster, to stand out of the saddle and hammer up steep stretches with lung-busting abandon. However, in the chunkiest, most thankless technical climbs, I ultimately found that the Camber has its limitations, especially when compared to my Enduro 29, which seems to come to life when climbing through meaty sections with multiple step-ups.
While the Camber is not as plush on burly descents as the longer-travel Enduro or Stumpy, it certainly holds its own. This could partially be attributed to the fact that our test bike came cleverly equipped with a RockShox Pike fork with its travel reduced to 120 millimeters. The Pike's stiff, 35-millimeter stanchions and buttery bump absorption, combined with the rolling momentum of the Camber's 29-inch wheels, made me feel ultra-confident when charging down full-commitment lines with back-to-back drops.
Adding to the bike's appeal is the no-nonsense array of parts, which includes a SRAM X01 drivetrain, Roval Traverse wheels, Specialized tires and 750-millimeter-wide Specialized XC Mini Riser bars.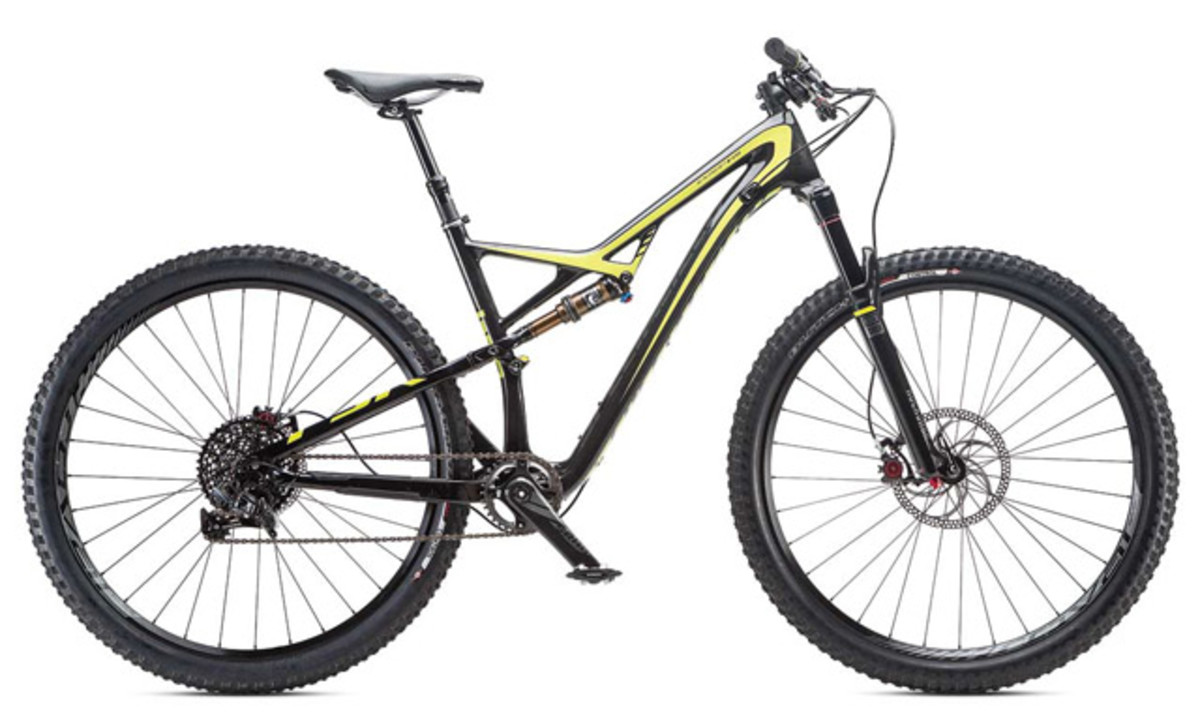 The Camber's amazing all-around performance made me start to think of it in technical stage-race terms. I began to imagine how well it could fare in technically demanding events such as the BC Bike Race, which calls for a bike that is light enough to pedal all day but can also handle an endless onslaught of rocky and rooty chunder. Though for the time being I have sworn off racing in all forms, riding the Camber has actually made me reconsider this decision. I might have to ask Specialized if they'll let me hold onto the Camber all summer. –Brice Minnigh
SPECIALIZED'S TWO CENTS
The Camber may seem like it is splitting hairs between the Epic and the Stumpjumper FSR on the surface. To explain where it came from, we felt that as the Stumpjumper FSR increased in travel and capability over the years, it opened up a hole between itself and Epic. There was a need for a more nimble trail bike that climbed similar to an XC race bike, yet had a bit slacker geometry and a bit more usable travel, and this is where Camber lives. These bikes can be thrown around a bit more than a longer travel trail bike, are very nimble for climbing, and just all around fun. While it's hard to write about how a Camber shines in a different way than a Stumpjumper FSR or Enduro, a ride on one will make it plainly clear.
–Joe Buckley, Performance Mountain Product Manager, Specialized Bicycles