Originally published May 2014 issue of Bike Magazine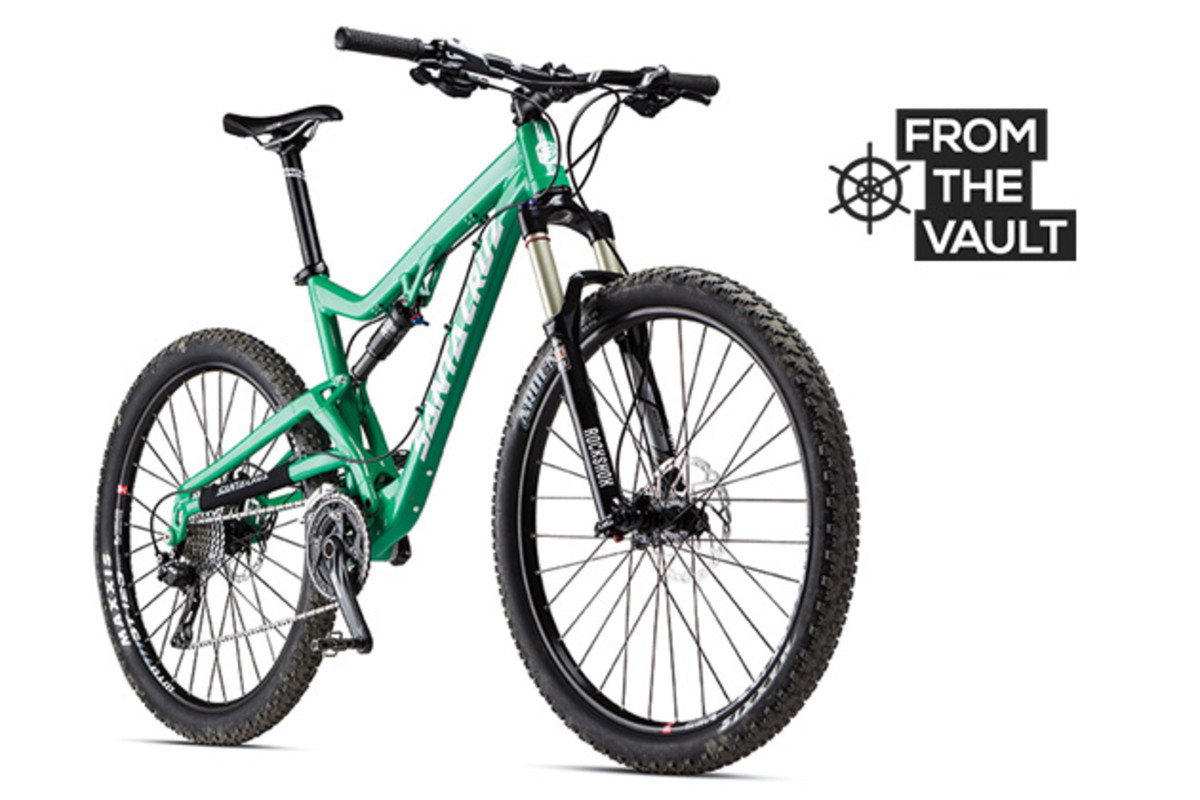 Santa Cruz Bantam  |  $2,900 ($1,300 frame only)  |  santacruzbicycles.com
Santa Cruz is famous for its Virtual Pivot Point bikes, but the company still offers several single-pivot models. Case in point-the Bantam. This 5-inch-travel, 650b trail bike takes the relatively slack (68-degree head angle/73-degree seat angle) geometry found on Santa Cruz's Bronson and pairs it with the single-pivot design that the company has fine-tuned for almost two decades.
Why single pivot? The simpler structure costs less to manufacture, which translates to a lower sticker price. The Bantam frame with Fox Float Evolution CTD shock sells for $1,300, or $650 less than what you'd pay for the aluminum Bronson frame. Single-pivot designs also tend to be remarkably trouble-free since there are fewer pivots to wear out and get sloppy.
But can this simple, single-pivot design still hold its own in today's world of sophisticated suspension systems? That depends on your priorities. During climbs that involved lots of closely spaced ledges, rocks and roots, I was definitely surprised by the amount of pedal kickback I experienced-the backward tugging sensation on the pedals was noticeable.
There's also more bob while pedaling than I'm used to. With the Fox Float switched into Trail mode, the Bantam actually climbs pretty well, but if pedaling efficiency is your top priority, you'd be better served with a VPP bike. But here's the deal, I still really like the Bantam because it's just plain fun to ride. It has a lively, nimble feel that had me boosting little airs, plowing the bike into rocky sections and grinning like an idiot. Honestly, I'm at a bit of a loss to explain which design traits lend the Bantam such a kick-ass disposition. Maybe it's the dialed geometry and the low 13.1-inch bottom bracket-I can't pinpoint it, but I sure had a lot of fun trying to figure it out.
The Bantam frame is equipped with 142×12 rear through-axle, ISCG-05 tabs for chainguide lovers and Santa Cruz's stellar locking-collet axle at the pivot. Santa Cruz offers two build kits-we opted for the higher-end version, which includes a smart mix of Shimano Deore brakes and cranks, SLX shifters and rear derailleur, a RockShox Sektor Gold fork and the excellent WTB ST i23 wheelset with SRAM hubs.
The Bantam offers a lot of bang for your buck. And it's definitely worth a spin. -Vernon Felton