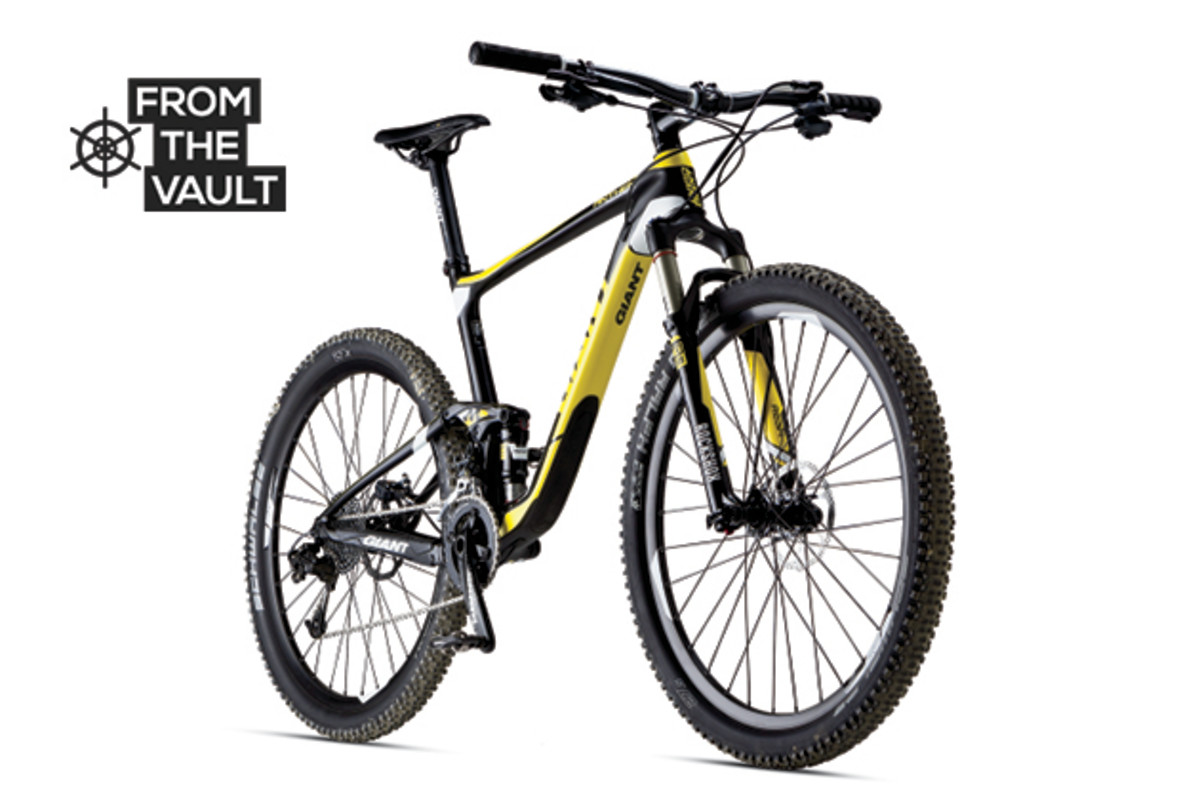 GIANT ANTHEM ADVANCED 27.5 2
$3,500
GIANT-BICYCLES.COM
THE ANTHEM ADVANCED 27.5 2 IS A BARGAIN. YES, IT'S STILL a lot of money, but considering that it has the same exact carbon and alloy frame as the $8,250 flagship model, it's a good deal. The 2×10 Sram X.7 shifters are an impressive improvement from the previous 9-speed triggers, with a smaller, streamlined look and more positive lever feel. With these paddles strung to X.7 and X.9 Type 2 front and rear derailleurs respectively, the shifting is crisp and precise. The basic SRAM S1000 double crank with 26/38-tooth combination works just fine, but I did drop the chain on a couple of occasions during rough descending.
Braking is handled by a set of worthy Avid Elixir 7s, whose levers are mounted to a 730-millimeter bar–not bad for a cross-country bike. I have long legs and a short torso so the stock 100-millimeter stem is a bit long for me. Normally I'd just swap it out for a shorter one, but Giant's rare 1¼-inch Overdrive 2 steerer tube makes finding a stem that'll fit more of a chore.
I was super impressed by the Anthem's handling. The 29er version that I rode last year left me unmoved, but the smaller 27.5 wheels invigorate the machine. Seventeen-inch chainstays and a 69.5-degree head angle make for quick maneuverability and a stable, planted feel. Descending, the Anthem is incredibly capable. The 100 millimeters of Maestro suspension are controlled by a RockShox Monarch R shock, a solid performer.
Up front, the 100-millimeter RockShox Reba RL is a great fork, but I would swap the handlebar-mounted lockout for a Motion Control damper with low-speed compression to control bottoming.
If your local trail conditions are dry and hard-packed, Schwalbe Racing Ralph 2.25 tires are an excellent option. The low-profile square knobs are extremely fast rolling while the slightly larger side knobs bite into corners. Even in relatively loose conditions the tires offered a surprising amount of cornering traction.
The carbon Anthem Advanced frame is beautifully crafted. It has nice clean lines, smart internal cable routing, and even room to run an internally routed dropper post, which I wasted no time taking advantage of. Every bike deserves a dropper; it's nice that Giant recognizes that.