This story originally appeared in the September/October issue of BIKE.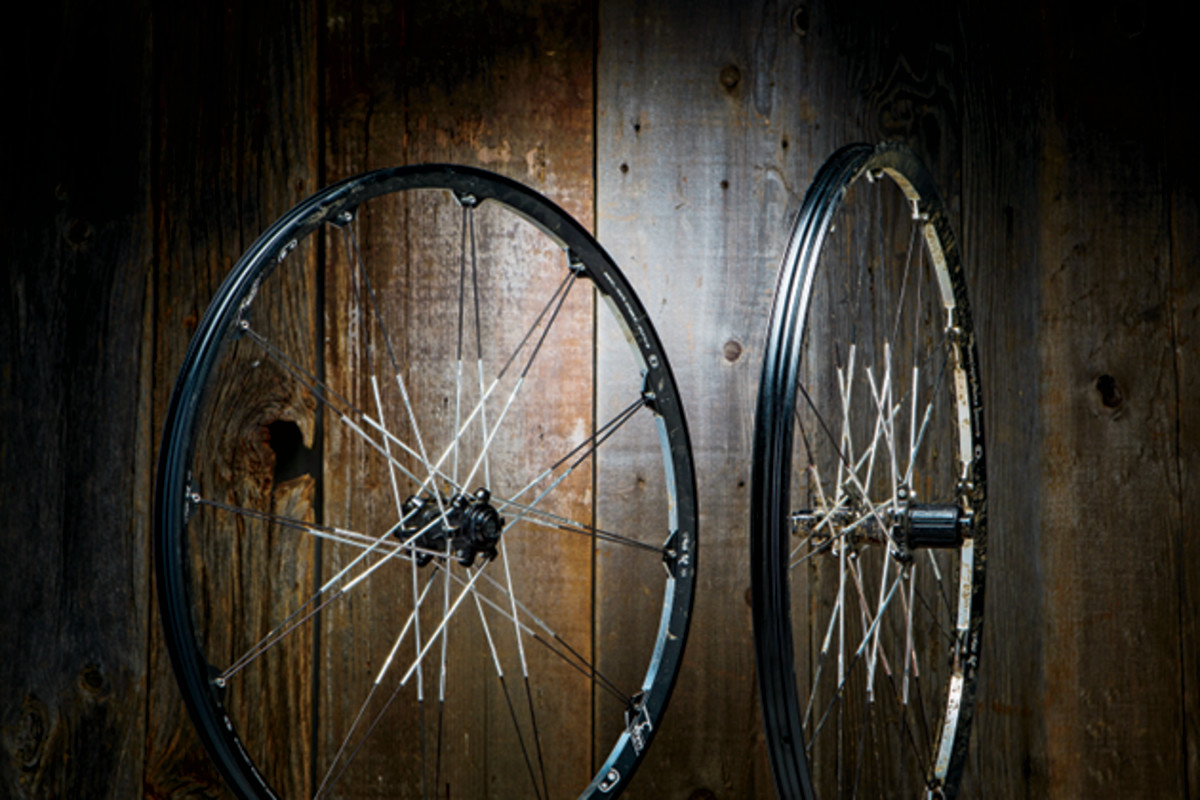 $900
CRANKBROTHERS.COM
Words by Vernon Felton
Photo by Van Swae

CRANKBROTHERS GOT A BLACK EYE WHEN IT RELEASED ITS first wheel line back in 2010 and the rear hubs failed at a rate of about 17 percent. When your product looks this odd and its guts start seizing up on the trail, you're in a precarious position. So Crank- brothers redesigned its hubs in 2011 and they've proven up to the task ever since. With its hubs sorted, the company went into 2014's version 3.0 looking to improve the rims.
Wider, lighter, stiffer–that sums up the more obvious goals for this latest reworking of the wheel line. The Iodine is Crankbrothers' all-mountain wheelset and the new shot-peened, 6061-aluminum rim now sports an inner width of 23 millimeters, which provides plenty of sidewall support for the fatter tires you'd run on an all- mountain/enduro bike. Yes, there are even wider rims out there now, but 23 millimeters is a nice middle ground. I ran a 2.4-inch tire at between 23 and 27 PSI and didn't detect any squirmy be- havior when pushing through corners.
Crankbrothers also shortened the rim's bead-hook height while increasing the rim's overall height. The goal here was to add strength and improve the way the wheel meshes with tubeless tires. You can run the tires at appropriately low pressures with little fear of burping out a bunch of sealant. Mounting and removing tubeless tires on the Iodine 3 is remarkably frustration-free.
Crankbrothers claims that the new wheel is stiffer laterally than its predecessor. Perhaps, but having spent the past two seasons aboard a bunch of carbon-rimmed wheelsets, I wasn't bowled over by the Iodine's stiffness. While 1,780 grams isn't heavy for an all- mountain wheelset, there are lighter hoops out there in this class with better lateral stiffness, although they generally cost more.
I've never been a huge fan of 'odd' spokes and lacing patterns, which can make fixing wheels a massive pain in the arse. Crankbroth- ers' wheels, with their massive aluminum nipples, look like trouble, but are actually dead simple to lace up and don't require a proprietary spoke wrench. They come with a variety of axle caps, so they're com- patible with a wide range of forks and frames. The only bikes these won't fit are those meant to tango with 26-inch wheels–the Iodine 3s are only available in 650b and 29er versions.
Overall, the Iodine 3s are solid. They are backed by a two-year warranty, stay remarkably true and offer nice bang for the buck.