DEUTER COMPACT AIR EXP 10 | $130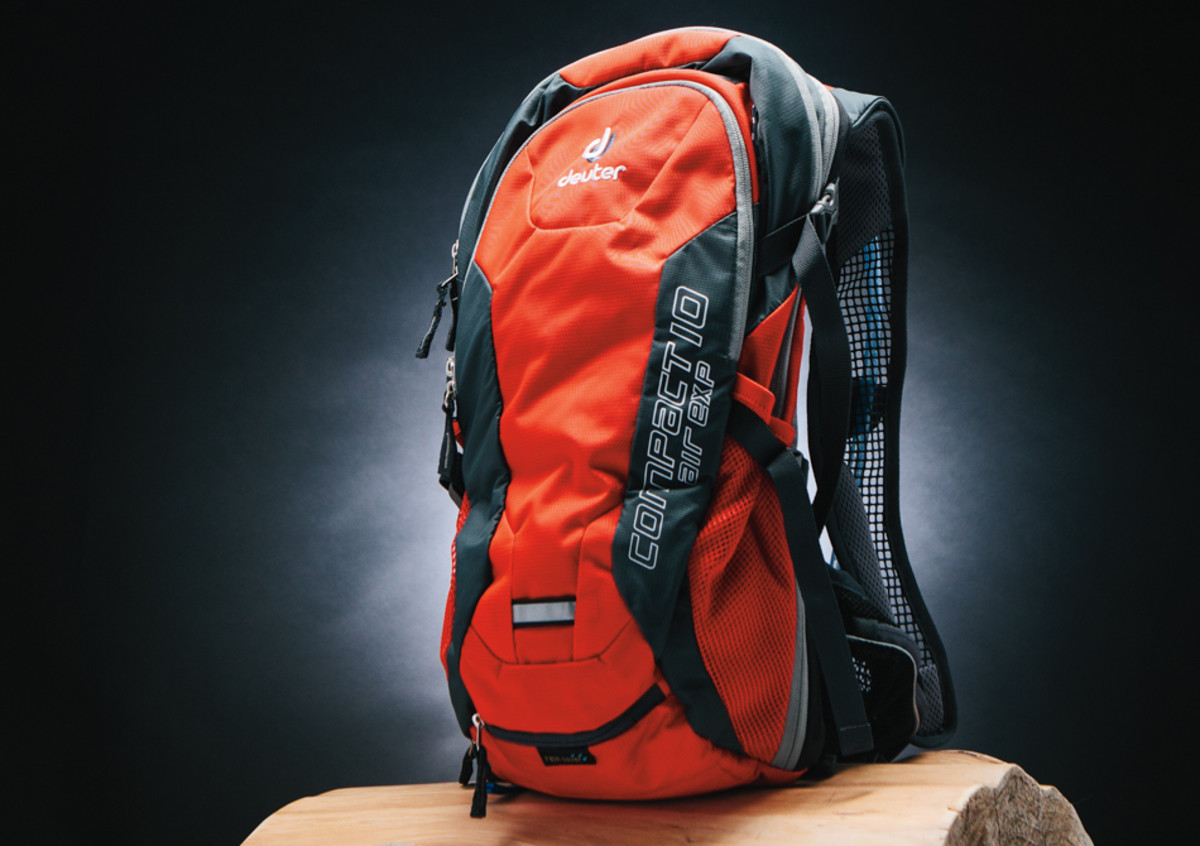 With nearly 120 years of experience, Deuter has become one of the most well-known pack makers in Europe. And for those familiar with German engineering, it should come as no surprise that its bags come chock-full of features. Almost every surface on the Compact 10 that contacts the body is made with some sort of mesh, and the pack itself is suspended off the rider's back, making it supremely breathable. Pockets on the hip belt–also entirely mesh–offer handy storage, while perforated foam padding offers comfort where it counts: at the lower back and shoulder tops. Even when stuffed to the gills, the Compact 10 feels balanced.
On the exterior, four compression straps keep the pack nice and tight against the frame and can be used to lash items to the sides of the bag if needed. Two mesh pockets offer more stash space, while zippered pockets at the bottom of the bag contain a helmet holder and rain fly. There's also a reflective light clip and reflective piping along the hip belt.
You'll find storage for flatter items inside the full-length front compartment, plus organized elastic and zippered pockets and a key clip. There's plenty of room for layers and spares in the main compartment, as well as a perfectly sized pump sleeve and another large, zippered mesh compartment for valuables.
Perhaps the coolest feature of all is the extra 3 liters of storage accessed via a zipped bellow. This means the Compact 10 wears like a small, minimalist pack, but is capable of supporting all-day epics in the high mountains. The only downside is the bladder, which seems entirely un-engineered. It's bulky, the valve drips and the closure is rudimentary at best. Swapping to a nicer bladder makes this pack simply outstanding. –Ryan Palmer
OSPREY SYNCRO 10 | $110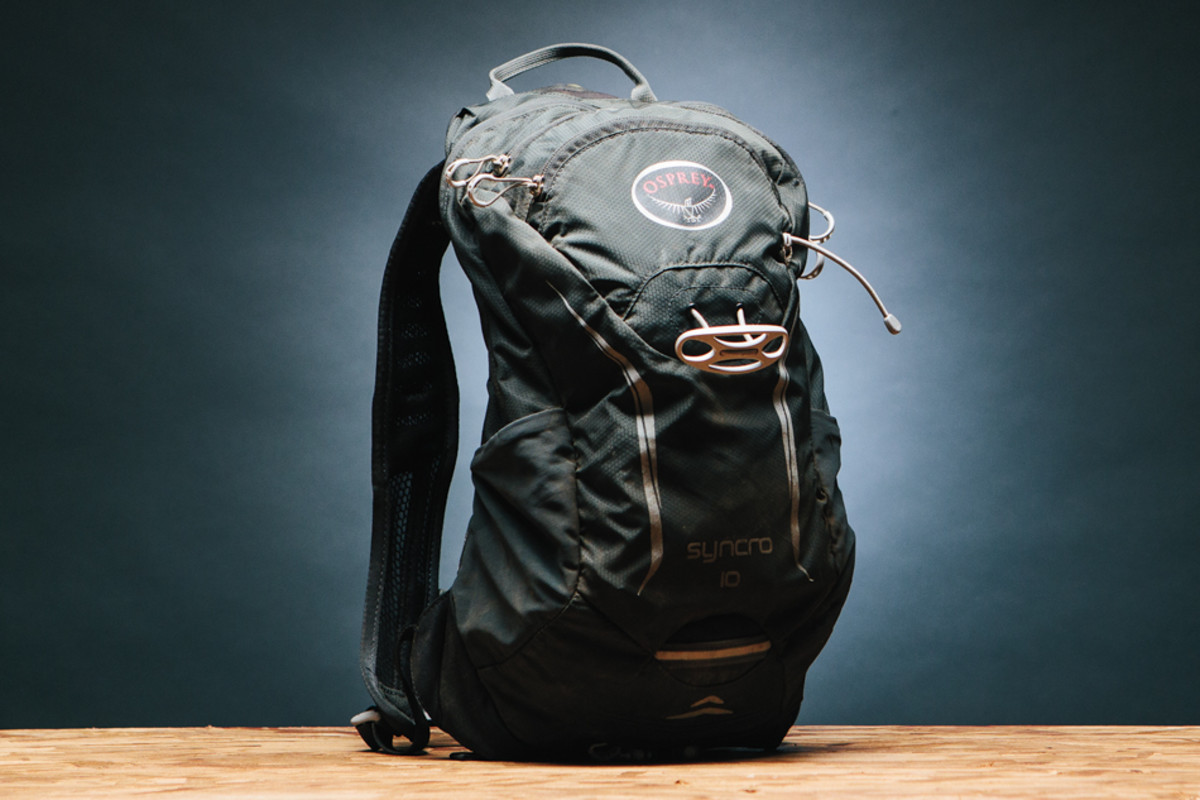 It's not easy out there for hydration packs these days–trendy hip bags and apparel that encourages riders to carry supplies on their bikes and bodies threaten the relevancy of backpacks for short rides.
But the Syncro 10 offers a compelling argument for minimalists to stick with tradition. It's light–just 1 pound, 2 ounces (without reservoir)–and the suspended mesh back panel creates a comfortable fit with plenty of ventilation. It comes with a 2.5-liter reservoir that easily disconnects from the hose so you can fill it up without lugging the entire pack to the faucet. Over nearly a year of use, I had one situation in which the entire bladder unexplicably drained while I was in the backcountry with limited access to water, but it never happened again, so I'll attribute that to operator error. The bite valve has remained leak-free.
The pack's 10 liters of storage is split between a large main compartment, a J-zip front pouch with mesh organizer pockets and a top slash pocket lined with scratch-free fabric. Other nice features include a helmet carrier, a built-in rain cover and a magnetic bite valve that attaches to the sternum strap. The Syncro's short-trip intentions are apparent in its minimalistic waist-strap design–a multi-day outing would call for a beefier hipbelt–but Osprey sells options for longer endeavors. For quick jaunts, the Syncro is second to the freedom of riding with no pack at all. –Nicole Formosa
DAKINE SEEKER 15L | $225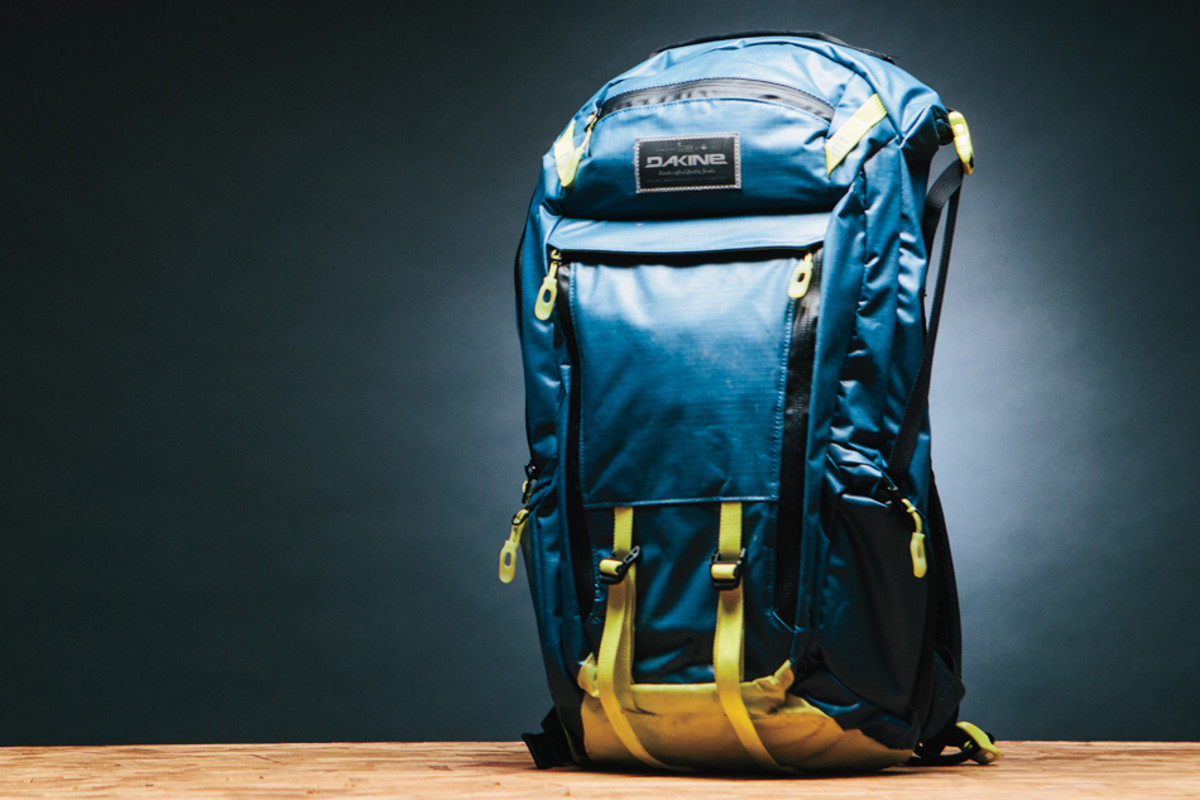 With its new Seeker 15L, Dakine has combined its traditionally well-conceived organization options with more durable materials to create a pack that could be just as home on an enduro race course as an all-day backcountry epic. Made of polyurethane-coated 200D nylon ripstop fabric, the pack is built to resist both abrasions and water infiltration. Its water resistance is enhanced by the roll-top design–a concept that was pioneered by seminal pannier makers such as Ortlieb and recently adopted by boutique brands like Acre, the mountain-bike offshoot of Mission Workshop.
In this regard, the Seeker seems poised to compete with Acre's 'weatherproof' Hauser 14L hydration pack, which is made in the USA and retails for $215 but does not include a water reservoir at that price. Though the Seeker is made in China and its rugged material is heavier than some other offerings in this Showcase, its organizational capacity is admirable, with Dakine's customary compartments for hand pumps, tubes and tools, as well as a fleece-lined sunglass compartment and a padded side pocket for phones. With an exterior panel that can fit pads, a half-helmet or a full-face, the Seeker could do double-duty as an enduro race pack–something to which the addition of a removable foam spine protector hints. The pack comes with a 2-liter lumbar reservoir to keep the weight low, but will also accommodate a 3-liter bladder (sold separately) that would be necessary for longer rides. A nice design touch is the magnetic bite valve, which effortlessly falls flush with the shoulder-strap holder after each and every drink on the trail. –Brice Minnigh
CAMELBAK SKYLINE 10 LR | $130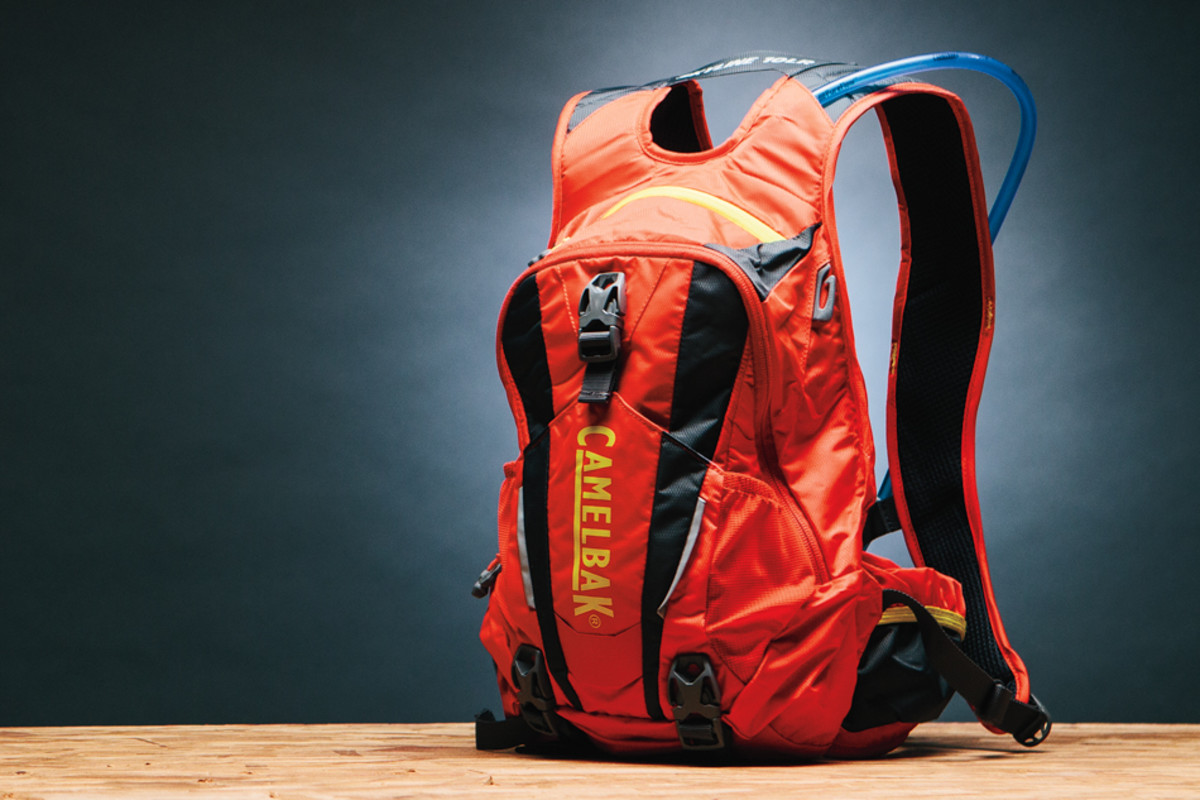 Think of the Skyline as sort of a hip bag with shoulder straps, designed to distribute the load onto the waist for increased comfort and stability. In a hydration pack, the heaviest part is often the hydration itself. The Skyline 10's bladder holds 3 liters–if you're drinking water, that's 6-and-a-half pounds. If you happen to be carrying the densest liquid on earth, it'd be 88 pounds–but mercury isn't very hydrating. Fun fact for weight weenies: 3 liters of water at 160 degrees is 67.5 grams lighter than it is at 40 degrees. Cool, right?
Anyway, you get the idea: Liquid is heavy. This is why CamelBak created its Antidote bladder, which bears a striking resemblance to a Pac-Man ghost. It's shorter and wider than a standard bladder so it sits nice and low–and it's situated at the very bottom of the pack. Because of this, the Skyline is extraordinarily stable, even when its neatly organized 7 liters of storage and removable tool roll are filled to capacity. It doesn't flop around like other packs tend to do–pretty smart for a company that can't spell the word "back."
Compression straps and an outer stash flap hold pads or other bulky items, while a fleece-lined pocket is perfect for a phone or shades. I also appreciate the zippered hip belt pockets, my preferred spot for a multi-tool. It's my favorite CamelBak in years. –R.P.
EVOC STAGE 12L | $140
Only one thing confuses me about this pack: it has two separate helmet-lashing systems built in–one for a full-face and one for a half-shell. I guess that's technically two things. One helmet-carrying system is already unnecessary, but two? They're small and weigh nearly nothing, but I personally prefer using my head to carry my helmet.
Everything else about the Stage 12l is dialed. My favorite detail is the stretchy hip belt. Even though it doesn't have pockets like I prefer, it's nice and wide and the elastic material it's made of gives my beer belly freedom to flop around the way nature intended it to.
Or maybe my favorite thing is the space for tools and spares. Simply pull on the webbing strap connected to the two zipper-pulls and out pops a mini bike triage center with six pockets to stow whatever you might need.
A fleece-lined eyewear compartment on the top of the pack also includes a couple more pockets that I found myself using for gels. Other than a zippered mesh pocket, the main storage area is duffel-style–perfect for extra layers and multiple spare tubes if it's going to be that kind of ride.
The Stage 12l does not come with a bladder, but since those can be a matter of personal preference, I don't necessarily view this as a negative. However, it would be nice to see the price come down accordingly. –R.P.