Giro, inventor of the original removable-chinbar helmet, just kicked the term "full-enduro" up a notch with the re-release of the Switchblade. Until now, hip bags, tall socks, goggles and a single bottle for a four-hour ride were all that were needed to complete the look of a true enduro rider, but the Switchblade changes all that.
Now, you're not enduro if the chinbar of your helmet isn't stuffed in your shorts or strapped to your hip bag. More importantly, you're not enduro if your ears aren't protected at all times, even while climbing. Rumors are spreading that Giro settled on the full-cut moto styling as the new look of enduro after watching the seminal 1986 BMX movie, 'Rad'.
Unearthing the look was easier said than done, though, so Giro got to work ensuring the Switchblade would meet the demands of crazy-fast people, such as EWS dynamo, Richie Rude, who is definitely too young to know who Cru Jones is. Whether or not the chinbar is attached, the Switchblade MIPS passes the higher test standards that downhill helmets must meet.
Even with its 20 vents and special "Wind Tunnel" cheek pad ventilation that blows air across the ears, the hot new style literally heats up more than a traditional lid. That's why Giro sweat the details and lined it with super absorbent ShamWow-like anti-microbial pads.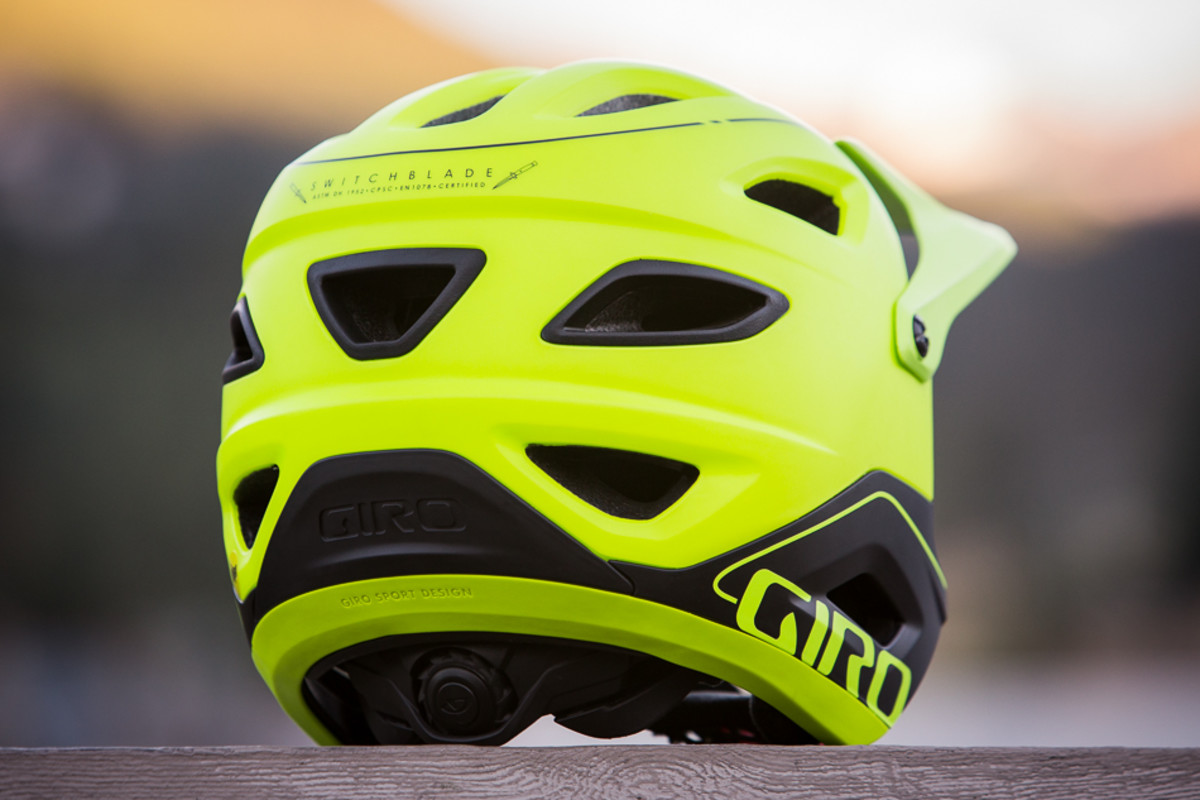 Unlike the helmets it was inspired by, the new Switchblade sports lots of new tech for today's enduro riders, including a dome-cradling retention system that won't get loose when your riding does. A MIPS liner is also standard equipment on the Switchblade.
Giro Switchblade Ride Impressions
The first thing I thought when seeing the Switchblade for the first time was that it'd be ridiculous to go on a normal ride in. With all that coverage, it's bound to be hot, right? It's definitely warmer than a normal lid, but it's nice to know that while your dome is heating up, you at least look cool. Seriously though, the ear ventilation actually does work quite well. It's a whole lot cooler than most of the full-on DH helmets that it passes the same tests as. It also does a much better job of letting sound in, so you can hear just how hard you're shredding.
At first, the brow of the helmet was sitting a touch low, which pushed my goggles down on my face a bit and restricted my field of vision in some circumstances. I combatted this by adjusting the Roc Loc up and tilting the helmet back. I have an unnaturally compact head and face, so if you're a normal human with a properly proportioned dome, you might be in the clear.
The Switchblade is most definitely a niche product. It's designed for people who are willing to suffer the climbs in order to get the best possible descending experience. If you're the kind of rider that is willing to lug 1,200-gram tires around on your trail rides, you just might be enduro enough to own a Switchblade. It'll come in 6 colors, costs $250, and will be available in shops in late August.