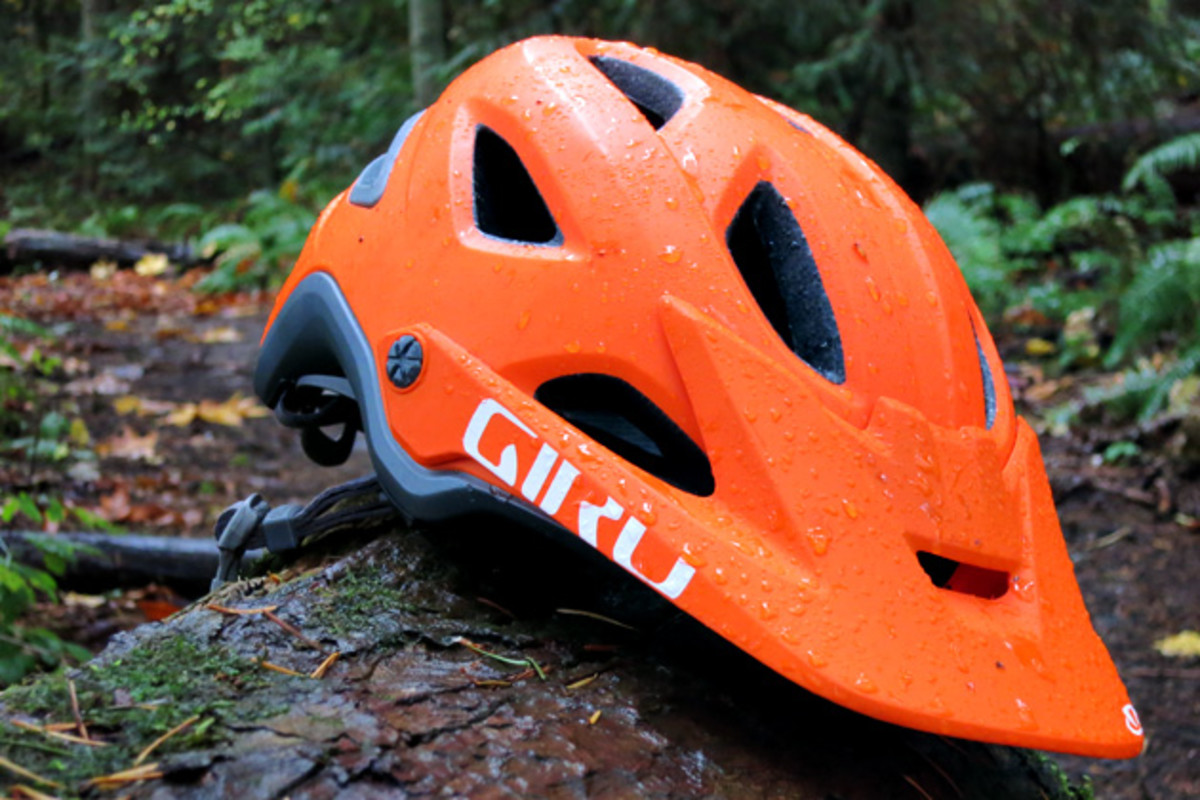 GIRO MONTARO | $150 | GIRO.COM
It's been more than a decade since Giro debuted the Xen–a skate-slash-snowboard inspired mountain bike helmet that seemed freakishly out of place in a sea of cross-country lids that offered your dome about as much coverage as a G-string stretched from ear to ear. The Xen was an odd duck but, in retrospect, a harbinger of what almost all mountain bike helmets would eventually look like.
The Montaro falls closely in the footsteps of the Xen–at least in terms of raw styling. It is, 2015, however, and a lot has happened in the world of helmet design. Consequently, there is also a lot of new and improved tucked beneath the Montaro's lid.
It's MIPS-a-licious
Everyone seems to want their next helmet to come equipped with MIPS (Multi-Directional Impact Protection System). And with good reason. Even though the helmet industry has yet to agree upon a standard for testing rotational accelerations, several independent studies have confirmed that MIPS does, indeed, reduce rotational acceleration. What the hell is rotational acceleration? Think of this as your brain sloshing about in your skull as your head rotates suddenly and comes to an even more sudden stop.
All of this tech-talk matters because rotational acceleration is often linked to concussions and we're all learning that concussions incurred today have seriously scary effects tomorrow. How scary? Try getting Alzheimers a good 30 years early. I'm skimming along a very weighty subject here (I wont even get into the whole linear versus rotational acceleration issue), but the bottom line is this: MIPS can help and anything that can help your brain is worth a few extra bucks.
So, yeah, the Montaro has MIPS. For the record, MIPS is a fairly underwhelming technology to look at. It's basically a thin, plastic slip plane that allows the helmet's liner and outer shell to rotate a few millimeters around the slip plane during an angled impact. A few millimeters doesn't sound like much, but in the scheme of things, it actualy matters. So there, yup, Montaro is all MIPS-ified.
Plenty of Smart Details
Lots of coverage is a good thing. A hot and sweaty brain bucket is not. The Montaro offers good ventilation. There are 16, healthy-sized vents in this thing and the helmet is lined with padding made from the same stuff as ShamWow. You missed the late night ShamWow infomercials? Well, then…the stuff absorbs freaky amounts of liquid and so does the Montaro's padding. In short, you get a nice flow of air over your scalp and not a whole lot of the salty Niagara Falls action in your eyes. Sweet.
You might notice that several of the vents feature a rubberized treatment–the idea here is that the tackier surface helps keep goggle straps in place. Fans of goggles will appreciate that the Montarao's visor tilts up and out of the way, allowing plenty of real estate to park said goggles. The visor also features detents–allowing you place the visor in four distinct positions. Most importantly, the visor stays up and doesn't come crashing down when you start plowing into chunky terrain.
Adjusting fit is handled via the Roc Loc Air dial, which offers very fine and effective tuning of the helmet-to-melon interface. It's a wee, tiny dial, but it works quite well–even when you're wearing cold, wet gloves.
What didn't I love? The portion of the chinstraps that fall just below your ear features a buckle that requires a bit more effort to adjust than buckles with a snap-style closure. I was, for instance, always fond of Giro's Tri Loc buckles. The upside, to be fair, is that you adjust the straps on the Montaro once and they'll likely stay put forever (something you can't always say about buckles that open, close and adjust more easily).
Last but not least, the Montaro also features an integrated GoPro-style helmet cam mount. Nice.
There you have it–the new Montaro. If you've been eyeing a Bell Super, POC Trabec, Specialized Vice or Troy Lee Designs A1, you have yet another helmet to try out. More options are always a good thing.
Related:
Tested: Bontrager Lithos Helmet
Palmer's Picks: Specialized Ambush Helmet