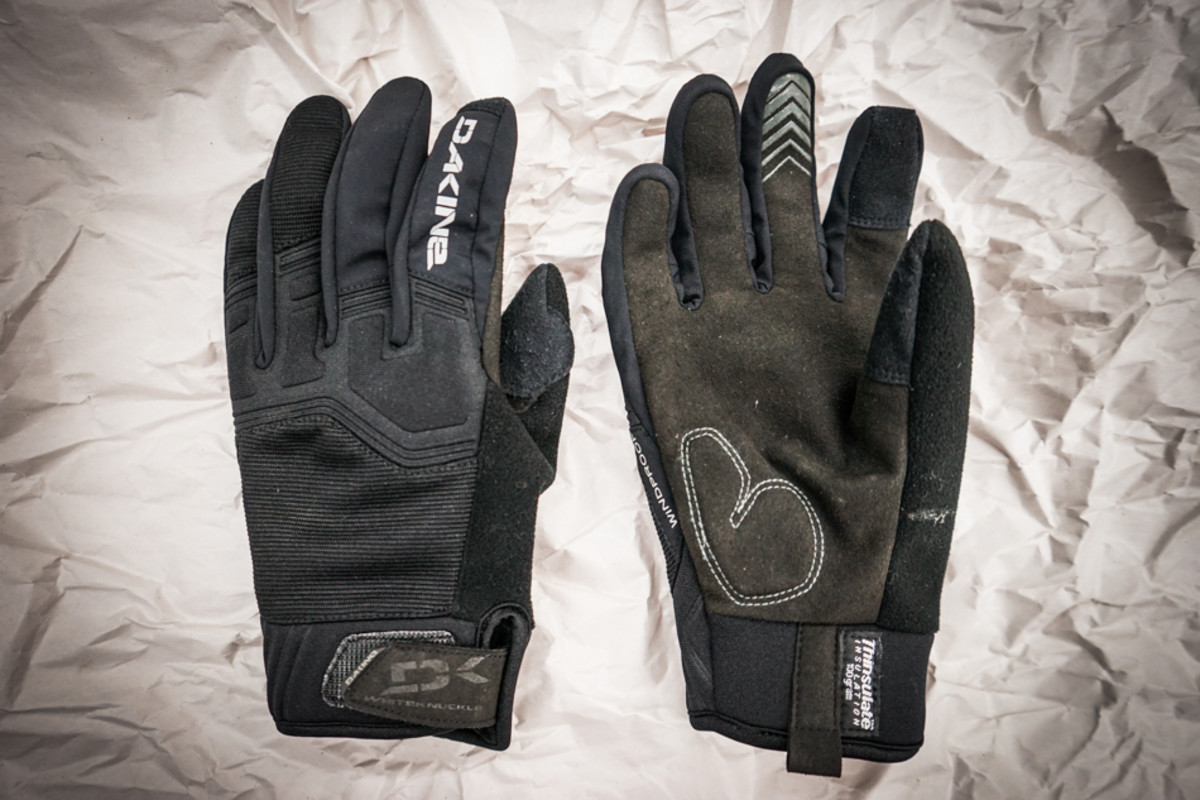 Despite their Hawaiian heritage, Dakine is no stranger to cold weather. For years, the Pacific Northwest-based brand has produced more gloves for skiers and snowboarders than they have for us often fair-weather cyclists. The White Knuckle combines their experience with both. Across the back of the hand, the glove is lined with a layer of fleece-like Thinsulate. The knuckle panel is made of thick but flexible Neoprene, and a lightweight windproof material shields the index and middle digits, as well as the space between the fingers. The outermost fingers and the rest of the back are reinforced with a durable woven nylon.
The palm is similar to that of a summer glove, only a little thicker. Aside from a small panel of padding at the heel, there's just a single layer of traditional synthetic suede between you and the grip. A touchscreen compatible material is stitched to the tips of the thumbs and forefingers, so you can post about waiting for your buddies to catch up to you without taking off your gloves. And of course, there's a generous snot wipe across the back of the thumbs.
Details: Dakine White Knuckle Gloves

Temperature range: 32F / 0C and above
Windproof stretch nylon / neoprene shell
Mid-weight fleece lining (back of hand)
100g Thinsulate insulation
Synthetic suede palm with silicone gripper fingertips
3mm foam palm padding
Low-profile hook-and-loop closure
Touchscreen compatible thumb and forefinger
Retail: $38.00
dakine.com
There were surely some runny noses while we tested the White Knuckles during a chilly October in Vermont. When the mercury rested between about 30 and 50 degrees, they were the perfect companions. Even while sprinting down the road to get to the trail, the fall winds had more bark than bite. The only time we got numb thumbs while wearing the White Knuckles was when we got them wet. The extra material that keeps you warm in the dry will soak up the rain and hold on to it until you make it home to the fireplace.
You'll notice a little wintery bulk between and across the backs of the fingers. The material here isn't thick, but it doesn't offer much stretch. These are the spots where the windproof layer and Thinsulate liner happen to be the most necessary. The minimal palm material kept out the cold just fine, especially while gripping the bar.
When it comes time to make that dreaded costume change into your cold-weather garb, it will always take some getting used to. The White Knuckles will ease you into shoulder season, and just might carry you through a dry winter.
Related:
Palmer's Picks: Ibex Shak Gloves