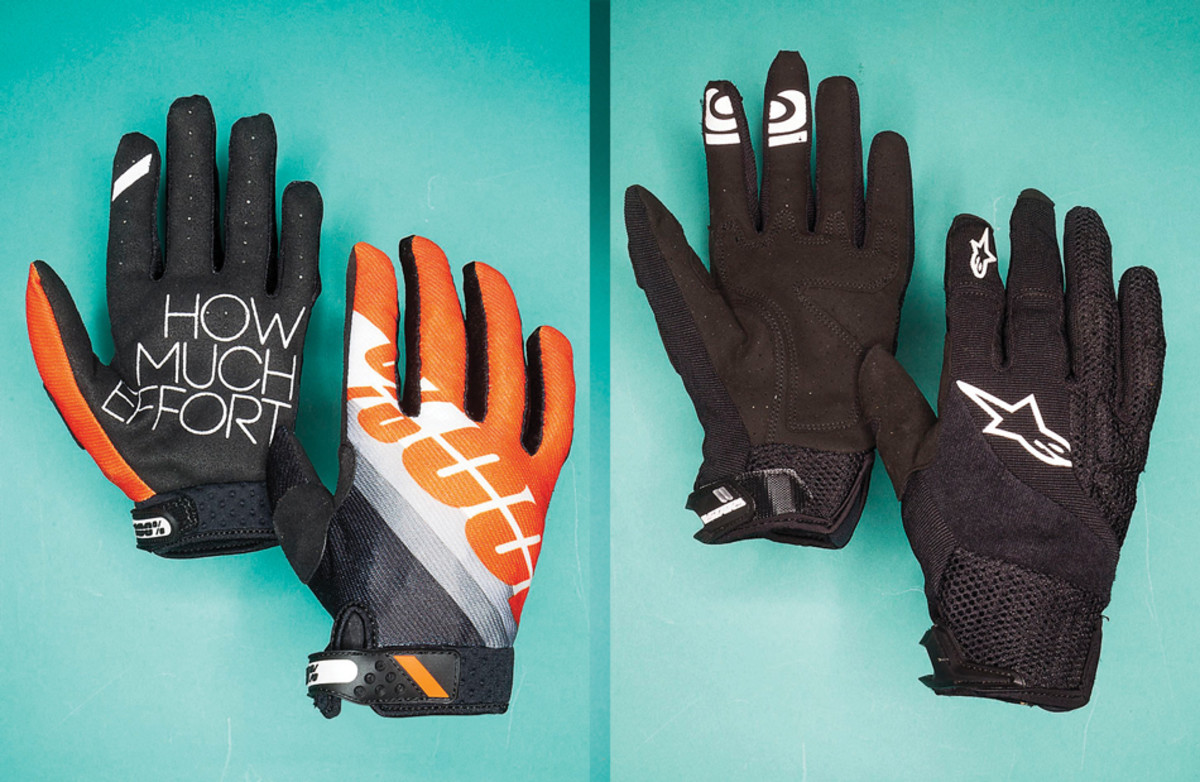 100% RIDEFIT | $27.50
Out of the three pairs of gloves that 100% sent for our consideration, the Ridefit was easily my favorite. It wasn't difficult to knock the iTrack model out of the running because the factory decided not to finish them prior to sending them out. Not only did the claimed touchscreen capability not work, but one of the seams blew out while I was trying the gloves on at my desk. Too bad–they had such promise. The Simi model showed promise, too, but had a bit more protection than I need in an everyday glove. The Ridefit was just what I was looking for–the materials are a perfect blend of lightness, breathability and resilience. Based on the iTrack experience, I wasn't expecting construction to be very good, but it was actually top notch. All the seams are bomber, and the touchscreen fingers work reliably. The Ridefit, as the name suggests, fit so well that they seemed to disappear on my hands. These and the Giro Rivets have a lot in common. Both are minimalistic, but I like that the Ridefit doesn't use mesh between the fingers. Also, those who prefer a Velcro cuff closure should check this glove out. –Ryan Palmer
ALPINESTARS MOAB | $45
I'm usually not a big fan of protection on the outer part of my gloves because it tends to be hot and restrict movement. But you know what restricts movement even more? A broken hand. I learned this the hard way last summer, when a low-speed crash left me with a boxer's fracture. Perhaps a glove with some padding would have kept me from the exhilarating bone-setting procedure in the Whistler clinic that day. Most often when we crash or come too close to a trailside tree, we impact the outside of our hand close to the pinky. This is where the Moab has padding. It's not too bulky or restrictive, but it's enough to take the edge off, or possibly make the difference between a bruise and a break. Volume-wise, the Alpinestars fit my medium-sized hands well, but the fingers are a touch shorter than the other mediums in this test. If you find yourself between most mediums and smalls, this glove may be just right for you. A second layer of palm material reinforced with Kevlar, and solid construction throughout ensure that the Moab can help your hands survive multiple close scrapes. –R.P.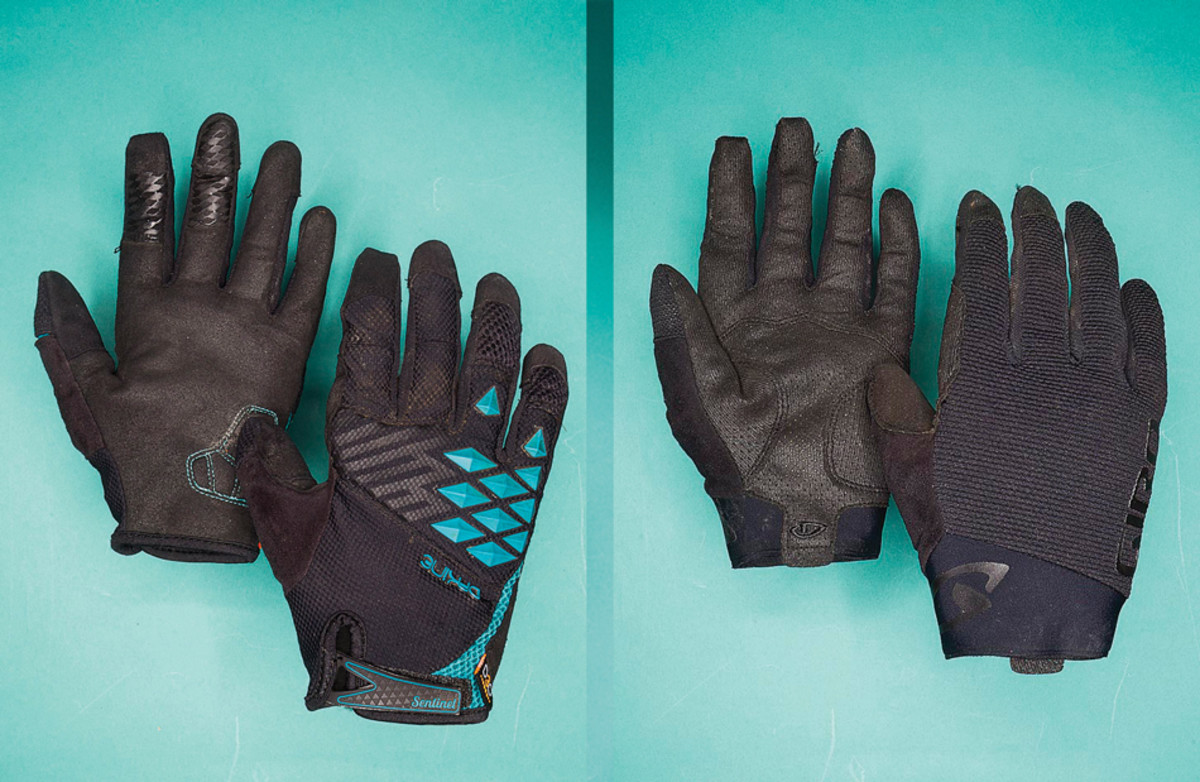 DAKINE SENTINEL 15S | $45
The Sentinel sits above Dakine's women's glove line, and it's a noticeable upgrade from the lower-priced Covert model. After about five months of regular wear, the glove's durability stands out–the seams remain intact and the stretch mesh between each finger free of rips. The synthetic-suede, one-piece seamless palm construction adds to the glove's strength without restricting hand movement. A hit of D3O shock-absorption padding on the palm and back of the hand is a nice touch of added protection, as are the bulletproof rubber knuckle deflectors. I appreciated the microfleece thumb panels to wipe away snot or sweat and the Velcro hook and loop closure, which snugged the glove securely to my wrist. I tested a medium, which is designed to fit a hand circumference of 6.5 to 7.5 inches. My hand measures on the wider end of that spectrum, and I still felt like medium was the right fit (Dakine offers a range from XS to XL).Touchscreen compatibility is a must these days and this one works, although not quite as well as a bare finger. The Sentinel packs in a lot of features, and while it isn't bulky, the inside tends to steam up on warm days. Still, it's the excellent protection and sturdy construction that will leave a lasting impression. –Nicole Formosa
GIRO RIVET II | $30
You won't find any padding on this minimalistic mitt, but that doesn't mean it is devoid of valuable improvements. To start, Giro incorporates a Pittards leather palm. Pittards has been specializing in leather–mainly for gloves and footwear, for damn near 200 years. However, the vegans out there can rest easy in knowing that there's no actual leather here–it's a synthetic microfiber material. The perforated palms are soft and supple, breathe well and offer great grip, even when saturated with sweat. For even more simplicity, there's no Velcro closure on the Rivet II, just an elastic cuff. I love this feature, but not everyone falls into this camp. Based on Giro's sizing chart, which measures hand circumference and finger length, I'm squarely a medium, the same as all the other gloves in this test. The fit is spot-on in the fingers, palm, and around the wrist. Even the cuff length is good, ending mid-wrist. Touchscreen compatibility lets me whip the phone out for quick photo-ops without fumbling with my gloves. The only potential issue is that the lightweight mesh used between the fingers builds weaker seams so these might be single-season gloves. –R.P.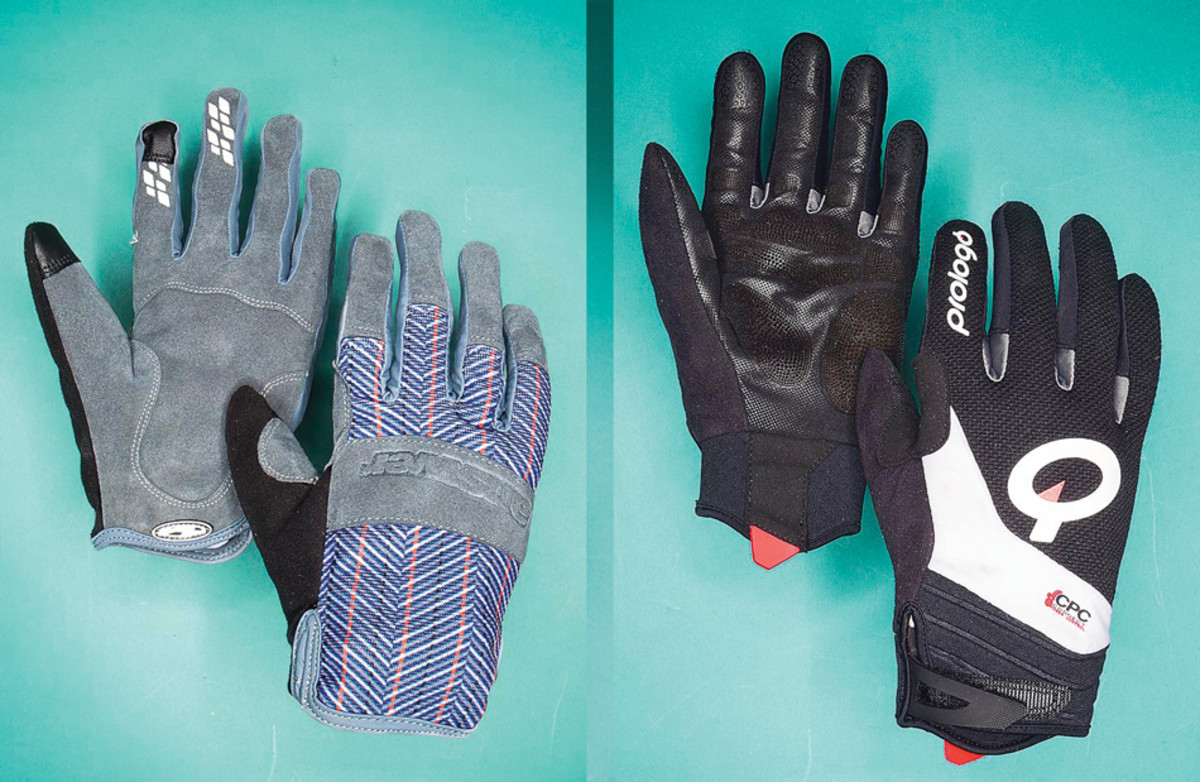 ANSWER BIG JON | $30
If these gloves seem to bear a resemblance to a popular work-glove pattern, it's because they're built not just for shredding, but for the dedicated few who pick up a shovel after roosting berms flat. The palms have no padding to interfere with trail (or Pulaski) feel, and the double stitching throughout means that they'll hold up to plenty of abuse. They're also compatible with touchscreens. The size mediums were a bit snug out of the box, and I found that they needed a bit of break-in for the Amara palms and the strip along the back of the knuckles to stretch out and feel just right (I sped up this process by wearing them wet). Like the Giros, there's no Velcro closure, but the low-cut cuff sits nice and close to the wrist. Without a closure there may be some risk of dirt finding its way into the glove when trailbuilding, but no more than with an ordinary work glove. A generous fleece-topped thumb on each hand provides a handy place to store extra boogers. The Big Jon gloves are built to last, and most importantly, built to build. –R.P.
PROLOGO ENDURO | $120
These gloves are very pricey, but something happened–or rather didn't happen–when I rode them: hand numbness. I've always had it–10 minutes into sustained climbing and the tingling starts. But after an hour of continuous climbing in these gloves, there was no numbness. I hold the CPC technology on the palms responsible. It's basically a collection of tiny hollow rubber tubes that squish when compacted–it's the same material used in Formula One racing seats for traction and vibration damping. These pads are thinner and less obtrusive than conventional foam, but offer superior damping and bar feel. Plus, the tiny nubs are supposed to massage the hand, increasing blood flow. It seemed a bit far-fetched at first, but it worked for me. Prologo is best known for its road saddles, but the Enduro gloves convinced me that these Italians know what's up. The fit is true to size and tailored impeccably for my hands. The fingers are the perfect length and there's no bunching in the palms. Construction is solid as well, with tidy seams. A thin mesh would ventilate better, but I prefer the protection and durability of more rugged materials. –R.P.
Other 2015 gear guides: