Shit happens. The worst of it usually happening when you've left your multi-tool in your jersey pocket. No, not the one you're wearing right now–becuase, of course, that'd be great. No, I mean the jersey from yesterday that's moldering away in the dirty clothes hamper back home. You know, the one that's miles away from you and your ride-ruining mechanical problem. Shit, indeed.
That's where Specialized's line of SWAT tools come into play. The company has a bunch of small, emergency repair tools that piggyback on your bike full time, so you don't have to remember to haul them with you every time you take off for a ride.
SPECIALIZED ZEE CAGE II W/EMT TOOL | $60 | SPECIALIZED.COM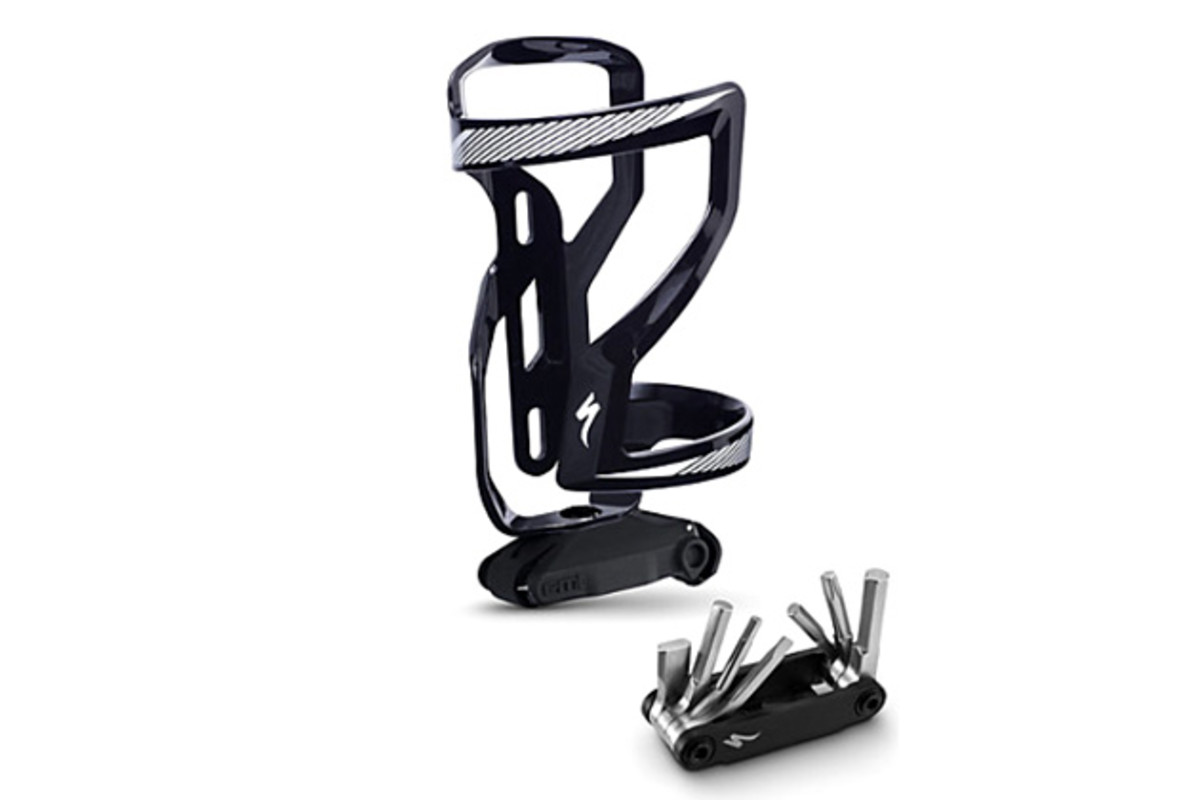 This here is Specialized's combination water bottle cage/multi-tool. In a nutshell, there's a tiny–I mean absolutely tiny–tool attached to the bottom of the cage. You flip a latch, slide it out and presto, you're looking at a set of 3-, 4-, 5-, 6- and 8-millimeter allen wrenches, plus a T25 torx and a wee, flat-blade screwdriver.
That's really the bulk of the story here. While I don't use water bottles all that often, I've taken to keeping this cage on my bike simply because it houses the multi-tool. The tool itself is never, ever going to replace a dedicated multi-tool. Why do I say that? Well, the whole thing is about the size of my thumb, so you don't have a world of leverage to work with when trying to muscle loose a 6 or 8-millimeter bolt that some jackass (quite possibly you) installed with a breaker bar. The 8-millimeter wrench, in particular, is definitely not going to free up a pair of pedals that someone neanderthal'd onto your bike.
But that's okay. I've come to see this tool as more of a savior for those parts that Murphy's Law themselves loose in the middle of a ride. The EMT will snug those up just fine and, to be fair, it'll also free up the smaller (3, 4, 5 and T25) bolts that most people are wise enough to refrain from over torquing.
I suppose there are people who will say that this thing is gimmicky or that it lacks a few crucial tools, such as a chain breaker (side note, Specialized also offers a chain breaker tool that lives inside your top cap assembly). True, this little EMT tool is not the most complete of its kind, but if gimmicky means that I never have to remember to bring along a tool that tightens about 70 percent of the crap that could work itself loose on my bike, then sign me up for gimmicky any day.
It's a cool piece of gear. A bit pricey for what it is as an aftermarket item, I suppose, but the tool also comes standard on all of Specialized's expert level and above mountain bikes, as does the top-cap chain tool, which is designed to work with this tool. Put those two widgets together, and you have the functionality of a full-blown multi-tool that you never have to dig around your pack for.