2016 SCOTT | GENIUS AND SCALE PLUS | SCOTT-SPORTS.COM
Before the plus-size tire molds have even cooled, many of the biggest names in mountain biking have already jumped on board. Scott just joined the ranks with 27.5+ additions to its 2016 Scale and Genius line ups: Scale 710 Plus, Genius 700 Tuned Plus, Genius LT 700 Tuned Plus and E-Genius 710 Plus. Each bike will have multiple build options, resulting in a total of 11 new models to choose from.
In the US Scott will offer five models:
Scale Plus: Scale 710 Plus and Scale 720 Plus
Genius Plus: Genius 700 Tuned Plus, Genius 710 Plus, and Genius 720 Plus.
Based on Schwalbe's testing data on tire widths, Scott claims that the 2.8-inch tires used on its new bikes are the optimum width for balancing handling with tire roll and other unfavorable characteristic that come with larger tires. The testing compared Schwalbe's Nobby Nic tires in 2.8-inch (tested at 14.5PSI/1bar) and 2.35-inch (at 21.5PSI/1.5bar). Compared to 2.35-inch tire, the 2.8-inch tires on Scott's new bikes increase the contact patch by 21 percent, while only increasing rolling resistance by 1 percent. This testing suggests that the 2.8-inch tires will have better traction than a standard tire without the lumbering feel of a fat bike. The testing also showed that pinch flat resistance was improved by 8 percent, which might not seem like much but could certainly make a difference on terrain that eats up tires.

The big rubber will be mounted on Syncros TR1.5 27.5 PLUS rims, which have an internal width of 40 millimeters. The wide rim is designed to spread the tire out, resulting in more traction, in addition to providing a solid platform for the tire to brace against while cornering, preventing tire roll and burping at lower pressures.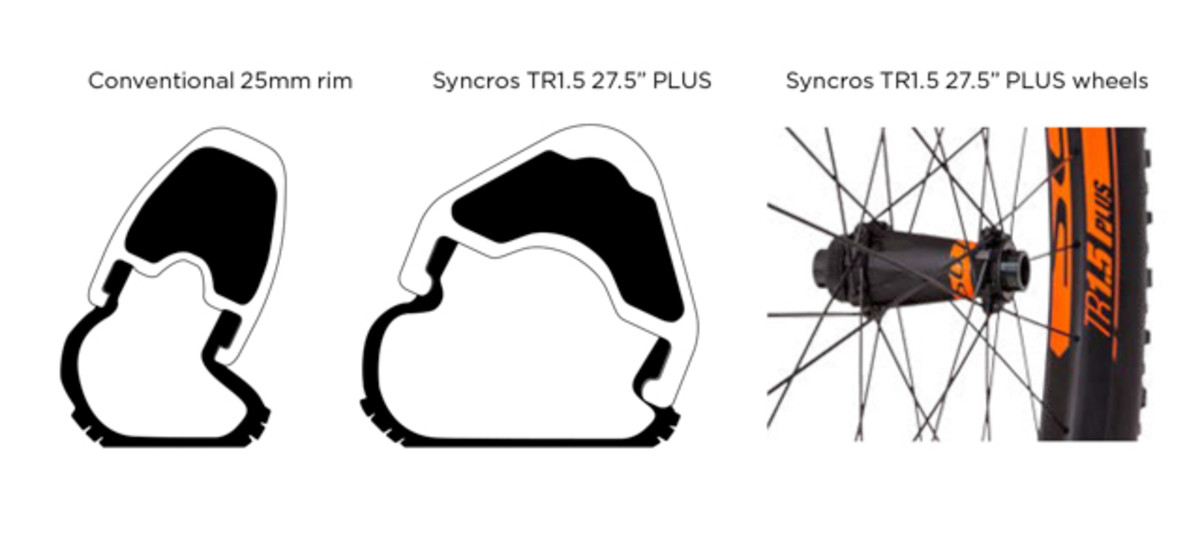 The Plus models will employ the new 110-millimeter front and 148-mil rear Boost spacing–technologies spearheaded by Trek and SRAM–to accommodate up to 3-inch tires. The bikes will come spec'd with Schwalbe 2.8-inch Nobby Nic or Rocket Ron tires, depending on model. An interesting fact to note about the Boost system is that while the hub spacing has been pushed out 3 millimeters on each side, the crank spacing (Q-factor) remains the same. The change in chainline at the rear end can be accommodated by offsetting the chainrings instead of widening the cranks. There will be clearance for running a 1x or 2x drive train (yes, the bikes are front derailleur compatible). The higher-end 700 tuned Plus and 710 Plus will come with 1×11 drivetrains, while the more affordable 720 Plus will run doubles.
Genius Plus:
The new Genius Plus will be available in three models: 700 Tuned Plus, 710 Plus and 720 Plus. The 700 Tuned Plus and 710 Plus share a carbon front triangle, while the 720 Plus will be aluminum. The 700 Tuned Plus has a claimed weight of 27 pounds fully built.
The Genius Plus models will be dampened with 130 millimeters of rear travel, and 140-mil up front, provided by Fox. If you opt for the 700 Tuned Plus, you'll get full Kashima coat front and rear, as well as the new Fox Nude DPS rear shock, which is exclusive to Scott. The chainstays are on the long end at 445 millimeters. Models with a 1x drive train will come with a new Twinloc lever. The new lever now mounts under the bars, and provides adjustment for lockout, traction control (90-millimeter) and descend (130-millimeter) travel modes.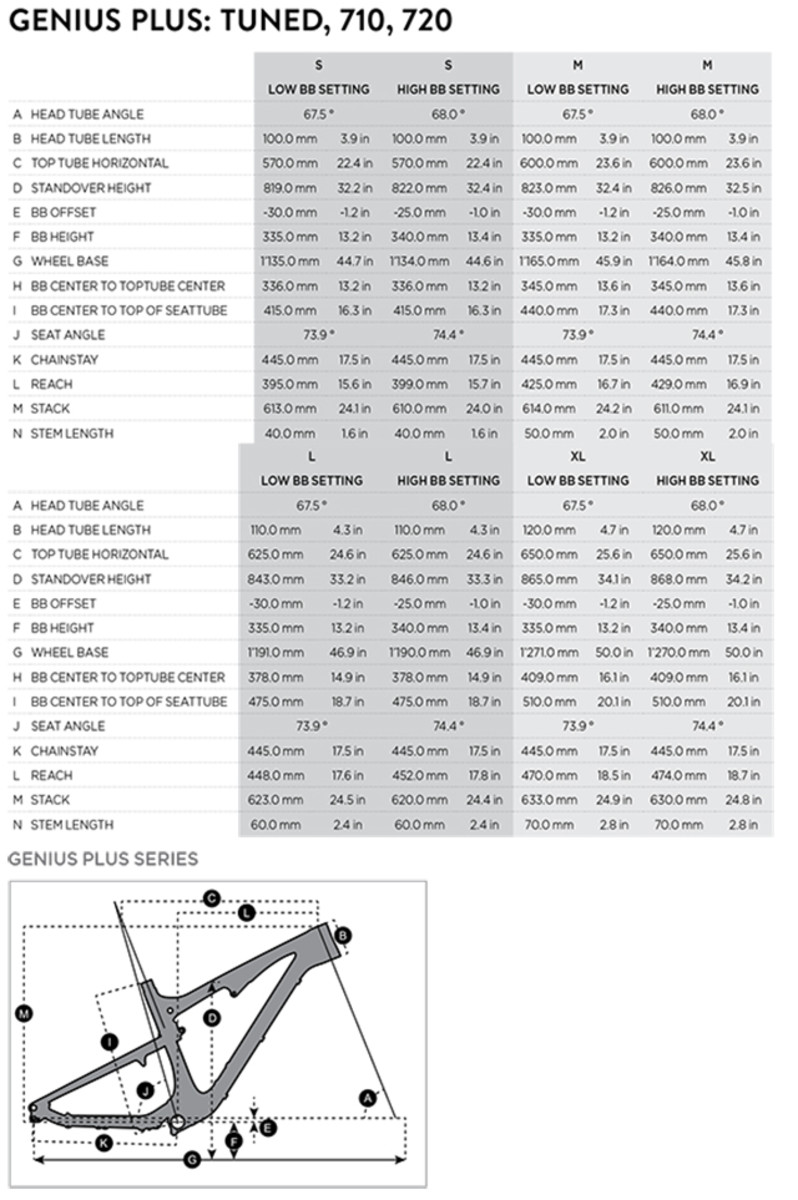 Scale Plus:
Scott designed the Scale Plus as a more playful alter ego to its XC race counterpart. A head angle of 67.6 degrees and 439-mil chainstays suggest that this bike is meant to be ridden fairly aggressively. Both models use the same alloy frame, which weighs 3.4 pounds without shock. The 710 Plus will come with a Fox Float 32, while the 720 sports a Suntour Raidon fork.
Scott has yet to release a pricing list, and availability in the US will vary depending on model.