LIV/Giant's 4-inch-travel Lust 1 is light, fast, good-looking and equipped with some of the best parts you can get on a bike for just over $3,000. Plus, it's one of the only brands to fully commit to designing and producing mountain bikes specifically for women. So what's the catch? Is there one? See what our testers thought.
LIV/GIANT LUST 1
Price: $3,200 as tested
Contact: giant-bicycles.com
Direct Link: http://www.giant-bicycles.com/en-us/bikes/model/lust.1/14862/66215/
Final Take: One of the best parts packages for the money on the market.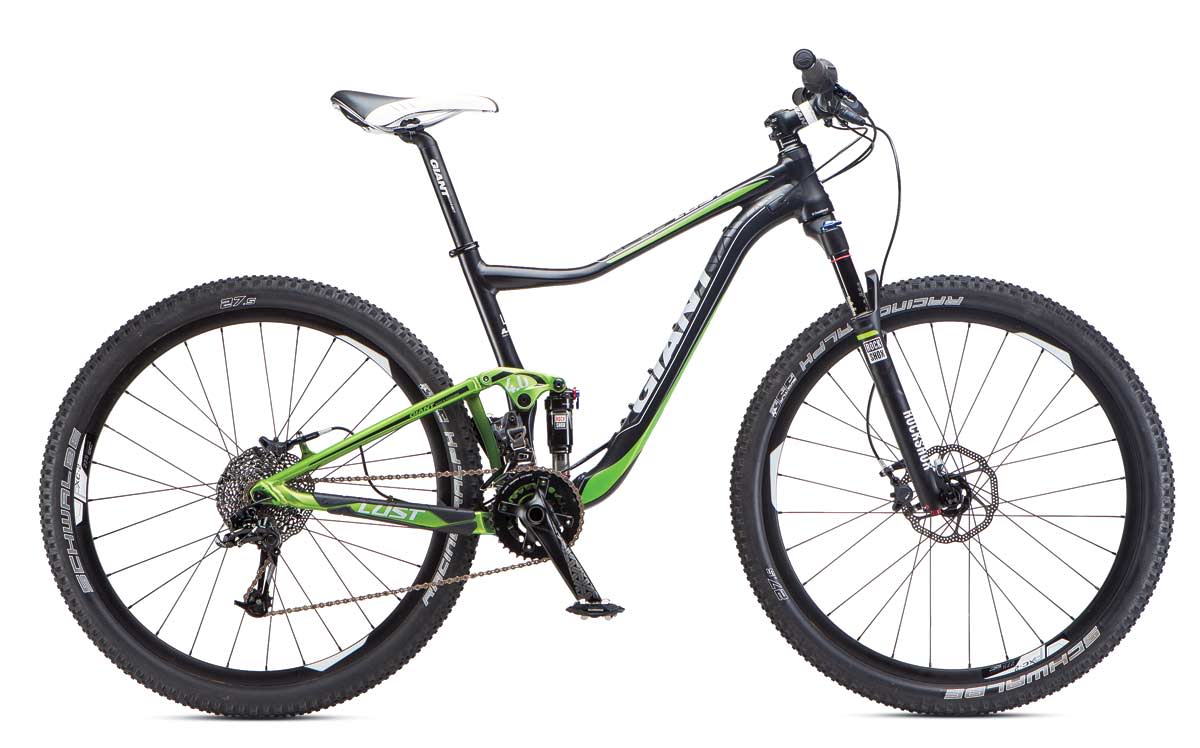 Liv/giant set out to give women a do-it-all cross-country bike with the Lust, and ended up giving all smaller riders a bike brimming with features and finesse that would likely be much pricier under any other name.
Starting from scratch, Liv/giant designed a frame with a shortened toptube to create a better fit for riders who feel too stretched out on other bikes. Like many bike manufacturers, Liv/giant went all in with the 27.5-inch wheel size, which felt just right on the Lust. It benefits from larger-diameter wheels without suffering from the compromises often needed to fit 29-inch wheels on a smaller frame.
Our testers were particularly fond of the Maestro suspension platform.
The Lust pedaled efficiently, but the suspension really shined on technical terrain, where its 100 millimeters of rear travel seemed to gain an extra inch. A well-thought-out component spec, including the RockShox SID and SRAM 2×10 drivetrain, helped create a capable and lightweight ride with solid handling. Early models outfitted with GripShift have been replaced with X0 trigger shifters.
Though this svelte 25.14-pound ride defies its price tag, dropping three large on a bike isn't always feasible. Thankfully, a dressed-down Lust can be had for $2,450. Meanwhile, deep-pocketed riders can shove a loaded carbon-fiber XX1 Lust Advanced into the back of their Tesla for a mere $8,050.
This bike looks good without being overtly girly. There are no butterflies. No flowers. No female-empowerment mantras. Just nice clean graphics. Unfortunately for taller riders, the Lust only comes in extra small to medium sizes. Then again, taller women don't always struggle with the same fit issues as those of us who need a stepstool to reach the freezer.
Will it work for all smaller riders? Of course not, but if it fits you, you'd be hard-pressed to find a better package. –Kristin Butcher
Bible of Bike Tests Now Available In Full Online. Go here —> bikemag.com/2014-bike-bible
Looking for reviews of the most promising mountain bikes for the 2014 season? Bike magazine's fifth-annual Bible of Bike Tests is the mountain-bike world's most comprehensive gear guide, with honest, balanced reviews of 34 new models. Each review is a consensus of our seasoned crew of testers, who put every bike through its paces on the challenging trails of Sedona, Arizona. We've also included a video of our often-heated 'Roundtable Reels' discussions on each bike to give you a clearer idea of what each tester thought. Expect the unexpected.